Counterpunch, Weekend Edition, August 2-4, 2013
A formal response to Keith Alexander's keynote speech at Black Hat USA 2013.
Counterpunch, Weekend Edition, June 8-10, 2012
Commentary on state-sponsored malware and American foreign policy.
800 pages, Jones & Bartlett, February 2012, ISBN-13: 9781449626365
Below Gotham Labs, December 2011
This is content originally intended for the 2nd edition of the Rootkit Arsenal.
Below Gotham Labs, October 2010
These are materials that I'll present at SFSU's National Cybersecurity Awareness Event. It's an updated rendition of my Lockdown 2010 slide deck.
Below Gotham Labs, July 2010
These are materials that I presented at the University of Wisconsin-Madison's Lockdown 2010 Event.
Below Gotham Labs, February 2010
These are materials that I presented at Black Hat DC 2010.
Below Gotham Labs, July 2009
These are materials that I presented at Black Hat USA 2009.
Below Gotham Labs, April 2009
These are slides from a presentation that I gave at Sonoma State University.
916 pages, Wordware Publishing, April 2009, ISBN-10: 1598220616
"One of the first things I noticed while flipping through this hefty book is the sheer number of topics covered. Perhaps this is a necessity. As the author puts it, rootkits lie 'at the intersection of several related disciplines: computer security, forensics, reverse-engineering, system internals, and device drivers.' Upon closer inspection, it becomes clear that great pains have been taken to cover each subject in sufficient depth and to present ideas in a manner that's both articulate and well organized" -- Nicola Hahn, Slashdot Review
For more information (overview and table of contents) see this page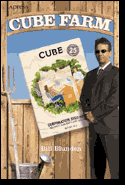 176 pages, Apress, August 2004, ISBN-10: 1590594037
Bill Blunden recounts his three years in Minnesota, performing research and development for Lawson Software. Riddled with intrigue, duplicity and collusion, this story offers a trench-level view of a company in the throes of internal rivalry and suffering from a string of failed projects.
"Cube Farm should be required reading for young people considering careers as computer programmers." -- Philip Greenspun, MIT Computer Science Researcher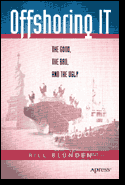 152 pages, Apress, July 2004, ISBN-10: 1590593960
In addition to presenting the pro-globalization stance of Corporate America, this book gives voice to dissenting opinions that have largely been ignored by the media. The author offers an enlightening, detailed analysis of the offshore outsourcing phenomenon, and exposes the underlying core values of America's economic and political system. Ultimately, the trend of knowledge jobs heading overseas is a dangerous one. The United States is setting themselves up for long-term pain when we don't have the skills to lead the world's economy any more. It doesn't matter how much a multinational company saves with cheap labor if the US job market is made up of low wage jobs that can't buy anything but the essentials.
"Offshoring IT is compelling and technologically well-informed. It's well-researched, and heavily annotated with tons of third-party references and government data." -- Bruce Hadley, softwareCEO.com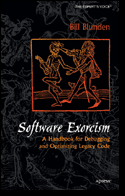 376 pages, Apress, September 2003, ISBN-10: 1590592344
Takes an unflinching, no bullsh*t look at behavioral problems in the software engineering industry, shedding much-needed light on the social forces that make it difficult for programmers to do their job. Do you have a co-worker who perpetually writes bad code that you are forced to clean up? This is your book. While there are plenty of books on the market that cover debugging and short-term workarounds for bad code, Reverend Bill Blunden takes a revolutionary step beyond them by bringing our attention to the underlying illnesses that plague the software industry as a whole.
"I think the following quote from the introduction sums up the tone of the book nicely: 'Rather than shield your eyes from the sordid realities of the software industry, I am going to dust off my old 8mm films and let you take a good look at the uncensored truth for yourself. You may want to keep a paper bag handy in case you get sick.'" -- Mark Burroughs, Slashdot Review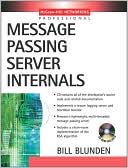 368 pages, McGraw-Hill Professional, May 2003, ISBN-10: 0071416382
With short, step-by-step tutorials, this book moves smoothly from explaining basic theory to designing and implementing high-level subsystems. Background material is presented in a way that will appeal to novice engineers, but the sophisticated approach will make advanced developers feel right at home. The companion CD contains source code for original implementation, in addition to system management utilities.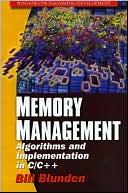 360 pages, Wordware Publishing, October 2002, ISBN-10: 1556223471
Presents several concrete implementations of garbage collection and explicit memory management algorithms. Every implementation is complemented by an in-depth presentation of theory, followed by benchmark tests, a complete listing of C/C++ source code, and a discussion of each implementation's trade-offs.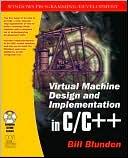 668 pages, Wordware Publishing, February 2002, ISBN-10: 1556229038
The book begins with a discussion of the theoretical underpinnings of the author's HEC virtual machine and its fundamental design goals, and continues with a section on the implementation of the virtual machine and its debugger. The final section focuses on the HEC assembler, including its interface to the native operating system, interrupts, the assembly language, and how to implement object-oriented constructs. There is also an extended discussion of porting the HEC virtual machine to other platforms. To assist in accomplishing this goal, the author offers a critical path analysis of the development process so that readers can build both their own virtual machine.
copyright (c) 2008-2013 Below Gotham Labs