June 2017_________________________________________
""He doesn't read anything and has no real historical knowledge. He wants verbal briefings and photographs. He's a risk-taker. He can accept the consequences of a bad decision in the business world; he will just lose money. But in our world, lives will be lost and there will be long-term damage to our national security if he guesses wrong. He was told we did not have evidence of Syrian involvement and yet Trump says:'Do it.'"
See the open source analysis by MIT professor Theodore Postol. Meanwhile the mainstream press eats it up like lap dogs.
"Obama refused to provide arms to the opposition, but he agreed to provide covert U.S. logistical help in carrying out a campaign of military assistance to arm opposition groups... This flood of weapons into Syria, along with the entry of 20,000 foreign fighters into the country—primarily through Turkey—largely defined the nature of the conflict."
"U.S. officials acknowledged off the record for the first time to the New York Times that 'most' of the arms that had been shipped to armed opposition groups in Syria with U.S. logistical assistance during the previous year had gone to 'hardline Islamic jihadists' — obviously meaning al Qaeda's Syrian franchise, al Nusra."
"There is this addiction to conflict. There is this addiction to have threats. There is this addiction to divide. And this is not pretty. I mean, human history, the dark side of human history, and if the 20th century is not an optic lesson, then I don't know what is….. I could go back to any of the others, in terms of written history that we know of, right? And yet here we are. And so, to me it is a sign of an empire…."
"A sustained and determined attack on all parliamentary user accounts in an attempt to identify weak passwords... The changes are believed to have stopped MPs and their offices from accessing emails on mobile phones and tablets outside Westminster."
"Such accounts can serve to game algorithms to push content on to curated social feeds. They can drown out real, reasoned debate between humans in favour of a social network populated by argument and soundbites and they can simply make online measures of support, such as the number of likes, look larger – crucial in creating the illusion of popularity."
"Shahid Khan, a government official in Parachinar, confirmed the toll Saturday, saying residents who had been preparing to celebrate the end of Ramadan were now in mourning."
"In addition to IBM, Cisco and Germany's SAP, Hewlett Packard Enterprise Co and McAfee have also allowed Russia to conduct source code reviews of their products, according to people familiar with the companies' interactions with Moscow and Russian regulatory records."
"All have exterior cladding and insulation similar to that used on Grenfell Tower, a London high rise where at least 79 people are known to have died in a fire last week... An estimated 4,000 residents of more than 800 apartments in the five high rises were being relocated "
"We have catalogued nearly every outright lie he has told publicly since taking the oath of office."
"Sen. Bernie Sanders, I-Vt., and his wife, Jane Sanders have hired prominent defense attorneys amid an FBI investigation into a loan Jane Sanders obtained to expand Burlington College while she was its president"
"Uber was sanctioned Friday for its failure to comply with a search warrant for records on a driver suspected of sexually battering a female passenger for more than 10 minutes, with a judge calling its reputation for dealing with law enforcement 'horrific.'"
"Three of the attacks were bombings, while the fourth was a shooting targeting police forces in the southern city of Karachi. Together, the attacks resulted in at least 44 casualties and around 140 injuries, signaling a period of increased violence before the end of Ramadan, the Islamic holy month."
"Curb diplomatic ties with Iran... Shut down Al-Jazeera and its affiliate stations... Immediately terminate the Turkish military presence currently in Qatar... Agree to all the demands within 10 days of it being submitted to Qatar"
"He said Assad was an enemy of the Syrian people, but not of France and that Paris' priority was fighting terrorist groups and ensuring Syria did not become a failed state."
"High-income earners would get substantial tax cuts on payroll and investment income. Subsidies for those low-income Americans who buy their own insurance would decline compared with current law. Low-income Americans who currently buy their own insurance would also lose federal help in paying their deductibles and co-payments."
"In political terms, Russia's interference was the crime of the century"
These journalists have obviously not been to Syria. They're too busy doing access journalism. Shame on you Ellen and Greg. You want to see a crime of the century? Look no further than the trillion dollar global "war on terror."
"The Checks & Balances Project, which scrutinized the backgrounds of the 23 senior White House officials with 'direct policy influence,' according to C&BP Executive Director Scott Peterson, and found that 16 of them have some link to the Koch brothers."
"McDonald's shares hit an all-time high on Tuesday as Wall Street expects sales to increase from new digital ordering kiosks that will replace cashiers in 2,500 restaurants."
"At least 30 people have been killed in Helmand province after a car bomb targeted soldiers, government employees and other civilians queueing to collect pay cheques from a bank in the provincial capital."
"The American officials confirmed that the U.S. provides questions to the Emiratis and receives transcripts of their interrogations. A Yemeni witness of American interrogations also told the AP that no torture took place during those sessions where he was present."
"'You guys have lost your spine.' I think the word that was actually used is that you guys are pussies. There was going to be another attack in America and the blood of dead civilians are going to be on your hands.'"
NatSec is the universal pretext that justifies any crime.
"In his deposition, Dr. Mitchell revealed that he, along with others, urged the C.I.A. to destroy videotapes the agency had made of some interrogations. The destruction of the tapes became the subject of investigations both by the Justice Department and Congress."
"The Brutal Kangaroo project consists of the following components: Drifting Deadline is the thumbdrive infection tool, Shattered Assurance is a server tool that handles automated infection of thumbdrives (as the primary mode of propagation for the Brutal Kangaroo suite), Broken Promise is the Brutal Kangaroo postprocessor (to evaluate collected information) and Shadow is the primary persistence mechanism (a stage 2 tool that is distributed across a closed network and acts as a covert command-and-control network; once multiple Shadow instances are installed and share drives, tasking and payloads can be sent back-and-forth)."
Would they blame the Russians, yet again, or concede that voters have seen through their vapid talking points. For the past 30-40 years the Democrats have betrayed workers to gain favor with blue oligarchs.
"Zolfaqar is the latest generation of Iran's mid-range missiles. It can hit targets up to 700 kilometres away and is capable of carrying a Multiple-Entry Vehicle payload."
"Iran has notified the US that its 45,000 troops deployed in bases in Iraq (5,165), Kuwait (15,000), Bahrain (7,000), Qatar (10,000), the UAE (5,000) and Oman (200) are highly vulnerable."
"He says the drone was downed on Monday as it flew up to 4 kilometers, or 2.5 miles, inside Pakistani territory, in the Panjgur sector close to the Pakistani-Iranian border."
"American Airlines just cancelled 43 flights in and out of Sky Harbor International Airport on Tuesday because it's just too damn hot."
"He also offered a bit of solace for tech executives on concerns his immigration policies would deny the industry talent, saying he was working 'very diligently' with Congress on immigration so 'you can get the people you want.'"
"Virtually all the criticality specialists responsible for helping to keep workers safe at Los Alamos decided to quit, having become frustrated by the sloppy work demonstrated in the incident and what they considered the lab management's callousness about nuclear risks when higher profits were at stake, according to interviews and government reports."
"The Department of Homeland Security also uses more than 12,000 sensors along the border, hundreds of license plate readers at ports of entry, and giant X-ray scanners for trains and trucks. The agency is planning to add smaller drones with facial recognition capabilities, and additional equipment that can capture biometric information."
"The four-page document contains several proposals that have long been championed by the industry, including strengthening drugmakers' monopoly power overseas and scaling back a federal program that requires pharmaceutical companies to give discounts to hospitals and clinics that serve low-income patients."
"The departures would amount to about 8 percent of the current 15,000-person workforce of the EPA, where a hiring freeze also remains in effect. The Trump administration has proposed a 31 percent cut to its budget"
"At least 25 Yemenis have been killed in a Saudi-led coalition air strike on a market in the latest in a string of deadly bombings in the conflict."
"The pricing of the jets was still not final, although the average price of the 440 jets was expected to be $85 million... Those nations included Australia, Denmark, Israel, Italy, Japan, the Netherlands, Norway, Turkey, South Korea, Britain and the United States."
"The government has quietly provided the breakaway faction — popularly known as the Renouncers — with weapons, safe passage and intelligence support in their fight against the mainstream Taliban."
"Groups known as the Sangorians... are recruited and trained by the intelligence agency, but dress as Taliban and infiltrate into Taliban-controlled areas to fight behind their lines."
"A US F-15 fighter jet opened fire on the drone in the early afternoon because it was approaching a US outpost near al-Tanf where US advisors were training an anti-Isis local militia"
"One of the biggest disagreements in the coming talks came to the surface after UK negotiators questioned the legal rationale for the €100bn gross settlement that the 27 EU members states are demanding from the UK."
"An internet search for 'Duyane Norman' on the internet reveals a second public agenda linking him to the CIA in Brazil. On July 11th 2016, Mr. Norman and Joseph Direnzo had an appointment with the general director of the Federal Police, Leandro Daiello Coimbra, in Brasília. Both their names can be found in the agenda next to the term 'CIA'."
"That such an enormous national database could be created and hosted online, missing even the simplest of protections against the data being publicly accessible, is troubling. The ability to collect such information and store it insecurely further calls into question the responsibilities owed by private corporations and political campaigns to those citizens targeted by increasingly high-powered data analytics operations."
"Russia has said it will treat US warplanes operating in parts of Syria where its air forces are also present as 'targets' amid a diplomatic row caused by the downing of a Syrian jet... A hotline set up between Russia and the US to prevent mid-air collisions will also be suspended."
See also:
"The outcome of the battle for east Syria will determine 'the postwar dynamics of the region.'"
"Iran's military said Sunday that it has launched several missiles into eastern Syria, targeting Islamic State fighters in retaliation for the twin attacks that rocked Tehran on June 7."
"In order to maintain a buffer zone in the Golan Heights border area between the country and its war-torn neighbour, it has emerged"
"If the black neighbourhoods of Los Angeles could be flooded with drugs with the discreet blessing of a US government which was allegedly fighting a war against drugs: then the working class streets of Europe can be flooded with terrorism with the surreptitious blessing of the Western governments which are allegedly fighting a war against terror."
Commentary: You can't pursue the elimination of terrorism by offering 'ironclad' guarantees of protection to the wellspring of Sunni extremism. Likewise, you can't pursue the elimination of narcotics by entering into league with warlords who control most of the world's supply of opium. The stated aims of American policy are contradicted by their methods. This is not the result of incompetence but rather a veiled attempt to maintain dominion at any cost.
"Over the past two decades, the global population of forcibly displaced people has grown substantially from 33.9 million in 1997 to 65.6 million in 2016, and it remains at a record high. The growth was concentrated between 2012 and 2015, driven mainly by the Syrian conflict along with other conflicts in the region such as in Iraq and Yemen"
"Over 76 messages with links to NSO Group's exploit framework were sent to Mexican journalists, lawyers, and a minor child... Some of the messages impersonated the Embassy of the United States of America to Mexico, others masqueraded as emergency AMBER Alerts about abducted children."
"These are people desperate enough to take on thousands of dollars of debt at interest rates as high as 24 percent for one simple reason: Without a car, they have no way to get to work or to doctors."
"Subprime lenders are willing to take a chance on these risky borrowers because when they default, the lenders can repossess their cars and persuade judges in 46 states to give them the power to seize borrowers' paychecks to cover the balance of the car loan."
"No matter how many troops Mattis decides to send this summer, it will not rectify the political crisis in Kabul. In the absence of clear engagement with the Afghan government, or demands that Ghani create a more inclusive coalition government and yield some of his powers, more US troops will only make things worse."
"At least six police were killed and dozens of people wounded when as many as six gunmen and a suicide bomber attacked a police headquarters in eastern Afghanistan on Sunday morning, officials said."
"The director of the Houthi-run Health Department office in Saada said the aircraft conducted two raids on al-Mashnaq market in Shada district, which is close to the Saudi border, on Saturday, killing 25 people and wounding at least one."
"On the surface, it is a row between the tiny Gulf state and the Arab nations. But the real war is a US-led alliance against Iran, a major partner for China in the region."
"The 129.2-degree measurement, if confirmed, and an identical one from Kuwait last summer, would be the third-highest ever recorded on the planet behind 134 degrees at Furnace Creek, in Death Valley, Calif., in 1913 and 131 degrees in Kebili, Tunisia, in 1931... Sixteen of the 17 hottest years ever recorded have occurred since 2000"
"Those policies and their progeny have helped put 63 percent of America's private wealth in the hands of U.S. millionaires and billionaires, BCG said. By 2021, their share of the nation's wealth will rise to an estimated 70 percent."
Lies, manipulation, subversion, and bloodshed. All in the name of western oligarchs and their oil interests. Enabled by the same people who prattle on about the United States being the "shining city on the hill."
"Together with a previous complaint, the Justice Department is seeking nearly $1.7 billion in assets it says were stolen from the fund, 1Malaysia Development Berhad, and laundered through financial institutions in the United States."
"In the same month that it was produced, August 2016, a group calling itself the Shadow Brokers announced that it had obtained and was auctioning off highly classified N.S.A. hacking tools... Also in August, a veteran intelligence contractor, Harold T. Martin III, was charged with copying and bringing home 50 terabytes of confidential data from the N.S.A. and other agencies."
"Mueller was even okay with the CIA conducting torture programs after his own agents warned against participation. Agents were simply instructed not to document such torture, and any 'war crimes files' were made to disappear. Not only did 'collect it all' surveillance and torture programs continue, but Mueller's (and then Comey's) FBI later worked to prosecute NSA and CIA whistleblowers who revealed these illegalities."
"Forget the unproven assertions of collusion with Russia and ask yourself just what democracy it was exactly that Donald Trump wrecked? The Big Money-managed United States is a damn near openly plutocratic oligarchy"
"Of the 1,000 affected workers, around 40 worked in a counter-terrorism unit based at Facebook's European headquarters in Dublin, Ireland."
"The bulk of the additional troops will train and advise Afghan forces, according to the administration official, who wasn't authorized to discuss details of the decision publicly and spoke on condition of anonymity. A smaller number would be assigned to counterterror operations against the Taliban and IS, the official said."
The CIA is writing malware frameworks with SRI to hack commodity wireless routers. Burning the village to the ground in order to save it. A reminder that NGO's are a common front for American spies. And you wondered why Russia and China are clamping down on foreign orgs...
"According to Abe, the new laws will help to crack down on terrorism and organized crime in Japan ahead of the 2020 Tokyo Olympics by allowing police to arrest individuals and groups planning to commit offenses."
Pre-Crime alert!
"In a world where wealth is globalised and where a big industry has specialised in helping the ultra-rich avoid and sometimes evade their taxes, our ability to track great fortunes – and to tax them appropriately – faces considerable challenges"
Brought to you by the CIA's cloud service provider.
"Qatar will sign a deal to buy as many as 36 F-15 jets from the U.S. as the two countries navigate tensions over President Donald Trump's backing for a Saudi-led coalition's move to isolate the country for supporting terrorism."
"Karen Abuzayd, an American commissioner on the independent panel, said: 'We have documented the deaths caused by the coalition airstrikes only and we have about 300 deaths – 200 in one place, in al-Mansoura, one village.'"
"The offensive was prompted by the American decision to drop the so-called mother of all bombs on an Islamic State network of tunnels in Achin District in April. The 20,000-pound bomb was thought to be the largest non-nuclear bomb ever deployed."
"Islamist extremists attacked a popular Somalia restaurant in an overnight siege and killed 31 people – many at point-blank range – before they were slain by security forces, police have said."
"Though the assessment is not conclusive, the preponderance of the evidence points to Pyongyang. It includes the range of computer Internet protocol addresses in China historically used by the RGB"
Another intelligence slam dunk! Mobile chemical weapons trailers anyone?
"Senators voted 98-2 on the bill, which also includes new sanctions targeting Iran's ballistic missile development, support for terrorism, transfer of weapons and human rights violations... The Russia legislation would impose new sanctions on any individuals tied to 'malicious cyber activity,' supply weapons to Assad's government or are tied to Russia's intelligence and defense sectors."
"Five Democrats voted against the arms deal blockade, which fell four votes short of passing: Florida Sen. Bill Nelson, Missouri Sen. Claire McCaskill, West Virginia Sen. Joe Manchin, Indiana Sen. Joe Donnelly, and Virginia Sen. Mark Warner"
Oligarchy is bipartisan!
"The U.S. has around 10,000 troops in Qatar, as well as the forward headquarters of the military's Central Command that's conducting air campaigns in Iraq, Afghanistan and Syria."
"The risk of nuclear war is much higher now than in the old Cold War when the Soviet Union had a whole range of different weapons... If you have a neighbor walking up and down the fence line with a shotgun, he can tell you it's not loaded but it raises all kinds of questions about his intentions"
"By 2007 the Zetas moved in with the money and muscle of a hostile occupation. They vanquished rivals, took control of critical government agencies, turned local police into their henchmen and transformed the region into a haven for all kinds of criminality"
Because high-profile Democrats like Obama and Clinton prefer to wait until they're out of office to collect their hefty corporate payoffs.
"The cholera outbreak in Yemen continues to spread at an alarming speed. Over 124,000 cases have been recorded... At least 923 people have died from the disease since late April."
"A court in Bahawalpur handed out the verdict, the harshest yet for such a crime, after finding Taimoor Raza, 30, guilty of insulting the prophet Muhammad. Raza was arrested last year after a debate about Islam on Facebook with a man who turned out to be a counter-terrorism agent."
"Preliminary figures showed 730 people had been detained in Moscow. The Interior Ministry said 500 people were detained in St Petersburg. Navalny's wife, Yulia, said her husband was detained as he tried to leave their home."
"For decades pundits and pols have been telling progressive voters they don't have the juice to make real demands, and must make alliances with more 'moderate' and presumably more numerous 'centrists' in order to avoid becoming the subjects of right-wing monsters... There is no numerically massive center behind the curtain. What there is instead is a tiny island of wealthy donors, surrounded by a protective ring of for-sale major-party politicians"
"The Treasury Department said the Consumer Financial Protection Bureau should be substantially stripped of its powers, accusing the agency of regulatory overreach and saying the president should be able to remove its director. It also recommended greater exemptions from the so-called Volcker Rule, which bans banks from trading for their own gain"
"The suggestion that I participated in any collusion or that I was aware of any collusion with the Russian government to hurt this country, which I have served with honor for over 35 years, or to undermine the integrity of our democratic process, is an appalling and detestable lie."
"The San Francisco-based 9th U.S. Circuit Court of Appeals used narrow grounds to reject the Trump administration's bid to undo a Hawaii federal judge's decision blocking the temporary ban. It said the president's March 6 order violated existing immigration law, but the three-judge panel did not address whether it was unconstitutional discrimination against Muslims."
"These are countries that are either unable or unwilling to help us validate the identities and backgrounds of persons within their borders"
"In the past, the conventional wisdom held that the support of local populations was crucial for rebel groups to survive. But in the new information environment, groups may get their backing from outsiders. This would tend to eliminate restraints on abuse of local citizens."
"In the endeavor, called Operation Glowing Symphony, the National Security Agency and its military cousin, United States Cyber Command, obtained the passwords of several Islamic State administrator accounts and used them to block out fighters and delete content... American officials later discovered that the material had been either restored or moved to other servers."
"Locking Islamic State propaganda specialists out of their accounts — or using the coordinates of their phones and computers to target them for a drone attack — is now standard operating procedure."
"Mark Corallo, a spokesman for one of Trump's attorneys, said on Twitter on Sunday that it would not be unusual for Trump to contact Bharara and that if he refused to take Trump's call, 'he deserved to be fired.'"
"At least 200 people, including soldiers, armed gunmen and civilians have been killed and more than 200,000 people have been displaced."
American military "advisors" have arrived.
"Footage shows the munitions bursting relatively high off the ground over a cluster of buildings. It is unclear if Islamic State fighters are in the area, but thousands of civilians are known to be still in the city."
"I will be satisfied if the federation of secret law, unequal pardon and irresistible executive powers that rule the world that I love are revealed even for an instant."
"When it comes to synthetic opioids, many authorities tracking the traffic say that dark web markets have quickly assumed a more prominent and frightening role."
Fear and loathing that the public may be told the truth about American politicians again. David Sanger should speak to civilians in the Middle East about how "Assad Must Go" and the "smoking gun that comes in the form of a mushroom cloud."
"I'm committing the United States to Article 5... And certainly, we are there to protect and that's one of the reasons that I want people to make sure we have a very, very strong force by paying the kind of money necessary to have that force. But yes, absolutely, I'd be committed to Article 5."
The above quote comes from a Q-and-A session after a recent speech where he stated:
"The nation of Qatar, unfortunately, has historically been a funder of terrorism at a very high level... Do we take the easy road, or do we finally take a hard but necessary action? We have to stop the funding of terrorism."
"Included on the sanctions list... are the Qatari-funded Qatar Charity and Eid Charity and several prominent figures including businessmen, politicians and senior members of the ruling family, one a former interior minister."
"However, the expected 'yes' vote would simply strengthen the Kurds' hand in talks with Baghdad rather than leading automatically to a break from Iraq, nor would an independent Kurdistan annex the oil-rich region of Kirkuk and three other disputed regions in Kurdish-controlled territory, he said."
"He introduced himself as Alex Werner, a reporter with the French newspaper Le Monde... Artur Denisultanov-Kurmakayev, tried to murder Ms. Okuyeva and her husband, Adam Osmayev"
"The official said there were enough grain supplies in the market in Qatar to last four weeks and that the government also had large strategic food reserves in Doha."
"Noting 'credible' reports that Islamic State in Iraq and the Levant (ISIL/Da'esh) fighters killed more than 231 civilians, including women and children, attempting to flee western Mosul over the past two weeks"
A reminder that the primary victims of terrorism are Muslims.
"A woman suicide bomber killed at least 31 people and wounded 35 in a crowded market in the town of Musayab, 80 km (50 miles) south of Baghdad"
"May said she could rely in parliament on the support of her 'friends' in Northern Ireland's Democratic Unionist Party (DUP) after her governing Conservatives failed to emerge as clear winners. The DUP said only that it would enter talks."
Tale of the tape here.
"The House passed the Financial Creating Hope and Opportunity for Investors, Consumers and Entrepreneurs (CHOICE) Act, 233-186, along party lines. The bill is not expected to pass the Senate... It would allow banks that reach certain cash thresholds an off-ramp from Dodd-Frank, reduce the frequency of federal stress tests and restrain oversight powers of several federal agencies that the 2010 law expanded."
"Why didn't you stop and say, 'Mr. President, this is wrong. I cannot discuss this with you'?""
"The number of suspected cholera cases in Yemen continues to rise, reaching 101,820 with 791 deaths as of 7 June 2017. Worst affected are the country's most vulnerable: children under the age of 15 account for 46% of cases, and those aged over 60 represent 33% of fatalities."
"Two launchers and the powerful X-band radar were already in place before his victory on May 9, but Moon expressed outrage last week when it emerged that four more launchers had been brought into the country without his knowledge... 'We are not saying the two launchers and other equipment that has already been deployed should be withdrawn. But those that have yet to be deployed will have to wait,' a senior official told reporters in Seoul"
"South Korea's joint chiefs said the projectiles, launched near the eastern port city of Wonsan, were believed to be surface-to-ship cruise missiles... The missiles flew about 200 kilometers (124 miles), South Korea's military said in a statement."
"Turkey has never given a concrete explanation for why it would not guarantee the right of lawmakers to visit, or what it found problematic about such visits."
"I was fired because of the Russia investigation"
"At least 12 people were killed and dozens more injured in Tehran on Wednesday when gunmen and suicide bombers attacked the Iranian parliament and the mausoleum of the revolutionary founder of the Islamic Republic."
And who, pray tell, funds and supports ISIS? The Gulf States.
"Diplomats conveyed extensive demands of Doha, including cutting off all links with Iran and expelling resident members of Palestinian militant group Hamas and the pan-Arab Muslim Brotherhood... Other points included curbs on the freedom of Qatar's state-funded broadcaster al-Jazeera"
"The bill, first drafted in May, passed with 240 votes in favour, largely with support from the ruling AK Party and nationalist opposition MHP."
"Mr Trump's unqualified support for the Sunni monarchies and autocrats during his two-day visit to Riyadh emboldened the kingdom to start a second and, it hopes, final round in its confrontation with Qatar. Mr Trump may not have intended to touch off this latest crisis when he aggressively and inaccurately demonised Iran and by implication the Shia as the source of all terrorism in the Middle East and North Africa. But his words were interpreted by the Saudis as enabling them to move against Qatar though it is home to a major US base."
The mainstream press is desperate to deflect blame for Saudi actions onto Russian hackers.
"After the encounter, Coats discussed the conversation with other officials and decided that intervening with Comey as Trump had suggested would be inappropriate, according to officials who spoke on condition of anonymity to discuss sensitive internal matters."
See page 5 for the Flynn arm twisting.
"He [Christopher A. Wray] has served as attorney for New Jersey Gov. Chris Christie (R), a Trump ally. He also represented the Swiss bank Credit Suisse AG in a tax evasion case that ended in a $2.6 billion settlement with U.S. authorities."
"In the space of just a few years, technology giants have begun remaking the very nature of schooling on a vast scale, using some of the same techniques that have made their companies linchpins of the American economy. Through their philanthropy, they are influencing the subjects that schools teach, the classroom tools that teachers choose and fundamental approaches to learning."
"A suspected bomb outside a mosque in the Afghan city of Herat killed at least seven people and wounded 15 on Tuesday, police said, the latest casualties in a particularly bloody week in Afghanistan."
"President Trump may be the face of America's withdrawal from the Paris climate accord, but, as deeper reporting is making clear, it's the Kochs and their fellow fossil-fuel industry donors who really own the policy."
"So good to see the Saudi Arabia visit with the King and 50 countries already paying off. They said they would take a hard line on funding extremism and all reference was pointing to Qatar. Perhaps this will be the beginning of the end to horror of terrorism!"
Never mind all those Sunni extremsists funded by the Saudis. This is what all those arms sales buy.
"The National Security Agency conducted 'blanket' warrantless surveillance of Salt Lake-area residents during the 2002 Olympic Winter Games, according to a former agency senior executive."
"That review did not attempt to assess what effect the Russian efforts had on the election... According to the Department of Homeland Security, the assessment reported reassuringly, 'the types of systems we observed Russian actors targeting or compromising are not involved in vote tallying.'"
Yawn. Clinton did most of the damage to herself.
"The document leaked by the Intercept was from a printer with model number 54, serial number 29535218. The document was printed on May 9, 2017 at 6:20. The NSA almost certainly has a record of who used the printer at that time."
Notice how she didn't use Signal, despite the endless promotion at Omidyar's outfit.
"Winner admitted intentionally identifying and printing the classified intelligence reporting at issue despite not having a 'need to know,' and with knowledge that the intelligence reporting was classified. Winner further admitted removing the classified intelligence reporting from her office space, retaining it, and mailing it from Augusta, Georgia, to the news outlet, which she knew was not authorized to receive or possess the documents."
"Mr. Coury replied that he was untroubled. He raised both his middle fingers and explained, using colorful language, that anyone criticizing Mylan, including its employees, ought to go copulate with themselves. Critics in Congress and on Wall Street, he said, should do the same. And regulators at the Food and Drug Administration? They, too, deserved a round of anatomically challenging self-fulfillment."
"Banks lend mainly to other financial institutions. They don't lend to factories that are creating jobs. They don't lend out for goods and services. They lend to other financial institutions. The whole economy has turned into trying to make money on speculation and arbitrage, not on producing goods and services, not on hiring people to actually do work. The economy therefore is very fragile."
"The first official government estimate of the project, prepared by the Congressional Budget Office and due to be published in the coming weeks, will put the cost at more than $1.2 trillion — 20 percent more than the figure envisioned by the Obama administration."
"Drug overdose deaths in 2016 most likely exceeded 59,000... Drug overdoses are now the leading cause of death among Americans under 50"
"Emboldened by closer U.S. ties under Trump, the Saudis and the U.A.E. are seeking to crush any opposition that could weaken a united front against Iranian influence in the Middle East."
See also:
"Qatar paid up to $1bn to release members of the Gulf state's royal family who were kidnapped in Iraq while on a hunting trip... By their telling, Qatar paid off two of the most frequently blacklisted forces of the Middle East in one fell swoop: an al-Qaeda affiliate fighting in Syria and Iranian security officials."
"They will assume that by striking now they can increase fear and anger among the British population – intensifying anti-Muslim rhetoric, justifying harsher 'security' responses from the British state and shifting political support towards the right. That is good for their cause because it radicalises other disillusioned Muslim youth. In short, it brings recruits."
"Major U.S. media outlets insinuate that President Trump's advisers are traitors for secretly talking to Russians, but they ignore the history of Henry Kissinger doing the same thing for Richard Nixon, writes Gareth Porter."
"Two attacks that killed six civilians in the center of the capital... no one has claimed responsibility for the attacks"
"Isn't Mattis aware that his men are helping the Iraqi army and pro-Iranian Shia militia destroy Isis in Mosul? Isn't he aware that Isis – not Iran – have threatened to destroy the entire Western world? Does he not realise that Iran is the sworn enemy of Isis?"
That's what hundreds of billions in arms purchases gets the Saudis.
"In an interview in his office Thursday with The Associated Press, Guillaume Poupard said the Macron campaign hack 'was so generic and simple that it could have been practically anyone.'"
"They can even be hackers, by the way, in the United States who very skillfully and professionally shifted the blame, as we say, onto Russia. Can you imagine something like that? In the midst of a political battle?"
There's definitely evidence to support this view.
"The 'smoking gun' is that when Theresa May was Home Secretary, LIFG jihadists were allowed to travel unhindered across Europe and encouraged to engage in 'battle': first to remove Mu'ammar Gadaffi in Libya, then to join al-Qaida affiliated groups in Syria."
See also:
"Formed in the early 1990s to fight the Soviet invasion of Afghanistan, the LIFG relocated to Libya where, in 1996, the US treasury department records that it attempted to assassinate Muammar Gaddafi 'and replace his regime with a hardline Islamic state'. When that plot – which some claim was backed by MI6 – failed, the LIFG was pursued by Gaddafi's security forces. A large number fled to the UK, where they were granted asylum"
"Dobrindt announced Thursday that the luxury carmaker had been told to recall its A8 and A7 models fitted with V6 and V8 diesel motors and sold between 2009 and 2013 in Europe."
"In 2016, more than 11,400 Afghan civilians died bloodily — the highest death count since the United Nations started registering civilian casualties in 2009. More than 320,000 Afghans were displaced from their homes by fighting last year."
"A gunman burst into a casino in the Philippine capital on Friday, setting gaming tables alight and killing at least 36 people who suffocated in thick smoke, in an attack claimed by Isis but which officials believe was a botched robbery."
"There's the two existential threats that we've created—which might in the case of nuclear war maybe wipe us out; in the case of environmental catastrophe... Beginning around the '70s, human intelligence dedicated itself to eliminating, or at least weakening, the main barrier against these threats. It's called neoliberalism... It's not called that. What it's called is 'freedom,' but 'freedom' means a subordination to the decisions of concentrated, unaccountable, private power."
"The Senate Intelligence Committee, which was run by Democrats when the executive summary was released, sent copies of the entire report to at least eight federal agencies, asking that they incorporate it into their records — a move that would have made the documents subject to requests under the Freedom of Information Act... The agencies all refused to add the report to their records, and instead kept their copies locked up"
Reader comment: "When DiFi is a good guy, it's very very bad."
"That's why the pharmaceutical industry works so tirelessly to keep Congress captured. It's not just to protect its many forms of federal subsidy, but also to keep customers and retailers from benefitting from the same money-saving overseas shopping in which they engage."
"Katie Orzehowski said Walmart did not accept doctors' notes and hospitalization records to excuse her missed shifts during a pregnancy that ended in a miscarriage."
"Mother Jones wouldn't care if you shoved their faces in their own recent history — they're way too donor-deep invested in pushing this 'active measures' conspiracy. Trump has been a goldmine of donor cash for anyone willing to carry the #Resistance water."
"An estimated 70,000 cases of cholera have been reported by UNICEF in Yemen, with nearly 600 people dying over the past month, as the disease continues to spread at an alarming rate."
"President Trump is expected to announce today that the United States will not be party to the Paris agreement on climate change. What he should say is that the United States never properly joined the accord: It is a treaty that requires the advice and consent of the Senate. Instead, President Barack Obama choose to 'adopt' it with an executive order last September."
"He will stick to the withdrawal process laid out in the Paris agreement, which President Barack Obama joined and most of the world has already ratified. That could take nearly four years to complete, meaning a final decision would be up to the American voters in the next presidential election."
See also: "The president referred to a published study to claim that the climate pact would result in 'as much as 2.7 million lost jobs by 2025,' of which 440,000 would be in manufacturing... it was conducted for the American Council for Capital Formation and the U.S. Chamber of Commerce — both vocal opponents of climate regulations."
Speech here: "Compliance with the terms of the Paris Accord and the onerous energy restrictions it has placed on the United States could cost America as much as 2.7 million lost jobs by 2025 according to the National Economic Research Associates"
"As the name suggests, a single computer on a local network with shared drives that is infected with the 'Pandemic' implant will act like a 'Patient Zero' in the spread of a disease. It will infect remote computers if the user executes programs stored on the pandemic file server."
Note the anti-forensics angle: binaries are altered in transit so that the system admin (as well as the local endpoint security) thinks everything is hunky-dory. This would be an absolute nightmare scenario for applications assigned by Windows group policy. Literally every machine on the domain gets infested. Nasty.
"The trader, David Liew, pleaded guilty to fraud on Thursday in federal court in Chicago for his role in the spoofing of contracts for gold, silver, platinum and palladium, according to court papers. Along with spoofing -- which is placing orders without the intent of executing them in an attempt to manipulate the price -- he also acknowledged front-running customers' orders."
"The growing human population – which has increased by 130 per cent in the last 50 years and is set to rise to more than 10 billion by 2060 – and our increasing demand for resources as we become wealthier is ramping up the pressure on the natural world."
"The White House disclosed Wednesday evening that it has granted ethics waivers to 17 appointees who work for President Trump and Vice President Pence, including four former lobbyists."
So much for draining the swamp...
"here was a total loss of power at the data center. The power then returned in an uncontrolled way causing physical damage to the IT servers"
"The tactic — critics liken it to the gerrymandering of legislative districts — made it appear that the luxury tower was in an area with extraordinarily high unemployment, allowing Kushner Companies and its partners to get $50 million in low-cost financing through the EB-5 visa program. "
Not exactly Trump Tower, but then again it's important to understand that politicians are merely the hired help of big money.
"In a statement, an NGA spokesperson said that no classified data had been disclosed by the security oversight and that the storage was "not directly connected to classified networks."
"The Good Americans are resisting … they're resisting Trump, who, after all, is the one responsible for all that stuff, all those wars of aggression, the CIA coups, the torture, the death squads, the ghettos, et cetera … our entire seventy-two-year history as Enforcer of global Capitalist empire and all the incalculable human suffering and irreparable damage to the planet it has caused … all that is somehow the doing of Trump and his puppet-master, Vladimir Putin."
May 2017_________________________________________
"A truck bombing near the Afghan presidential palace early Wednesday killed at least 80 people and wounded hundreds, officials said. The death toll seemed certain to rise, and the attack appeared to be one of the bloodiest of the long Afghan war."
"The Goldman deal was a win-win for the bank and the dictator. Goldman bought $2.8 billion worth of oil bonds for 32 cents on the dollar, according to the Times of London. Maduro's regime, in return, immediately gets to stock its coffers with about $865 million."
China's Ambassador to the United States (Tiankai Cui) is showing up. The elites wonder why populism is growing? Pleading ignorance, they know damn well why.
"Presidents generally place calls on one of several secure phone lines, including those in the White House Situation Room, the Oval Office or the presidential limousine. Even if Trump uses his government-issued cellphone, his calls are vulnerable to eavesdropping, particularly from foreign governments, national security experts say."
"The first happened just after midnight (21:00 GMT on Monday) at an ice cream shop in the Karrada district, where a crowd had broken their Ramadan fasts. A few hours later there was a second blast near the Shuhada Bridge, about 6km (4 miles) to the north in Shawaka."
"No organisation can carry out or publish the results of a study or survey without prior permission from the state. Those who violate the law could receive up to five years in jail and fines of up to one million Egyptian pounds (more than $55,000)."
""critical" companies — a widely drawn definition that encompasses sensitive entities such as power companies or banks but also any company holding data that, if breached, could 'harm people's livelihoods' — will have to store all data collected in China within the country. These companies, and any services bought by them, must go through a 'national security review' to ensure they and their data systems are 'secure and controllable'."
"There are plans to use it to predict crimes, lend money, track people on the country's ubiquitous closed-circuit cameras, alleviate traffic jams, create self-guided missiles and censor the internet."
"Under the deal, signed at the Saudi-U.S. CEO Forum, the two companies would 'conduct a detailed study of the proposed Gulf Coast Growth Ventures project in Texas and begin planning for front-end engineering and design work' for the 1,300-acre, $10 billion plant set to be located near Corpus Christi, Texas, according to an ExxonMobil press release."
"According to Herskowitz, people around Bush, including Dick Cheney, hoped to 'start a small war. Pick a country where there is justification you can jump on, go ahead and invade.' Why? Because, Bush told Herskowitz, that would give him 'political capital' that he could use to 'get everything passed that I want to get passed.'"
"The number of people who have died in a cholera epidemic affecting Yemen has risen to at least 471, according to World Health Organization (WHO) figures released on Monday."
"In Kandahar Province alone, the Taliban movement's original power base, about 300 preachers have been killed since 2004"
"Little can be seen for the billions of dollars spent to rebuild Afghanistan. Roads remain of poor quality and schools and medical clinics are promised but do not appear. In Balkh province, where the Taliban had attacked the Army base, the staff of SIGAR found that only 30 per cent of students who had been reported enrolled in schools were seen at any one time. Teachers were absent. Buildings erected with concrete 'dissolved in rain' or had walls and roofs that collapsed."
"The missile was believed to be a Scud-class ballistic missile and flew about 450 km (280 miles), South Korean officials said. North Korea has a large stockpile of the short-range missiles, originally developed by the Soviet Union."
"CBS News has confirmed from two sources that three leakers of classified information at the White House have been identified and are expected to be fired."
"Mr. Malofeev has acquired a reputation as the Kremlin's version of George Soros, the Hungarian-American billionaire whom pro-Western forces across Eastern Europe often turn to for money. Unlike Mr. Soros, though, the wealthy Russians who support activists abroad generally try to keep their roles and spending secret."
"Trump said in a tweet on Saturday: 'I will make my final decision on the Paris Accord next week!'"
Merkel warns: "We Europeans truly have to take our fate into our own hands"
"Since taking office on Jan. 20, the businessman-turned-politician has met with hundreds of executives, including at least 41 of last year's 200 best-paid C.E.O.s... This combination — the gains in pay for chief executives, the president's pledge to deregulate and cut corporate tax rates — sets the stage for perhaps the most consequential moment for corporate governance since the financial crisis of 2008"
See the 2016 Top 200 list here. Still, even these execs are dwarfed by the hedge fund oligarchs.
"The bureaucracy's retaliatory weapon of choice was the leak — particularly on the explosive question of preelection communication between Trump's staff and the Russian government... publicly siding with supporters on the Hill, in the media, and within the electorate. Closed-door briefings, public testimony, and speeches and op-eds by former officials can all signal allegiance and generate political clout."
"To formally charge the bureaucracy with providing a check on the president, Congress, or the courts would represent an entirely new form of government, a system in which institutionalized bureaucratic autocracy displaces democratic accountability."
"An exercise in avoiding critical engagement with recent U.S. policy failures, offered by a group of like-minded insiders intent on propping up the status quo. "
"But you can't completely opt-out. Windows still tracks too much."
"So-called Islamic State (IS) has claimed it was behind an attack on a bus carrying Coptic Christians in Egypt that killed at least 29 people and wounded about 25 others on Friday."
The government responds by bombing targets in Libya.
"Six people also were wounded in the attack, carried out near a bus station in the city of Khost, Interior Ministry spokesman Najib Danish said."
"The other thing with the terrorists is you have to take out their families, when you get these terrorists, you have to take out their families"
"The FBI closely monitors the communications of Russian officials in the United States, and it maintains a nearly constant surveillance of its diplomatic facilities. The National Security Agency monitors the communications of Russian officials overseas."
Punchline: Still trust HTTPS?
See also:
"Officials familiar with intelligence on contacts between the Russians and Trump advisers said that so far they have not seen evidence of any wrongdoing or collusion between the Trump camp and the Kremlin."
"The study found that 49% of manufacturers were not using advice from the US Food and Drug Administration about how to secure devices."
"Residents saw reconnaissance aircraft and warplanes circling the city at 7:25 p.m. (1625 GMT) before they fired missiles which struck two buildings, one of which was a four-storey block housing Syrian and Moroccan families of Islamic State fighters."
"A provincial official who spoke on the condition of anonymity gave a higher death toll of 20, adding that some soldiers were missing after the attack and that the Taliban had seized four military Humvees."
"Fighting erupted after the army tried to capture top militant leader Isnilon Hapilon, a leader of the Abu Sayyaf militant group. He has pledged allegiance to IS and Philippine Solicitor General Jose Calida said IS had designated him its leader in the Philippines... At least 11 soldiers and 31 militants had been killed, a military spokesman said. It is not clear if any civilians are among the dead. Thousands of residents have fled from the city."
"Egypt has banned 21 websites, including the main website of Qatar-based Al Jazeera television... The Huffington Post's Arabic website also was inaccessible, although the international version could be accessed."
"Instead of the First Amendment, the British have the Official Secrets Act, which allows the government to ban in advance the publication of government secrets and prescribes punishments not just for leakers, but also for the journalists who publish the information."
"Google says it has access to roughly 70 percent of U.S. credit and debit card sales through partnerships with other companies that track that data. By matching ad clicks with this data, Google says it can automatically inform merchants when their digital ads translate into sales at a brick-and-mortar store."
"A U.S. bomb that dropped on a building in the Iraqi city of Mosul set off explosive materials that had already been placed inside by Islamic State fighters, causing the structure to collapse and killing more than 100 civilians, a U.S. military investigation concluded Thursday."
"The D.E.A. said at the time that the victims were drug traffickers who had attacked to try to retrieve the cocaine, but villagers said they were bystanders... Accounts of all three shootings, it said, showed that agency leaders 'made the critical decisions and directed the actions taken during the mission.'"
"For the first time in nearly 30 years, saying it expects the financial strength of the economy will erode in coming years as growth slows and debt continues to rise... Government-led stimulus has been a major driver of China's growth over recent years, but has also been accompanied by runaway credit growth that has created a mountain of debt - now standing at nearly 300 percent of gross domestic product (GDP)."
"Technical Capability Orders – require big technology and internet companies to break their own security so that messages can be read by intelligence agencies. Government will ask parliament to allow the use of those powers if Theresa May is re-elected, senior ministers told The Sun."
"Following the introduction of Facebook's like button in 2009, YouTube moved to a binary like/dislike format in 2010. Instagram launched that same year and came ready-made with a like function shaped as a heart. Twitter adopted this same heart-shaped system in 2015, while, in the years since, Silicon Valley has come up with a multitude of new ways to gamify our need for social validation."
"His political aides, among them his chief strategist, Stephen K. Bannon, who argue that a major deployment would be a slippery slope to nation building, something Mr. Trump has always shunned."
"I just want to congratulate you because of the unbelievable job on the drug problem."
How about phone calls with the Saudis or Isreal?
"His government's 'anti-conspiracy' bill, as it is known here, would make 277 offenses subject to conspiracy charges and is designed to stop people who are preparing to commit crimes, ­including terrorism, the government says. The offenses include catching endangered animals, running an unlicensed motorboat race and stealing plants from a forest reserve. The justice minister was asked in parliament if picking mushrooms could be considered funding terrorism. He said yes."
"After his defeat, a visibly flummoxed Ke – who last year declared he would never lose to an AI opponent – said AlphaGo had become too strong for humans"
China responds with censorship.
"The terrorist attack was the worst in the history of Manchester and northern England, and the worst in Britain since 2005, when 52 people died, along with four assailants, in coordinated attacks on London's transit system."
See Also: "In the midst of the understandable and eminently justifiable grief we feel at events in Manchester, it behooves us not to forget the salient fact that Muslims have and continue to be the biggest victims of this terrorist menace... You cannot continue to invade, occupy, and subvert Muslim and Arab countries and not expect consequences."
"Citigroup has agreed to pay nearly $100 million to federal authorities to settle claims that a lack of internal controls at the bank's Banamex subsidiary may have allowed customers to launder money sent to Mexico... from at least 2007 until at least 2012, Banamex USA processed more than 30 million remittances to Mexico valued at more than $8.8 billion. Those remittances prompted more than 18,000 alerts involving some $142 million in potentially suspicious transactions."
"The Defense Department is the largest single consumer of fuel in the world. Each year, it buys about 100 million barrels, or 4.2 billion gallons, of refined petroleum for its aircraft, warships, tanks and other machines."
And therefore a primary contributor to climate change...
"Coats and Rogers refused to comply with the requests, which they both deemed to be inappropriate, according to two current and two former officials, who spoke on the condition of anonymity to discuss private communications with the president."
"Officials in Zabol province said that militants from several provinces carried out the attacks against government installations in the provincial capital, Qalat, and three police posts in Shahjoy district late Saturday."
"Erdogan said on Sunday that the state of emergency 'will not be lifted,' according to Anadolu Agency, a state-owned news wire. 'Until when? Until the situation reaches welfare and peace.'"
"The US government projects that it will cost more than $107 billion to clean up the site, with remediation finished by 2060... radioactive contamination has gone from a shameful secret to be concealed to an asset to be milked"
"The criminals - 16 suspects were arrested by Russian law enforcement authorities in November last year - infected more than a million smartphones in Russia, on average compromising 3,500 devices a day, Group-IB said."
"More than 50 people have been killed in a string of suicide car bomb attacks in Iraq's capital, Baghdad, and the southern province of Basra, police have told Al Jazeera."
"All told, the Chinese killed or imprisoned 18 to 20 of the C.I.A.'s sources in China, according to two former senior American officials, effectively unraveling a network that had taken years to build."
"South Korea's joint chiefs of staff said the rocket had been fired from an area near the North Korean county of Pukchang and had flown eastward for about 310 miles"
"The historian Hun Joon Kim found that at least 300,000 people were detained and executed or simply disappeared by the South Korean government in the first few months after conventional war began. My own work and that of John Merrill indicates that somewhere between 100,000 and 200,000 people died as a result of political violence before June 1950, at the hands either of the South Korean government or the US occupation forces."
"The new Global Center for Combatting Extremist Ideology, which will be opened in Riyadh, will be a Saudi-led hub for defeating extremism in the information space. As you've heard us say often, we have to defeat ISIS on the battlefield, but we really have to defeat ISIS in the cyberspace. "
A diplomatic cable by Hillary Clinton concedes that "donors in Saudi Arabia constitute the most significant source of funding to Sunni terrorist groups worldwide."
"Across the federal government, lobbyists and lawyers who once battled regulations on behalf of business are helping run the agencies they clashed with"
Willfully squandering the chance to alter course in the name of "jawbs."
"According to the documentation (see Athena Technology Overview), the malware was developed by the CIA in cooperation with Siege Technologies, a self-proclaimed cyber security company based in New Hampshire, US. On their website, Siege Technologies states that the company 'focuses on leveraging offensive cyberwar technologies and methodologies to develop predictive cyber security solutions for insurance, government and other targeted markets.' On November 15th, 2016 Nehemiah Security announced the acquisition of Siege Technologies."
"In 1952, Time Magazine called MAD 'a short lived, satirical pulp.' Now they're stealing our material! Honestly, we're flattered, but we would have appreciated a credit — something like, 'Idea stolen from MAD, which in 1952 we called a short lived satirical pulp!'"
Next thing you know they'll be stealing Onion headlines...
"CWA is asking for wage increases beyond the 2 percent that AT&T is offering, as well as a pledge not to increase employee healthcare contributions. AT&T workers are also upset about the telecom giant's continued practice of offshoring call-center jobs, and outsourcing retail operations to third-party dealers."
"The agreement, which is worth $350 billion over 10 years and $110 billion that will take effect immediately, was hailed by the White House as 'a significant expansion of…[the] security relationship' between the two countries."
"In what appears to have been the biggest prison break ever in the African country, nearly 4,200 inmates were missing from its most notorious penitentiary, the maximum-security Makala prison in Kinshasa, the capital."
And if that weren't bad enough, ebola is spreading.
"Russia, which launched its own air campaign in September 2015 in support of Syria's President Bashar al-Assad, called the strike 'a breach of Syrian sovereignty'."
"The election was seen by many as a verdict on Rouhani's policy of opening up Iran to the world and his efforts to rebuild its stagnant economy."
"Former FBI Director James Comey now believes that President Donald Trump was trying to influence his judgment about the Russia probe, a person familiar with his thinking says, but whether that influence amounts to obstruction of justice remains an open question."
"Assad is invariably portrayed as a uniquely evil figure with no rational capacity -- an 'animal,' as Donald Trump called him -- while the atrocities committed by his Western-backed adversaries, most recently in Rashidin, where over 80 Shia evacuees, mostly women and small children, were slaughtered by a suicide bomber, are ignored or whitewashed."
"Five women, five children and a man in a vehicle were killed and one woman and two men were wounded in the blast in Logar province, just south of the capital of Kabul, said Mohammad Halim Fedayee, the provincial governor."
"Keep it short — no 30-minute monologue for a 30-second attention span. Do not assume he knows the history of the country or its major points of contention. Compliment him on his Electoral College victory. Contrast him favorably with President Barack Obama. Do not get hung up on whatever was said during the campaign. Stay in regular touch. Do not go in with a shopping list but bring some sort of deal he can call a victory."
"Around 40,000 members of the Communications Workers of America (CWA) at AT&T could walk off their jobs, starting Friday, for a three-day strike, as pressure continues to mount on the corporation to settle fair contracts."
"The US Federal Communications Commission voted 2-1 today to start the process of eliminating net neutrality rules and the classification of home and mobile Internet service providers as common carriers under Title II of the Communications Act."
"Microsoft wanted hefty fees of up to $1,000 a year from businesses for "custom" support and protection against attacks like WannaCry... Microsoft finally did make the patch available free of charge to Windows XP machines last Friday"
"A member of the U.S.-backed Syrian rebel forces told Reuters the strikes hit a convoy of Syrian and Iranian-backed militias that were heading toward a base used by U.S. and U.S.-supported forces."
"Hundreds of thousands of Greeks walked off the job on Wednesday, heeding the call of labor unions to join a 24-hour general strike to protest a new round of austerity measures nearing approval in Parliament."
"Mr Trump has consistently warned Iran over its missile activity, and has criticised the terms of the deal made by Mr Obama - at one point claiming his 'number one priority' if elected would be 'to dismantle the disastrous deal'."
"The U.S. Justice Department, in the face of rising pressure from Capitol Hill, named former FBI chief Robert Mueller on Wednesday as special counsel to investigate alleged Russian interference in the 2016 U.S. election and possible collusion between President Donald Trump's campaign and Moscow."
"The Democratic Party and the #Resistance are not going to impeach Donald Trump. The Democratic and Republican Parties can and will if they want to. And, as they never cease proclaiming, what Israel wants, they want."
"The kingdom's sovereign wealth fund is set to announce plans to deploy as much as $40 billion into U.S. infrastructure... as part of its attempts to diversify away from oil after prices slumped"
Find a new host to feed off of...
"I hope you can see your way clear to letting this go, to letting Flynn go"
"Using trademark garbled English, the Shadow Brokers group said in an online statement that, from June, it will begin releasing software to anyone willing to pay for access to some of the tech world's biggest commercial secrets."
"Microsoft and the equationgroup is having very very large enterprise contracts millions or billions of USD each year. The EquationGroup is having spies inside Microsoft and other U.S. technology companies. Unwitting HUMINT. TheEquationGroup is having former employees working in high up security jobs at U.S. Technology companies. Witting HUMINT. Russian, China, Iran, Israel intelligence all doing same at global tech companies. The ShadowBrokers is thinking Google Project Zero is having some former The EquationGroup member. Project Zero recently releasing 'Wormable Zero-Day' Microsoft patching in record time, knowing it was coming? coincidence?"
"The United States is pouring money into a corrupt sewer. The World Justice Project's 2016 Rule of Law Index ranked Afghanistan 111 of 113 countries assessed. Despite U.S. arms, aid and training, its divided and demoralized security forces can't stand up to the Taliban."
"Valdez's killing on Monday makes him at least the fifth journalist to be murdered in Mexico in just over two months, and the second high-profile reporter to be slain in the country over the past few years after Regina Martinez Perez, who was found strangled in her home in 2012."
"The 25 best-paid hedge fund managers earned a collective $11 billion in 2016... Nearly half of the top-25 earners made single-digit returns for their investors, a lackluster sum in a year when the Standard & Poor's 500-stock index was up 12 percent, accounting for reinvested dividends... the Trump administration's outline of a tax plan, released at the end of April, appears to be a boon for the industry."
"Onward Together is registered as a 501(c)(4) group, the Internal Revenue Service designation for so-called social welfare nonprofits, which are often cited for a rise in dark money in politics because of their ability to protect donor anonymity."
"One of Bossert's subordinates also called for the problematic portion of Trump's discussion to be stricken from internal memos and for the full transcript to be limited to a small circle of recipients, efforts to prevent sensitive details from being disseminated further or leaked."
"Trump went off script and began describing details of an Islamic State terrorist threat related to the use of laptop computers on aircraft"
"The anti democratic actions of Obama over 8 years seems to pass unnoticed. What was NDAA? Obama expanded surveillance, prosecuted whistleblowers and expanded military tribunals. And this just scratches the surface. What was TTP for that matter? And yet, if you can find me a liberal willing to actually debate this, I will clean your house for a year, free."
"The hacking tool, developed by the US National Security Agency and called EsteemAudit, has been adapted and is now available for criminal use, according to security analysts."
"The federal investigator, who requested anonymity, said 44,053 emails and 17,761 attachments between Democratic National Committee leaders, spanning from January 2015 through late May 2016, were transferred from Rich to MacFadyen before May 21."
"It's almost like you're trying to make us incriminate ourselves."
"At least 50 prisoners a day are executed in the prison, some in mass hangings, said Stuart Jones, the acting assistant secretary of state for the Middle East. A recent Amnesty International report called Sednaya a 'human slaughterhouse' and said that thousands of Syrians have been abducted, detained and 'exterminated' there."
One more reason to support the Kurds.
"Only a few medical facilities are still functioning and two-thirds of the population are without access to safe drinking water, the United Nations has said."
"It is a chilling tribute to the authoritarian instincts of Trump that his first foreign visit as President should be to the last arbitrary monarchies left on earth and to a state where women are not even allowed to drive."
Maybe this has got something to do with that $100 billion arms deal?
"Their enormous fees — as much as 2 percent in management fees and 20 percent of any gains — must always be paid. And these costs push pension funds deeper into the hole."
"With growth slowing at home, China is producing more steel, cement and machinery than the country needs. So Mr. Xi is looking to the rest of the world, particularly developing countries, to keep its economic engine going"
And when countries cannot repay their loans? Fire sale time... Same basic playbook used by the IMF in Ukraine.
"The missile flew 700 km (430 miles) and reached an altitude of more than 2,000 km (1,245 miles), according to officials in South Korea and Japan, further and higher than an intermediate-range missile North Korea successfully tested in February from the same region of Kusong, northwest of its capital, Pyongyang."
Just in time for China's One Belt, One Road shindig.
Security services outsource to the underworld as a matter of standard operating procedure (recall how the FBI used Jeremy Hammond?). It transfers risk while also enabling plausible deniability. The ditch diggers at the bottom of the food chain often have no idea who they're working for. Talking to false flag cut-outs who vanish into thin air. This is why attribution is so hard.
"Eight candidates had interviews Saturday: Texas Sen. John Cornyn; acting FBI Director Andrew McCabe; attorney Alice Fisher; New York Court of Appeals Judge Michael Garcia; Adam Lee, head of the bureau's office in Richmond, Virginia; federal judge Henry E. Hudson of Virginia; former homeland security adviser Frances Townsend; and former Michigan Rep. Mike Rogers."
"In addition to annual membership of $7,500, you pay $2,700 per domestic flight and $3,000 per international flight. The cost covers a group of up to four people. If you aren't a member, you pay $3,500 for a domestic flight and $4,000 for international flight for a group of up to three people."
"The relationship between North Korea and the US has been getting worse and worse because South Korea hasn't performed its role well"
"The police engage in the widespread practice of torture throughout the territory... with a view to obtaining confessions from persons in custody... The Committee is seriously concerned at reports that members of the State party's military forces; intelligence forces... and paramilitary forces... have been implicated in a significant number of cases of extra-judicial executions involving torture and enforced disappearances"
Report here.
"A bomb exploded next to a convoy of the deputy chairman of the Pakistan Senate on Friday in the violence-plagued province of Baluchistan, killing at least 25 people, officials said. Islamic State claimed responsibility for the bombing. The group's Amaq news agency said a bomber wearing an explosive vest carried out the attack"
"Of the nine people suspected to have contracted the deadly virus, three died, with one case of Ebola confirmed through tests at the national laboratory in the capital Kinshasa, WHO Congo representative Allarangar Yokouide said in a statement."
"The intelligence information about the suspected weapons manufacturing sites was shared with the BBC on condition the agency providing it would not be named. It does not give detail about how the alleged evidence was gathered."
"First, they find or create weaknesses then they don't fix these weaknesses so we are all vulnerable to attack. Then, when attacks occur, they say they need more money for cyber security — a total swindle!!!"
"The National Health Service (NHS) in the U.K. also issued an alert and confirmed infections at 16 medical institutions... Currently, we have recorded more than 45,000 attacks of the WannaCry ransomware in 74 countries around the world, mostly in Russia"
NSA exploits, the gift that keeps on giving.
"'AfterMidnight' allows operators to dynamically load and execute malware payloads on a target machine... 'Assassin' is a similar kind of malware; it is an automated implant that provides a simple collection platform on remote computers running the Microsoft Windows operating system"
"The Houthis say the Gulf powers are seeking to divide and occupy the country"
Because the NSA can't see anything: HUMINT
Note the conspicuous absence of the Gulf States with regard to Sunni Terrorism. No problem mentioning Iran though...
"The order places the defense secretary and the head of the intelligence community in charge of protecting 'national security' systems that operate classified and military networks. But the secretary of homeland security will continue to be at the center of the national plan for protecting critical infrastructure, such as the electric grid and financial sector."
"That strategy had been set within twenty-four hours of her concession speech. Mook and Podesta assembled her communications team at the Brooklyn headquarters to engineer the case that the election wasn't entirely on the up-and-up. For a couple of hours, with Shake Shack containers littering the room, they went over the script they would pitch to the press and the public. Already, Russian hacking was the centerpiece of the argument."
"The FBI is apparently hot on the redolent trails of lucre left by Michael Flynn and Paul Manafort, which confirms my suspicion that the real scandal isn't Russian meddling in the 2016 elections but shady financial dealings by Trump's dubious ensemble of associates."
See Also: "The Senate intelligence committee Wednesday issued a subpoena to former National Security Adviser Michael Flynn for documents regarding his interactions with Russian officials."
"WindsorGreen possesses substantially greater computing power than WindsorBlue, making it particularly adept at compromising encryption and passwords."
"The US wants to inflict a double defeat on Isis by capturing both Raqqa and Mosul in Iraq over the next few months... Turkey is facing a disastrous outcome of the wars in Syria and Iraq which it once hoped would extend its influence in the northern Middle East... The Syrian Kurds are worried that, once Isis is defeated, the US will no longer need them and will revert to its old alliance with Turkey as a member of Nato and a major power."
"The Hadi government and the Houthi-Saleh alliance only represent the politics and divisions within the northern Yemeni elite, fighting one another for power, resources and control of the country... If peace talks are not broadened beyond the political elite's struggle for power, it is hard to see how a sustainable peace deal will ever be reached. As long as the majority of Yemenis remain socially, politically and economically marginalized."
"His appeal, described on Wednesday by four congressional officials, was made to Rod J. Rosenstein, the deputy attorney general, whose memo was used to justify Mr. Comey's abrupt dismissal on Tuesday."
See also: "Only hours after dismissing James B. Comey as director of the F.B.I., amid an investigation into the Trump campaign's contacts with Russian officials, the president met with Russia's foreign minister, Sergey V. Lavrov, at the White House."
See also: "The U.S. establishment seems to want an Emperor who will go around the world spying on people and killing them as he sees fit, but want to make sure he abides by legal niceties in the U.S."
"By using its own little monopoly to raise prices, it's exposing the unconstrained power of the entire sector over something that feels like a utility to most Americans."
"The Trump administration is likely to expand a ban on laptops on commercial aircraft to include some European countries, but is reviewing how to ensure lithium batteries stored in luggage holds do not explode in midair, officials briefed on the matter said on Wednesday."
"1,280 to 1,744 civilians killed by at least 2,237 bombs and missiles that rained down from U.S. and allied warplanes in April (1,609 on Iraq and 628 on Syria). The heaviest casualties were in and around Old Mosul and West Mosul, where 784 to 1,074 civilians were reported killed, but the area around Tabqa in Syria also suffered heavy civilian casualties."
"The Turkish position has created a dilemma for U.S. military officials, who see no viable alternative force in Syria capable of and willing to mount an assault on Raqqa, a city where they say militants are plotting attacks against the West."
"North Korea would never launch an ICBM against the US unless a general war was on; they know they would be erased if they did so."
"Omitted from all these CSIS media appearances, however, is that one of CSIS's top donors, Lockheed Martin, is THAAD's primary contractor"
"Nixon proposed a National Health Insurance Program - an expansion of Medicare to cover the health needs of all Americans. This radical proposal (a version of 'single payer') was attacked and defeated by the Democratic Party, led by Massachusetts Senator Ted Kennedy who was backed by 'Big Pharma', the AMA and the growing corporate 'health' industry."
"It's the timing that is important here. This is an investigation that is being conducted by the FBI's counterintelligence unit, it is very secretive and confined to that division of the FBI. To make this change in midstream raises questions about the direction of the investigation and who will come next to lead it"
""We had become aware of Russian activity. We had talked to our French counterparts and gave them a heads-ups — 'Look, we're watching the Russians. We're seeing them penetrate some of your infrastructure. Here's what we've seen. What can we do to try to assist?'"
"The tunnel is one of two that run into the Plutonium Uranium Extraction Facility, also known as PUREX... Officials requested that the Federal Aviation Administration put a temporary flight restriction in place, according to the FAA."
"The Democratic party candidate captured the public mood with vows to reform South Korea's powerful chaebols, family-owned conglomerates, and tackle rising inequality and youth unemployment."
"South Korea's family-controlled business empires, called chaebol, which dominate the country's economy and have amassed immense political power."
"The plan envisions an increase of at least 3,000 U.S. troops to an existing force of about 8,400. The U.S. force would also be bolstered by requests for matching troops from NATO nations."
"Macron's victory in France will allow EU officials to dust off plans for deeper eurozone integration, such as a common finance minister and treasury – ideas that had previously stalled, in part because of France's political weakness"
"His policies are standard neoliberal: Take away workers' rights, and grind them down in the name of labor market flexibility. These policies won't improve the economy... We will simply have to wait for death and the time to make changes. It will cost us much misery and many deaths, but it is unavoidable."
"This is Britain in 2017. A Britain that increasingly looks like a 'managed' democracy. Paid for by a US billionaire. Using military-style technology. Delivered by Facebook. And enabled by us."
News flash: the Democrats have this guy licked, they've got a much larger psyop machine at their disposal.
"The expansion (and even the maintenance) of the surveillance capabilities of democratic governments presupposes a permanent structural insecurity of our communication networks. That insecurity, in turn, gets exploited not just by democratic governments but by anyone else, including all those rogue states and non-state hackers."
"Governments are not restraining the toxic activities of companies; rather, they engage in toxic activities of their own, which companies mitigate with activities that are either more or less toxic – depending on one's views about the parasitic nature of economic activities pursued by rentiers."
"A spokesman for the E.P.A. administrator, Scott Pruitt, said he would consider replacing the academic scientists with representatives from industries whose pollution the agency is supposed to regulate, as part of the wide net it plans to cast. "
"Pakistan's military claims it has killed more than 50 Afghan troops along the border. While border clashes between the two countries are not a new occurrence, experts say this time the situation is more 'warlike.'"
"I believe in our government, but not our leaders. They are mafia, all mafia. And I am sorry, sorry, but your government did that. Mafia."
"More than 200 cholera cases have been reported in Yemen's capital Sanaa as contaminated water and poor sanitation have led to a sharp rise in the transmission of the deadly disease."
"The current outbreak was identified in early April. As of Friday, there were 44 cases, all but two occurring in people who were not vaccinated and all but one in children 10 or younger. Nearly all have been from the Somali American community in Hennepin County."
"Codify a change that the N.S.A. and Foreign Intelligence Surveillance Court recently made to the program, ending so-called about collection of emails, from internet network switches, that talk about a foreigner being spied on but are not to or from that target."
As usual, dithering around the edges...
"One document had last been modified by a Russian user named Roshka Georgiy Petrovich. Mr. Petrovich, 32, an employee of the Moscow-based Eureka CJSC"
This sort of thing is easy to fabricate... (would an attacker really be stupid enough to do this?)
"Remember that the next time Intel, a $180bn international semiconductor giant, talks about how important it treats security."
"A State Department official on Friday said that the Russian proposal calling to bar U.S. military aircrafts from flying over designated safe zones cannot 'limit' the U.S.'s mission against ISIS in the country in any way."
Yet Russia and the United States both agree to take measures to prevent mid-air collisions.
"Provisions in proposals show that the government is asking for powers to compel internet providers to turn over the realtime communications of a person 'in an intelligible form,' including encrypted content, within one working day. To that end, internet providers will be forced to introduce a backdoor point on their networks to allow intelligence agencies to read anyone's communications."
"Some nine gigabytes of data were posted by a user called EMLEAKS to Pastebin, a document-sharing site that allows anonymous posting. It was not immediately clear who was responsible for posting the data or whether the emails were genuine. In a statement, Macron's political movement En Marche! (Onwards!) confirmed that it had been hacked."
"By Saturday, election officials were asking media to 'show a spirit of responsibility and not to relay these contents, in order to not alter the integrity of the vote.' If the appeal doesn't work, they have a warning, too: 'The dissemination or republishing of such content, obtained fraudulently and in all likelihood possibly altered, could be subject to punishment.'"
"Mr. Bannon speaks regularly with Mr. Adelson, who donated millions of dollars to outside groups to help Republicans in the 2016 elections."
"Among those who said they had received the requests were Roger J. Stone Jr., an informal adviser to President Trump, and Carter Page, a businessman and former foreign policy adviser to the Trump campaign. Paul Manafort, the former campaign chairman, and Michael T. Flynn, the former national security adviser"
"There was no immediate comment from the American military or from the Trump administration, which sent a representative, Stuart E. Jones, the acting assistant secretary of state, to the talks. Nor was it clear whether Washington had agreed to the conditions that Mr. Lavrentiev described, or whether Russia would try to enforce them."
"At least 11 people were killed and dozens were wounded on Friday in clashes between Afghan and Pakistani forces on the border between the two countries"
"Over the past two months, President Trump has done more to alienate South Korea than any American leader in the past 40 years. If Trump and the American politicians and pundits who support his militaristic approach to North Korea aren't careful and continue to ignore this country's wishes, they could spark the most serious wave of anti-Americanism in the South since 1980."
"They told him that assassination by use of biochemical substances including radioactive substance and nano poisonous substance is the best method that does not require access to the target, their lethal results will appear after six or twelve months"
"Mr. Hekmatyar owes his rise to the fight against the Soviet Union and the Communist-backed government in Kabul during the 1980s. His faction of guerrilla fighters received the bulk of arms and money funneled in by the C.I.A. to defeat the Soviets, because he was seen as ruthless and close to Pakistan, the conduit of the American proxy war."
"The government started off with all of these grand hopes to be able to protect the citizenry and then gradually the scale of the weapons and the size of the weapons overtook any reasonable efforts to protect the civilian population. The government plans just kept getting simpler and simpler until it was just about getting this core group of government leaders into the side of a mountain or up into a plane somewhere."
"This technique is used by the CIA to redirect the target's computers web browser to an exploitation server while appearing as a normal browsing session."
Stays within the baseline of normal traffic to foil IDS. Anti-forensic.
"Among a host of provisions President Donald Trump signed Thursday was an order directing the IRS to be lenient about a law that blocks pastors from endorsing candidates from the pulpit. Just one issue: The IRS is already incredibly lenient about enforcing this law—so much so that some pastors have been trying for years to goad the agency into enforcing it, to no avail."
"Thank you Mr. Trump for admitting that universal health care is the better way to go. I'll be sure to quote you on the floor of the Senate"
"Uber has acknowledged the software, known as 'Greyball,' helped it identify and circumvent government officials who were trying to clamp down on Uber in areas where its service had not yet been approved, such as Portland, Oregon."
"Would repeal most Obamacare taxes, which paid for the law, roll back the Medicaid expansion and slash the program's funding, repeal the penalty for not purchasing insurance and replace the law's tax credits with flat age-based credits."
See this for details.
"The authors estimate that almost all large American metropolitan areas may lose more than 55 percent of their current jobs because of automation in the next two decades"
"This is 100% Ivanka, she loves to say 'if you will'"
"The U.S. demanding that a head of a foreign state 'must go' is not 'regime change'? Actively supporting a violent insurgency against the government of a state with the aim of changing that government is not "regime change" policy? Giving billions of dollars and tens of thousands tons of weapons to sectarian brutes who strive to overthrow a government is not a 'regime change' policy?"
"The Chinese Embassy in North Korea has advised Korean-Chinese residents to return home amid concern that the North's military provocations may trigger a U.S. attack on the North, according to a source."
With bluster from North Korea and anti-THAAD protests in the South.
"At least eight Afghan civilians were killed and three American soldiers wounded on Wednesday when a suicide bomber attacked an American military convoy during the morning rush hour in Kabul, officials said."
"The report said the names of 1,934 'U.S. persons' were 'unmasked' last year in response to specific requests, compared with 2,232 in 2015, but it did not identify who requested the names or on what grounds."
It's as though Section 215 of the Patriot Act never went away.
"In Calexico, for example, the U.S. Department of Justice found that police had quietly acquired $100,000 worth of high tech spy gear—GPS trackers, surreptitious audio and video recording devices, tactical binoculars, and even a special backpack for conducting field surveillance. These officers then used this technology to spy on elected officials and members of the public who filed police complaints, allegedly with the motive of extortion."
"Ms. Trump, 35, a former model, entrepreneur and hotel developer, says she will focus on gender inequality in the United States and abroad"
Just like Hillary. Focus on identity politics because economic issues are too painful.
"It'll be backlash ethnic nationalism against sociopathic finance capitalism, foreigners-suck versus screw-the-poor, depending on Trump's mood. That's assuming the president hasn't been distracted by some insane civilization-imperiling military adventure recommended to him by 'adults' like Defense Secretary James Mattis, Homeland Chief John Kelly and National Security Adviser H.R. McMaster. Who's really running things in the Trump White House? The more we hear, the less we seem to \ know, but none of the choices seem to be good."
"Some militants reportedly blew themselves up at a Kurdish checkpoint while others attacked sleeping civilians in a nearby temporary camp sheltering hundreds of displaced people who fled IS-controlled territory."
"Venezuela has been rocked for the last month by huge street protests against Mr. Maduro's government, which have been met with repression by the security forces. At least 29 people have been killed."
"The U.S. Air Force's Global Hawk drone is expected to survey ballistic missiles and nuclear facilities in North Korea... According to Defense Ministry officials, the drone is capable of capturing aerial images and electronic data from an altitude of around 50,000 feet"
How would the United States respond to Chinese drones surveying American territory?
"Mr. Trump has used the review act as a regulatory wrecking ball, signing 13 bills that erased rules on the environment, labor, financial protections, internet privacy, abortion, education and gun rights. In the law's 21-year history, it had been used successfully only once before, when President George W. Bush reversed a Clinton-era ergonomics rule."
"Her base didn't turn out, Donald Trump's did and the difference was too much to overcome."
Don't tell that to Hillary, she's still in denial: "A combination of Jim Comey's letter on October 28 and Russian WikiLeaks raised doubts in the minds of people who were inclined to vote for me and got scared off."
"There is literally no Intel box made in the last 9+ years that isn't at risk. This is somewhere between nightmarish and apocalyptic."
"Afghanistan remains in the grip of a deadly war. Casualties suffered by the Afghan National Defense and Security Forces (ANDSF) in the fight against the Taliban and other insurgents continue to be shockingly high: 807 were killed in the first six weeks of this year. Likewise, civilian casualties in 2016 were the highest since the United Nations Assistance Mission in Afghanistan began reporting them in 2009."
"Two senior officials said they expected the State Department and the National Security Council, both of which were caught off guard by the invitation, to raise objections internally."
"If it would be appropriate for me to meet with him, I would absolutely, I would be honored to do it"
"In October 1884, the Federation of Organized Trades and Labour Unions of the United States and Canada decided that May 1, 1886, would mark the first day that an eight-hour workday would go into effect. When that day arrived, between 300,000 and a half-million American workers went on strike in cities and towns across the country, according to various historians' estimates."
"In February, the company announced it would close nine stores: in Chicago, New Mexico, Utah, Arizona, and Georgia, and two each in Colorado and California. The closures, which followed six straight quarters of sales declines, represented the first downsizing since 2008."
April 2017_________________________________________
And then bans Wikipedia on top of all that.
"At least seven journalists were shot across the country last month — outside their front doors, relaxing in a hammock, leaving a restaurant, out reporting a story. Three of them died, dispatched by armed men who vanished without a trace."
"It shall be the policy of the United States to encourage energy exploration and production, including on the Outer Continental Shelf, "
"One of the websites that appeared to be gone had been cited to challenge statements made by the EPA's new administrator, Scott Pruitt. Another provided detailed information on the previous administration's Clean Power Plan, including fact sheets about greenhouse gas emissions on the state and local levels and how different demographic groups were affected by such emissions."
"Moralizing is reserved for US enemies; US allies are simply underperforming employees in need of guidance and mild chiding. Saudi Arabia, despite being an oppressive absolute monarchy that arbitrarily detains, tortures, executes and mercilessly bombs civilians, is never given the dreaded 'regime' moniker like Assad and Gaddafi and North Korea. Actions are not done by an anthropomorphized state, but a nebulous blob of reluctant bureaucrats. And they are not even actions; they are always good-faith reactions to 'Iranian hegemony.'"
"Milan tax police have told Amazon they believes the world's largest online retailer has evaded around 130 million euros ($142 million) of taxes in Italy, a source close to the matter said on Friday."
"Details of the method used cannot be disclosed for security reasons, but sources said they now have the technical expertise to repeat the process in future. "
"U.S. armored vehicles are deploying in areas in northern Syria along the tense border with Turkey, a few days after a Turkish airstrike that killed 20 U.S.-backed Kurdish fighters, a Syrian war monitor and Kurdish activists said Friday."
"There is a chance that we could end up having a major, major conflict with North Korea. Absolutely"
Really, how do the South Koreans feel about that? Have they been stocking up on bunker food? Are the embassy staff being evacuated?
Don't buy this for a minute. If they've given up email collection under Section 702 it means that they've switched to an equivalent technique via means authorized under Executive Order 12333.
"Earlier today, Richard K. Lai, a United States citizen, pleaded guilty to a criminal information charging him with two counts of wire fraud conspiracy in connection with his participation in multiple schemes to accept and pay bribes to soccer officials. Lai also pleaded guilty to one count of failing to disclose foreign bank accounts and agreed to pay more than $1.1 million in forfeiture and penalties."
"Mr. Trump's plan cuts the corporate tax rate to 15 percent from 35 percent."
"Acting Pentagon inspector general Glenn Fine disclosed the inquiry in an 11 April letter to the House oversight committee, which is also investigating Flynn. The committee released Fine's letter on Thursday."
"A document-watermarking preprocessing system to embed 'Web beacon'-style tags into documents that are likely to be copied by Insiders, Whistleblowers, Journalists or others."
What are the odds that the Vault 7 documents are somehow marked?
"Before getting caught, Rimasauskas allegedly received a total of $100 million in transfers from both Google and Facebook. Neither company reported the losses to the SEC as a 'material event'"
They got most of their money back...
"In the case of Syria, the 'no doubt' standard Mattis has employed does not meet the 'reasonable man' standard. Given the consequences that are attached to his every word, Secretary Mattis would be well advised not to commit to a 'no doubt' standard until there is, literally, no doubt."
"Clinton is the one that approved NAFTA ... NAFTA is the worst deal, one of the worst deals our country has ever made, from an economic standpoint … one of the worst deals, ever"
By now Trump's base has whiplash. He can only blame Clinton and Obama for so long...
"And what was the problem that Title II was supposed to address? We were warned that without it, the Internet would suddenly devolve into a digital dystopia of fast lanes and slow lanes... I said that Title II regulation would reduce investment in broadband infrastructure. It's basic economics: The more heavily you regulate something, the less of it you're likely to get."
"It's a worsening crisis that is robbing the federal government of more than a billion dollars a year in stolen fuel and imperiling Mexico's efforts to attract foreign investment "
"Cameras will potentially be scanning the faces of an estimated 170,000 visitors plus the many more thousands of people in the vicinity of the bustling Saturday evening city center on match day, June 3. Captured images will then be compared in real time to 500,000 custody images stored in the police information and records management system alerting police to any 'persons of interest,' according to the tender."
"More than 1,000 had already been detained by Turkish authorities, NTV said, accused of secretly infiltrating police forces across the country on behalf of a US-based cleric blamed by the government for last July's coup."
"Poor lines of communication and little understanding of the adversary's intentions? Check. Lots of bluster and bluffing by the parties? Double check. Military doctrines and force postures that can push small incidents up the ladder to a major confrontation? Again, check."
They've got nothing on American bankers.
"Such payments might violate the Emoluments Clause of the Constitution, which prohibits former military officers like Mr. Flynn — a retired three-star Army general — from receiving money from a foreign government without consent from Congress."
"Both journalists and intelligence agencies cultivate and protect sources, collect information and write reports, but the similarities end there. The world cannot afford, and the Constitution does not permit, a muzzle placed on the work that transparency organizations do to inform the American and global public."
"Management personnel were added at a rate that exceeded the growth rate of other employee groups, including nonfaculty support staff, and the campuses we visited frequently could not adequately justify the number of new management personnel they hired. In addition, at one campus at least 70 management personnel received raises totaling more than $175,000 annually and were not supported by current written performance evaluations"
"Turkey stepped up its bombing campaign Tuesday against Kurdish militants outside its borders, killing as many as 20 U.S.-backed fighters in Syria and expanding its strikes in Iraq, an escalation that could complicate efforts to combat the Islamic State."
"The soldiers were guarding road workers in the Sukma district of Chhattisgarh state, a hotbed of insurgent violence, when they came under heavy fire... One soldier who survived the attack, Sher Mohammed, told reporters from his hospital bed that 'almost 300 of them attacked us.'"
"In 2012, with help from Goldman Sachs, a Malaysian sovereign wealth fund called 1Malaysia Development Berhad sold $3.5 billion worth of bonds backed by an Abu Dhabi government fund to help it purchase power plants. But behind the scenes, American officials have claimed, nearly $1.45 billion was illegally redirected to Swiss bank accounts"
Hey, that billion dollar library isn't going to build itself... Obama's true constituents show their love.
See Also: "This is corruption. It is evil. And millions of people suffered for it. Many died. Obama's administration was very deliberate in not helping homeowners in any serious way (in fact harming them). They didn't help homeowners because they felt doing so would hurt banks. Millions lost their jobs, and the economy never fully recovered."
Note the sanity check from the French government "we will not attribute the attack because we can very easily be manipulated and the attacker could pass themselves off as somebody else." This does little to stop vendors from making bold claims because there's no downside, it's all free advertising.
"Concentrated heavily along the coasts, the bubble is both geographic and political... But economists know something the internet evangelists have ignored: All else being equal, specialized industries like to cluster"
"In a country whose politics have been long dominated by establishment center-left and center-right parties, neither candidate from those two camps made it to the second round. That's the first time this has happened in the history of the Fifth Republic."
"The U.S. and its allies are believed to be the only forces flying missions over Tabqa. The Observatory said the U.S.-backed fighters entered Tabqa on Monday but the town remains largely under IS control."
"Interviews with more than 50 current and former Uber employees, investors and others with whom the executive had personal relationships, Mr. Kalanick, 40, is driven to the point that he must win at whatever he puts his mind to and at whatever cost"
"Otonomo has 70 partners buying up the data, ranging from players in the retail space and insurance industry, Volkow said. More than 1 million cars on the road are already connected to the Otonomo platform, and that number will rise to 5 million by the end of 2017."
"Today, in 2017, Libya has the 'free markets' Friedman so adores, albeit a slightly different kind: free markets for human slaves."
"Since then, Kristof has had next to nothing to say about Libya. He has moved on to a new crusade for regime change on the grounds of 'civilian protection.'"
"Today, the groups control 10 percent of towns and cities in Venezuela, according to Fermín Mármol, a criminologist at the University of Santa María in Caracas. Mr. Mármol said the deep left-wing ideological bent of the groups means they will defend Mr. Maduro at any cost."
"The attack, responsibility for which has been claimed by the Taliban, happened at an army command centre a few miles from Mazar-i-Sharif, the capital of Balkh. Two of the attackers blew themselves up and seven were killed in the assault, which lasted several hours and targeted soldiers at a mosque and a dining facility, the Afghan defence ministry said."
"Venezuela is trapped in a deep economic, social and political crisis that features shortages of medicine and food. And looting of grocery stores and food trucks are not uncommon."
"If Australia persists in following the US' moves to isolate and stifle North Korea … this will be a suicidal act of coming within the range of the nuclear strike of the strategic force of North Korea."
"Roman Valeryevich Seleznev, 32, was convicted in August for stealing credit card data from US restaurants, causing nearly $170m (£132m) in damages... Mr Seleznev, a member of the the nationalist Liberal Democratic Party (LDPR), said it was a life sentence because his son would never survive 27 years in prison. "
"A bipartisan group of voting rights advocates says the lower house of the Wisconsin Legislature, the State Assembly, was gerrymandered by its Republican majority before the 2012 election — so artfully, in fact, that Democrats won a third fewer Assembly seats than Republicans despite prevailing in the popular vote. In November, in a 2-to-1 ruling, a panel of federal judges agreed."
"I do not see a role in Libya. I think the United States has right now enough roles. We are in a role everywhere"
"On Thursday, in a courtroom overflowing with government ministers, opposition politicians and lawyers, Justice Asif Saeed Khosa said a team consisting of civilian and military intelligence investigators would investigate Mr. Sharif's finances and report its findings within 60 days. The five-member panel led by Mr. Khosa voted 3-2 that there was insufficient evidence to remove Mr. Sharif from office."
"During President Barack Obama's administration, Attorney General Eric Holder and officials at the Justice Department determined it would be difficult to bring charges against Assange because WikiLeaks wasn't alone in publishing documents stolen by Manning."
"Today, April 21st 2017, WikiLeaks publishes the User Guide for CIA's 'Weeping Angel' tool - an implant designed for Samsung F Series Smart Televisions. Based on the 'Extending' tool from MI5/BTSS, the implant is designed to record audio from the built-in microphone and egress or store the data."
"The Nation must be ever mindful of the unpredictable global security environment that requires an effective and efficient means to provide manpower to the national security community, including military and non-military support in a national emergency"
"The October 2012 invoice, which includes access to the zero-day portal, was for a total of $575,000. Public records show the DEA signed a definitive contract with Cicom USA, Hacking Team's US subsidiary, for $575,000 in August 2012."
"The Federal Communications Commission, on a 2-1 Republican-led vote on Thursday, restored the practice of counting just part of some stations' audience. Shrinking the audience allows more room to buy stations before a company reaches the limit of serving 39 percent of the national TV viewership. The agency also said it may consider raising that limit."
"A stepped-up military campaign against the Houthi fighters who have taken over the capital and portions of the country may be necessary to bring the group and its ally, former President Ali Abdullah Saleh of Yemen, to the negotiating table."
We must bomb the village to save it...
"After addressing a rowdy session of the House of Commons, May won the support of 522 lawmakers in the 650-seat parliament for an election on June 8. Only 13 voted against."
"The equipment requested by the Iraqi government would outfit two peshmerga infantry brigades and two support artillery battalions, the Defense Security Cooperation Agency said in a statement."
"48 people or corporations gave $1 million or more, according to the disclosures filed with the Federal Election Commission. Besides Mr. Adelson, they included a trust controlled by the coal industry billionaire Joseph W. Craft III; the parent company of R. J. Reynolds Tobacco Company; and Robert Mercer, the billionaire investor and close ally of Stephen K. Bannon, a White House adviser."
Here's the FEC documentation. The swamp owns Trump.
"Today, the President signed a Presidential Memorandum prioritizing an investigation initiated by the Secretary of Commerce into whether steel imports threaten to impair the national security. The investigation is being conducted under Section 232 of the Trade Expansion Act of 1962."
"In the case of our super-mighty preemptive strike being launched, it will completely and immediately wipe out not only U.S. imperialists' invasion forces in South Korea and its surrounding areas but the U.S. mainland and reduce them to ashes"
"The Office of the Comptroller of the Currency said its oversight of the San Francisco bank was lax, and examiners missed numerous opportunities to address the wrongdoing prior to a $185-million settlement with Wells Fargo in 2016, according to a report released Wednesday."
"Yet his analysis of the photographs of the crater provided by the White House 'clearly indicates that the munition was almost certainly placed on the ground with an external detonating explosive on top of it that crushed the container so as to disperse the alleged load of sarin.'"
"North Korea now has nuclear weapons, which means that North Korea is a nuclear weapons state. US policy-makers need to repeat that to themselves and let it sink in. It changes the calculus entirely. When one realizes that the North now has the power to reduce Osaka, Tokyo or Seoul to smoldering rubble with one flip of the switch, that has to be taken seriously. In practical terms, it means the so called 'military option' is off the table, it's no longer a viable option. The military option will lead to a nuclear exchange which —by the way– is not the outcome we want."
"It directs four federal agencies — the departments of State, Labor, Justice and Homeland Security — to crack down on fraud and abuse of work visa programs generally, and it also asks the agencies to propose administrative or legislative reforms to the H-1B program to ensure that visas are awarded to the most highly skilled and highest-paid applicants."
How about changing some laws?
"IHG didn't say how many properties total were affected, although it has published a state-by-state lookup tool available here. I counted 28 in my hometown state of Virginia alone, California more than double that; Alabama almost the same number as Virginia. So north of 1,000 locations nationwide seems very likely."
"An overnight airstrike likely carried out by the U.S.-led coalition struck an eastern Syrian town held by the Islamic State group, killing at least 10 people and wounding dozens, opposition activists said. Another airstrike, this one during the day, hit a rebel-held village in the northwest on Tuesday, killing a woman and nine children."
"'We'll be conducting more missile tests on a weekly, monthly and yearly basis,' Vice-Foreign Minister Han Song-ryol told the BBC's John Sudworth. He said that an 'all-out war' would result if the US took military action."
"Pressing the Chinese to force their ally to give up its nuclear arms is useless. The best that can be hoped for is that China makes sure the North Koreans don't actually use them... Everything must be done to stop the North Koreans from selling their weapons abroad. For this reason alone, Chinese cooperation is essential."
"There will be a vote in the House of Commons on Wednesday to approve the election plan - the prime minister needs two thirds of MPs to vote in favour to bring forward the next scheduled election date of 2020."
"Previously a regional economic powerhouse, Turkey has lost momentum recently, as the Syrian civil war across the border and instability within it have discouraged foreign investment and cut into growth... Mr. Erdogan has gradually ended those restrictions, allowing women in head scarves to enter campuses from 2008, work in the Civil Service from 2013 and serve in the military from as recently as February."
"Berkshire Hathaway HomeServices on Monday said it entered a marketing agreement with Juwai.com, China's largest international property website, to attract wealthy Chinese buyers looking to purchase homes in the United States."
"Libya, in 2003. Its leader, Col. Muammar el-Qaddafi, agreed to give up his nascent nuclear program in return for promises from the West of economic integration and acceptance."
See also:
"The only reason Kim Jong Un hasn't joined Saddam and Gadhafi in the great hereafter, is because (a)– The North does not sit on an ocean of oil, and (b)– The North has the capacity to reduce Seoul, Okinawa and Tokyo into smoldering debris-fields"
"Once Trump waved the white flag by placing his foreign policy under the preferred banner of the neoconservatives, the Russia-gate pressure stopped. The op-ed pages suddenly were hailing his 'decisiveness.' If you were a neocon, you might say about Russia-gate: Mission accomplished!"
"The gap between the two votes stood at around 1.3 million according to midnight figures by the state-run Anadolu Agency. The turnout exceeded 84 percent."
See also:
"While the monitors had no information of actual fraud, a last-minute decision by electoral authorities to allow unstamped ballots to be counted undermined an important safeguard and contradicted electoral law, they said."
"The state he left behind is, by some measures, a disaster. During his term, Veracruz, an oil-rich area on the Gulf Coast, suffered spiraling violence and widespread disappearances as criminal organizations fought for turf. Seventeen journalists were murdered during his six years in office, according to figures compiled by a special state committee."
"The 50 largest US companies relied on an opaque and secretive network of at least 1,751 subsidiaries in tax havens to avoid paying their fair share of taxes... reforms proposed by President Trump and Congressional leaders will only further rig the rules in favor of the rich and powerful, deepen the inequality crisis, and harm poor families in the US and in developing countries worldwide."
"Given the ever-growing number of TELs — both wheeled and tracked — North Korea may soon field nuclear forces amply large that a conventional U.S.-South Korea first strike may find it impossible to fully disarm Pyongyang of a nuclear retaliatory capability. That would give the North Korean regime what it's always sought with its nuclear and ballistic missile program: an absolute guarantee against coercive removal."
This is what regime change tends to produce in the Middle East... chaos.
"One Excel spreadsheet lists what appears to be thousands of stolen credentials belonging to compromised employees and technology administrators at EastNets offices around the globe. Another shows a list of what the group said was computer addresses that have been hacked or targeted by N.S.A. analysts, with the corresponding bank they belong to."
"Former CIA Director John O. Brennan, New York Senator Chuck Schumer, US attorney for the Southern District of New York Preet Bharara, Office of Foreign Assets Control (OFAC) President David Cohen and Henri Barkey, Director of the Middle East Program at Wilson Center are among the suspects."
As the polls close for the constitutional referendum.
"Whatever Trump's precise motives, his sudden fondness for the use of armed force shows that what President Obama criticised as 'the Washington playbook' is back in business as the guide for conduct of American foreign policy."
"Almost everything advocated by the Washington foreign policy establishment since the start of the war in Afghanistan in 2001, Iraq in 2003, Libya and Syria in 2011 and Yemen in 2015 has created or exacerbated the conflicts. Note that none of these wars have ended or show much sign of doing so."
"A huge car bomb has blasted a convoy of coaches carrying evacuees from government-held towns in Syria, killing at least 39 people, state media report. It shattered coaches and set cars on fire, leaving a trail of bodies including children, as the convoy waited in rebel territory at Rashidin."
"Kim Jong Un wants to get back to a situation where we give them gifts when they do something bad. And then we are also making it worse, right? With our bluster and by sending aircraft carriers in there, we're raising the crisis... It's best to just ignore this guy and to deter him from ever using these weapons or selling them and to build our defenses"
Yet Kim Jong-un is also trying to deter U.S. leaders from contemplating regime change. And once more there's plenty of proof to justify this mindset if you survey the last 3-4 decades of U.S. foreign policy.
"It effectively bars the public from knowing which activists, lobbyists, political donors and others are gaining access to the president and his aides on a daily basis."
"We call on all parties to refrain from provoking and threatening each other, whether in words or actions, and not to let the situation get to an irreversible and unmanageable stage"
"Russia, Syria and Iran strongly warned the United States Friday against launching new strikes on Syria and called for an international investigation of the chemical weapons attack there that killed nearly 90 people."
"China's trade with North Korea grew 37.4 percent in the first quarter of this year from the period in 2016... But imports of coal dropped 51.6 percent in the first three months of 2017 compared with the first quarter of last year"
"The alleged conversations were picked up by chance as part of routine surveillance of Russian intelligence assets. Over several months, different agencies targeting the same people began to see a pattern of connections that were flagged to intelligence officials in the US. "
HIVE is a complex, multi-layered, command and control (C2) infrastructure for CIA botnets that's specifically designed to thwart attribution.
"So far, some of the most significant exploits appear to center around SWIFT Alliance Access (SAA), a flagship financial messaging interface used by banks around the world. The files suggest that the NSA is actively targeting international banking bureaus, specifically through a widespread global protocol for secure financial messaging and transactions. According to the files, two NSA programs known as JEEPFLEA_POWDER and JEEPFLEA_MARKET exist to specifically compromise SWIFT bureaus and services."
"how could Mike Pompeo – fresh off embracing and honoring Saudi tyrants, standing in a building funded by the world's most repressive regimes, headed by an agency that for decades supported despots and death squads – possibly maintain a straight face as he accuses others of 'making common cause with dictators'? How does this oozing, glaring, obvious act of projection not immediately trigger fits of scornful laughter from U.S. journalists and policy makers?"
Julian Assange offers the following reality check:
"Quite simply, our motive is identical to that claimed by the New York Times and The Post — to publish newsworthy content. Consistent with the U.S. Constitution, we publish material that we can confirm to be true irrespective of whether sources came by that truth legally or have the right to release it to the media."
And another remark by Assange:
"Called a 'non-state intelligence service' today by the 'state non-intelligence agency' which produced al-Qaeda, ISIS, Iraq, Iran & Pinochet."
"These reports are just one of several developments of late (which I hope to return to) that exhibit the US hackers being treated like Russian or Chinese hackers are — as general adversaries outside of their country. If, as seems likely given Symantec's description of European victims, some of the victims are nominal US allies, that'll grow worse."
"I think it is clear to all of us that the reign of the Assad family is coming to an end... So that's why we are not presupposing how that occurs, but I think it is clear that we see no further role for the Assad regime longer-term given that they have effectively given up their legitimacy with these type of attacks."
Stephen Cohen comments: "I think this is the most dangerous moment in American-Russian relations, at least since the Cuban missile crisis. And arguably, it's more dangerous, because it's more complex."
"Besides deterrence and allowing Kim to show he is a strong leader domestically, what explains the provocations?... The more dangerous it presents itself, the more it can milk from countries such as China and especially South Korea"
"The Central Command statement said that the target location turned out to be a 'fighting position' for the Syrian Democratic Forces, who have been fighting the Islamic State alongside the United States."
"'I said it was obsolete,' Trump recalled during a joint news conference at the White House. 'It's no longer obsolete.'"
"In a series of interviews, Mr. Trump said he no longer wanted to label China a currency manipulator... And he said that he might consider reappointing Janet Yellen as chairwoman of the Federal Reserve"
"The spectacle of one British agent heading an IRA unit dedicated to rooting out and shooting other British spies is so extraordinary that I've often wondered how exactly the state benefitted by the intelligence services having tolerated this for the whole of the 1980s."
"The Trump heirs are interested in any changes that might help resuscitate the presidency and preserve the family's name at a time when they are trying to expand the Trump Organization's portfolio of hotels."
This was bound to happen. It is highly unlikely that a troupe of plutocrats would budge an inch for workers.
"Claims the Chinese army has amassed 150,000 troops including medical teams on the border with North Korea have been repeated on the front page of China's state-owned Global Times newspaper."
"Our U.S. Army contacts in the area have told us this is not what happened. There was no Syrian 'chemical weapons attack.' Instead, a Syrian aircraft bombed an al-Qaeda-in-Syria ammunition depot that turned out to be full of noxious chemicals and a strong wind blew the chemical-laden cloud over a nearby village where many consequently died."
"Of the top 100 US newspapers, 47 ran editorials on President Donald Trump's Syria airstrikes last week: 39 in favor, seven ambiguous and only one opposed to the military attack."
"We have confidence in our assessment because we have signals intelligence and geospatial intelligence, laboratory analysis of physiological samples collected from multiple victims, as well as a significant body of credible open source reporting... An open source video also shows where we believe the chemical munition landed— not on a facility filled with weapons, but in the middle of a street in the northern section of Khan Shaykhun. Commercial satellite imagery of that site from April 6, after the allegation, shows a crater in the road that corresponds to the open source video."
Putin responds: "To my mind, this strongly resembles what happened in 2003 when representatives of the United States showed in the Security Council what was supposed to be chemical weapons found in Iraq"
"Several officials from the State Department, the Pentagon and the White House said that the sale of the attack airplanes, valued at $600 million, would help the Nigerian Air Force battle the militant extremist group Boko Haram."
"The best way to help Israel deal with Iran's growing nuclear capability is to help the people of Syria overthrow the regime of Bashar Assad... What Israeli military leaders really worry about -- but cannot talk about -- is losing their nuclear monopoly"
The CIA's regime change activity in Syria has been going on for decades.
"Italian officials had learned that Mr. Yarrington was likely to be hiding in Italy in February, through Interpol, acting on information gathered by the Department of Homeland Security in Washington. A dragnet ensued, and Mr. Yarrington was positively identified in Florence on Sunday. He had booked a room in a bed-and-breakfast and was traveling with a small suitcase"
"Its market value of $50.887 billion exceeded GM's by about $1 million."
George Smith notes that: "In the root hog or die economy it is senseless to make products for the middle or lower class since that is where the money is not. This is Elon Musk's crowning innovation."
"Gov. Jerry Brown, casting a living wage as a moral imperative while questioning its economic rationale, signed legislation Monday raising California's mandatory minimum to $15 an hour by 2022, acting within hours of a similar bill signing in New York."
"What's striking so far is that the big-ticket agenda items Trump spent his campaign talking about—the things that got him this far—have fizzled. And everyone knows it."
See Also: "The entire cruise-missile exercise had little to do with Syria and everything to do with signaling Trump's willingness to use force to China's President Xi jinping."
"They are beautiful pictures of fearsome armaments making what is for them what is a brief flight over to this airfield"
"The 2008 recording adds to evidence the central bank repeatedly pressured commercial banks during the financial crisis to push their Libor rates down."
"It is important to note that CIA is legally prohibited from conducting electronic surveillance targeting individuals here at home, including our fellow Americans, and CIA does not do so"
This is a lie.
"It's very unusual that Google, Microsoft and Apple all wrote back to us on the eighth or ninth day, whereas the other companies wrote back immediately"
"The two Italian companies, IPS and AREA, indicated that they were open to the possibility of violating European laws to sell equipment that would end up in the hands of Iranian and South Sudanese clients, where they could potentially be used to spy on citizens. China-based business Semptian, meanwhile, was ready to sell spying gear worth nearly $3 million without knowing who the recipient would be."
"Islamic State suicide bombers attacked two Coptic churches in Egypt on Palm Sunday, killing at least 40 worshipers and police officers stationed outside in the single deadliest day of violence against Christians in the country in decades."
"What America waged in an aggression on Syria is a crossing of red lines. From now on we will respond with force to any aggressor or any breach of red lines from whoever it is and America knows our ability to respond well"
"There's not any sort of option where a political solution is going to happen with Assad at the head of the regime"
From a few days back: "You pick and choose your battles and when we're looking at this, it's about changing up priorities and our priority is no longer to sit there and focus on getting Assad out"
"Last year, the American military spent more than $100 million to rebuild the Afghan Army's 215th Corps... Over the course of the year, the Taliban gained more territory; the militants now largely control seven of 14 districts in Helmand and contest another five"
"We hear story after story of commanders who steal the fuel, sell it to the Taliban, who take the weapons we — you — pay for and sell it to the Taliban... The irony of it is, the terrorists are at the end of our supply chain."
"It seems wimpy and irresponsible for the world's most powerful country to be mostly (but not entirely) on the sidelines, while Russia or Iran are working hard on behalf of Assad. Unfortunately, many of the groups fighting Assad are no better than he is and deeply hostile to the United States. Every time we try to back Syrian 'moderates' we end up unwittingly funneling more arms to dangerous jihadis."
"Security researchers are still going through the files, but many of the exploits appear to be used for attacking older or little-used systems. And at least one guy thinks this leak might lead to the unmasking of the hackers: ...'much here that NSA should be able to instantly identify where this set came from and how they lost it. If they can't, it's a scandal.' (Edward Snowden)"
"The United Nations Charter, a treaty the United States has ratified, recognizes two justifications for using force on another country's soil without its consent: the permission of the Security Council or a self-defense claim."
"Most legal scholars agree that the founders wanted Congress to decide whether to go to war"
"The National Security Council has presented President Donald Trump with options to respond to North Korea's nuclear program — including putting American nukes in South Korea or killing dictator Kim Jong-un, multiple top-ranking intelligence and military officials told NBC News"
"Five major US newspapers—the New York Times, Washington Post, USA Today, Wall Street Journal and New York Daily News—offered no opinion space to anyone opposed to Donald Trump's Thursday night airstrikes. By contrast, the five papers ran a total of 18 op-eds, columns or 'news analysis' articles (dressed-up opinion pieces) that either praised the strikes or criticized them for not being harsh enough"
"One of the persistence mechanisms used by the CIA here is 'Stolen Goods' - whose 'components were taken from malware known as Carberp, a suspected Russian organized crime rootkit.' Confirming the recycling of malware found on the Internet by the CIA"
"In 1976 and again in 1977, the Justice Department decided not to prosecute anyone for the CIA's illegal surveillance and mail openings... Saying that they disagreed with everyone is not hyperbole – even CIA admitted that the programs were illegal."
"One of the largest advantages to using the Tomahawk is that it does not require a pilot to be anywhere near a potential target. They can be launched from Navy destroyers up to 1,000 miles away, a tactical consideration when facing enemy air defenses. Assad's military operates modest S-200 surface-to-air missile systems but is backed by Russian forces, which have more advanced S-300 and S-400 missiles. Those systems have better radar and fly faster than older surface-to-air missiles."
See also: "Trump decided he couldn't be bothered with such trivialities as a formal investigation. He was more interested in projecting the image of a strong and decisive leader which is why he decided to shoot first and ask questions later."
See also: "That Trump is getting really good media on this, especially on TV, is particularly bad. Trump craves approval, and he is being trained, right now, to be violent. The consequences of this are potentially catastrophic."
"We know it was not sarin. How? Very simple. The so-called 'first responders' handled the victims without gloves. If this had been sarin they would have died. Sarin on the skin will kill you. How do I know? I went through 'Live Agent' training at Fort McClellan in Alabama."
Ditto that from Scott Adams.
"A spokesman for the Russian military, Maj. Gen. Igor Konashenkov, issued a statement calling the military effectiveness of the American airstrikes 'extremely low,' with just 23 of the 59 missiles on target."
See also: "The Syrian government responded to Thursday night's U.S. strike on its Shaayrat air base by quickly fixing the base and allowing the two planes to take off"
"The Central District Court of Tver ruled that a number of the images — including one depicting the Russian leader wearing lipstick, eye shadow and fake eyelashes — were 'extremist.'"
The sign of an insecure leader who cannot tolerate criticism. Sound like someone else we know?
"Iraqi officials said Wednesday that they had removed nearly 300 bodies from the site of an apparent airstrike in west Mosul, the largest civilian death toll since the battle against Islamic State began more than two years ago and among the deadliest incidents in decades of modern warfare."
"Even as basic facts were still being assembled about Tuesday's incident, we, the public, were prepped to disbelieve the Syrian government's response that the poison gas may have come from rebel stockpiles that could have been released either accidentally or intentionally causing the civilian deaths in a town in Idlib Province."
"It is complicated by the presence of Russian forces in the country and concerns about U.S. troops deployed in Syria in the campaign against the Islamic State, according to U.S. officials."
Remember Citizen Trump during the election? "WHAT WILL WE GET FOR OUR LIVES AND $ BILLIONS? ZERO"
"The move comes as the House Ethics Committee announced that it is investigating allegations that Nunes may have mishandled classified information. With the Ethics Committee now formally involved in the dispute, Nunes could no longer oversee the Russia probe, although he will remain in place as chairman of the Intelligence Committee."
"Gorsuch's nomination advanced shortly after Republicans successfully voted to approve what is known as the 'nuclear option,' changing Senate rules to allow the confirmation of Gorsuch and all other Supreme Court nominees by a simple-majority vote."
"It would be the largest Chinese takeover of a foreign company and is one of three proposed mergers in a stop-and-go international race seeking greater influence over the world's food supply."
"The 20,500-square-foot (1,905-square-meter) property, at 19 E. 64th St., had been owned by the Wildenstein family, billionaire art dealers whose gallery was located at the site for more than 80 years. The previous record for a Manhattan townhouse was the $53 million paid for 4 E. 75th St., in 2006, according to appraiser Miller Samuel Inc."
"Since the election, Democrats have been swallowed up in an unending cycle of outrage and issues that have little to do with the nation's working class, they said, such as women's marches, fighting Trump's refugee ban and advocating for transgender bathroom rights"
"Iraqi forces drove out Islamic State militants from Tikrit in April 2015. Since then, Islamic State militants have launched a number of big attacks in and around Tikrit, located about 80 miles north of Baghdad."
"About 70 percent of the firearms seized in Mexico from 2009 to 2014 were traced back to the United States, amounting to over 73,000 guns... According to the Treasury Department, drug trafficking generates an estimated $64 billion annually from sales in the United States"
"To sell up to 60 737s to an Iranian airline, a transaction valued at $6 billion... Boeing announced an agreement last December to sell 80 commercial aircraft to Iran Air, the national carrier, a deal valued at $16.6 billion."
"A day before President Trump meets with visiting Chinese President Xi Jinping — with North Korea at the top of the agenda... The missile appeared to have been powered by solid fuel."
"The changes might include visitors from the 38 countries – the UK, France, Australia and Japan among them – that participate in the visa waiver programme... This could require people to hand over their phones... A second change would ask applicants for their social media handles and passwords"
"The national intelligence director, Dan Coats, and the chairman of the Joint Chiefs of Staff, Marine Corps General Joseph Dunford, are again 'regular attendees' of the principals committee, as in the Obama administration... The secretary of energy, the CIA director and the United Nations ambassador also were added to the principals committee"
"The US military under the command of Donald Trump has carried out 70 airstrikes on Yemen in the last month - more than twice the number for all of 2016."
"Some activists placed the death toll from 70 to 100... Idlib is the primary bastion of Syria's embattled opposition, and has been the target of frequent attacks by Syrian and Russian warplanes"
"The Russian Investigative Committee said the attack was carried out by Akbarjon Djalilov, 22, identified earlier by Kyrgyz authorities as a Russian national born in Kyrgyzstan... The Russian health ministry on Tuesday raised the number of dead from 11 to 14"
"ISIS is a ragtag army of perhaps 30,000 troops in a region in which the large nations — including Saudi Arabia, Iran, Iraq, and Turkey — have standing armies that are vastly larger and better equipped. These regional powers could easily drive ISIS out of existence if they chose to do so. The US military presence is actually ISIS's main recruiting tool. Young people stream into Syria and Iraq to fight the imperial enemy."
"Sooner or later this con game is not going to work. People will understand he's not bringing back jobs... Something has to be done to maintain control. The obvious technique is scapegoating. So blame it on immigrants, on Muslims, on somebody. But that can only go so far. The next step would be, as I said, an alleged terrorist attack, which is quite easy."
"The new campaign spending rules have allowed wealthy donors and their entourages to displace campaign managers and party leaders as the leading political power center."
"President Obama should have demanded Director Comey's resignation immediately after Comey interfered in the 2016 Presidential election with his October 28, 2016 pronouncement... The Democrats are losing valuable time trying to blame the 2016 election results on Moscow. 2020 will be not decided in Moscow, but in Cleveland, Detroit, Milwaukee and like cities in the US"
"White House lawyers last month learned that the former national security adviser Susan Rice requested the identities of U.S. persons in raw intelligence reports on dozens of occasions that connect to the Donald Trump transition and campaign, according to U.S. officials familiar with the matter."
"It is engaged in an extraordinary behind-the-scenes experiment in behavioral science to manipulate them in the service of its corporate growth... Uber has experimented with video game techniques, graphics and noncash rewards of little value that can prod drivers into working longer and harder — and sometimes at hours and locations that are less lucrative for them."
"The corporate state will expand our access to a variety of opioids and numbing situations to temporarily alleviate our stress, financial dislocations, depression and anxiety. Aided by state and local governments, it will build new pleasure palaces. It will lure millions into its glittering and seductive Venus' flytraps. It will make sure we have tempting retreats within easy reach to achieve a death-in-life experience. Much of the society will be put to sleep. Those who refuse to become zombies, who rise up to resist, who seek at all costs to remain distinct individuals, will be silenced with the corporate state's cruder tool for submission: force."
"After the collapse of talks with the major studios, the Writers Guild of America is seeking a strike authorization vote from members. While the union has until May 1 to reach an agreement, tensions are as high as they've been in years, say people close to the negotiations not authorized to comment."
"Heavens, more expensive iPhones! And Chilean grapes! I know for a fact grapes are grown in California. I've seen them!"
"Casualties, of civilians and American service members... Political leaders can lose control of military campaigns"
They never had control. At the highest level these decisions are all made in boardrooms.
"The military does reveal what's been dubbed a 'force management level' — the number of full-time troops deployed, which is currently about 5,200 in Iraq and 500 in Syria. Pentagon officials acknowledge, however, that the number significantly understates the size of the U.S. troop presence because it does not include troops that are deployed on what the military considers a 'temporary basis.'"
"The opening of a Beijing representative office by the Central Bank of Russia was a 'very timely' move to aid specific cooperation, including bond issuance, anti-money laundering and anti-terrorism measures between China and Russia, said Dmitry Skobelkin, deputy governor of the Central Bank of Russia."
"The main issue in this case, is not only the unmasking of these names of private citizens, but the spreading of these names for political purposes that have nothing to do with national security or an investigation into Russia's interference in the U.S. election"
"Groups like Americans for Tax Reform — headed by Grover Norquist, perhaps Washington's most famous anti-tax crusader — have praised the border tax proposal"
"Retailers that import many of their goods are lobbying against the idea, while domestic manufacturers like Boeing and Caterpillar — whose interests figure heavily in Mr. Trump's economic thinking — are supporting it."
"The Koch network and groups like the Club for Growth, which for years have targeted what they call 'crony capitalism' in Washington, have opposed the border tax"
"This created a Pakistan problem for India: Its chief adversary had made low-level nuclear war thinkable, even potentially winnable. Since then, there have been growing hints of debate over modifying the Indian doctrine... The word "comprehensive" refers to a nuclear attack against an adversary's arsenal, rather than its cities. It is meant to instigate and quickly win a nuclear exchange, leaving the other side disarmed."
"First would come the arms race... Second comes the tightening of nuclear tripwires... Finally, in any major armed crisis, the logic of a first strike would pull both sides toward nuclear escalation."
"This week's Supreme Court ruling that effectively shuts down the country's legislature has finally convinced much of the international community that Venezuela's democracy has fully collapsed... The Supreme Court has annulled nearly every law the National Assembly has passed. It also removed the legislature's budget oversight duties and endorsed Maduro's efforts to sidestep lawmakers by issuing decrees under a state of emergency."
"Demonstrators stormed the building after the Senate secretly voted for a constitutional amendment that would allow Cartes to run for re-election, a change that will also require approval by the House."
"Mr. Bannon has assets worth $11.8 million to $53.8 million... Mr. Bannon disclosed more than $500,000 in income from entities linked to the hedge fund manager Robert Mercer and his daughter, Rebekah Mercer"
March 2017_________________________________________
"Mr. Trump signed a directive on Wednesday declaring parts of Somalia an 'area of active hostilities,' where war-zone targeting rules will apply for at least 180 days, the officials said."
"The Israeli Security Cabinet on Thursday approved the construction of the first new Jewish settlement in the West Bank in 20 years... despite a request from President Donald Trump in February to put the brakes on any new settler developments."
"But the congressional official said investigators were unwilling to broker a deal with Mr. Flynn... until they are further along in their inquiries and they better understand what information Mr. Flynn might offer as part of a deal."
"FirstNet, an independent arm of the Department of Commerce, will provide No. 2 U.S. wireless carrier AT&T with telecom spectrum and success-based payments of $6.5 billion over the next five years."
A strategic partner of the NSA...
"Half of Syria's 22 million population has been uprooted by a conflict that has now lasted longer than the second world war"
"The conditions on the sale of 19 new American fighter jets, worth $2.8 billion, had been imposed by the Obama administration amid continuing concerns about the tiny Sunni monarchy's crackdown against majority Shiites."
"Prosecutors will have as many as 19 days to consider whether to indict the former leader, who is suspected of pressuring top business executives to donate tens of millions of dollars to foundations run by her friend Choi Soon-sil in return for government favors."
"The only people who seem to want this are the people who are going to make lots of money from it. (Hint: they work for companies like Comcast, Verizon, and AT&T.) Incidentally, these people and their companies routinely give lots of money to members of Congress"
"Several current American officials identified the White House officials as Ezra Cohen-Watnick, the senior director for intelligence at the National Security Council, and Michael Ellis, a lawyer who works on national security issues at the White House Counsel's Office and formerly worked on the staff of the House Intelligence Committee."
"Trump associates were also identified by name in the reports. Normally, intelligence agencies mask the identities of American citizens who are incidentally present in intercepted communications."
"the NSA can provide GCHQ with access to the private communications of a Presidential candidate, so that GCHQ writes up the information contained in the intercept, which GCHQ then leaks through various deniable sources to the media in order to control U.S. elections."
"The reality is the acceptability of conspiracy theories depends on whom the theory is directed at. The greatest, most consequential conspiracy theory of our generation was that Saddam Hussein had a secret Weapons of Mass Destruction program and was plotting to attack the US."
"I am writing to give effect to the democratic decision of the people of the United Kingdom. I hereby notify the European Council in accordance with Article 50(2) of the Treaty on European Union of the United Kingdom's intention to withdraw from the European Union."
"Erdogan's government had asked Berlin to help spy on about 300 alleged Gülen supporters, Pistorius said, adding that the list was handed to Germany's BND spy service, which turned it over to state governments."
"Federal prosecutors will examine how Turkey compiled such detailed information on their targets."
"MSPs voted by 69 to 59 in favour of seeking permission for a referendum before the UK leaves the EU... the UK government has already said it will block a referendum until after the Brexit process has been completed."
"This news presents Trump with an unwelcome but unavoidable choice: confront those who have kept him in the dark about such rogue activities or live fearfully in their shadow... The reality is that EVERYONE, including the President, is surveilled."
"In a party-line vote, House Republicans freed Internet service providers such as Verizon, AT&T and Comcast of protections approved just last year that had sought to limit what companies could do with information such as customer browsing habits, app usage history, location data and Social Security numbers. The rules also had required providers to strengthen safeguards for customer data against hackers and thieves."
For specifics, see S.J.Res.34
"Promises to create more coal jobs will not be kept—indeed, the industry will continue to cut payrolls. These employment trends are rooted in the coal industry's long-term business model of producing more coal with fewer workers."
"As part of the restructuring, seven of BlackRock's 53 stock pickers are expected to step down from their funds. Several of the money managers will stay on as advisers. At least 36 employees connected to the funds are leaving the firm."
First they came for the factory workers, and I did not speak out— Because I was not a factory worker...
"With none of the participants - more than 100 countries - at Monday's talks belonging to the group of states that possess nuclear weapons, the discussions were doomed to failure."
"Professor Michael Mann said extreme weather events – such as the 'unprecedented' drought in California last year, the flooding in Pakistan in 2010 and the heatwave in Europe in 2003 – were happening more often than they should do, even taking the warming climate into account."
"Defendants may find themselves taken into custody if they travel abroad. Their assets could be seized in other countries."
"Abdul's photo was among the 55,000 images brought out of Syria in 2014 by a former police photographer known by the pseudonym Caesar, documenting the deaths of more than 6,700 people in Mr. Assad's prisons."
"Approximately half of adult Americans' photographs are stored in facial recognition databases that can be accessed by the FBI, without their knowledge or consent, in the hunt for suspected criminals. About 80% of photos in the FBI's network are non-criminal entries, including pictures from driver's licenses and passports. The algorithms used to identify matches are inaccurate about 15% of the time, and are more likely to misidentify black people than white people."
"The troops, about 240 soldiers in all, are from the 82nd Airborne Division at Fort Bragg, N.C., and will reinforce the more than 5,000 troops the United States already has in Iraq."
"I don't currently know the specific goals and objectives of the Saudi campaign, and I would have to know that to be able to assess the likelihood of success."
Witness the Secretary of Defense request increased involvement. As tens of thousands of people in Yemen protest.
"Democratic lawmakers are publicly calling out Russia for engaging in war by meddling in the U.S. presidential election."
That's odd, no one ever used the term "war" on the 80+ times that the United States did this sort of thing.
"It is all entertainment all the time. It is the result of a media that long ago gave up journalism to keep us amused. Trump was its creation. And now we get a daily 'Gong Show' out of the White House. It is good for Trump. It is good for the profits of the cable news networks. But it is bad for us. It keeps us distracted as the kleptocrats transform the country into a banana republic."
"Mr. Icahn is a majority investor in CVR Energy, an oil refiner based in Sugar Land, Tex., that would have saved $205.9 million last year had the regulatory fix he is pushing been in place... He said he was not subject to conflict of interest rules because he is an informal, unpaid adviser to Mr. Trump, not an official government employee."
"The White House Office of American Innovation, to be led by Jared Kushner, the president's son-in-law... In some cases, the office could direct that government functions be privatized"
The blue oligarchs are sending up trial balloons for one of their own.
"One of the airstrikes hit a main street in the Damascus suburb of Hamouriyeh killing at least 16 people and wounded more than 50, activists said. The airstrikes caused wide destruction in the area."
"One of the first detained in Moscow was the chief architect of the rallies, Alexei Navalny, who called on people to come to protest in the wake of his allegations that Prime Minister Dmitry Medvedev has amassed vineyards, luxury yachts and lavish mansions worth more than $1 billion."
"Carrie Lam was selected to be the fourth Hong Kong chief executive, with 777 votes from the 1,194-person committee. A total of 1,163 valid votes were cast."
A sure sign that the 2014 "Umbrella Movement" has failed.
"The Psychological Operations Committee took formal shape with a 'secret' memo from Reagan's National Security Advisor John Poindexter on July 31, 1986. Its first meeting was called on Sept. 2, 1986, with an agenda that focused on Central America and 'How can other POC agencies support and complement DOD programs in El Salvador, Guatemala, Honduras, Costa Rica and Panama.'"
"I think the Democrats are fundamentally afflicted with the inability to discuss and have an adult conversation about economics and jobs, because they're too consumed by identity politics. And then the Republicans, it's all this theoretical Cato Institute, Austrian economics, limited government — which just doesn't have any depth to it. They're not living in the real world... People are smart enough to know that they're getting played by both political parties. The two may be different on social issues, but when it comes to fundamental economics, they're both the same. That's why the American working class is interested in trade. It's linked to their lives."
Because both parties are owned by big money. The Democrats quietly sold out the unions decades ago and the GOP is overtly the party of large multinationals.
"So why not just flip the switch and require truth and honesty in public pension math? Too many cities and potentially states would buckle under the weight of more realistic assumed rates of return. By some estimates, unfunded liabilities would triple to upwards of $6 trillion if the prevailing yields on Treasuries were used. That would translate into much steeper funding requirements at a time when budgets are already severely constrained. Pockets of the country would face essential public service budgets being slashed to dangerous levels."
"The NGA is to pictures what the NSA is to voices. Its principal function is to analyze the billions of images and miles of video captured by drones in the Middle East and spy satellites circling the globe."
"Unlike domestic electronic surveillance by the NSA, which has been closely scrutinized and subjected to legislation designed to protect civil liberties, domestic overhead spying has escaped the attention of both Congress and the public. The Trump administration may take advantage of that void."
"Twelve other states, including New York and Pennsylvania, as well as Washington, D.C., follow California's standards, a coalition that covers more than 130 million residents and more than a third of the vehicle market in the United States."
"The administration could choose to revoke California's waiver, at which point experts expect the state would sue."
"A correspondent for Rudaw, a Kurdish news agency operating in northern Iraq, said that 137 people – most believed to be civilians – died when a bomb hit a single building in al-Jadida, in the western side of the city on Thursday. Another 100 were killed nearby."
"It is unlikely the people on the ground know or care which official in Washington gave the thumbs up or down to blow away their brother... civilian deaths are not accidental, but a policy of preventable accident. The new drone rules under Trump are simply another example."
"'All permanent members of the UN Security Council are against the war, but they are all ready to sell Yemen for arms,' says an ex-UN official who worked on Yemen. By night Saudi Arabia launches American-made Reaper combat drones from an American base in Djibouti. In order to buy silence, King Salman promised China $65bn of investment on a visit this month. Saudi Arabia's people, fed up with the austerity measures put in place to help with their country's budget deficits, would rather the money was spent at home."
"His release takes that journey full circle, marking what his critics say is the return of the old order to Egypt, where authorities have crushed Mubarak's enemies in the Muslim Brotherhood, killing hundreds and jailing thousands, while his allies regain influence."
See Also: "Ten Egyptian soldiers have been killed by two roadside bomb blasts during a raid against jihadist militants in the Sinai peninsula, the military says. Fifteen militants were killed and seven others arrested during the operation"
"In Ukraine, Mr. Voronenkov had promised to testify for the prosecution in a criminal case against Ukraine's former Russia-aligned president, Viktor F. Yanukovych, and to provide an insider's information about Russian government deliberations and actions during the annexation of Crimea in 2014."
"TransCanada still needs approval for the pipeline's route through Nebraska from state regulators there, a process that could take several more months"
"On a party-line vote, the Senate on Thursday voted to strike down online privacy protections the Federal Communications Commission established last year. The rules, which were largely set to take effect later this year, would require broadband providers like Comcast and AT&T to seek customer approval before collecting certain data on their online activities and would require them to take 'reasonable' measures to protect the data they collect."
"While spokesmen for the central government denied claims by the Taliban that the district had fallen to them, some conceded that the insurgents had overrun the district center and government facilities. But local Afghan government and military officials said there was no doubt Sangin had finally fallen to their enemy."
"Bush's invasion of Iraq is rightly seen as a world-historical catastrophe, but next in line would be placing North Korea in his 'axis of evil' and, in September 2002, announcing his 'preemptive' doctrine directed at Iraq and North Korea, among others."
"North Korea is the only country in the world to have been systematically blackmailed by US nuclear weapons going back to the 1950s, when hundreds of nukes were installed in South Korea. I have written much about this in these pages and in the Bulletin of the Atomic Scientists. Why on earth would Pyongyang not seek a nuclear deterrent? But this crucial background doesn't enter mainstream American discourse."
"The cost of a single new, Ford-class carrier – $10.5 billion without cost overruns – would consume nearly 20 percent of Trump's proposed $54 billion increase in next year's defense budget... Diesel-electric subs have the advantage of being small – and while on electric power, silent, and in general quieter and harder to detect than nuclear subs."
"A spokesman for the police here, Micky Rosenfeld, said the 18-year-old suspect, who holds dual Israeli and American citizenship and lives in the Ashkelon area of southern Israel, had made threats to Jewish community centers and other sites in the United States, Australia and New Zealand, and to at least one commercial airline flight, forcing an emergency landing. His motives were not immediately clear."
False flag, Trump called it.
"EVALDAS RIMASAUSKAS for orchestrating a fraudulent business email compromise scheme that induced two U.S.-based internet companies (the 'Victim Companies') to wire a total of over $100 million to bank accounts controlled by RIMASAUSKAS"
"Case and Deaton document an accumulation of pain, distress, and social dysfunction in the lives of working class whites that took hold as the blue-collar economic heyday of the early 1970s ended, and continued through the 2008 financial crisis and the subsequent slow recovery."
"An airstrike by the US-led coalition against Islamic State on a school west of the Syrian city of Raqqa has killed at least 33 people, many of whom had fled nearby fighting, sparking further concerns that new rules of engagements may be causing an increase in civilian casualties."
"Montenegro, a former Yugoslav republic with a population of 650,000, hopes to win the required approval of all 28 NATO allies in time to become a full member at a summit in May. By early this month, it had been approved by 24. NATO members see Montenegro's accession as a way to counter Russia's efforts to expand its influence in the Balkans."
So much for détente.
"North Korea has been under sanctions for 'half a century' but the communist state survives by placing an emphasis on juche or 'self-sufficiency'... We strengthen our national defense capability as well as pre-emptive strike capabilities with nuclear forces as a centerpiece"
"If Europe continues this way, no European in any part of the world can walk safely on the streets. Europe will be damaged by this. We, as Turkey, call on Europe to respect human rights and democracy"
"This report confirms that the year 2016 was the warmest on record—a remarkable 1.1 degrees Celsius above the pre-industrial period"
"I recently confirmed that on numerous occasions the intelligence community... collected information about U.S. citizens involved in the Trump transition... I want to be clear, none of this surveillance was related to Russia or the investigation of Russian activities or of the Trump team"
"In strategy memos, Manafort proposed that Deripaska and Putin would benefit from lobbying Western governments, especially the U.S., to allow oligarchs to keep possession of formerly state-owned assets in Ukraine. He proposed building 'long term relationships' with Western journalists and a variety of measures to improve recruitment, communications and financial planning by pro-Russian parties in the region."
"Manafort worked as Trump's unpaid campaign chairman last year from March until August, a period that included the Republican National Convention that nominated Trump in July. Trump asked Manafort to resign after AP revealed that he had orchestrated a covert Washington lobbying operation until 2014 on behalf of Ukraine's ruling pro-Russian political party."
"These firms can be used to create chains of legal entities, sometimes ending in offshore accounts, that make tracing financial transactions difficult, if not impossible. 'They can make the ownership of anything completely impenetrable,' says Blum, speaking generally and not necessarily about Clayton's firm. 'If you want to launder money, evade tax or hide assets from a spouse, you can do it.'"
"The nightmare scenario, and a fear I heard expressed over and over again in talking with farmers, is that John Deere could remotely shut down a tractor and there wouldn't be anything a farmer could do about it."
Richard Stallman is spot on: With software, either the users control the program (free software) or the program controls the users (proprietary or nonfree software).
"Iran is sending advanced weapons and military advisers to Yemen's rebel Houthi movement, stepping up support for its Shi'ite ally in a civil war whose outcome could sway the balance of power in the Middle East, regional and Western sources say."
"Trump officials have shown few other signs that they want to back away from Mr. Obama's strategy to train, equip and otherwise support indigenous armies and security forces to fight their own wars instead of having to deploy large American forces to far-flung hot spots."
"He made clear that the government's focus was set to turn solidly towards the country's EU exit, which is now guaranteed to be complete by the end of March 2019."
"Trying to appear tough on security by legitimising largely useless, hugely expensive and totally disproportionate measures which are intrusive on so many people's privacy – and other rights – is patently not the way governments should go."
"After eight years of research, theories that fracking contaminates drinking water have been proved. We also know fracking causes earthquakes. Hundreds of millions of dollars of damage was done to buildings on the East Coast"
"The new policy took effect at 3 a.m., Eastern time, on Tuesday, and must be followed within 96 hours by airlines flying to the United States from airports in Amman, Jordan; Cairo; Istanbul; Jeddah and Riyadh in Saudi Arabia; Kuwait City; Casablanca, Morocco; Doha, Qatar; and Dubai and Abu Dhabi in the United Arab Emirates."
"For the public, this means one thing: we'll continue to get no real answers, and a heavily partisan and politicized version of events, no matter what happens. So long as the investigations aren't closed, and the real information is kept behind closed doors, both parties can pursue their rhetorical campaigns unchecked."
"Most of us who have reported on Trump's bizarre 'tapp' tweet have criticized him for making a serious charge without evidence (as well as his poor spelling), but Mensch seems to believe that the more serious offense would be if Trump somehow were telling the truth."
"More than 300 switches are affected by the vulnerability... Cisco said that there are 'no workarounds' to address the vulnerability, but it said that disabling Telnet would 'eliminate' some risks."
"The aides act as a go-between on policy matters for the agencies and the White House. Behind the scenes, though, they're on another mission: to monitor Cabinet leaders and their top staffs to make sure they carry out the president's agenda and don't stray too far from the White House's talking points, said several officials with knowledge of the arrangement."
Alles klar, Herr Kommissar?
"A White House official on Monday confirmed reports that Trump's 35-year-old daughter would be getting her own West Wing space, as well as access to classified information and a government-issued phone."
"The Syrian Kurdish YPG militia said Russia was setting up a military base in northwestern Syria under a bilateral agreement and will help train its fighters - a step that would anger Turkey as it tries to block Kurdish gains near its borders."
"Kabulis are all too familiar with the spectacle of powerful political figures charging around town and running roughshod over those who get in their way, even police officers. In fact, attacks on the Kabul police are far more common from such politicians than from the Taliban... Arrests in such cases are rare because those responsible usually have powerful allies in the government, and the authorities are loath to challenge their armed bodyguards, who act as mini-militias."
"FBI Director James Comey told a congressional hearing he had seen no evidence to support a claim by Trump that Obama had wiretapped his campaign headquarters in Manhattan's Trump Tower."
"According to financial statements for the company's local subsidiary, Apple Sales New Zealand, total sales here since 2007 amount to $4.2 billion."
"US finance officials have refused to sign a commitment to free trade, breaking a decade-long tradition and effectively preventing any deal. Action against climate change has also been dropped following US intervention."
"Nunes was also asked whether he thinks there are elements inside the intelligence community or FBI leaking information to undercut the Trump presidency. 'It's pretty clear that that's happening,' he said."
"The report indicated that the engine is to be used for North Korea's space and satellite-launching program... It launched its latest satellite -- the Kwangmyongsong 4, or Brilliant Star 4 -- into orbit on Feb. 7 last year"
"Comparing how the United States and Russia conduct this nation-state spying helps quantify how much the NSA benefits from the cooperation it receives from Silicon Valley"
"The Times's investigation, which relied on dozens of open-record requests and thousands of pages from police and court files, found that at least 81 civilians and 13 law enforcement officers died in such raids from 2010 through 2016. Scores of others were maimed or wounded."
"According to research by Zillow, Arlington has more millennials with a household income of $350,000 or more than any other jurisdiction in the country, with 8.7 percent of millennials among that wealthy cohort."
"The places where the luxury market is strongest, such as the Pacific Northwest, San Francisco and New York City, have a lot of buyers with money from the tech industry"
"Secretary of State Rex W. Tillerson ruled out on Friday opening any negotiation with North Korea to freeze its nuclear and missile programs and said for the first time that the Trump administration might be forced to take pre-emptive action 'if they elevate the threat of their weapons program' to an unacceptable level."
"It had thus far assiduously refused to confirm or deny involvement in any particular strikes, preferring to maintain ambiguity in the hope of lowering the pressure on the other side to retaliate... SANA, citing a statement from the Syrian Army's General Command, said the strikes had hit a military site near Palmyra, in the eastern countryside of Homs Province. "
"If I were Adam Schiff, the leading Democrat on the committee, I would demand to see the following witnesses: Carter Page, Paul Manafort, Richard Burt, Erik Prince, Dan Scavino, Brad Parscale, Roger Stone, Corey Lewandowski, Boris Epshteyn, Rudolph Giuliani, Michael Flynn, Michael Flynn Jr., Felix Sater, Dmitry Rybolovlev, Michael Cohen, Jack Dorsey, Mark Zuckerberg, Peter Thiel, Robert and Rebekah Mercer, Stephen Bannon, Sebastian Gorka, Michael Anton, Julia Hahn and Stephen Miller, along with executives from Cambridge Analytica, Alfa Bank, Silicon Valley Bank and Spectrum Health."
"If Mr. Trump's tweet alleging that Trump Tower was wiretapped on the orders of President Barack Obama was untrue, Mr. Trump is guilty of a slur. If, however, the president tweeted real news, he revealed the existence of intercepts that cover members of his team in a continuing investigation. That would be obstruction of justice, potentially an impeachable offense."
"Those fellows in the CIA don't just report on wars and the like, they go out and make their own, and there's nobody to keep track of what they're up to. They spend billions of dollars on stirring up trouble so they'll have something to report on. They've become ... it's become a government all of its own and all secret. They don't have to account to anybody."
"Critics say blasphemy laws, which allow the death penalty in some cases, are often misused to oppress minorities."
"A military vessel and a helicopter gunship attacked a boat packed with Somali refugees off the coast of Yemen overnight Friday, killing at least 42 people, according to a U.N. agency, Yemeni officials and a survivor who witnessed the attack."
"Local activists and a monitoring group said the airstrike hit a mosque in the western Aleppo countryside during a religious gathering, killing at least 46 people and trapping more under the rubble."
"Dozens of armed factions have battled for control of oil-rich Libya since the 2011 fall of longtime dictator Muammar Gaddafi."
"Billions of dollars in spending cuts to most government agencies to pay for large increases in military and homeland security spending, resulting in a 1.2 percent cut in discretionary spending over all."
See also:
"To fulfill a campaign promise to leave Social Security and Medicare — which represent more than 40 percent of annual federal spending — untouched while constructing an expensive border wall, Mr. Trump went after a relatively small pot of money, discretionary spending, goring Republicans' pet programs in the process."
"The relentless pace of mergers and acquisitions in the spies-for-hire business has left five corporations in control of about 80 percent of the 45,000 contractors employed in U.S. intelligence... Surely the time has come to make private contractors directly accountable for leaks of classified material by canceling contracts or charging executives with negligence when leaks happen."
"The Afghan defense ministry said Wednesday that two dozen army personnel have been arrested for questioning following the security breach that allowed four assailants to enter the country's main military hospital and kill 50 people a week earlier."
"While parts of Damascus have been ravaged by the war, and some outlying sections are held by rebels, the Old CIty where the courthouse is located had been, until recently, largely a refuge from the devastation."
"A history of war, annexation and expulsions, as well as a series of practices, has left the Palestinian people fragmented into four distinct population groups... This fragmentation, coupled with the application of discrete bodies of law to those groups, lie at the heart of the apartheid regime"
"A federal judge in Hawaii issued a worldwide restraining order against enforcement of key parts of President Donald Trump's revised travel ban executive order just hours before the directive was set to kick in, backed up by a second federal judge in Maryland who put out his own ruling blocking parts of the order."
"The budget would cut the Environmental Protection Agency by 31 percent, the State Department by 28 percent and Health and Human Services by 17.9 percent... The proposed $54 billion increase in military spending — a 10 percent increase — would also require a repeal of spending caps imposed by the 2011 Budget Control Act"
"That populist smokescreen is long gone now."
"Draining the swamp" was noise for rubes. You think all those Trump supporters realize what's coming? Goldman owns the swamp. Oligarchy is bipartisan!
"After WWII, the US launched the Marshall Plan to help Europe rebuild, spending about $120B in inflation-adjusted dollars on the project, which lifted the war-stricken European nations out of disaster and launched them into post-war prosperity; the US has spent even more than that on rebuilding projects in Afghanistan since the official cessation of hostilities there, but Afghanistan remains a crumbling, corrupt, failed state where violence is rampant, opium exports are soaring, and soldiers and civilians alike are still dying."
The graveyard of empires...
"Investigators have so far recovered more than 250 skulls from unmarked graves at a site in an eastern Mexican state where drug gangs long buried their victims with impunity, a senior official in the local government said on Tuesday."
"Fed officials voted nearly unanimously following a two-day policy meeting in Washington to raise the central bank's key interest rate for overnight lending by a quarter point, from a range of 0.5 percent to 0.75 percent to a range of 0.75 percent to 1.0 percent."
"Mr. Fillon, who had sold himself as the image of rectitude, promised after the scandal first broke that he would withdraw from the race if he were criminally charged. But he later reneged on that pledge, prompting many supporters in his party and his campaign staff to desert him."
"The indicted FSB officers are Dmitry Dokuchaev and Igor Sushchin, his superior... Another man indicted in the case is Alexsey Belan, who is on the list of most-wanted cyber criminals.. The other hacker-for-hire is Karim Baratov, who was born in Kazakhstan but has Canadian citizenship. He was arrested in Canada on Tuesday."
In light of the Vault 7 leaks, allowing this kind of lawsuit would open up the IC to a tidal wave of cases.
"This executive order is part of the administration's aggressive push to shrink the federal government."
"The objective is to allow wealthy corporations to buy public assets at firesale prices so they can turn them into profit-generating enterprises... That's why the emphasis is on 'unconventional financing programs', 'public-private partnerships', and 'Build America Bonds'"
Leaks indicate the turf war between the Pentagon and the CIA flares up again. Is Trump trying to buy political capital?
"The U.S. and diplomatic officials said any such Russian deployment might be part of a bid to support Libyan military commander Khalifa Haftar, who suffered a setback with an attack on March 3 by the Benghazi Defence Brigades (BDB) on oil ports controlled by his forces."
"Egyptian security sources offered more detail, describing a 22-member Russian special forces unit, but declined to discuss its mission. They added that Russia also used another Egyptian base farther east in Marsa Matrouh in early February. "
"As the USS Carl Vinson plowed through seas off South Korea on Tuesday, rival North Korea warned the United States of 'merciless' attacks if the carrier infringes on its sovereignty or dignity during U.S.-South Korean drills."
"MPs first voted against the amendment to protect EU nationals by 335 votes to 287. A few minutes later, they voted down a call for a 'meaningful vote' by 331 votes to 226... The bill will become law once it receives royal approval from the Queen, which could happen as soon as Tuesday morning."
"The House Republican plan to replace the Affordable Care Act would increase the number of people without health insurance by 24 million by 2026, while slicing $337 billion off federal budget deficits over that time"
How will Trump's base respond?
"A company owned by the family of Jared Kushner, President Donald Trump's son-in-law and senior adviser, stands to receive more than $400 million from a prominent Chinese company that is investing in the Kushners' marquee Manhattan office tower at 666 Fifth Ave."
"A bizarre element in Trump's decision to take the offensive against Iran in Yemen is that the Iranians provide very little financial and military aid to the Houthis. Saudi propaganda, often echoed by the international media, speaks of the Houthis as 'Iran-backed', but Yemen is almost entirely cut off from the outside world by Saudi ground, air and sea forces."
"The Trump administration is exploring how to dismantle or bypass Obama-era constraints intended to prevent civilian deaths from drone attacks, commando raids and other counterterrorism missions outside conventional war zones like Afghanistan and Iraq"
"At least 652 children were killed – a 20 per cent increase from 2015 – making 2016 the worst year for Syria's children since the formal verification of child casualties began in 2014."
"While Mr. Trump has won confirmation of 18 members of his cabinet, he has not nominated anyone for more than 500 other vital posts"
"In a Dec. 3 phone call, Trump and Ghani discussed Afghanistan's mineral wealth, whose value a Pentagon study has estimated at up to $1 trillion."
Whenever the Blob uses the term "order", replace it with "domination".
"In the anodyne language of a closeted elite, they provide a recipe for continued wars without end, for squandering resources and lives on interventions, overt and covert, large and small, in all corners of the earth."
"March 20, when the committee holds its first public hearing. An initial list of invited witnesses included James B. Comey, the F.B.I. director; James R. Clapper Jr., the director of national intelligence under Mr. Obama; and Sally Q. Yates"
"This is the real story of the H-1B visa. It is a tool used by companies to avoid hiring American workers, and avoid paying American wages. For every visa used by Google to hire a talented non-American for $126,000, ten Americans are replaced by outsourcing companies paying their H-1B workers $65,000."
"A new UN report on Turkish government operations in the country's mainly Kurdish south-east, which found some 2,000 people were killed in 18 months of fighting."
"Iraq's Foreign Ministry says most of the more than 40 people killed in the twin blasts in the Syrian capital Damascus were Iraqis visiting the Shiite shrines in the area."
"An airstrike by a military coalition led by Saudi Arabia on an open market in western Yemen killed at least 16 people, United Nations and local officials said Saturday."
"Japan's Asahi Shimbun newspaper reported in 2015 that the plan resembled guerrilla warfare, with special forces assassinations and targeted attacks on key facilities. The goal was to consolidate everal older war plans, minimize casualties in a war and even prepare for the possibility that the North Korean regime might collapse. Most important, OPLAN 5015 envisaged the possibility of a preemptive strike against North Korea."
"Nonfarm payrolls increased by 235,000 jobs last month as the construction sector recorded its largest gain in nearly 10 years due to unseasonably warm weather"
"The concept of global warming was created by and for the Chinese in order to make U.S. manufacturing non-competitive."
The tools that make a reality TV show popular are ill suited for being a world leader. I bet the GOP donors are looking at Pence...
"The Netherlands barred Turkey's foreign minister from landing in Rotterdam on Saturday in a row over Ankara's political campaigning among Turkish emigres, and President Tayyip Erdogan retaliated, branding his NATO partner a 'Nazi remnant'."
"The state's Department of Motor Vehicles released proposed regulations Friday for autonomous vehicles, dropping an earlier requirement that a human driver had to be present while testing on public roads. The DMV also backed down on a previous rule that vehicles needed a steering wheel and pedals for the operator to take back control."
"That's the way to challenge Trumpism: to tell the lowly that the answer for them is 'lifelong learning'. Which is another way of saying that their situation is their own stupid fault. "
"Blow lists the many precursors to 'the resistance', all the forms of 'disruption' and civil disobedience that got results over the years ... and he doesn't think to mention strikes"
"The proposal from the State Department would reverse a decision made late in the Obama administration to suspend the sale of precision guided munitions to Riyadh, which leads a mostly Arab coalition conducting airstrikes against Houthi rebels in Yemen."
"Park becomes South Korea's first democratically elected leader to be forced from office, capping months of paralysis and turmoil over the corruption scandal that also landed the head of the Samsung conglomerate in detention and on trial."
"I think that measuring with precision human activity on the climate is something very challenging to do and there's tremendous disagreement about the degree of impact, so no, I would not agree that it's a primary contributor to the global warming that we see"
"In addition to assigning grades to America's ports and parks, the 2017 report card projected a total investment of $4.59 trillion that would be required to bring U.S. infrastructure from where it stands today — at a D+ — to a B grade."
"China's foreign minister, Wang Yi, urged North Korea earlier Wednesday to suspend missile tests in return for a suspension of U.S.-South Korea military exercises."
"Two suicide bombers have blown themselves up, killing 26 people, as wedding guests gathered in a village near the Iraqi city of Tikrit."
"The administration is using the state secrets privilege, which means the executive branch is asking the judge in the case to keep information out of court by asserting that its disclosure would damage national security."
"While some names have previously dribbled out in the press, we are publishing a list of more than 400 hires, providing the most complete accounting so far of who Trump has brought into the federal government... The list is striking for how many former lobbyists it contains: We found at least 36"
"One reason the investigation is focused on a potential leak by contractors rather than for example a hack by Russian intelligence, another official said, is that so far there is no evidence that Russian intelligence agencies tried to exploit any of the leaked material before it was published."
Depicts spies as apolitical truth tellers. Never mind all those clandestine ops, which manifest political agendas.
Yves Smith: "Wonderfully clarifying to see torture- and illegal warrantless surveillance defender Hayden become a liberal icon."
"Reporters should always be nervous when intelligence sources sell them stories... Trump will be pre-inoculated against all criticism for the foreseeable future."
"More than 30 people have been killed after attackers dressed as doctors stormed the largest military hospital in Kabul, Afghan officials say."
"The deployment marks a new escalation in the U.S. war in Syria, and puts more conventional U.S. troops in the battle. Several hundred Special Operations troops have advised local forces there for months, but the Pentagon has mostly shied away from using conventional forces in Syria."
"China sees the Thaad deployment in South Korea the way the Americans saw the Cuban missile crisis in the 1960s."
Note the measured response: "China, fearing a rapid escalation of tension on the Korean peninsula, called on North Korea on Wednesday to stop its nuclear and missile tests and for South Korea and the United States to stop joint military drills and seek talks instead."
"It's going to be a giant sign up by the door of the Jewish state: 'Don't come unless you agree with everything we're doing here.' I don't know what kind of democracy makes that statement."
This is pleasant fiction; public relations damage control from a documented NSA partner. How, pray tell, does this exec plan to enforce controls and detect violations?
See the reality check to Microsoft's P.R. here.
"Many experts argue that China's anger over THAAD has less to do with the missiles than with the sophisticated radar capabilities included in the system. These radars could be used to track China's own missile systems"
At the rate North Korea is going, THAAD isn't going to help much.
"In all, the American Health Care Act is roughly a repeal of the Obamacare mandates, a steep rollback of current and future federal commitments to covering people via Medicaid, a replacement of the existing tax credit with one that's less generous for low-income people but still applies to middle-class people, and a repeal of most of the revenue-generating taxes of the ACA."
How will this impact Trump's base? Remember how Trump exclaimed that he was going to replace Obamacare with something "so much better?" This is going to hurt him a lot more than rumors of Russian meddling.
"The judges on the FISA court are 'not even concerned, nor are they involved in any way with the Executive Order 12333 collection,' Binney said during the radio interview. 'That's all done outside of the courts. And outside of the Congress.'... the laws that fall under the FISA court's jurisdiction are 'simply out there for show' and 'trying to show that the government is following the law'"
"Any time a cyber attack occurs nowadays you have cybersecurity companies looking back and seeing a historical record and seeing assignments on responsibility and attribution and they just keep plowing ahead. Whether they are right or wrong, nobody knows, and probably will never know. That's how it works. It's a terrible system."
"The remaining big issue still undecided in both Syria and Iraq is the future relations between the central governments in Baghdad and Damascus and their Kurdish minorities. "
"More than 40,000 people have been displaced in the last week from the Iraqi city of Mosul... the number of people uprooted since the start of the offensive in October exceeded 206,000"
"These are just a few of the more than 90 regulations that federal agencies and the Republican-controlled Congress have delayed, suspended or reversed in the month and a half since President Trump took office"
"I am imposing a temporary pause on the entry of nationals from Iran, Libya, Somalia, Sudan, Syria, and Yemen, subject to categorical exceptions and case-by-case waivers, as described in section 3 of this order."
"Last year, US District Judge Robert Bryan ordered the government to hand over the NIT's source code in Michaud. Since that May 2016 order, the government has classified the source code itself, thwarting efforts for criminal discovery in more than 100 Playpen-related cases that remain pending."
"They are incapable of offering any meaningful alternative to neoliberalism and empire. They are devoid of a vision. They can only moralize. They will continue to atrophy and enable the consolidation of an American fascism."
The cost of regime change is rarely paid by the politicians who instigate it.
"In just the past two days, U.S. forces intended for the Raqqa battle have had to detour to a town in northern Syria to head off a confrontation between two American allied forces — Turkish and Syrian Kurdish fighters."
"China is experiencing its largest outbreak of the H7N9 bird flu strain, with at least 460 infections reported since October. About a third of people diagnosed with H7N9 have died of their infections, according to the World Health Organization."
"Britain agreed on Sunday to arrange 10 billion pounds ($12.3 billion) in loans to finance infrastructure projects in Iraq over a 10 year period"
"Of 126 Islamic State-related cases prosecuted by federal authorities across the country since 2014, nearly two-thirds involved undercover agents or informants... Their average age is 26, 77 percent are U.S. citizens, a third are converts to Islam and a third live with their parents. Nearly 90 percent are active on social media. Only a handful had any link to Islamic State members overseas. "
"The Guardian has learned that the FBI applied for a warrant from the foreign intelligence surveillance (Fisa) court over the summer in order to monitor four members of the Trump team suspected of irregular contacts with Russian officials. The Fisa court turned down the application asking FBI counter-intelligence investigators to narrow its focus. According to one report, the FBI was finally granted a warrant in October, but that has not been confirmed, and it is not clear whether any warrant led to a full investigation."
"The director of national intelligence at the time of the US election has denied there was any wire-tapping of Donald Trump or his campaign."
Hey, this guy would never lie to us, right? Secret courts, secret laws, gag orders,...
See also:
"Trump has the power to clarify it and everything else about the Russia story right now by declassifying whatever surveillance records exist of contacts between people in his orbit and Russia. If he and his associates did nothing wrong, he has every incentive to do so as soon as possible."
"Militias have captured a string of key Libyan oil ports in the fight against eastern strongman Khalifa Haftar, sharply escalating the country's civil war and throwing international peacemaking efforts into doubt."
"Over the past eight months, they note, the North has managed to successfully launch three medium-range rockets."
"At one meeting, he declared that he would have targeted the North Korean leadership and weapons sites if he thought it would work."
"Some strategists argue that all nuclear systems should be off limits for cyberattack. Otherwise, if a nuclear power thought it could secretly disable an adversary's atomic controls, it might be more tempted to take the risk of launching a pre-emptive attack."
As with Stuxnet, the benefits are dubious at best.
"Trump is proposing spending programs that seem to imply the economy is weak and in desperate need of help. But Yellen doesn't see it that way. The economy is clearly in a recovery mode"
It depends on whose economy you're talking about, Trump's base or Yellen's. The stock market is reaching new highs, great for the 1%.
"Citing no evidence to support his explosive allegation, Trump said in a series of five tweets sent Saturday morning that Obama was 'wire tapping' his New York offices before the election in a move he compared to McCarthyism. 'Bad (or sick) guy!' he said of his predecessor, adding that the surveillance resulted in 'nothing found.'"
"It is completely normal for any campaign, and especially an incoming administration, to have contacts with foreign government officials. Such contacts are needed to prepare policies and to get the facts right to plan and run a consistent foreign policy. I am very sure that there were hundreds of talks between Trump campaign and incoming administration officials with Israeli, European and Arab officials. These are regular contacts and they do not violate any law. There was and is no reasons at all to pick out talks with Russian officials as something sinister or even illegal. Again - no evidence has been provided that Russia somehow interfered in U.S. elections. None at all. There was no sound reason to give special treatment to campaign contacts with Russia"
"Most administrations arrive at military spending priorities through a three-step process: Identify what problems they want to solve, determine the strategy that will solve them and, finally, buy the equipment necessary to enact that strategy. Mr. Trump appears to have run that process backward... Unless the spending is the strategy."
"Among the information in the document, which is titled simply, Cell Phones and Health, are summaries of scientific studies that suggest long-term cellphone use may increase the risk of brain cancer, among other health problems."
"The program, involving a tool called Greyball, uses data collected from the Uber app and other techniques to identify and circumvent officials who were trying to clamp down on the ride-hailing service."
"A senior Yemeni official described the strikes as 'open-ended' and said they raised questions about the objectives of such an operation."
"The deadly fighting erupted when Peshmerga Rojava forces moved towards the border with Syria, encroaching on territory controlled by a local affiliate of the Kurdistan Workers' Party (PKK)... The Peshmerga Rojava is made up of Kurds from Syria and was formed and trained in Iraq with the backing of Masoud Barzani, president of the Kurdish Regional Government in northern Iraq."
T.A. Frank offers a reality check:
"As things clear up, we may be seeing a collapsing soufflé. And as with so many soufflés served up by the press in recent months, it emerged from the oven to oohs and ahs—this time, with me among the oohers and ahers—only to sink, first slowly, then quickly."
"J.D. Gordon and Carter Page, two of Trump's early foreign policy advisers, met with the Russian diplomat at a conference hosted by the conservative Heritage Foundation in Cleveland in July. Several other national security advisers for the campaign were there as well."
"As unsexy and analogue as cash is, it is resilient. It is easy to use. It requires little fancy infrastructure. It is not subject to arbitrary algorithmic glitches from incompetent programmers. And, yes, it leaves no data trail that will be used to project the aspirations and neuroses of faceless technocrats and business analysts into my daily existence"
Truth is stranger than fiction.
Note how he tweeted fake outrage at his own handiwork: "Another week, another round of threats against Jewish ppl. In the middle of the day, you know who's at a JCC? Kids. KIDS."
As Trump predicted:
"In a meeting with state attorneys general earlier Tuesday, Mr. Trump suggested that the threats and destruction might be a politically coordinated effort to 'make people look bad'"
Maybe the Democrats will be more careful before they start shooting off at the mouth about racists?
"The strikes, in the three Yemeni provinces of Al Baydah, Abyan and Shabwa, targeted al-Qaida in the Arabian Peninsula (AQAP) infrastructure."
"As early as December 2016, China had blown past a U.N.-imposed ceiling of 1 million metric tons on coal imports, purchasing twice that amount. China then shrugged off a requirement to report its North Korean coal imports to the U.N. Security Council sanctions committee."
"North Korean banks and firms, meanwhile, have maintained access to international financial markets through a vast network of Chinese-based front companies, enabling Pyongyang to evade sanctions."
"Several Democratic members of the House on Wednesday night called on Sessions to resign from his post."
Sessions has offered to recuse himself as big names in the GOP start making noise.
"We support the clean reauthorization and the administration believes it's necessary to protect the security of the nation"
Same reason why the NSA loves them:
"By giving citizens new networked technologies like mobile phones and tablets, the government is able to automatically censor unsanctioned content and observe everything citizens are doing on their devices remotely"
"The company said some of the latest intrusions can be connected to the 'same state-sponsored actor believed to be responsible for the 2014 breach', in which at least 500 million accounts were affected."
Every company wants to claim they were attacked by a nation state so that their security doesn't look so awful.
"Last year 6,287 members of the military and police died... A United Nations report issued in February tallied a 3 percent increase in civilian casualties last year, more than 11,000 in all"
"In some cases, local officials and warlords are behind attacks in the province in an effort to get more support or military funding from Kabul."
Classic Hegelian dialectic. Or, as Groucho Marx might say: "Did you know that there is a million bucks hidden in the house next door?" "But there is no house next door." "No? Then let's go build one!"
Notice how the New York Times focuses on Assad. Never you mind of all those CIA funded jihadists...
Spies and bankers are kindred spirits. A milieu of secrets and manipulation that defies accountability. As it is with Lloyd Blankfein, so also with David Petraeus.
Hey, that billion dollar library isn't going to build itself. There's good money to be made is selling out...
"Some people don't like to take responsibility for their own shit. They blame everything in their life on somebody else. Good luck!"
Yeah, right, like bankers hold no responsibility for what happened in 2008. And American foreign policy has nothing to do with millions of refugees in the Middle East. Execs like to blame the victim!
"Amazon wasn't able to update its own service health dashboard for the first two hours of the outage because the dashboard itself was hosted on AWS... The Seattle-based company did not comment on the cause of the outage"
So much for resilient networks, ha!
February 2017_______________________________________
"Last week, the European Food Safety Authority and European Center for Disease Prevention and Control estimated that superbugs kill 25,000 Europeans each year; the C.D.C. has estimated that they kill at least 23,000 Americans a year. (For comparison, about 38,000 Americans die in car crashes yearly.)"
The war in Syria has killed 470,000.
"Five North Korean officials have been executed by anti-aircraft guns, according to South Korean lawmakers... A report released at the end of 2016 claims Kim has ordered 340 people to be executed since he came to power in 2011... Of those killed, about 140 were senior officers in the country's government, military and ruling Korean Worker's Party."
"The Justice Department, which is reviewing documents submitted on the proposed merger, has to prove a proposed deal harms competition in order to block it. The FCC has broad leeway to block a merger it deems is not in the "public interest" and can impose additional conditions."
"Under Trump's proposal, most federal agencies would face budget reductions, an Office of Management and Budget official said. Foreign aid spending would also drop."
Russia's military budget in 2015 was $52 billion. Sacrifice butter for guns.
"Turkey-backed Syrian rebel groups clashed with government forces near a city in northern Syria that the rebels recently captured from Islamic State, sources on both sides said, the second such confrontation in the region this month."
"Executives of the three companies — Cloud Peak Energy, Peabody Energy and Arch Coal... are lobbying for a tax bill to expand government subsidies to reduce the environmental impact of coal burning. The technology they are promoting is carbon capture and sequestration."
"A court in Madrid found him and more than 60 other former bankers guilty of using undeclared corporate credit cards to finance lavish lifestyles... All the card purchases during that period were not declared to the tax authorities."
"Upon entering Spicer's office for what one person briefed on the gathering described as 'an emergency meeting,' staffers were told to dump their phones on a table for a 'phone check,' to prove they had nothing to hide."
"There were 12,989 overdose deaths involving heroin in 2015, according to the National Center for Health Statistics, compared with 3,036 such fatalities five years earlier... a 2015 study by the U.S. Centers for Disease Control and Prevention found that the declining price of heroin and its increasing purity might be causing more people to use it."
No doubt linked to what's happening in Afghanistan...
"Officials blamed the Islamic State of Iraq and the Levant (ISIL) for the deadly attack. However, Zabihullah Mujahid, a spokesman for Taliban, said on Twitter his group killed the policemen and captured the village. It was not possible to independently confirm either claim."
"Someone obviously looked at the fact that the United States was going to issue visas to representatives of a country that had just violated international law, carried out a murder and intentionally violated the sovereignty of another country, and decided, 'Maybe this isn't such a good idea.'"
"A draft document obtained by The Associated Press concludes that citizenship is an "unlikely indicator" of terrorism threats to the United States and that few people from the countries Trump listed in his travel ban have carried out attacks or been involved in terrorism-related activities in the U.S. since Syria's civil war started in 2011."
"The pain and suffering of minorities, to Perez, was something Clinton could rely upon to discourage minority voters from supporting radical change promoted by Sanders."
And a friend to Banksters to boot, same as it ever war. Same as it ever was. The blue oligarchs maintain control. Time for Demexit?
"The Khasfa sinkhole was once an inconspicuous feature in the barren desert just off the Baghdad-Mosul highway. Now, this natural depression five miles outside Mosul is believed to be the biggest mass grave in Iraq and the resting place of an estimated 4,000 bodies."
"The Syrian Observatory for Human Rights, a Britain-based monitoring network, said suicide bombers and gunmen opened fire outside the headquarters of general and military intelligence, two of the most fortified complexes in the area."
"The Syrian force includes 27,000 members of the Y.P.G, a Kurdish militia... an assault against Raqqa would pit the lightly armed Syrian fighters against an enemy that is equipped with stolen Syrian tanks, antitank missiles and an abundant supply of car bombs."
"The question is whether the United States could arm Kurdish fighters without producing a violent backlash, such as a Turkish military offensive to take control of Manbij or Turkish restrictions on the use of their Incirlik Air Base by American forces."
"The bid to replace the EU candidate country's parliamentary democracy with a powerful executive presidency is seen by Erdogan supporters as a guarantee of stability, preventing a return to the fragile coalitions of previous decades."
"Officials in China's largest prefecture, in the far-western region of Xinjiang, are requiring all drivers there to install a Chinese-made satellite navigation system in their vehicles, according to an official news report this week."
"According to documents seen by SPIEGEL, the BND conducted surveillance on at least 50 additional telephone numbers, fax numbers and email addresses belonging to journalists or newsrooms around the world in the years following 1999."
"At least two attacks Friday near a Syrian town just captured by Turkish forces and Syrian opposition fighters from the Islamic State group killed more than 60, mostly civilians and including two Turkish soldiers, as the group retreats from one of its last remaining strongholds in northern Syria, Turkey's news agency and Syrian activists said."
"The battle for the old part of western Mosul, with its many narrow and winding streets, is expected to be difficult. Armored vehicles cannot maneuver in such close quarters. Much of the fighting will need to be done by Iraqi troops fighting house to house in a section of the city that is still home to an estimated 750,000 civilians."
"Last year, a Senate panel led by Ms. de Lima heard testimony from a professed hit man, Edgar Matobato, who said he belonged to a death squad that had been overseen by Mr. Duterte when Mr. Duterte was mayor of Davao City."
"But Treasury Secretary Stephen Mnuchin told CNBC on Thursday he was not ready to pass judgment on China's currency practises."
Full of sound and fury. Signifying nothing.
"Seven people were shot to death on Wednesday, five of them killed over two hours"
"In a 14-page opinion and order, which was published on February 16 but only began to circulate amongst privacy lawyers and legal scholars on Twitter on Wednesday, Judge M. David Weisman wrote that while investigators did have probable cause to search a particular home, 'these limitations do impact the ability of the government to seek the extraordinary authority related to compelling individuals to provide their fingerprints to unlock an Apple electronic device.'"
The NSA TAO unit has likely had access for much longer, but spies prefer to keep their traps shut to encourage credulous users to maintain their superstitious faith in Apple's security. Exec buzzwords like 'Innovation' and "market demand" are unfurled in light of secret deals, plausibly deniable back doors. Even new security features have bugs, which can be exploited. ...Surprise!
"Technology's role has begun to shift, from serving human users to pushing them out of the way so that the technologized world can service its own ends. And so, with increasing frequency, technology will exist not to serve human goals, but to facilitate its own expansion."
"More than 20 million people face starvation in the four countries [South Sudan, Nigeria, Somalia and Yemen] and action is needed now to avert a humanitarian disaster, Guterres told a news conference at UN headquarters on Wednesday."
"Its operation also aims to thwart Kurdish hopes of establishing an autonomous zone along the Syrian-Turkish border by preventing them from linking up territory east and west of al-Bab."
"The letters also show the cosy relationship between Pruitt and the American Legislative Exchange Council (Alec), the influential US lobbying network of Republican politicians and big businesses, and other lobby groups sponsored by the Koch brothers, the billionaire energy investors who have spent decades fighting against environmental regulation."
"The United States will need to adapt and protect the liberal international order as a means of continuing to provide stability and prosperity"
Whenever these people use the word "order," replace it with "empire." Then ask yourself, whose stability and prosperity? I bet refugees from Iraq, Libya, Afghanistan, and Syria might have a few choice words...
"The operation, not authorized under Justice Department rules, gave agents an off-the-books way to finance undercover investigations and pay informants without the usual cumbersome paperwork and close oversight, according to court records and people close to the operation."
"After a blitz of terrorist bombings across Pakistan left more than 125 people dead, Pakistani forces began shelling both sides of the border Friday, aiming at camps used by a group tied to the Islamic State that claimed most of the attacks. Pakistan also closed all border crossings."
"Turkey's government has expressed interest in buying the S-400 since 2013, when it initially approached China for the missile system. Officials were forced to cancel the deal in November 2015 in response to NATO's disapproval."
"Ms. De Sousa, a native of India and a dual citizen of the United States and Portugal, was in Milan posing as a diplomat. She resigned from the C.I.A. in 2009. Convicted in absentia, she was sentenced to four years in prison."
"An Austrian court on Tuesday approved an American extradition request for Dmytro V. Firtash, a Ukrainian gas mogul and one of the strongest backers of the ousted Ukrainian president, Viktor F. Yanukovych."
"Let's be clear: the Deep State is not six people in hoods muttering incantations. It's a shifting landscape of those at the top of the heap — not a monolith but a bloody battlefield, with factions breaking both bread and heads."
"Three attackers hit the courthouse in the town of Tangi in Khyber Pakhtunkhwa province, bordering Afghanistan. The victims included a lawyer, a child and four police officers, according to Ijaz Khan, a senior police officer."
Pence: "It's my privilege, on behalf of President Trump, to express the strong commitment of the United States to continued cooperation and partnership with the European Union."
Bannon: "Bannon, these people said, signalled to Germany's ambassador to Washington that he viewed the EU as a flawed construct and favoured conducting relations with Europe on a bilateral basis."
Trump: "Look at the European Union and it's Germany. Basically a vehicle for Germany"
"On Monday, prosecutors in Mugla charged 47 suspects, almost all of them soldiers, with offences including attempting to assassinate the president, breaching the constitution and belonging to an armed terrorist organization."
"Several attempts to remove Abdel-Rahman from the U.S. mysteriously failed. In 1991 he was inexplicably granted a Green Card despite still being blacklisted."
Though it would appear that Mr. Price takes no issue with decades of regime change, death squads, torture, assassinations and drug running.
"The former officer, Arthur Lascañas, said at a news conference on Monday that Mr. Duterte had sponsored the killings of drug and crime suspects while he was mayor of the southern city of Davao. Mr. Lascañas has now become the second professed hit man to level such accusations against Mr. Duterte."
"The loans are made to Greece precisely because Greece couldn't pay. When a country can't pay, the rules at the IMF and EU and the German bankers behind it say, don't worry, we will simply insist that you sell off your public domain. Sell off your land, your transportation, your ports, your electric utilities."
"Al Shabaab, the Islamist insurgent group that is fighting the U.N.-backed Somali government, did not immediately claim responsibility."
"Preparations are under way to bring senior North Korean officials to the United States for talks with former U.S. officials, the first such meeting in more than five years"
"General McMaster is seen as one of the Army's leading intellectuals, first making a name for himself with a searing critique of the Joint Chiefs of Staff for their performance during the Vietnam War and later criticizing the way President George W. Bush's administration went to war in Iraq."
"The euro really has been a doomsday device for turning recessions into depressions. It's not just that it caused the crisis by keeping money too loose for Greece and the rest of them during the boom and too tight for them during the bust. It's also that it forced a lot of this austerity on them."
"Experts said the move also reflected Beijing's deep frustration with North Korea over its recent missile test and the assassination of Kim Jong Un's half brother in Malaysia."
"In practice, that exception was the cover for coal to continue to flow across the border in huge quantities, with imports of non-lignite coal up 14.5 percent last year to 22.5 million metric tons (24.8 million U.S. tons)."
China wants to assuage the West, but it doesn't want North Korea to implode so that it can maintain a satellite state as a buffer.
"The United Nations in Iraq said on Saturday that most of the 750,000 to 800,000 residents of western Mosul had been living under extreme duress for weeks... Once the battle for western Mosul begins, a top United Nations official said, 250,000 to 400,000 people may try to flee."
"Sailing with the 97,000-ton Vinson is the guided-missile destroyer USS Wayne E. Meyer, the Navy said in a statement. The Vinson carries a flight group of more than 60 aircraft, including F/A-18 jet fighters."
"U.S. Central Command (CENTCOM) spokesman Maj. Josh Jacques told Airwars and Foreign Policy that 5,265 armor-piercing 30 mm rounds containing depleted uranium (DU) were shot from Air Force A-10 fixed-wing aircraft on Nov. 16 and Nov. 22, 2015, destroying about 350 vehicles in the country's eastern desert."
"This is the irony of Syriza, the leftwing party catapulted to power on a ticket to 'tear up' the hated bailout accords widely blamed for extraordinary levels of Greek unemployment, poverty and emigration. Two years into office it has instead overseen the most punishing austerity measures to date, slashing public-sector salaries and pensions, cutting services, agreeing to the biggest privatisation programme in European history and raising taxes on everything from cars to beer – all of which has been the price of the loans that have kept default at bay and Greece in the euro."
"The feat of pulling off the greatest fiscal adjustment in modern times has spawned a slump longer and deeper than the Great Depression, with the Greek economy shrinking more than 25% since the crisis began."
"The United States of America strongly supports NATO and will be unwavering in its commitment... The United States will continue to hold Russia accountable"
An offering to the Cold War gods, to keep the CIA at bay long enough for the FBI to locate the leaks?
"White auditioned for the job promising to police Wall Street aggressively, and be 'bold and unrelenting.' But once installed, she spent her time at the SEC operating like she still worked for Debevoise."
"Maybe it's oneupmanship or maybe the Trump's legal counsel feels it has too much on its plate already, but as the New York Times' Charlie Savage reports, Team Trump is handing over a full copy of the Torture Report to the court as requested."
"Another claim from the documents is that one unidentified interviewee said Undersecretary of State Patrick Kennedy pressured the FBI to unclassify certain emails from Clinton's private server that were previously deemed classified."
"After another surge in hiring during the George W. Bush administration. Thousands of people were hired without being properly vetted, which resulted in dozens of corruption cases involving Border Patrol and other agents, who were accused of taking bribes and providing information to Mexican drug cartels."
"Mr. Homann encouraged parents to deactivate the doll, which is manufactured by United States-based Genesis Toys and distributed by the Vivid Toy group. 'This is also about protecting the rights of the weakest in society,' he said."
"A suicide bomber detonated the bomb among crowds gathered for the busiest day of the week at the shrine to Sufi saint Lal Shahbaz Qalandar in Sehwan, a town in the southern Sindh province. "
"Ahmad Ali Hazrat, chief of the provincial council in the province, said the attack Thursday night took place in the Dih Bala district in eastern Nangarhar province."
"Nine women and one child have died after a Saudi-led coalition war plane struck a funeral gathering in Yemen, officials have said. A strike which hit a house in which mourners were gathered north of the capital on Wednesday also injured dozens more civilians, witnesses said."
"U.S. President Donald Trump has raised questions about his commitment to the NATO defence alliance if European countries do not raise defence spending to 2 percent of economic output. The United States puts up 70 percent of alliance funds."
"Named specifically as targets are the French Socialist Party (PS), the National Front (FN) and Union for a Popular Movement (UMP) together with current President Francois Hollande, then President Nicolas Sarkozy, current round one presidential front runner Marine Le Pen, and former presidential candidates Martine Aubry and Dominique Strauss-Khan."
"The most active members of the Ukrainian team were actually from Russia, or from Russian-speaking regions of Ukraine, and parroted the Kremlin line."
The same kind of manipulation that the CIA conducts in Europe.
"Sean Spicer said the AP report was '100 percent not true' and 'irresponsible.' 'There is no effort at all to utilize the National Guard to round up unauthorized immigrants,' he said."
"The notice of claim said BlackBerry has structured the transfer of employees to avoid paying termination entitlements and is refusing to pay them."
"A car packed with explosives has blown up in the south of Baghdad, killing at least 55 people and wounding dozens more."
"It is the shorthand for a final settlement that would see the creation of an independent state of Palestine within pre-1967 ceasefire lines in the West Bank, Gaza Strip and East Jerusalem, living peacefully alongside Israel."
"America will meet its responsibilities, but if your nations do not want to see America moderate its commitment to the alliance, each of your capitals needs to show its support for our common defense"
"The Trump administration signaled Thursday there will be no change soon in U.S.-Russian relations, putting the onus on Moscow to prove itself if it wants closer cooperation with Washington. Russia's support for Ukrainian separatists was underscored as a test case of its willingness to change behavior."
"There are people trying to separate the U.S. and Russia so that this military industrial intel axis can cash in"
There are people whipping up the sort of anti-Russian hysteria that could lead to a hot (e.g. nuclear) war.
"They should ask themselves if, when they were whooping and hollering for the man who promised to end special interest and lobbyist rules in Washington, they imagined the ExxonMobil chief in charge of the State Department cheering as the new president wiped out anti-bribery laws."
As a way to help remind all those admitted torturers and professional liars which faction of billionaires they need to serve. Prepare to cross the Rubicon...
Sources and means? Witness headline inflation. The real story centers around spy masters fretting that they haven't been granted the ability to frame events via daily briefs, thus shaping the White House decision making process with their alleged 'slam dunks.'
Lambert: I'm loving the liberal nomenklatura's view that relying on known torturers and professional liars to stage a soft coup is 'saving democracy.'
From "I love WikiLeaks" and " Russia, if you're listening, I hope you're able to find the 30,000 emails that are missing " to "The real scandal here is that classified information is illegally given out by "intelligence" like candy. Very un-American!".
Of course the Democrats are just as guilty. Shifting their position after being booted out of power.
"A suicide bomber detonated a pick-up truck on Wednesday in Sadr City, a heavily populated poor Shi'ite suburb of Baghdad, killing at least 15 and wounding 50, security sources said."
If this happened in the United States the news cycle would come to a virtual standstill, the corporate press wouldn't be able to stop churning out coverage. A year or two later Hollywood would come out with a star-studded movie...
"President Trump signed his first legislation Tuesday, scrapping an anti-corruption measure that requires oil and mining companies to disclose their payments to foreign governments... The oil industry, in particular, fought vigorously to eliminate the rule, arguing that compliance is costly and erodes U.S. companies' global competitiveness."
As might be expected, important developments like this have been drowned out by all of the drama in D.C. Who says Trump isn't doing anything in office?
"The defendants allegedly transported cocaine-filled suitcases through security at the Luis Muñoz Marín International Airport in San Juan, Puerto Rico. Between 1998 and 2016, approximately 20 tons of cocaine made it through as part of the racket, according to the announcement."
"The officials said that one of the advisers picked up on the calls was Paul Manafort, who was Mr. Trump's campaign chairman for several months"
"The F.B.I. has closely examined at least three other people close to Mr. Trump, although it is unclear if their calls were intercepted. They are Carter Page, a businessman and former foreign policy adviser to the campaign; Roger Stone, a longtime Republican operative; and Mr. Flynn."
"It's simply astounding to learn that Flynn himself was using apparently unencrypted email, phones and texting to communicate with, of all people, the Russian Ambassador to the US, discussing such issues as potentially lifting sanctions imposed on Russia by the sitting president of the United States, Barack Obama."
Just like former CIA Director David Petraeus.
"On Monday, El Aissami became one of the most-senior government leaders of any country added by the Treasury Department to a list of foreign nationals subject to economic sanctions under the Foreign Narcotics Kingpin Designation Act. The Treasury Department alleged that El Aissami -- who was elevated to his post last month -- protected drug lords and oversaw a network of planes and ships exporting thousands of kilograms of cocaine."
While the proles suffer the Maduro Diet.
"President Trump accepted Flynn's resignation letter and appointed Keith Kellogg, a decorated retired Army lieutenant general, as acting national security adviser."
Into the night after spy SIGINT demonstrates that some of the alleged conversations described in the Trump dossier actually took place. Elements in the IC are revolting against a White House which they view as having dubious OPSEC, spooked allies, and links to the Kremlin.
"The message of Ukraine on Fire is that short-sighted, ambitious and ideological officials – unchecked by their superiors – created something even worse than what existed. While high-level corruption persists today in Ukraine and may be even worse than before, the conditions of average Ukrainians have deteriorated."
"Russia has secretly deployed a new cruise missile despite complaints from American officials that it violates a landmark arms control treaty that helped seal the end of the Cold War"
"The deployment of the system could also increase the military threat to NATO nations, which potentially would be one of the principal targets."
"There would have been up to 11% more computer science jobs at wages up to 5% higher were it not for the immigration program that brings in foreign high-skilled employees, a new study finds."
"At any rate, the market failures in pharma, with price markups in the thousands to tens of thousands of percents, are now so common that it's clear that a radical solution is needed. The simplest solutions are price control and government getting into the business. Ideally, both should be done at the same time."
"In a statement, it said Iraqi F-16s had targeted the house in western Iraq on Saturday. It published the names of 13 Islamic State commanders it said had been killed in the air strike, but the list did not include Baghdadi."
"Hospitals were bombed, not once or twice, but repeatedly; cluster bombs and incendiaries fell on residential areas; chemical weapons were used. Siege, hunger, and indiscriminate strikes brought suffering to women, children, the disabled, and the very old. This report details the tactics and strategy that the regime coalition used to break Aleppo."
"The 770-foot-tall Oroville Dam is the nation's tallest, about 44 feet higher than the Hoover Dam on the Colorado River... There was never any danger of the dam collapsing. The problem was with the spillways, which are safety valves designed to release water in a controlled fashion"
"The threat also came a few days after CNN en Espanol broadcast and posted online an in-depth investigation into how officials of the Venezuelan Embassy in Iraq allegedly sold Venezuelan passports and visas to suspected terrorists."
"The survey itself consists of 48 questions that agents are supposed to answer about terror suspects as part of an investigation. The document also includes a set of frequently asked questions about the scoring system aimed at agents working counterterrorism investigations."
"Trump, a product of the billionaire class, will accommodate these corporate interests, along with the war machine, to build a mutually acceptable alliance. The lackeys in Congress and the courts, puppets of corporations, will, I expect, mostly be submissive. And if Trump is impeached, the reactionary forces that are cementing into place authoritarianism will find a champion in Vice President Mike Pence, who is feverishly placing members of the Christian right throughout the federal government."
"Afghan officials and local residents said Sunday that 22 civilians, mostly women and children, were killed during a joint operation carried out by U.S. and Afghan forces last week in the southern Helmand province"
"Turkey's President Recep Tayyip Erdogan has said the final goal of a Turkish incursion into northern Syria is to clear a 5,000sq-km 'safe zone', vowing to press on towards ISIL's self-declared capital in the country, Raqqa."
"'The United States of America stands behind Japan, its great ally, 100 percent,' Trump said in brief remarks. Neither Abe nor Trump took questions."
Yet the United States will avoid escalation.
"But unlike other students on the trip, he knew the prime minister, who was friendly with his father, a real estate developer and donor to Israeli causes. Mr. Netanyahu had even stayed at the Kushners' home in New Jersey, sleeping in Jared's bedroom."
"What the men had in common was this: All were vocal proponents of Mexico's 2014 soda tax"
"The links sent to the men were laced with an invasive form of spyware developed by NSO Group, an Israeli cyberarms dealer that sells its digital spy tools exclusively to governments and that has contracts with multiple agencies inside Mexico"
"NSO Group's motto is 'Make the World a Safer Place.' But its spyware is increasingly turning up on the phones of journalists, dissidents and human rights activists."
"The Times spent a year examining more than 10,000 pages of records in four states, analyzing federal and state databases containing millions of records, and interviewing more than 100 people, including more than 30 current and former Cherry Hill medical staffers."
"After the hostages were released in January 1981 and extensively questioned about the details of their experience, the Pentagon compared the information with 202 reports from the Grill Flame psychics. 'Only seven reports' were proven correct, wrote an Air Force colonel on the staff of the Joint Chiefs, underlining the number for emphasis."
"Ms. Mogherini said she had received important reassurances from top administration officials on the Iran nuclear deal and on Russian sanctions."
"Immigration officials confirmed that agents this week raided homes and workplaces in Atlanta, Chicago, New York, the Los Angeles area, North Carolina and South Carolina, netting hundreds of people."
"In the U.S., between 1978 and 2015, the income share of the bottom 50% fell to 12% from 20%. Total real income for that group fell 1% during that time period. "
"No country trades away spies, as the rest would fear they're next."
"The main thrust of Yarvin's thinking is that democracy is a bust; rule by the people doesn't work, and doesn't lead to good governance."
"But despite the strike authorization votes —a common tactic to increase pressure on management during labor negotiations— AT&T said it was still seeking to find common ground with its workers. Unlike some of its peers, AT&T has had a long run of labor peace with its workers and their main union, the Communications Workers of America (CWA)."
"Google has warned a number of prominent journalists that state-sponsored hackers are attempting to steal their passwords and break into their inboxes, the journalists tell POLITICO."
Google feels that only it should be allowed to spy....
"The Taliban, in contrast, controls more territory now than at any point since the U.S.-led invasion in 2001, according to United Nations estimates. And the Pentagon has far more troops in Afghanistan than in Iraq and Syria... The Afghan government controls about 57% of the country's populated districts"
The Taliban thrive because of Pakistan.
"All of those officials said ­Flynn's references to the election-related sanctions were explicit. Two of those officials went further, saying that Flynn urged Russia not to overreact to the penalties being imposed by President Barack Obama, making clear that the two sides would be in position to review the matter after Trump was sworn in as president."
"This is the core of the ruling. The court thinks it is likely that the executive order will eventually be struck down as an unconstitutional violation of people's due process rights."
"A series of fences and walls that would cost as much as $21.6 billion (£17.3 billion), and take more than three years to construct, based on a U.S. Department of Homeland Security internal report seen by Reuters on Thursday."
"U.S. President Donald Trump changed tack and agreed to honor the 'one China' policy during a phone call with China's leader Xi Jinping, a major diplomatic boost for Beijing which brooks no criticism of its claim to self-ruled Taiwan."
"They died in elaborate ambushes, car bomb attacks and, in one case, a booby-trapped elevator. The latest died on Wednesday in an explosion in his office... The assassinations could ease peace talks; Ukraine had refused direct negotiations with the rebel leadership as long as men it deemed war criminals held senior posts."
"The Taliban denied responsibility for the attack in a tweet from spokesman Zabihullah Mujahidm. 'It is not yet clear who carried out the attack or why,' the Red Cross said in a statement. "
"The Kuwait-born Pakistani citizen of Baluch ethnic background, lists a long litany of U.S. overseas interventions — from Iraq and Iran to Vietnam and Hiroshima — to justify the worst terror attack on U.S. soil."
It's not our "freedoms", it's our foreign policy. American empire.
"America must check the assertive, rising powers of Russia and China before it's too late."
Otherwise we may not be able to unilaterally demolish countries like Afghanistan and Iraq.
"Yemen's top diplomat said the country has called for a 'reassessment' of a Jan. 28 raid that left multiple civilians and a U.S. service member dead, but Yemen did not issue an outright ban on future American-led missions, a report said Wednesday."
Contrary to the recent report from the New York Times.
"Trump does not want a shooting war with Iran, he simply wants Iran's leaders to overreact to Washington's bullying by abandoning JCPOA... if Iran takes the bait and withdraws from the agreement, then Trump will have the allies on his side for another painful round of economic sanctions. That's what Trump wants."
"Germany and NATO on Tuesday underscored their commitment to beefing up the defence of eastern Europe's border with Russia as the first of four new battalions under the North Atlantic alliance's banner arrived in Lithuania."
"Easement is a special permit that allows a company to cross private land."
"At least 20 people were killed on Tuesday in a bomb blast outside the Supreme Court in the centre of the Afghan capital, government officials said, in what appeared to be the latest in a series of attacks on the judiciary."
"At Saydnaya Military Prison, the Syrian authorities have quietly and methodically organized the killing of thousands of people in their custody. Amnesty International's research shows that the murder, torture, enforced disappearance and extermination carried out at Saydnaya since 2011 have been perpetrated as part of an attack against the civilian population that has been widespread, as well as systematic"
"Israel's parliament passed [on a vote of 60 to 52] a contentious law late Monday that allows the state to seize land privately owned by Palestinians in the West Bank and grant the properties to Jewish settlements for their exclusive use."
"Updates a decades-old law to force authorities to first get a warrant to access emails or other digital communications that are at least 180 days old."
Read the bill here.
"They have their reasons, and you understand that."
This is a completely irrational notion. Bannon better put a lid on this guy. If anything the media inflates the threat represented by terrorism.
"In 2006, a Russian law legalized targeted killing abroad. Russia has never acknowledged using the authority under that law and has specifically denied any government ties to high-profile poisoning cases."
"About 820 suspects, most of them foreign nationals, were arrested in at least 29 provinces, including capital Ankara and southeastern provinces, state-run Anadolu news agency reported."
"The corporate media avoids connecting our wars to Trump's ban because war and empire is a matter of agreement among the political elites, an elite that the corporate media is very much a part of."
"Trump's CIA Director is Mike Pompeo, formerly a Koch-sponsored congressman 'who was so closely entwined with the climate-change denying Koch brothers that he was known as the 'congressman from Koch.''"
"As many predicted, Mnuchin later became Trump's nominee for Treasury Secretary, which could make him the third former Goldman executive to lead Treasury in the last four administrations"
Worried about access to cheap labor. Their own bottom line. Tech companies know there's good money to be made in class war.
"For Epstein's book to have value... the facts he selects to anchor and discipline his scenario-building cannot be flimsy or cherry-picked to fit his preexisting beliefs... Given this predisposition, it is unfortunate that Epstein builds his imagined scenarios upon allegations that may not be real facts."
"In 2010, more than 500 service members were killed in action. Since the beginning of 2016, 18 have died. But 12 of them were elite trainers and commandos serving with the Army Special Forces or the Navy SEALs. Special operations troops make up about 5 percent of the military."
From 1984: "In a physical sense war involves very small numbers of people, mostly highly-trained specialists, and causes comparatively few casualties. The fighting, when there is any, takes place on the vague frontiers whose whereabouts the average man can only guess at"
"A new version of the order has stripped out provisions contained in a previous draft that called for top officials to evaluate whether the CIA should once again operate so-called 'black site' prisons and have renewed authority to use coercive interrogation methods"
Compare this with Bannon's election season prediction. Yet at the same time Mattis has recently made remarks about defending islands for Japan?
"In a brief order, the San Francisco-based 9th U.S. Circuit Court of Appeals said the government's request for an immediate administrative stay of the judge's ruling had been denied. It was awaiting further submissions from the states of Washington and Minnesota on Sunday, and from the government on Monday."
"The facility's operator, Tokyo Electric Power (Tepco), said atmospheric readings as high as 530 sieverts an hour had been recorded inside the containment vessel of reactor No 2... a single dose of 10 sieverts would prove fatal within weeks."
"The new sanctions announced on Friday are largely symbolic... remarks made by James Mattis, the US defence secretary, during a visit to Tokyo. He called Iran 'the single biggest state sponsor of terrorism in the world'"
What about the Gulf States and their support for ISIS?
"The country successfully tested a range of land-to-land missiles and radar systems during the drills in a 35,000 square-kilometer stretch of desert in the northern Iranian province of Semnan"
"A terrorist video released on Friday by the Pentagon to show what it called intelligence gleaned by the recent raid in Yemen actually was made about 10 years ago"
"U.S. District Judge James Robart's ruling late Friday temporarily lifted the Trump administration's ban on all refugees and on visa holders from seven predominantly Muslim countries, making them once again free to enter the U.S."
"The Department of Homeland Security announced it has suspended all actions to implement the immigration order... State Department official tells CNN the department has reversed the cancellation of visas that were provisionally revoked following the President's executive order last week"
"With the fragmentation, the number of actors, the presence of terrorist groups, it's not the right place to think of that solution"
"Trump has not provided details about the proposed zones, except to say he would have the Gulf states pay for them. Policing them could prove difficult in a war zone dotted with armed groups."
"There is no better way to create cynicism within the intelligence community and the larger political community than to reward the very people who tarnish the moral compass of the CIA."
"Trump's order does not mention Dodd-Frank but directs the Treasury secretary to report back in 120 days on what rules promote or inhibit the administration's priorities."
"Trump also signed a separate presidential memorandum to delay the Labor Department's rules that would require financial professionals to put their clients' interests ahead of their own. The 'fiduciary rule,' scheduled to go into effect in April, has long been a target of Republicans, including close Trump Wall Street ally Anthony Scaramucci, who call it burdensome and costly."
Matt Taibbi offers commentary:
"Basically, we gave trillions of dollars to bail out the very actors who caused the mess. Now, with Trump's election, we've triumphantly put those same actors back in charge of non-policing themselves... This is why they want to get rid of the fiduciary rule, because they don't think it's anyone's business if they choose to bet against their clients (as Cohn's Goldman famously did), or overcharge them, or otherwise screw them."
"The Stream Protection Rule covers waterways near surface coal mining operations like mountaintop removal mines. When the tops of mountains are blown up to get at the coal below, the resultant rubble is dumped into valleys, often leading to pollution of rivers and streams with dangerous heavy metals like selenium, mercury, and arsenic."
See H.J.Res.38 here. Headed to POTUS...
"Civil servants who leak files of state secrets could be jailed for up to 14 years. Currently the maximum term is two years, under the Official Secrets Act 1989"
"EB sponsorship renders the workers de facto indentured servants; though they have the right to move to another employer, they do not dare do so, as it would mean starting the lengthy green card process all over again."
"Relating to Android and BlackBerry devices, and older iPhones, some of which may have been copied from publicly available phone cracking tools."
"I'd say that using Signal during #J20 will be no different than proactively going to the FBI and registering yourself, your activist buddies, your phone number and social media accounts. That's how safe and secure Signal makes you."
"The Afghan government had 57.2 percent of the country under its control by the end of 2016 — a 6.3 percent decrease from 2015. That doesn't bode well, given the number of Afghan security forces is decreasing while its casualties are increasing."
"Afghan opium production rose 43 percent from 2015 levels. Afghan opium bankrolls the Taliban and other insurgent groups. And it's the country's largest export; 90 percent of the world's opium came from Afghanistan in 2014 alone."
"It is in the House of Lords, though, that many believe concessions could be forced on the Government. Peers are due to begin debating the bill on 20 February."
One arrest, a known suspect. They would have saved more lives putting up 54 checkpoints for drunk drivers. Pretty much sums up the domestic side of the global war on terror.
"Cheney, Rumsfeld and Rice spearheaded a media offensive with the government's WMD claims. The US media seemed to buy into it and convinced the public - the seeds of fear that had been sown months before were now ready to harvest."
When it comes to industrial-strength propaganda, the kind of stuff that offers a pretext to reduce countries to smoldering rubble, no one beats the corporate press. YOU New York Times.
"You have a bunch of bad hombres down there, You aren't doing enough to stop them. I think your military is scared. Our military isn't, so I just might send them down to take care of it."
And a similar phone call with the Australian PM.
Silicon valley can eat crow.
"Jobs had no obvious interest in being decent to others. His iPhones are famously made in China in a giant complex (paradoxically owned by absentee Korean tech plutocrats) where the conditions were so bad workers committed suicide by jumping off the roof in desperation."
"NATO Secretary General Jens Stoltenberg told reporters in Brussels on Wednesday that the ceasefire in Ukraine had been violated more that 5,600 times in the past few days, as the death toll rose to 19 on the fourth day of intensified fighting."
"American airstrikes hit Taliban positions in an embattled district of Helmand Province in southern Afghanistan on Tuesday after the militants tunneled under an army post and set off explosives, causing heavy casualties, Afghan officials said."
"Gorsuch is a favorite of legal conservatives because he has sharply questioned a three-decade old legal precedent that many on the right believe has given too much power to the regulatory state. The landmark 1984 Supreme Court ruling involving the Chevron oil company held that courts should defer to federal agencies' reasonable interpretations of ambiguous federal laws."
"But then canceled plans to sign an executive order on cybersecurity without explanation... The official said the executive order would ask the Commerce Department, Defense Department and other agencies to take steps to protect the nation's critical infrastructure."
"They say no classified information was compromised because that was only on the internal system but we don't know what was being shared outside that system.""
"Manfred banned Correa for life on Monday... Manfred also ordered the Cardinals to pay $2 million to the Astros — the maximum fine he was allowed to impose, according to the league — and to give Houston their top two picks in this June's draft."
January 2017_______________________________________
"Mr. dela Rosa said the suspension would last about a month, during which the antidrug units in the police, which has about 120,000 officers, would be dissolved and overhauled."
"Deutsche Bank AG was fined $629 million by U.K. and U.S. authorities for compliance failures that saw the bank help wealthy Russians move about $10 billion out of the country using transactions that were likely thinly veiled attempts to cover up financial crime."
"The insulin market is dominated by an oligopoly of companies that sell many billions of dollars worth of insulin each year — and have steadily raised the list prices of their drugs. A version of insulin called Humalog launched two decades ago with a sticker price of $21 a vial and has increased to $255 a vial."
"A bill introduced by Congresswoman Zoe Lofgren, a Democrat from California, that would double the minimum salary required for holders of H-1B visas to $130,000 and determine how many of the visas were allocated, based on factors such as overall wages."
"India's $150 billion information technology sector, led by Tata Consultancy Services (TCS.NS), Infosys Ltd (INFY.NS) and Wipro Ltd (WIPR.NS), uses the H-1B visas to fly engineers and developers to service clients in the U.S., their biggest market, but opponents [American workers] say they are using the visas to replace U.S. workers."
"The greatest threat to re-election for most G.O.P. members of Congress is still a primary challenge. That's what many legislators probably fear they will get if they oppose Mr. Trump, who is viewed overwhelmingly favorably among their partisan base, according to polling data."
This is the key, and Bannon knows it: If Trump can keep his base happy the GOP wouldn't dare even whisper about impeachment. Instead they turn about face and support policies that they would normally object to stridently under Obama.
"Obama institutionalized Bush... While partisan Democrats may be one's allies when opposing a Republic president, their opposition is opportunistic and not principled. The second they are in charge, they will support or wave aside the same actions they condemned coming from a Republican."
"According to Article V of the U.S. Constitution, the states can convene a constitutional convention without the federal government's go-ahead if two-thirds (34) of them pass a resolution in favor. Right-wing organizations—and their billionaire funders—have been working feverishly for decades to get state legislatures to call for such a convention, with the explicit aim of limiting the powers of the federal government."
"They say a missile strike in the central Shabwa province hit a car used by militants coming from Bayda province, where the U.S. raid took place. The officials spoke on condition of anonymity because they are not authorized to talk to reporters. Around 30 other Yemenis are believed to have died in the U.S. raid, including women and children."
"Six people were killed and eight wounded when gunmen opened fire at a Quebec City mosque during Sunday night prayers, in what Canadian Prime Minister Justin Trudeau called a 'terrorist attack on Muslims'."
"Delta said that its "essential IT systems" went down about 6:30pm on Sunday, and had been restored a few hours later. It said all systems were back to normal shortly after midnight on Monday. "
Despite how it looks, this isn't about altruism. It's about what it's always been about: money. As in access to cheap labor. H-1B has traditionally been used to create an army of low-cost workers.
"The neoliberal Trump demonizes Muslims, undocumented workers and the media. The neoliberal Democratic Party demonizes Vladimir Putin and FBI Director James Comey. No one speaks about the destructive force of corporate power. The warring elites pit alternative facts against alternative facts."
"Hopefully, by the time that war begins, The Withering Gaze and the Pussy Hat People (most of whom had zero qualms about Obama bombing seven Muslim countries to serve the interests of the neoliberal establishment that has been aggressively restructuring the Middle East since the end of the Cold War with total impunity) will have morphed into an actual revolutionary army, one that doesn't get decommissioned whenever a Democrat moves into the White House, but I kind of have my doubts about that."
"If the government cuts off power, it will further anger a population that is already disenchanted. If it does not, the revenue from the power will continue to provide more income to an already emboldened Taliban... In addition to collecting electricity bills from thousands of homes in provinces such as Kunduz and Helmand, the insurgents levy taxes on potato harvests, flour mills, teachers' salaries, marriage ceremonies, and fuel and vegetable trucks crossing their checkpoints."
"The Syrian army and its allies took over a Wadi Barada village containing a major spring and pumping station that supplies most of Damascus's water on Saturday."
"A federal judge tonight granted the American Civil Liberties Union's request for a nationwide temporary injunction that will block the deportation of all people stranded in U.S. airports under President Trump's new Muslim ban. "
The DHS issues a statement:
"President Trump's Executive Orders remain in place—prohibited travel will remain prohibited... The Department of Homeland Security will comply with judicial orders"
"In a separate presidential memo, Trump reorganized the National Security Council to, along with other changes, give Bannon a regular seat on the principals committee.. That memo also states that the director of national intelligence (DNI) and the chairman of the Joint Chiefs of Staff will sit on the principals committee only when the issues to be discussed pertain to their 'responsibilities and expertise.'"
"The order calls for the combined experts to recommend any changes needed to U.S. rules of engagement or other policy restrictions, to identify new coalition partners and to suggest mechanisms for choking off Islamic State funding sources. It also demands a detailed strategy for funding the plan."
"The order also lets lobbyists join the administration as long as they don't work on anything they specifically lobbied on for two years. Obama's order from 2009, which Trump revoked, blocked people who were registered lobbyists in the preceding year from taking administration jobs."
"Obama's order also restricted all administration officials from contacting their former agencies for two years after they leave. Trump changed it back to one year for some 3,000 people — everyone except cabinet-level appointees."
"Xusen Dhere, a witness in Kulbiyow town, estimated the death toll at 40 soldiers. He said militant fighters had loaded ammunition and military equipment into lorries to drive away and had torched several trucks."
"Will Turkey, like the US and the UN before it, then get knocked out of the game after Russia achieves its aims of a ceasefire. Will it be left behind as Vladimir Putin clambers up the ladder of control in Syria? "
"The order also stops the admission of refugees from Syria indefinitely, and bars entry into the United States for 90 days from seven predominantly Muslim countries linked to concerns about terrorism. Those countries are Iraq, Syria, Iran, Sudan, Libya, Somalia and Yemen."
"The former president oversaw the greatest transfer of wealth from working class people to parasitic plutocrats in the history of the nation. It wasn't an accident. Obama was following a blueprint that was given to him by his handlers at the DNC."
"They're going to get beat to a pulp unless they get it together and stop running around with their hair on fire yelling, 'The Russians are coming' instead of rebuilding the party on a commitment to basic progressive values; civil liberties, non intervention, and economic fairness. The Democratic Party has to be more than a membership register attached to a donor's list."
"We have been wedded for a long time to the mantra that Assad must go, and we have not been able at any stage to make that happen, and that has produced the difficulty we now face"
"The 14-million-strong country could run out of wheat in just months, with supply chains crippled by the civil war that started in September 2014."
"I want a balanced budget eventually... But I want to have a strong military. To me that's much more important than anything"
Witness rumors swirling of American artillery in Syria. As it has been for almost every President in the wake of WWII. Eisenhower tried to warn us...
"Imports from all countries would be taxed at 20 percent while American exports would be tax free. It's called border adjustment, and it would make the United States corporate tax code more closely resemble the value-added tax that is commonplace in other countries."
Here are stats from the U.S. Trade Rep:
"Mexico is currently our 3rd largest goods trading partner... Goods exports totaled $236 billion; goods imports totaled $295 billion. The U.S. goods trade deficit with Mexico was $58 billion in 2015."
"The media here is the opposition party... The elite media got it dead wrong, 100 percent dead wrong... Look at the Twitter feeds of those people: They were outright activists of the Clinton campaign... The media has zero integrity, zero intelligence, and no hard work"
He's correct. Don't ever forget how the corporate media colluded with the DNC to "elevate Trump." To hell with reality and their own credibility. Pandering instead to a coalition of blue and red oligarchs. Yet their own secret scheme backfired on them. Now wtiness a media temper tantrum...
"The Ministry of Defence is 'tracking' 252 allegations of humanitarian law violations by the Saudi-led coalition in Yemen"
"The CIA is not the departed John Brennan and his inner circle of heavily politicized senior managers... The bottom line is that few agency staffers care very deeply about how Donald Trump might perceive the organization that pays them, as long as it continues to pay them and gives them at least a modicum of respect."
POTUS is customer #1 and he has put his man Pompeo in charge. Obama's man is out. That makes a difference...
"Lawmakers in both parties denounced the draft order on Wednesday even as White House press secretary Sean Spicer said he had 'no idea where it came from' and that it is 'not a White House document.'"
"Victoria Nuland, the State Department's assistant secretary for Europe, was also not asked to stay on."
"Sergei Mikhailov, a senior officer of the Federal Security Service, or F.S.B."
Related: "Kaspersky Lab on Wednesday confirmed reports in Russia's respected Kommersant newspaper that Ruslan Stoyanov, head of its computer incidents investigations unit, was arrested in December."
"Where were these people when Obama was bombing wedding parties in Kandahar, or training jihadist militants to fight in Syria, or abetting NATO's destructive onslaught on Libya, or plunging Ukraine into fratricidal warfare, or collecting the phone records of innocent Americans, or deporting hundreds of thousands of undocumented workers, or force-feeding prisoners at Gitmo, or providing bombs and aircraft to the Saudis to continue their genocidal war against Yemen?"
"Voting officials in both parties across the country said the answer to those questions is already clear: Fraudulent voting happens in tiny, sporadic episodes that have no impact on the outcome of elections. It is virtually impossible, several state election officials said, that millions of people voted illegally in last year's presidential contest."
"The officials said Trump is expected to issue an executive order in the next few days. It would call for a high-level review into 'whether to reinitiate a program of interrogation of high-value alien terrorists to be operated outside the United States' and whether the CIA should run the facilities"
"Employees at the Environmental Protection Agency, the Interior Department, the Department of Agriculture and the Department of Health and Human Services (HHS) have seen directives from the newly minted leadership seeking to limit how they communicate to the public, according to multiple sources."
Note all the "withdrawals" here.
Paging Julian Assange...
"U.S. President Donald Trump is expected to sign executive orders starting on Wednesday that include a temporary ban on most refugees and a suspension of visas for citizens of Syria and six other Middle Eastern and African countries, say congressional aides and immigration experts briefed on the matter."
And order the construction of the Mexican border wall.
"The first thing is to capture as many top policy making offices as possible within the new administration... The second thing is to de-legitimize the blustering newcomer to Washington..."
"To help Cohn avoid conflicts of interest as Trump's top economic adviser, the bank is letting its former president immediately collect about $65 million in cash and stock tied to its future performance. That's on top of roughly $220 million of Goldman equity he already held or was awaiting"
"On Tuesday, Prime Minister Benjamin Netanyahu said Israel would build 2,500 more homes in Jewish settlements 'in response to housing needs'."
"For the sake of secrecy, the government largely avoided printing replacement notes in advance. So there has been an acute and protracted shortage of cash as the government struggles to catch up. That, in turn, has proved economically damaging."
"The conclusion here is that the U.S. is different. When bad times hit, American companies try to replace people with machines, while foreign companies hire back workers."
This has implications for Trump's plan. American execs might double down on automation.
"Approximately $20 million in cash hidden inside a box spring in a Westborough, Mass. apartment, was seized late yesterday, and a Brazilian man was arrested in connection with conspiring to launder proceeds of the massive TelexFree pyramid scheme."
"The warrants were issued after Abdul Rashid Dostum and his bodyguards ignored three summons for questioning over accusations that they beat the victim in public and held him for five days while the guards sodomised him with a rifle."
"Parliament must vote on whether the government can start the Brexit process, the Supreme Court has ruled."
"President Trump signed executive orders Tuesday to revive the controversial Dakota Access and Keystone XL oil pipelines... The orders will have an immediate impact in North Dakota, where the pipeline company Energy Transfer Partners wants to complete the final 1,100-foot piece of the 1,172-mile pipeline route that runs under Lake Oahe. "
"Internal agency documents show nearly 70 uninvestigated cases of alleged wrongdoing involving contract employees, including accusations that these workers were involved in bribery schemes, distribution of child pornography on agency computers and illegal use of government law enforcement databases."
Stick: "In the past, he has said the tariff could be as high as 35 percent."
Carrot: "During the meeting on Monday, Mr. Trump also made the case that building in the United States would soon become a more cost-effective proposition because of his plans to cut the corporate tax rate to 15 or 20 percent and to reduce regulations."
"IBM Chief Executive Officer Ginni Rometty publicly pledged to hire about 25,000 U.S. workers and spend $1 billion on training over the next four years... In late November, IBM completed at least its third round of firings in 2016, according to former and current employees. They don't know how many people have lost their jobs but say it's probably in the thousands, with many of the positions shipped to Asia and Eastern Europe."
"He does not want to dive deeply into a topic and assess it exhaustively"
"Flattering his ego will be key."
"If you are very secure with yourself, you don't talk about yourself all the time. People who are loud and bragging and projecting confidence, they are overcompensating for their own personal insecurities through their behavior"
Note Trump insisting to congressional leaders that he lost the popular vote in his election because millions of undocumented immigrants.
"The contract excluded the 'military, public safety, and public health,' but during a signing in the Oval Office Trump only mentioned the military."
"Hiring freezes have 'little effect on Federal employment levels,' the GAO said. The report said the freezes 'disrupted agency operations, and in some cases, increased costs to the Government.'"
"Western Union Co, the world's biggest money-transfer company, agreed to pay $586 million and admitted to turning a blind eye as criminals used its service for money laundering and fraud, U.S. authorities said on Thursday."
"The European police have arrested 75 people and recovered about 3,500 stolen archaeological artifacts... Altogether, the statement said, more than 48,000 people were investigated."
"U.S. officials told NBC News that the Aircraft Communications Addressing and Reporting System, or ACARS, had issues with low bandwidth. No further explanation was immediately available for what United described only as 'an IT issue.'"
"A key point is understood to be the examination of phone calls made by Mr Flynn to the Russian ambassador to America, Sergey Kislyak, on 29 December, the same day Barack Obama expelled 35 Russian diplomats from the country."
First the evidence free JAR report, then the declassified DNI report, then the leaked Trump Dossier... The intelligence agencies are subverting their own credibility.
"I think that we must wait and see. I don't like to get ahead of myself nor judge people prematurely"
Will the usual suspects be calling him a Putin Stooge? Investigate his links to Russia?
"We are entering the twilight phase of capitalism. Wealth is no longer created by producing or manufacturing. It is created by manipulating the prices of stocks and commodities and imposing a crippling debt peonage on the public. Our casino capitalism has merged with the gambling industry. The entire system is parasitic... Casino magnates such as Sheldon Adelson and hedge fund managers such as Robert Mercer add nothing of value to society. They do not generate money but instead redistribute it upwards to the 1 percent."
"Only when power is threatened does it react. Appealing to its better nature is useless. It doesn't have one."
The United States is too busy with the transition to attend.
"This strategy starts by withdrawing from the Trans-Pacific Partnership and making certain that any new trade deals are in the interests of American workers. President Trump is committed to renegotiating NAFTA. If our partners refuse a renegotiation that gives American workers a fair deal, then the President will give notice of the United States' intent to withdraw from NAFTA."
"On Thursday, US intelligence officials said as many as 117 civilians had been killed in drone and other counter-terror attacks in Pakistan, Yemen and elsewhere during Obama's presidency"
Egypt is still gung-ho.
Whenever Gloria Steinem appears the blue oligarchs cannot be far behind. No matter how poor you get they can always stir up a culture war to form their voting base. Four years from now the DNC hopes to lure voters back to a candidate vetted by their donor factions. Regardless of who gets elected Goldman Sachs wins.
Lambert:"'Resistance' suggests that restoring the status quo ante is the baseline, given that 'the resistance' notably did not resist Obama. I don't think that's a saleable proposition."
"He's a good businessman: He [El Chapo] uses Chicago for the same reason that FedEx does"
"Squirrels are not the only 'actors' tracked by CyberSquirrel1—birds, snakes, raccoons, rats, and martens factor in among the top animal threats that have been captured by the project's spreadsheet. Jellyfish have even gotten into the act, shutting down a nuclear power plant in 2013. CyberSquirrel1's data so far has tracked 'over 1,700 outages, affecting nearly 5 million people'"
"His 37 years of furious articles for the Village Voice regularly skewered powerful figures in all parties, from the late Queens Borough President Donald Manes to future People's Court judge Ed Koch to the Nosferatoid Rudy Giuliani (Wayne busted Rudy for accepting a Yankees World Series ring) to Al Sharpton (Wayne called him 'The Rev') to Donald Trump, whose biography he wrote back in 1992."
"The parliament voted 339-142 to make the president the head of the executive and abolish the job of prime minister, triggering a referendum on the proposal and putting Erdogan one step away from building a power center unrivaled since the days of parliamentary founder Ataturk."
See also:
"If voters approve it in a referendum, the president will be anointed head of the executive branch and allowed to issue decrees with the force of law. He could formally restore ties with his political party, something currently banned in a system in which the president takes an oath of impartiality. He'd be in charge of preparing the budget, be able to call general elections, declare a state of emergency, appoint or terminate missions of deputy presidents or ministers and other high-level officials, and directly appoint some top judges. During emergencies, he could issue decrees on basic rights and freedoms."
"For too long, a small group in our nation's Capital has reaped the rewards of government while the people have borne the cost... The establishment protected itself, but not the citizens of our country... And spent trillions of dollars overseas while America's infrastructure has fallen into disrepair and decay... We've made other countries rich while the wealth, strength, and confidence of our country has disappeared over the horizon..."
Fighting words. Both establishment party members grimace. Yet rhetoric is one thing, policy is another. Prediction: if he tries to force the CEOs to bring back jobs they will double down on automation in response. The ruling class does not want to share.
"The stock market has climbed to record heights; middle-class incomes are increasing after years of stagnation; and corporations are recording enormous profits."
Whose economy? Yeah, who cares about poor people? They didn't even have the decency to stick this into the op-ed section. Surprised this wasn't ghost written by Paul Krugman.
"Trump has vowed to back out of the Paris Agreement, sanctioned by the United Nations Convention on Climate Change. The agreement, signed by over 195 countries, is aimed at reducing dangerous increases in greenhouse gas emissions; a leading cause of rising global temperatures."
"John Lewis calls himself a pacifist and never misses a chance to lecture on the supreme utility of nonviolence. But the US Navy is building a ship with his name on it, a 'fleet replenishment oiler' to resupply warships on deployment. Isn't this an 'honor' a pacifist should reject? And shouldn't our Apostle of Non-Violence vote against every arms giveaway, sale and Pentagon budget? John Lewis doesn't. Like most other members of the Black Caucus Lewis votes to fund mass surveillance and re-arm the apartheid state of Israel with depressing regularity."
"The mission, which dropped around 100 bombs on Wednesday, is thought to be the last signed by President Barack Obama as he prepares to leave office."
"The US Air Force conducted a second 'major strike' in consecutive days killing over 100 Al Qaeda fighters at a training camp in northern Syria"
"Moderate" rebels are back in season.
"Former officials who helped spearhead the US's drug war told the Guardian the extradition appeared to be a gift from President Enrique Peña Nieto's government to Donald Trump, who will be sworn in as the US president on Friday."
"Interrogators eventually conceded had no additional information, contrary to their suspicions at the time"
"Against that backdrop, the two sets of newly available documents present a vivid contrast in perspectives, as the C.I.A. cables recount in bloodless bureaucratese the infliction of techniques that Mr. Zubaydah recalled experiencing in harrowing terms."
"Betraying working class voters (of all colors, by the way) in service to concentrated wealth and power (the 'One Percent' in post-Occupy Wall Street parlance) is what presidents and other top elected officials from both of the reigning capitalist U.S. political parties do."
Soros: "Calling Trump a 'con man,' Soros said the billionaire will fail because his ideas are contradictory and his White House advisers and cabinet members will fight with each other"
Warren Buffet: "Warren Buffett said he 'overwhelmingly' supports President-elect Donald Trump's choices for cabinet positions"
"The conclusions of the intelligence community with respect to the Russian hacking were not conclusive as to whether WikiLeaks was witting or not in being the conduit through which we heard about the DNC emails that were leaked."
"The guidelines also reveal rules for when agency officials or people acting on their behalf may participate in organizations inside the United States without disclosing their agency ties."
"2016 was the hottest year on record, setting a new high for the third year in a row, with scientists firmly putting the blame on human activities that drive climate change. The final data for 2016 was released on Wednesday by the three key agencies – the UK Met Office and Nasa and Noaa in the US – and showed 16 of the 17 hottest years on record have been this century."
"Pakistan has received more than $20 billion in civilian and military aid from the US over the past 15 years, which includes Obama's eight years in power."
"None of the major media published Trump's comments, and for good reason. The statement is a straightforward repudiation of the last 70 years of US foreign policy... The ultimate goal is to remove all secular Arab leaders who may pose a threat to US imperial ambitions, open up the region to US-dominated extractive industries, and foment enough extremism to legitimize a permanent military presence."
"Early indications suggest that a coup is already underway."
"About 30 groups totaling 270,000 people have received permits to stage demonstrations, both for and against the New York businessman in Washington around the inauguration... About 28,000 security personnel, miles of fencing, roadblocks, street barricades and dump trucks laden with sand are part of the security cordon around 3 square miles (almost 8 square km) of central Washington."
Just like 2015, which also took place in December. Cyber attacks are becoming the new "Dog ate my homework" excuse. Blame everything on shadowy foreign hackers to avoid responsibility.
"So we do not seek membership of the Single Market. Instead we seek the greatest possible access to it through a new, comprehensive, bold and ambitious Free Trade Agreement."
The success of this approach will depend upon how the EU responds.
"SIS, the British intelligence agency, flooded American newspapers with fake stories, leaked the results of illegal electronic surveillance and deployed October surprises against political candidates."
"An Uzbek gunman who killed 39 people in Istanbul's Reina nightclub on New Year's Day told police he had changed his target at the last minute to avoid heavy security and acted on direct orders from Islamic State in Syria"
"Like many cities around the world on New Year's Eve, Istanbul had taken additional security measures, deploying 25,000 police officers to try to thwart attacks after a year of bombings by Islamic State and Kurdish militants."
"Are we to believe that John Podesta's emails as worthy enough for conflict with Russia, but Manning's classified document release, that exposed the highest level of US military intelligence information, is now considered forgivable?"
"He says the military alliance probably has focused too much on deploying troops abroad, so-called expeditionary warfare, particularly its operation in Afghanistan. Mercier says the alliance wants to revamp its approach to counter-terrorism, in part by helping countries under threat to develop long-term plans to fight extremists."
"In 2011, the Swedes began sharing their surveillance data with the NSA, which included —as NSA officials described it at the time of the meeting—a 'unique collection [of communications data] on high-priority Russian targets such as leadership, internal politics, and energy.'"
"One of the Quantum programs was an ambitious operation called WINTERLIGHT, which aimed at secretly hacking into high-value foreign computers and computer networks"
"Divide and rule, this is called; or identity politics in which race and gender conceal class, and allow the waging of class war."
"'I believe in American exceptionalism with every fibre of my being,' said Obama, who expanded America's favourite military pastime, bombing, and death squads ('special operations') as no other president has done since the Cold War."
Focus attention on Trump, avoid 2017 introspection at all costs, tiptoe past classwar...
"The firms reaped about $300 billion, all told, by doing so. And the penalties levied on companies that got caught (which includes both government fines and private lawsuits) were far too low to offset those profits"
"No one expects offshore havens to disappear anytime soon. Swiss banks still hold about $1.9 trillion in assets not reported by account holders in their home countries, according to Gabriel Zucman, an economics professor at the University of California at Berkeley... At least $1.6 trillion in illicit funds are laundered through the global financial system each year, according to a United Nations estimate."
"The Office for the Coordination of Humanitarian Affairs' Jamie McGoldrick told reporters the figure is based on lists of victims gathered by health facilities and the actual number might be higher. This announcement marks the first time a U.N. official has confirmed such a high death toll in Yemen, the Arab world's poorest nation. Earlier, the U.N. reported 4,200 civilians were killed in the war."
"Eight men own the same wealth as the 3.6 billion people who make up the poorest half of humanity, according to a new report published by Oxfam today to mark the annual meeting of political and business leaders in Davos."
Bill Gates, Amancio Ortega Gaona, Warren Buffer, Carlos Slim, Jeff Bezos, Mark Zuckerberg, Larry Ellison, Michael Bloomberg.
"At his Senate confirmation hearing last week, Mr Trump's choice for defence secretary, Gen James Mattis, had described Nato as central to US defence"
As DCI Brennan warns Trump not to shoot off at the mouth:
"When he speaks or when he reacts, just make sure he understands that the implications and impact on the United States could be profound"
"All told, the group planning the inaugural festivities says it has raised more than $100 million, which would be nearly double the record for an inauguration, with much of it coming in six- and seven-figure checks from America's corporate suites."
"Packages range from $25,000 to $1 million or more for both individuals and corporations, and as the figures rise, so do the number of invitations available and the level of proximity to the president-elect and his inner circle."
"Last year, the consensus here was that Trump had no chance of being elected. His victory, less than half a year after Britain voted to leave the European Union, was a slap at the principles that elites in Davos have long held dear, from globalization and free trade to multilateralism."
Reflecting a posture of general denial. Pretending that the status quo will not end badly. That the ideology they promote is not a key enabler.
"Russia plans to improve and expand its naval and air bases in Syria, the Interfax news agency reported on Sunday, citing an unnamed source, as Moscow cements its presence in the Middle Eastern country, its only overseas military deployment."
"Fighting between rival gangs in a prison in northern Brazil on Saturday has reportedly left at least 10 inmates dead in the latest in a series of massacres in the South American country's penitentiaries. Three of the victims were beheaded."
"His antipathy to federal regulation — he sued the Environmental Protection Agency 14 times — in many ways defined his tenure as Oklahoma's attorney general."
"A DeSmog analysis of Federal Electoral Commission returns shows Robert Mercer, the reclusive hedge fund manager, has donated $30.1 million to politics since January 2015 (a further $2.3 million has come from daughter Rebekah and wife Diana)."
"The Mercers have also pumped at least $22 million into organizations that push climate science denial while blocking moves to cut greenhouse gas emissions."
"The incessant hubbub about Russia's throwing the election to Trump is of little account other than to Clintonites in need of psychotherapy... the misuse of intelligence for political purposes has been evident at least since the Dulles brothers... the intelligence report's inordinate focus on RT, the Russian television broadcaster, bears a salutary message: The West's longstanding monopoly on what we can call the global narrative is collapsing."
"Recently, we have established a significant growth in attempts to inflict damage on the Russian information system from the side of outside powers."
"A report issued last year by the U.K. government argued that if measures aren't taken to stem the rising tide of antibiotic resistance, 10 million people a year could be dying from superbugs by 2050—more than currently die from cancer."
"There's one big reason we'd all love a space with four walls and a door that shuts: focus. The truth is, we can't multitask and small distractions can cause us to lose focus for upwards of 20 minutes."
"Twelve government soldiers and 20 IS fighters were killed, said the UK-based Syrian Observatory for Human Rights. At least two civilians were also killed in IS rocket fire on government-controlled parts of the city, it added. The jihadists have besieged government-held parts of the city, which borders Iraq, since early 2015. IS already controls half of the city as well as most of the surrounding province, which shares the same name."
"Russia has invited the incoming Trump administration to Syrian peace talks it is sponsoring later this month with Turkey and Iran, part of a process from which the Obama administration pointedly has been excluded."
"The airbags, which can rupture violently when they deploy, have been linked to at least 11 deaths and more than 180 injuries in the United States."
"The Chicago Police Department's flaws have 'helped create a culture in which officers expect to use force and not be questioned about the need for or propriety of that use'"
"The Justice Department's Office of Inspector General said in a statement that its investigation would focus in part on decisions leading up to public statements by FBI Director James Comey regarding the Clinton investigation and whether they may have been based on 'improper considerations.'"
"The Environmental Protection Agency on Thursday accused Fiat Chrysler of installing secret software that allowed more than 100,000 of its diesel vehicles to emit pollutants above legal levels."
"We're either learning the outlines of the most extraordinary compromise to date of an incoming American president by a foreign power, or we're watching an unparalleled libel and media overreach."
Mark Ames: "One more time kids: the piss-Trump 'kompromat' is 100% American: ordered by Americans, targeting an American, planted in American press"
"The Obama administration is aware of frequent contacts between President-elect Donald Trump's national security adviser Michael Flynn and Russia's ambassador to the United States, including on the day President Barack Obama hit Moscow with sanctions in retaliation for election-related hacking, a senior U.S. official said Friday."
"'In our view, the president-elect is not hostile to H-1B visas,' said one of the sources familiar with discussions at the meeting."
As Giuliani becomes a front for tech CEOs.
"At speakers' podiums, coffee bars, and the ubiquitous late-night parties, they'll be asking themselves whether Davos has become, at best, the world's most expensive intellectual feedback loop—and, at worst, part of the problem."
"WhatsApp has the ability to force the generation of new encryption keys for offline users, unbeknown to the sender and recipient of the messages, and to make the sender re-encrypt messages with new keys and send them again for any messages that have not been marked as delivered."
"Any IT professional can see that a malware sample mentioned in the Joint Analysis Report was taken from the web and was commonly available... I had used a different way to breach into the DNC network. I found a vulnerability in the NGP VAN software installed in the DNC system."
"The cache includes alleged usernames and passwords for logging into Cellebrite databases connected to the company's my.cellebrite domain... The dump also contains what appears to be evidence files from seized mobile phones, and logs from Cellebrite devices."
"In its annual report, the London-based Iraq Body Count reported that 16,361 Iraqi civilians died in 2016. The northern province of Nineveh was the worst hit, with 7,431 people killed. The capital, Baghdad, was next with 3,714 civilians killed, the research showed."
"According to a US military statement, the investigation 'determined, regretfully, that 33 civilians were killed and 27 wounded' as troops responded to fire from 'Taliban who were using civilian houses as firing positions.'"
"The presence of some 500 Turkish troops in the Bashiqa region, northeast of the IS-held city of Mosul, has stirred tension with Baghdad since late last year. Iraq has demanded their withdrawal, saying they are there without permission and are in 'blatant violation' of Iraqi sovereignty. Turkey says the troops were invited by local Iraqi authorities and has ignored the calls."
"NSA officials are no longer required to filter out information about innocent people whose identities have been scooped up before passing the intercepted communications to officials from other agencies, who will now be able to search through raw caches of data."
Ditto that for Mike Pompeo and Mike Pence. I see a trend developing...
"Whether this move was meant to soften up Trump or whether the intelligence community genuinely thought that the accusations might be true and deserved inclusion in a report on alleged Russian interference in U.S. politics or whether it was some combination of the two, we are witnessing a historic moment when the U.S. intelligence community has deployed its extraordinary powers within the domain of U.S. politics. J. Edgar Hoover would be proud."
"The plan the president-elect has announced doesn't meet the standards that the best of his nominees are meeting and that every president in the last four decades have met"
"Dina H. Powell, who runs many of Goldman Sachs's philanthropic initiatives, will soon leave the company for a new role as adviser in the Trump White House"
"Defamation claims like this can force independent media companies to capitulate and shut down due to mounting legal costs. Ayyadurai's attorney, Charles Harder, has already shown that this model can lead to exactly that result. His efforts helped put a much larger and much more well-resourced company than Techdirt completely out of business."
"The fundraising brochure for the Scalise Leadership Fund — titled '2017 Team Scalise Programs and Benefits' — is a nine-page fundraising menu for donors to choose their level of access, which increases with the size of the check written."
"House Speaker Paul Ryan of Wisconsin also has a Team Ryan joint fundraising committee, which made a similar donor pitch last year, according to documents obtained by The Washington Post."
As the Saudis fund both sides and the United States offers the Saudis ironclad support.
"Thousands of Mexicans marched in the capital Monday to complain about a gasoline price increase, demonstrating a day after police in Sonora state fought a pitched, three-hour battle to free a border rail crossing blocked by protesters."
"Events of the past year brought into sharp focus a rise in populist denunciations of globalization, free trade and inequality in some Western nations, including the United States, with Davos frequently mentioned by critics as a symbol of the root causes of their countries' ailments. China has benefited greatly from access to international trade markets since its entry in 2001 into the World Trade Organization"
"Sucking up is so ingrained in American corporate culture that we should hardly be surprised at the about-face... The fact that America's premier corporate raider, Carl Icahn, will advise Trump on financial regulation (and may be appointed SEC chairman), and that his pick for Treasury Secretary, Steve Mnuchin, was a Goldman executive for 16 years, does not inspire confidence that their management of the economy will be any different from that of their predecessors before the 2008 crash."
"The documents, reportedly compiled by a British former intelligence agent, alleged that the Kremlin was 'cultivating, supporting and assisting' Trump for at least five years. They also alleged that Russian spies had exploited the president-elect's 'personal obsessions and sexual perversion' to gather compromising material."
More claims, no evidence. Just a spy with a load of dirt that other spies view as trustworthy enough to treat seriously. Delivered to the FBI by Senator John McCain. Ha!
"Demanding that evidence-free, anonymous assertions be instantly venerated as Truth — despite emanating from the very precincts designed to propagandize and lie — is an assault on journalism, democracy, and basic human rationality. And casually branding domestic adversaries who refuse to go along as traitors and disloyal foreign operatives is morally bankrupt and certain to backfire on those doing it."
"At the time, nobody knew the company's repair technicians routinely searched customers' devices for files that could earn them $500 windfalls as FBI informants."
"Saba cited residents and rescuers as saying the al-Falah primary school, about 53km (33 miles) north-west of the rebel-controlled capital Sanaa, had been 'flattened' in Tuesday's attack. The agency reported that eight children were killed and 15 others critically wounded, and that other casualties might be buried under the rubble."
"2016 was the second hottest year for the U.S. in more than 120 years of record keeping, government scientists announced on Monday, marking 20 above-average years in a row. Every state had a temperature ranking at least in the top seven, with two, Georgia and Alaska, recording their hottest year."
"The timing of the report has less to do with the election of Donald Trump as President than it does with critical developments in Syria where the Russian military has defeated US-proxies in Syria's industrial hub, Aleppo, rolling back Washington's 15-year War of Terror and derailing the imperialist plan to control vital resources and pipeline corridors across the Middle East and Central Asia."
"With managers struggling to fill shifts even before an overtime ban kicked in. Increasingly, staff say they find themselves alone, without the support of colleagues, directing reams of frustrated passengers to ticket machines that don't always function or dispense change to tourists with £50 notes."
"The deal overseen by Tillerson, whose confirmation hearings to become secretary of state begin Wednesday, defied U.S. foreign policy aims, placing the company's financial interests above the American goal of creating a stable, cohesive Iraq. U.S. diplomats had asked Exxon and other firms to wait, fearing that such deals would undermine their credibility with Iraqi authorities and worsen ethnic tensions that had led Iraq to the brink of civil war."
The unspoken elephant is failed state neocolonialism.
"The air missions, which took place for about a week near the strategically important town of Al Bab, represent the Kremlin's first use of its military might to help the Turks"
While the United States fuels the ambitions of Kurds as well as the jihadists that they fight. That's the nature of empire, funding both sides.
"It is the latest of several targeting Shia Muslim districts of Baghdad. A similar attack on 2 January killed 35."
"An Israeli embassy official has been caught on camera in an undercover sting plotting to 'take down' MPs regarded as hostile, including foreign office minister Sir Alan Duncan, an outspoken supporter of a Palestinian state."
Front groups also involved.
"In return for more positive coverage, the station reported, Mr. Netanyahu proposed helping Yediot Aharonot financially by curtailing the circulation of its main competition, Israel Hayom, and limiting its weekend supplement."
"Yediot Aharonot has struggled financially in recent years, largely because of competition from Israel Hayom, a free daily backed financially by one of Mr. Netanyahu's main patrons, the American billionaire and Republican Party donor Sheldon Adelson. Since Israel Hayom began publishing in 2007, it has cut deeply into Yediot Aharonot's advertising base and readership"
"Thirty-five-year-old Kushner is married to President-elect Trump's eldest daughter, Ivanka Trump, and his property holdings in New York, and ownership of the New York Observer, have contributed to his $200m fortune."
"Releasing secret evidence might get people killed, and it would make any future confidentiality assurances we make to human sources completely non-credible."
We must undermine Democracy to defend it. We must bomb the villagers to save them.
"Adding to nearly 10,000 US troops still in the country. The Taliban claimed most of the opium-making region after NATO withdrawal."
"Public health officials have called the current opioid epidemic the worst drug crisis in American history, killing more than 33,000 people in 2015. Overdose deaths were nearly equal to the number of deaths from car crashes. In 2015, for the first time, deaths from heroin alone surpassed gun homicides."
"A Palestinian rammed his truck into a group of Israeli soldiers on a popular promenade in Jerusalem on Sunday, killing four people and injuring about 15 others in a deliberate attack, police and emergency services said."
"The country's interior ministry is pushing a constitutional change that would let citizens use guns against terrorists. Proponents say this could save lives if an attack occurs and police are delayed or unable to make their way to the scene."
"Charlie Rose: I've been told that the process of attribution has gotten much better."
"David Sanger: It has, it's not perfect..."
What he neglects to mention is that anti-forensic measures have likewise improved. The NSA and its patronage networks spend a lot of resources on building technology to muddy the cyber water.
As Saul Bellow once said, "A great deal of intelligence can be invested in ignorance when the need for illusion is deep." In Sanger's narrative attribution has to be solid in order for the Democratic elites to divert everyone's attention from their betrayals and failures.
"In 2007-2008 we had a financial crisis, and from 2009 on, Obama's DOJ applied fines, not criminal charges... Meanwhile the protections of law in general were gutted: the Patriot Act, the AUMF, the rise of the vast surveillance state with its clear industrial-scale violations of the Fourth Amendment. Most Americans live in a border zone, where they don't have freedom from arbitrary search and seizure. As for the first amendment, the existence of "first amendment zones" tells you all you need to know."
"Trump's behaviour is and will be the direct line consequence of how many Presidents acted, including Obama (who notably killed an American citizen without any trial and claimed that right)."
Underestimating the corruption of the DNC and Team Clinton, investigators probably though it wasn't a big deal...
"No information about the source of the exploit or its cost. The FBI indicated in the records that both of those details are classified. FBI Director James Comey intimated during a public forum last year that the price was more than $1 million."
"Unidentified gunmen killed eight members of Afghanistan's Hazara minority who were working as miners in the northern province of Baghlan, a local government official said."
"At least 33 prisoners have been killed in a prison in northern Brazil, just days after 56 died during a jail riot in a neighbouring state."
Trolling for Cyberwar. Restating claims with zero evidence. Attribution is a sham, the United States and private industry have worked very hard to ensure this remains the case.
CIA sock puppet David Sanger grudgingly admits as much:
"The declassified report contained no information about how the agencies had collected their data or had come to their conclusions. So it is bound to be attacked by skeptics and by partisans of Mr. Trump, who see the review as a political effort to impugn the legitimacy of his election. Intelligence officials have rejected that view."
And anyone else who believes in basic logic. No solid proof, no credibility. We can't all be like David Sanger and Andy Greenberg who mindlessly repeat what spies tell them.
"There was absolutely no effect on the outcome of the election including the fact that there was no tampering whatsoever with voting machines. There were attempts to hack the Republican National Committee, but the RNC had strong hacking defenses and the hackers were unsuccessful."
Plus this tweet: "Only reason the hacking of the poorly defended DNC is discussed is that the loss by the Dems was so big that they are totally embarrassed"
"A subscription-based website called Insider Surveillance lists more than a dozen companies selling so-called ethical malware, including Milan-based Hacking Team, the German firms FinFisher and Trovicor and the Israeli company Nice. Compared with conventional arms, surveillance software is subject to few trade controls; a recent attempt by the United States to regulate it under a 41-country pact called the Wassenaar Arrangement failed."
There's good money in stealing secrets, and take a guess who the world's largest buyer is?
"They're going to do exactly what their shareholders expect them to do, pursue those areas of investment that promise the best possible return. In this case that means stock buybacks, the financial engineering swindle that's going to add another $2 trillion to equities valuations and send Trump's 'bubble' to the moon."
"Mr. Tillerson is worth at least $300 million, but is hardly the richest among them: Wilbur L. Ross Jr., the commerce secretary nominee; Betsy DeVos, the education secretary nominee; and Steven T. Mnuchin, the Treasury secretary nominee, each hold assets estimated at more than a billion dollars."
"Overall, the U.S. Air Force has expended about $2 billion worth of precision-guided munitions on Islamic State since the start of the campaign in August 2014, dropping more than 40,000, according to Air Force officials. U.S. aircraft have dropped nearly 18 times more weapons on Islamic State than on targets in Afghanistan over the same period."
Bomb tally by country here.
"Because NSA can trace exactly where and how any 'hacked' emails from the Democratic National Committee or other servers were routed through the network, it is puzzling why NSA cannot produce hard evidence implicating the Russian government and WikiLeaks. Unless we are dealing with a leak from an insider, not a hack, as other reporting suggests. From a technical perspective alone, we are convinced that this is what happened."
Psyop alert! There's nothing fake about all of those DNC and Podesta emails at WikiLeaks. Those facts speak pretty loudly.
"There's certainly no evidence that the Democrats have learned anything from this debacle. Instead, they are doubling down on their big money strategy. Wall Street bag man Chuck Schumer has been tapped to lead the Democrats in the senate, replacing the retiring Harry Reid (the last working class senator). Here's the smug Schumer on the eve of the Democratic Convention, gloating at running blue collar people out of the party : "For every blue-collar Democrat we lose in Western Pennsylvania, we pick up two moderate Republicans in the suburbs. And you can repeat that in Ohio and Illinois and Wisconsin." Is it any wonder they lost?"
"Mr. Dimon's message was blunt: The chances that banks would move more employees to France were slim unless the country softens its strict labor laws."
The Bernie Madoff of Silicon Valley. Many more big names deserve scrutiny but they're being protected.
"Thirty-five others were injured by the blast in a commercial area crowded with people near the municipal stadium in Jableh"
"A Reuters examination of lead testing results across the country found almost 3,000 areas with poisoning rates far higher than in the tainted Michigan city."
"Pemex warned on Tuesday that blockades had created a 'critical situation' in at least three Mexican states, while demonstrations in suburban Mexico City turned violent as protesters looted at least two department stores."
"President-elect Donald Trump, a harsh critic of U.S. intelligence agencies, is working with top advisers on a plan that would restructure and pare back the nation's top spy agency, people familiar with the planning said."
Recall that JFK fired CIA Director Allen Dulles.
Oh yeah, as if DNI Clapper and John Brennan are people you can trust to be honest when they claim to have conclusive evidence. Just like those mobile bioweapon trailers, right? Andy Greenberg may as well be David Sanger: a CIA sock puppet.
"Intelligence officials disclosed classified information to members of the press on at least three occasions in 2013, according to a National Security Agency report to Congress... In all three cases, "the decision to disclose classified information was made in consultation with the Director of National Intelligence pursuant to Executive Order 13526, and in each case the information disclosed remains properly classified."
"The concern, rather, is that the power of selective disclosure of classified material can be easily abused to manage and to manipulate public perceptions."
"Sullivan & Cromwell, where Mr. Clayton is a partner, has been Goldman's go-to law firm for more than a century. Mr. Clayton advised Goldman Sachs on perhaps its most important deal, the $5 billion investment by Warren E. Buffett's Berkshire Hathaway amid the financial crisis. Mr. Clayton's wife works as a private-wealth adviser at Goldman."
"Information such as your Web browsing history, your geolocation logs and even the content of your emails offer service providers a rich source of potential advertising revenue. That data, along with your health and financial information, can also be sold to marketers and data brokers interested in building a profile of you as a consumer. The FCC's rules restricted Internet providers' ability to use and share this information, in what privacy advocates hailed as a historic victory."
"Apple removed the English and Chinese-language versions of the New York Times app on 23 December, although it was not immediately clear why."
"Police said the victim is an 18-year-old with special needs. Officers found the disoriented young man wandering a Chicago street 'in crisis' Tuesday afternoon."
Stay classy Chicago...
"According to statutory data on insurance company legal entities, nine large U.S. and European banks are counterparties to about 60 percent of U.S. life insurers' $2 trillion in notional derivatives. These data show that despite central clearing, derivatives interconnectedness between the U.S. life insurance industry and banks remains substantial"
"Fields was blunt about why Ford changed its mind, canceling a $1.6 billion factory slated for San Luis Potosi. 'The reason that we are not building the new plant,' he said, 'the primary reason, is just demand has gone down for small cars.'"
"His resignation has been branded a 'wilful and total destruction' of expertise, amid fears he has been 'hounded out' by hostile pro-Brexiteers."
"One of the drawbacks of having Democrats Obama in the White House is the way they put so many folks to sleep on terrible policies and actions people would resist if only they were being carried out by Republican presidents. It's amazing how many liberals and progressives find things like drone war and Wall Street bailouts and mass deportations strangely acceptable when conducted by supposedly liberal and sophisticated Democrats like Barack Obama."
"The false claims travel all over the internet, deceiving huge numbers into believing them. The propagators of the falsehoods receive ample profit from their false, viral 'news.' And there is no accountability of the kind that would disincentivize a repeat of the behavior."
"Take lessons learned at Walt Disney World, where they helped bring about a $1 billion vacation management system involving Fitbit-style bracelets that link to personal information"
"The system — an app called Ocean Compass paired with a quarter-size so-called smart medallion that can be carried in a pocket or worn as jewelry — will arrive on the company's Princess Cruises fleet this year."
"During a news conference with Mr. Hollande, Haider al-Abadi, Iraq's prime minister, said the suicide bomber had pretended to be a man seeking to hire day laborers. Once the workers gathered around, he detonated the vehicle."
"The revolt started Sunday afternoon as part of a rivalry between two criminal organizations at the Anisio Jobim Prison Complex in the city of Manaus"
"Across northern China 24 cities issued red alerts on Friday and Saturday, while orange alerts persisted in 21 cities through the New Year holiday."
The former police chief claims: "Less than half of 1 percent of all the shootings in this city involve police officers shooting civilians"
"Now that the U.S. government has firmly linked PAS to Russian government-sponsored hackers, it's an invitation for any small-time malicious actor to use it (or Xagent, also mentioned in the DHS-FBI report) and pass off any mischief as Russian intelligence activity."
"It's impossible to attribute hacker attacks on the basis of publicly available software and IP addresses used."
"The memo obtained by The Intercept alleges that OneWest rushed delinquent homeowners out of their homes by violating notice and waiting period statutes, illegally backdated key documents, and effectively gamed foreclosure auctions."
"Mnuchin, the former CEO of OneWest, was already facing challenges in his upcoming Senate confirmation hearings on account of his bank's ruthless foreclosure practices, ranging from locking out one homeowner during a Minneapolis blizzard to foreclosing on another over a 27-cent payment shortfall."
"For decades Borjas has been shocking the system in his own way, arguing—carefully, with the support of intricate statistical analysis—that immigration comes with tradeoffs, particularly reduced wages for the native workers who compete with immigrants."
"The ability of AirBnB to operate at all is proof of the success of neoliberal indoctrination. Most communities have strict zoning laws. Renting out your home, even on a part-time basis, is a commercial activity. Most localities ignore violations of that distinction for businesses that don't generate traffic, such as a bookkeeper or web designer working from their home. But one of the reasons for this distinction was to preserve the integrity of residential communities and keep transients out."
"What Mr. Obama meant was that no one in the Situation Room that day, himself included, thought that the United States after 14 years of war, billions of dollars spent and more than 2,000 American lives lost — would ever transform Afghanistan into a semblance of a democracy able to defend itself."
"A few weeks later, the president halted the withdrawal and announced that he would leave thousands of American troops in the country indefinitely."
The graveyard of empires...
"What gives the rebel defeat in east Aleppo its crucial significance is not so much the battle itself, but the failure of their foreign backers – Turkey, Saudi Arabia and Qatar – to come to their aid... The Gulf states have proved incapable of fulfilling their new role and their various initiatives have produced or exacerbated calamitous wars in Syria, Iraq, Libya and Yemen."
"A continued slowdown will strip India of its position as one of the world's fastest-growing big economies and risk a political backlash against Modi."
"Their investors are joining a growing revolt, spurred by years in which fund managers grew rich while producing little in the way of returns... There has been a massive blowback from public pension funds and private endowments"
"The manhunt for the attacker, who has not yet been identified, is still underway, Soylu adds, as police believe he carried out the attack alone."
"Over the past eight years, the administration has prosecuted nine cases involving whistle-blowers and leakers, compared with only three by all previous administrations combined. It has repeatedly used the Espionage Act, a relic of World War I-era red-baiting, not to prosecute spies but to go after government officials who talked to journalists."
"The PHP malware sample they have provided appears to be P.A.S. version 3.1.0 which is commonly available and the website that claims to have authored it says they are Ukrainian. It is also several versions behind the most current version of P.A.S which is 4.1.1b. One might reasonably expect Russian intelligence operatives to develop their own tools or at least use current malicious tools from outside sources."
"The IP addresses that DHS provided may have been used for an attack by a state actor like Russia. But they don't appear to provide any association with Russia. They are probably used by a wide range of other malicious actors, especially the 15% of IP addresses that are Tor exit nodes."
See also:
"Too many words means they don't have clear evidence of how the data got to Wikileaks."
"The corrupt assets that the Justice Department has tracked down are valued at $3 billion and have come from a laundry list of countries — Nigeria, Ukraine and Uzbekistan... Now comes the hard part: returning the seized money to the people of the countries affected without enriching a kleptocrat all over again."
In other words, groups with very little domestic influence. Like, I don't know, bankers...
December 2016_______________________________________
"The explosions happened one after another in the busy al-Sinak market. More than 50 people were injured. Police said a roadside bomb exploded near a car spare parts shop, then a suicide bomber detonated his device among the crowd that had gathered."
"The ceasefire -- negotiated between Russia, Turkey and the Syrian government as well as Iran and Syrian rebel groups supported by Turkey -- explicitly excludes factions deemed by the United Nations Security Council as "terrorists." This rules out the Islamic State in Iraq and Syria (ISIS) and Jabhat Fateh al-Sham, the former al Qaeda affiliate in Syria that used to be known as Jabhat al-Nusra."
"The bill, which must be debated and voted on in the full parliament, empowers the president to issue decrees, as well as appoint and discharge vice presidents, ministers and top government officials, the state-run Anadolu Agency reported Friday. Under the proposal, the president would for the first time be allowed to have ties to a political party, it said."
"Burlington Electric said in a statement that the company detected a malware code used in the Grizzly Steppe operation in a laptop that was not connected to the organization's grid systems. The firm said it took immediate action to isolate the laptop and alert federal authorities. "
Greenwald notes: "So the key scary claim of the Post story – that Russian hackers had penetrated the U.S. electric grid – was false. All the alarmist tough-guy statements issued by political officials who believed the Post's claim were based on fiction."
"Even worse, there is zero evidence that Russian hackers were responsible even for the implanting of this malware on this single laptop."
"While we reserve the right to take reciprocal measures, we're not going to downgrade ourselves to the level of irresponsible 'kitchen' diplomacy"
"Mr. Putin even said he did not want to close a wooded picnic area on a Moscow River island used by diplomats because he did not want to deprive their children. Then he went one step further, inviting all children of American diplomats accredited in Russia to celebrate the New Year and the Russian Orthodox Christmas with him at the Kremlin."
Trump tweets back: "Great move on delay (by V. Putin) - I always knew he was very smart!"
Ian Welsh reminds: "The hysterics about Russia, in general, are hysterics."
"The problem with this story is that, like the Iraq-WMD mess, it takes place in the middle of a highly politicized environment during which the motives of all the relevant actors are suspect. Nothing quite adds up."
"We ought to have learned from the Judith Miller episode. Not only do governments lie, they won't hesitate to burn news agencies. In a desperate moment, they'll use any sucker they can find to get a point across."
"In the past week, Iraq's military has begun using heavy artillery in the crowded city, in spite of the risk to civilians, and has moved forces from Baghdad and other areas to support the Counter Terrorism Forces. Some 4,000 federal police have been shifted from the capital and south of Mosul to support the fight in the east."
"A federal judge has ordered the Obama administration to deliver to his court's Top Secret storage site a copy of the so-called Senate Torture Report on the CIA's Black Site prison program."
"The goal is to drive a wedge between older workers and retirees on the one hand, who are looking at Social Security benefits as the mainstay of their lives in retirement... and younger workers, who are being told Social Security will be going bust before they retire."
Report can be read here.
"In one sense, the new Red Scare has had the desired and entirely predictable result. Defense spending, though hurt by troop wind-downs in Iraq and Afghanistan, is now exhibiting renewed vigor. Introducing its upcoming $583 billion budget in 2016, the Pentagon specifically cited 'Russian aggression' as a rationale for spending. NATO allies have meanwhile pledged to increase their defense spending to 2 percent of GDP."
"The local government has proved instrumental, doling out more than $1.5 billion to Foxconn to build large sections of the factory and nearby employee housing. It paved roads and built power plants."
"Over the last 10 years almost 200 employees and contract workers of the Department of Homeland Security have taken nearly $15 million in bribes while being paid to protect the nation's borders and enforce immigration laws."
"The Fed is raising rates because there is now widespread agreement that keeping rates low for a long period of time does serious damage to the financial infrastructure. That's one reason, but it doesn't fully explain what's really going on. On a more practical level, the Fed is raising rates because of the banks. That's right, it's another handout to the big Wall Street behemoths"
Some proof might help. But, then again, whomever gave those emails to WikiLeaks more likely deserves a public service award for revealing how corrupt the Democratic Party elites are.
Ditto that for the New York Times.
"The first false claim was hyped in the article's headline: 'Julian Assange gives guarded praise of Trump and blasts Clinton in interview.'"
"The second claim was even a worse assault on basic journalism. Jacobs set up this claim by asserting that Assange 'long had a close relationship with the Putin regime.'"
"The messages of Iranian-backed groups echo Iranian propaganda and frequently depict the supreme leader on billboards and in other publicity, making their ties to Tehran very clear. So although appeals to Iraqi nationalism feature in the discourse, the Shiite-centric messaging strategies of dominant PMF groups reinforce feelings of distrust among Sunnis and Kurds."
"Chinese military experts called the deployment of the Liaoning a long-overdue challenge to American military dominance in the Pacific. Several said the move appeared aimed at testing Mr. Trump, who has antagonized Beijing with acerbic words and actions on issues like Taiwan, trade and North Korea."
"We have confirmed evidence, with pictures, photos and videos."
Far more obvious than that: who provides ironclad guarantees of security to the Gulf States? Who channels all that money and support to ISIS?
Secrecy must be maintained to protect sources and methods. Which is why you must "trust us." Believe everything we say without proof, especially the lies: The violent enemy of democratic government.
"Download and run this and you get a free proxy / VPN; oh, yeah, but you'll stand out like a fucking glow stick and you have no good reason to use it except as an evasion tool against state authorities. Good luck explaining that when they ask uncomfortable questions"
"Iat Hong of Macau, Bo Zheng of Changsha, China, and Chin Hung of Macau were charged in an indictment filed in Manhattan federal court with conspiracy, insider trading, wire fraud and computer intrusion. Prosecutors said the men made more than $4 million by placing trades in at least five company stocks based on inside information from unnamed law firms, including about deals involving Intel Corp and Pitney Bowes Inc."
"By night's end, at least 15 fights had broken out in shopping centers from Connecticut to Arizona."
"The day before, Beachwood police officers had responded to a fight at Beachwood Place, an upscale shopping mall. They estimated that around 500 people, mostly teenagers, were involved."
"The United States again ranked first in global weapons sales last year, signing deals for about $40 billion... Developing nations continued to be the largest buyers of arms in 2015... the total size of the global arms trade dropped to around $80 billion in 2015 from the 2014 total of $89 billion"
"The United States, which still has nearly 10,000 troops in Afghanistan more than 15 years after the Islamist Taliban were toppled by U.S.-backed Afghan forces, was not invited to the Moscow talks."
"He estimates that there are now 12,000 to 15,000 princes and about as many princesses."
"Allowances, which included payments to other prominent families around the kingdom, accounted for roughly $2 billion of the government's total $40 billion budget, or 5 percent of all public spending."
"A former national security aide to President George W. Bush, will serve as his homeland security adviser in the White House... Bossert highlighted cybersecurity as a priority in his new job"
"Must work toward [a] cyber doctrine that reflects the wisdom of free markets, private competition and the important but limited role of government in establishing and enforcing the rule of law, honoring the rights of personal property, the benefits of free and fair trade, and the fundamental principles of liberty."
"Kelly's second claim to the Senate committee, that 500,000 Americans 'have died from narcoterrorism' since 9/11, is a significant exaggeration. The real number of Americans who have died of post-9/11 terrorism in all its forms is well under 1,000, according to a 2014 study that was supported by the Department of Homeland Security"
"The Afghan national directorate of security (NDS) arms strongmen ostensibly to fight the Taliban and other militants. But some militia leaders use their new power to fight local turf wars, including against elected government officials, rather than insurgents... the militias are bankrolled by the National Directorate of Security – and the bulk of NDS funding is believed to come from the CIA."
"Brzezinski decided not to wake up his wife, preferring that she die in her sleep. As he prepared to call Carter and recommend an American counterattack, the phone rang for a third time. Odom apologized—it was a false alarm. An investigation later found that a defective computer chip in a communications device at NORAD headquarters had generated the erroneous warning. The chip cost forty-six cents."
"Russia's last functional early-warning satellite went out of service two years ago. Until a new network of satellites can be placed in orbit, the country must depend on ground-based radar units. Unlike the United States, Russia no longer has two separate means of validating an attack warning."
"What worries me most isn't the possibility of a cyberattack, a technical glitch, or a misunderstanding starting a nuclear war sometime next week. My greatest concern is the lack of public awareness about this existential threat, the absence of a vigorous public debate about the nuclear-war plans of Russia and the United States, the silent consent to the roughly fifteen thousand nuclear weapons in the world."
"Tracking the enemy's ground movements falls largely to the crew of the Joint Stars plane, a 1960s-era, reconfigured Boeing 707 jetliner packed with sensitive electronics that is part of an eclectic and unsung mix of odd-shaped surveillance and reconnaissance aircraft with names like Compass Call and Rivet Joint."
"Banks and financial institutions make up the overwhelming majority of more than 100 companies inquiring about relocating to Ireland after Brexit, the head of the agency tasked with bringing foreign investment into the republic has confirmed."
"Shanahan told the Guardian that Ireland's low 12.5% corporation tax remained sacrosanct as one of the Irish Republic's key fiscal policies."
"At least 27 people were shot, seven fatally, in a 48-hour period in Chicago over Christmas weekend, according to the Chicago Police Department. It was the latest bloody chapter in a city besieged by gun violence."
This past Friday, while everyone was leaving for the holidays. See Section Sec.1287 - Global Engagement Center:
"The purpose of the Center shall be to lead, synchronize, and coordinate efforts of the Federal Government to recognize, understand, expose, and counter foreign state and non-state propaganda and disinformation efforts aimed at undermining United States national security interests."
"'When it comes to the CIA and the press, one hand washes the other. To have access to informed officials, reporters frequently suppress or distort stories. In return, CIA officials leak stories to reporters to whom they owe favors.' I told how, at its most incestuous, reporters and government officials are related. I cited the example of Charles LeMoyne, a Navy officer who ran the CIA's counter-terror teams for a year in the Delta, and his New York Times correspondent brother James."
Those reporters who don't play ball get a file.
"Section A of the K.G.B.'s First Chief Directorate, survived the collapse of Communism and now operates as part of Russia's foreign intelligence service, known as the S.V.R. Russian military intelligence, the G.R.U., has its own teams expert in subversion, disinformation and other tools of hybrid warfare."
This is how spies destabilize (e.g. CIA, SVR, MI6, or Mossad): find a group of disgruntled people and nurse their grievance. "Sharpen the contradictions". Then provide training, resources, and build support networks.
"Hillary Clinton was the chief proponent and the architect of the war against Libya. It is clear that she pursued this war as a staging effort for her Presidential bid."
"Power is mostly the illusion of power... Elephants, it seems, can be brought down with string. Perhaps there are no elephants"
"In the typical private equity water deal, higher rates help the firms earn returns of anywhere from 8 to 18 percent... The Times analyzed three deals in which private equity firms have recently run a community's water or sewer services through a long-term contract. In all three places... rates rose more quickly than in comparable towns"
"In water infrastructure alone, the nation needs about $600 billion over the next 20 years, according to federal estimates."
"'We find that 94% of net job growth in the past decade was in the alternative work category,' said Krueger. 'And over 60% was due to the [the rise] of independent contractors, freelancers and contract company workers.' In other words, nearly all of the 10 million jobs created between 2005 and 2015 were not traditional nine-to-five employment."
There's your "recovery."
"The incident occurred a day after Saudi Arabia, the US and Brazil abstained from a UN General Assembly vote to ban the use of cluster bomb. With more than 100 countries having already pledged not to deploy such weapons, the vote in favor of an international ban was overwhelmingly endorsed."
"The United States has finalized a $38 billion package of military aid for Israel over the next 10 years, the largest of its kind ever"
Genuine help when it counts, then offer empty gestures of defiance for a little public relations.
"Banks, most of them American, have paid more $100 billion in settlements with the government."
"In his dealings with his intelligence agencies, Nixon dug his own political grave. The more he ordered his intelligence agencies to commit improper activities, the more it gave them the power to blackmail the presidency."
"For the intelligence community, the main lesson is that acquiescing to a president's request to politicize its estimates may buy short-term access but not long-term influence... The cost of being too close to politics is partisanship and the loss of credibility. The CIA went down that route during the Bush administration and has yet to recover."
"We're fighting for our country, our democracy, our way of life, and to engage. And the skullduggery that some of our opponents and adversaries engage in, I think is beneath this country's greatness"
What is this, a Christmas miracle? Did someone spike the eggnog?
"An annual report by the regulator said there were 159 incidents of unauthorized computer access during fiscal year 2015, according to a redacted copy obtained by Reuters under a Freedom of Information Act request."
"An audit by the FDIC's inspector general in November found the FDIC was failing to do 'vulnerability scanning'"
"When asked about China's possible role in the 2010 hack, Chinese Foreign Ministry spokeswoman Hua Chunying said: 'If you have no definitive proof, then it is very hard for you to judge where the attacks really come from.'"
"When it comes to assessing the true extent of Russian 'influence' in Trump's win wouldn't you first have to subtract the Israeli influence exerted by Sheldon Adelson ($25 million), Benjamin Netanyahu and the Israeli government? Will there be hearings?"
"The sum, which needs final approval, is far lower than the $14bn the US had asked the bank to pay in September."
"Carl Icahn, the 26th richest man on the planet according to Forbes, fits the 'made a fortune' bill. Icahn, a business partner of Trump and major donor to his presidential campaign, has been named by the President-elect as his Special Advisor on Regulatory Reform."
"Since Snowden's arrival in Moscow, he has had, and continues to have, contact with Russian intelligence services."
Again with the Russian Angle. If you ever wanted proof that propaganda can be disguised as an official document, with all the evidence conveniently withheld, brother this is it.
Allen Dulles hit the nail on the head: "The greatest material curse to the profession, despite all its advantages, is undoubtedly the telephone"
"The 25-year-old father of two was among dozens wounded in the attack that killed 23 people, including eight policemen, the deadliest bombing yet in the district since Iraqi forces wrested it away from the Islamic State group more than a month ago."
"The U.S. carried out nine drone strikes between September 23 and December 13, CENTCOM confirmed Thursday."
No word as to how many civilians were killed.
"Security forces killed the three gunmen and freed 18 hostages after a 10-hour siege early on Thursday."
"The order on Yahoo from the secret Foreign Intelligence Surveillance Court (FISC) last year resulted from the government's drive to change decades of interpretation of the U.S. Constitution's Fourth Amendment right of people to be secure against 'unreasonable searches and seizures,' intelligence officials and others familiar with the strategy told Reuters."
"With 739 murders as of Wednesday, 2016 has been Chicago's deadliest year since 1997... An overwhelming majority of the city's 3,451 shootings this year were gang-related"
More than double the number of 2016 murders in New York City (320), which is almost three times as big (NYC 8.4 million, Chicago 2.7 million).
"These policies are put in place to allegedly prevent the leaking of potentially damaging information to regulators or law enforcement. They in turn prohibit employees from speaking out about illegal activity within the company, even to its own lawyers, and encourage them to report other employees suspected of leaking information."
Legal complaint here.
"But there parts of Trump's economic plan that could push stocks much higher, in fact, they could take today's moderately-inflated stock market bubble and turn it into the most gargantuan asset-price balloon of all time. We're talking about Trump's tax cuts... None of this money is going to dribble down to the working stiffs who cast their ballots for Trump in the presidential election."
All of this makes sense once you realize that Trump is the next logical phase of neoliberalism. The one change is that Trump is going to force the oligarchy to hand over some table crumbs to the masses so that he can do a victory lap:
"He needs these people to do some things they don't want to do (make less money by bringing jobs back to the US), and they'll need to be scared of him."
Is it any suprise why the U.S. was excluded? "Running covert programs with its allies to give the [jihadists] rebels arms, money and antitank missiles."
As the Kurds advance towards Raqqa.
"US District Judge Charles Breyer announced that Volkswagen Group and regulators had reached a $1 billion settlement over a portion of the 80,000 3.0L diesel vehicles that are still driving on US roads equipped with illegal emissions-system-defeating software."
"In June the German automaker agreed to a much larger settlement—almost $15 billion over some 475,000 2.0L diesel vehicles that also had emissions-system-defeating software on them."
"'General and indiscriminate retention' of emails and electronic communications by governments is illegal, the EU's highest court has ruled, in a judgment that could trigger challenges against the UK's new Investigatory Powers Act – the so-called snooper's charter."
"1) developing a strategy to defeat/destroy ISIS; 2) build a strong defense by eliminating budget caps/the sequester, 3) develop a comprehensive cyber strategy, and 4) eliminate wasteful spending by finding greater efficiencies."
"Daily intelligence briefings are one of the ways that intelligence agencies and the deep state control presidents. Such briefings set the frame; they create the reality within which Presidents operate, the options which are available and so on. Start the day with one almost every day and you will be influenced to see the world the way they do. And then you become Obama; handmaiden to intelligence agencies you criticized while running your campaign."
Trump is letting the spies know who's in charge.
"Accelerating AI capabilities will enable automation of some tasks that have long required human labor. These transformations will open up new opportunities for individuals, the economy, and society, but they will also disrupt the current livelihoods of millions of Americans."
In a nutshell: Hello workers, we don't need you. Hey, that billion dollar presidential library isn't going to build itself, and who is in a position to reward Obama for his faithful service to tech oligarchs?
"The defence secretary was forced to tell the Commons that British-made cluster bombs had been dropped by Saudi Arabia in Yemen, prompting MPs and charities to say that the UK should stop supporting the Gulf state's military action."
"Viola made the bulk of his fortune after founding Virtu Financial, a high-frequency trading firm. He was the chairman of the New York Mercantile Exchange from March 2001 to March 2004, and took Virtu public in April 2015."
"A 48-page criminal indictment said since 2012, Nordlicht and four other defendants defrauded investors by overvaluing illiquid assets held by its flagship Platinum Partners Value Arbitrage funds, mostly troubled energy-related investments."
"Prospective million-dollar donors to the 'Opening Day 2017' event — slated for Jan. 21, the day after inauguration, at Washington, D.C.'s Walter E. Washington Convention Center — receive a 'private reception and photo opportunity for 16 guests with President Donald J. Trump,' a 'multi-day hunting and/or fishing excursion for 4 guests with Donald Trump, Jr. and/or Eric Trump, and team,'"
Would the New York Times Editorial Board be making this stink if Hillary Clinton won? It's so obvious its painful to read.
Most of the electors who defected where Democrats. Another strategic backfire. Nice try Lessig.
"But while Mr. Trump's opponents needed 37 Republican defectors to bring his electoral-vote tally below 270, the bulk of electors who broke ranks — four in Washington State — were Democrats who otherwise would have voted for Mrs. Clinton."
"Many of us have been concerned about digital overreach by our governments, especially after the Snowden revelations. But the consumerist impulse that feeds the promiscuous divulgence of personal information similarly threatens our rights as individuals and our collective welfare."
"Stormfront describes itself as 'the voice of the new, embattled white minority... a community of racial realists and idealists'... And, according to Google, it's the most authoritative source on the internet on the 'question' of whether or not the Holocaust actually happened."
"If only Snowden had been an overeducated insider who valued the preservation of secrecy and wanted only to use and exploit secrets in order to preserve government power. Then we could have had a real debate about civil liberties!"
"Kerry met frantically through this year with his Russian counterpart, Sergei Lavrov, to implement the 'cessation of hostilities' negotiated on paper last February. The CIA meanwhile continued to push a program that targeted Russia and its Syrian and Iranian allies — and helped shield Jabhat al-Nusra."
"A truck plowed into a crowded Christmas market in the German capital Berlin on Monday evening, killing nine people and injuring up to 50 others, police said."
"Seven Jordanian security officers, a Canadian tourist and two Jordanian civilians were killed by gunmen in the southern city of Karak on Sunday, according to a joint statement from the Public Security Department and the Jordanian armed forces."
"Overall, overdose deaths rose 11 percent last year, to 52,404. By comparison, the number of people who died in car crashes was 37,757, an increase of 12 percent. Gun deaths, including homicides and suicides, totaled 36,252, up 7 percent."
"Turkey Blocks said the Turkish government ordered firms to start blocking VPNs and Tor in early December, and has increased the pressure on firms to act by asking for weekly updates about the success of the measures."
"Trump is adept at communicating through image, sound bites and spectacle. Fake news, which already dominates print and television reporting, will define the media under his administration. Those who call out the mendacity of fake news will be vilified and banished. The corporate state created this monstrous propaganda machine and bequeathed it to Trump. He will use it."
"The attack took place as soldiers lined up to collect their salaries, they said. The officials spoke on condition of anonymity because they were not authorized to brief the media."
"In a statement, Erdogan said the 'separatist terrorist organisation' the PKK was responsible for Saturday's attack, linking it to developments in Iraq and Syria."
"As ex-Ambassador Murray has said, U.S. intelligence was almost surely keeping tabs on Podesta's communications because of his ties to Saudi Arabia and other foreign governments. So, the U.S. intelligence community represents another suspect in the case of who leaked those emails to WikiLeaks. It would be a smart play, reminiscent of the convoluted spy tales of John LeCarre, if U.S. intelligence officials sought to cover their own tracks by shifting suspicions onto the Russians."
Similar explanation here.
"The plan is to use the CIA's 'Russia made Trump the winner' nonsense to swing the electoral college against him. The case would then be bumped up to Congress. Major neocon and warmonger parts of the Republicans could then move the presidency to Clinton or, if that fails, put Trump's vice president-elect Mike Pence onto the throne. The regular bipartisan war business, which a Trump presidency threatens to interrupt, could continue."
"By the unions' count, 180 million workers stayed home... The 24-hour strike cost the Indian economy up to $2.7 billion, by one estimate"
"Ellard publicly argued in 2014 that Snowden could have safely reported the allegations of NSA's domestic surveillance directly to him... Then last May, after eight months of inquiry and deliberation, a high-level Intelligence Community panel found that Ellard himself had previously retaliated against an NSA whistleblower"
Official channels don't work. Just ask Thomas Drake, Bill Binney, Kirk Wiebe, ...
"In short, the Russia 'hype' is about blocking Trump from making his foreshadowed shift away from the new Cold War, pursued by the present U.S. establishment, and towards initiating détente instead, and perhaps the playing up of the Russian 'threat' extends even to hoping to frighten enough presidential electors to change their vote on Dec. 19 (though that prospect seems improbable)."
The Deep State needs enemies: "Enemies are necessary for the wheels of the U.S. military machine to turn."
Nice. Blames the Russians, while sidestepping all of the collusion, corruption, and failed media strategies. Take absolutely no personal responsibility. Admit nothing, deny everything, make counter accusations (sound familiar?)
"On October 7, 2016, the Secretary of Homeland Security and the Director of National Intelligence publicly stated that they were 'confident' that the Russian government directed compromises of emails from U.S. persons and institutions and that these thefts, as well as disclosures of alleged hacked e-mails by the Guccifer 2.0 persona, were intended to interfere with the U.S. election process. The Secretary and DNI also expressed their belief that 'only Russia's senior-most officials could have authorized these activities.' We continue to stand by this statement."
"In early September, when I saw President Putin in China, I felt that the most effective way to ensure that that didn't happen was to talk to him directly and tell him to cut it out, and there were going to be some serious consequences if he didn't. And, in fact, we did not see further tampering of the election process. But the leaks through WikiLeaks had already occurred."
"A U.S. citizen living in Moscow was arrested Wednesday after he flew to the United States to surrender to face charges he stole contact information for over 100 million customers of U.S. financial institutions, brokerage firms and financial news publishers, authorities said. Joshua Samuel Aaron, 32, was arrested at Kennedy Airport on Wednesday"
"Aaron's co-defendants -- Gery Shalon and Ziv Orenstein -- were arrested by Israeli authorities in July 2015 and were extradited from Israel in June"
"What's lacking here is any discussion of economic issues—which is because the Democratic insiders the New York Times relies on for its insights don't want to talk about economic issues."
"The campaign that started on Oct. 17 has turned into the biggest battle in Iraq since the U.S.-led invasion that toppled Saddam Hussein in 2003"
"The MCC's first five-year $434 million compact with the Philippines closed in May."
"Apart from the slipperiness between the possible and the proven, the gap between the confidence of the headlines and the caution buried deep inside, it's weird to see media skip over the story's center: that the alleged meddling consisted of revealing true information about the Democratic Party and Clinton campaign"
"Mr. Trump has said privately in recent days that he believes there are people in the C.I.A. who are out to get him"
"Earlier this week, I met separately with (Director) FBI James Comey and DNI Jim Clapper, and there is strong consensus among us on the scope, nature, and intent of Russian interference in our presidential election"
"The Russian government tacitly supports many private hackers and occasionally taps them for freelance government work"
So does the United States, his name is Jeremy Hammond.
"So much for draining the swamp... Donald Trump made a lot of political hay out of the iniquity of people like Cohn during his campaign. But his recent appointments are absolute proof that his 'populist' message was a crock all along – not that we couldn't have guessed anyway."
Ian Welsh explains:
"And so they are turning to people who don't parse like the regular type of elite. Many of those people are also selling them a bill of goods (Trump, to a large extent), or are nasty pieces of work (Trump, Alt-Right), but that doesn't matter to a lot of people: they can't take the pain any more; the assured long decline and they will take a flyer on anyone who might shake things up."
"Since at least 2008, the chain had advertised that 90 percent of its graduates who actively sought employment landed jobs in their field within six months of graduation."
"All signs point to leaking, not hacking. If hacking were involved, the National Security Agency would know it – and know both sender and recipient."
See also:
"Craig Murray, former British ambassador to Uzbekistan and a close associate of Wikileaks founder Julian Assange, told Dailymail.com that he flew to Washington, D.C. for a clandestine hand-off with one of the email sources in September."
"Two senior officials with direct access to the information say new intelligence shows that Putin personally directed how hacked material from Democrats was leaked and otherwise used. The intelligence came from diplomatic sources and spies working for U.S. allies, the officials said."
Note than one of the authors of this report is a CIA mop-up man:
"Email exchanges between CIA public affairs officers and Ken Dilanian, now an Associated Press intelligence reporter who previously covered the CIA for the Times, show that Dilanian enjoyed a closely collaborative relationship with the agency, explicitly promising positive news coverage and sometimes sending the press office entire story drafts for review prior to publication. In at least one instance, the CIA's reaction appears to have led to significant changes in the story that was eventually published in the Times."
"Yahoo believes an unauthorized third party, in August 2013, stole data associated with more than one billion user accounts. The company has not been able to identify the intrusion associated with this theft. Yahoo believes this incident is likely distinct from the incident the company disclosed on September 22, 2016."
"There's no one like you in the world....anything we can do to help this go along, we're going to be there for you. You can call my people, call me — it makes no difference — we have no formal chain of command around here."
Twitter didn't get an invite.
"A newly uncovered website, which includes a file apparently signed with The Shadow Brokers' cryptographic key, suggests the group is trying to sell hacking tools directly to buyers one by one, and a cache of files appears to include more information on specific exploits."
"In the first 10 months of this year, there were 17,063 homicide cases in Mexico, already more than last year's total and the highest 10-month tally since 2012."
"A longstanding cornerstone of the Mexican government's fight against organized crime — backed by hundreds of millions of dollars in American aid — has been to aim at the kingpins, on the theory that cutting off the head will wither the body. But the tactic has helped to fragment monolithic, hierarchical criminal enterprises into an array of groups that are more violent and uncontrollable, analysts said."
"The DNC hackers inserted the name of the founder of Russian intelligence, in Russian, in the metadata of the hacked documents. Why would the G.R.U., Russian military intelligence do that?"
"If the hackers were indeed part of Russian intelligence, why did they use a free Russian email account, or, in the hack of the state election systems, a Russian-owned server? Does Russian intelligence normally display such poor tradecraft?"
"Why would Russian intelligence, for the purposes of hacking the election systems of Arizona and Illinois, book space on a Russian-owned server and then use only English, as documents furnished by Vladimir Fomenko, proprietor of Kings Servers, the company that owned the server in question, clearly indicate?"
In other words, the evidence provided so far is seriously lacking.
"The report says that, in certain circumstances, fracking does pose a risk to drinking water."
"The former Texas governor has questioned the scientific consensus on climate change and once forgot the name of the agency when listing those he wanted to eliminate."
"As you will see below, Black Agenda Report, Counterpunch, and Paul Craig Roberts have joined us. We've also had five other sites say they would participate in a lawsuit against the Post"
"From 5 to 9 December 2016, Europol and law enforcement authorities from Australia, Belgium, France, Hungary, Lithuania, the Netherlands, Norway, Portugal, Romania, Spain, Sweden, the United Kingdom and the United States carried out a coordinated action targeting users of Distributed Denial of Service (DDoS) cyber-attack tools, leading to 34 arrests and 101 suspects interviewed and cautioned."
"A surrender or withdrawal of the rebels from Aleppo would mean the end of the rebellion in the city, Syria's largest until the outbreak of war after mass protests in 2011."
The American Deep State has spoken. Big oil is in the house.
"Mr. Flynn, who was fired from the D.I.A. after serving only two years of a three-year appointment, has described his dismissal as an act of political retribution by the C.I.A. and Obama administration officials who did not want to hear what he was saying."
"China does not currently deploy any airlaunched nuclear weapons. It is not known or thought to have nuclear bombs. All its estimated 260 nuclear warheads (the U.S. and Russia each have more than 7,000) are presumably for its land and sea based missiles."
"Banks using the SWIFT network, which include both central banks and commercial banks, have been hit with a 'meaningful' number of attacks - about a fifth of them resulting in stolen funds"
"Some Bangladesh central bank officials deliberately exposed its computer systems and enabled hackers to steal $81 million from its account at the Federal Reserve Bank of New York in February, a top police investigator in Dhaka told Reuters on Monday."
"At least 81 journalists are imprisoned in Turkey, all of them facing anti-state charges... After Turkey, the worst offenders in 2016 are China"
"A bombing at a chapel adjacent to Egypt's main Coptic Christian cathedral killed 25 people and wounded another 49."
"Japan on Friday ratified the Trans-Pacific Partnership, a free-trade pact aimed at linking a dozen Pacific Rim nations, hoping it will one day take effect despite President-elect Donald Trump's pledge that the United States will withdraw from it."
"The Xian H-6 bomber flew along the disputed 'nine-dash line' around the South China Sea, US officials told Fox News, passing over a number of disputed islands. The officials said it was designed to send a message to the incoming administration."
"The meeting is notable because leaders in tech, for the most part, vocally disapproved of Trump's campaign."
A replay of when Trump met with media bigwigs?
"The Russian Monitoring Centre in Syria said on Sunday that ISIL, or the Islamic State of Iraq and the Levant group, had drawn on "significant forces" from its strongholds in nearby Raqqa and Deir Az-zor, with more than 4,000 fighters, backed by tanks, attacking the city."
"An offshoot of the militant Kurdistan Workers Party (PKK) claimed responsibility on Sunday for twin bombings that killed 38 people and wounded 155 outside an Istanbul soccer stadium, an attack for which the Turkish government vowed vengeance"
"The Health Ministry said that the bombing killed 48 soldiers and that 36 were reported wounded, but the number of fatalities could rise, officials said. No group has claimed responsibility for the bombing, but suspicion immediately fell on al-Qaeda's powerful Yemen branch as well as the Islamic State."
"OPEC and non-OPEC producers on Saturday reached their first deal since 2001 to curtail oil output jointly and ease a global glut after more than two years of low prices that overstretched many budgets and spurred unrest in some countries... Russia, which 15 years ago failed to deliver on promises to cut in tandem with OPEC, is expected to perform real output reductions this time"
"Blackstone Group LP Chief Executive Officer Steve Schwarzman will chair the President's Strategic and Policy Forum, which will begin meeting with Trump in February, according to a statement Friday from his private equity firm. JPMorgan Chase & Co. CEO Jamie Dimon and BlackRock Inc. CEO Laurence Fink, major donors to Democratic politicians, will also sit on the panel."
In 2015 Steve Schwarzman made $799 million, Jamie Dimon made $27 million, and Larry Fink made $26 million. The fox is guarding the hen house.
Now we know why Lloyd Blankfein thinks Trump isn't dangerous.
"An investigation by ProPublica, in conjunction with the Stabile Center for Investigative Journalism at Columbia University, has found that officials fleeing prosecution in Colombia, China, South Korea, Bolivia and Panama have found refuge for themselves and their wealth in this country, taking advantage of lax enforcement of U.S. laws and gaps in immigration and financial regulations."
"About 50,000 civilians have fled the rebel enclave over the past two days, a Russian defence spokesman said."
"The US defence secretary has announced that 200 more military personnel will be sent to Syria to strengthen the fight against Islamic State in its stronghold of Raqqa."
Working on the no-fly zone?
"According to three former managers in Prudential's corporate investigation division, Wells Fargo employees appeared to have signed up bank customers for Prudential insurance without the customers' knowledge or permission. In some cases, they even arranged for monthly premium fees to be withdrawn from their customers' accounts."
"Capita, a FTSE 100-listed firm that also runs the London congestion charge, said it needed to axe 2,000 jobs as part of a cost-cutting drive in response to poor trading. It said it would use the money it saved from sacking thousands of staff to fund investment in automated technology across all of the company's divisions."
"The secretary of state of Georgia is asking the Department of Homeland Security to explain what appears to be an attempted breach of the state's computer systems that house its voter registration database by someone in the federal government."
"The motion passed by 234 votes to 56, meaning some members of Ms Park's ruling Saenuri party voted in favour."
Tim Shorrock: "If US media wants to provide a true picture of South Korea, it should ditch CSIS, Heritage, CNAS, the Pentagon etc etc & turn to real people"
"The Israelis remain a real threat to the stability of the region, in particular because of the position of this country with respect to the Iranian dossier"
Focus on the messenger, ignore the message... the [blue|red] oligarchs have taken over.
"When I met with Carrier officials last Thursday, I realized that that wouldn't be the case. Though Trump said he'd saved 1,100 jobs, he hadn't. Carrier told us that 550 people would get laid off."
See also: "The company's deal with President-elect Donald Trump to keep a furnace plant from moving to Mexico also calls for a $16 million investment in the facility.... Most of that money will be invested in automation"
"Puzder has been vilified for ostensibly advocating the replacement of human workers by robots and opposing an increase in the minimum wage."
"According to the FTC's complaint, AT&T placed unauthorized third-party charges on its customers' phone bills, usually in amounts of $9.99 per month, for ringtones and text message subscriptions containing love tips, horoscopes, and 'fun facts.' The FTC alleged that AT&T kept at least 35 percent of the charges it imposed on its customers."
"Cellebrite would be in good company, too: Bahrain relies on a variety of technology firms to keep tabs on its people, including Nokia-Siemens, FinFisher, and Netsweeper."
"The Saudi Arabia-led coalition killed several dozen civilians in three apparently unlawful airstrikes in September and October 2016, Human Rights Watch said today. The coalition's use of United States-supplied weapons in two of the strikes, including a bomb delivered to Saudi Arabia well into the conflict, puts the US at risk of complicity in unlawful attacks."
"Heads of states, incumbent or former prime ministers, diplomats, military and intelligence chiefs, members of the opposition and leading figures from the world of business and the financial industry. These actions violated the political, economic and strategic sovereignty of twenty African countries, many of whose leaders were allies of Great Britain."
"Eight months after Deutsche Bank AG settled a lawsuit claiming it manipulated gold and silver prices, documents it disclosed as part of the accord provide 'smoking gun' proof that UBS Group AG, HSBC Holdings Plc, Bank of Nova Scotia and other firms rigged the silver market, plaintiffs claim."
"His official biography calls him 'a leading advocate against the EPA's activist agenda.'"
And, oh look, another billionaire.
"As head of the Southern Command, his final leadership post in a 45-year military career, Kelly was responsible for US military activities and relationships in Latin America and the Caribbean, including the controversial detention facility at Guantánamo Bay. He retired in January."
Lots of retired generals: Mattis at the Pentagon; Kelly at DHS; Flynn as the President's National Security Advisor.
"The Post has made clear that it does not consider fairness and accuracy to be important... After the firestorm of criticism, the editors and publishers of the Post should recognize that they have a serious quality control problem. If Timberg and the editors responsible are not fired or demoted, this sends a clear message to all other writers that anything goes."
See also:
"By admitting it never vetted its primary source, whose biased and conflicted 'work' smeared hundreds of websites, this one included, just how is the Washington Post any different from the 'fake news' it has been deriding on a daily basis ever since its endorsed presidential candidate lost the elections?"
"One PropOrNot tweet, dated November 17, invokes a 1940s Ukrainian fascist salute 'Heroiam Slava!!' to cheer a news item on Ukrainian hackers fighting Russians"
"How focused can you be knowing there's drones or cameras constantly watching you everywhere you go?"
"To spy on a telephone, all that was required was that the aircraft be cruising at an altitude above 10,000 feet. Secret aerial stations on the ground could intercept the signal as it transited through a satellite. The simple fact that the telephone was switched on was enough to give away its position; the interception could then be cross-referenced with the list of known passengers on the flight, the flight number, and the airline code to determine the name of the smartphone user."
"This is an issue of identity theft — my identity was used so employees could meet sales goals. This is something that needs to be litigated in a public forum"
"Sessions co-sponsored the bill (S.724) with the climate change-denying Senator James Inhofe (R-OK). The bill called for the U.S. Environmental Protection Agency (EPA) to exempt enforcement of the Safe Drinking Water Act as it relates to hydraulic fracturing ('fracking')."
"The Breitbart article – a prime example of cherry picking, or pulling a single item out of context to build a misleading case... thousands of researchers and scientific societies are in agreement that greenhouse gases produced by human activity are warming the planet's climate and will keep doing so"
"The current evacuation proposal is different from previous plans. Under it, U.S.-backed rebels and civilians would depart the city under secure conditions, leaving only the forces of the al-Qaeda-linked group formerly known as Jabhat al-Nusra."
"A longtime ally of Pakistan, Saudi Arabia has backed Islamabad's promotion of the Taliban. Over the years, wealthy Saudi sheikhs and rich philanthropists have also stoked the war by privately financing the insurgents. All the while, Saudi Arabia has officially, if coolly, supported the American mission and the Afghan government and even secretly sued for peace in clandestine negotiations on their behalf."
"Based on reams of personnel and cost data, their report revealed for the first time that the Pentagon was spending almost a quarter of its $580 billion budget on overhead and core business operations such as accounting, human resources, logistics and property management."
Nothing distracts attention from internal politics like a cyberattack.
"Republicans also fought mightily this week to remove a provision from a water bill favored by Democrats — and aligned with Mr. Trump's campaign promises — that would require the use of American-made iron and steel for domestic water infrastructure projects. They said they feared the measure would direct federal funding to some domestic companies but not others."
"There are only two possibilities for what's going on here. One is that Stein is a complete fraud and is simply running errands for a Clinton campaign concerned about the 'optics' of seeking the recount on their own. The other is that Stein is pursuing some other agenda, and, with uncharacteristic pragmatism, framing the recount in a way that will attract maximum financial support for that agenda from Clinton's supporters."
"The Times consciously caters to an audience of roughly 30 million people it has defined as the country's economic and political elite. It does not care about the middle class. It does not care about the working class. And it certainly does not care about the poor. The bulk of the paper, with its special sections such as Styles or Home, addresses the concerns of the rich—maintaining a second house in the Hamptons. Those sections expose its bias."
"The connection of the Turkish president Recep Tayyip Erdogan's family with the oil smuggling of the 'Islamic State' is revealed after Wikileaks revealing of emails from the Turkish energy minister, and Erdogan's son-in-law, Berat Albayrak."
"Royal Bank of Scotland Group Plc moved closer to clearing a backlog of charges for misconduct that have slowed its return to profitability, agreeing to pay as much as 800 million pounds ($1 billion) to settle investor lawsuits over its 2008 emergency rights offering."
The financial elite don't do jail: they control the money.
"Most of the strongest powers in the new law require that those using them must be given a warrant... for members of parliament and other politicians, extra rules have been introduced. Those warrants must also be approved by the prime minister."
"The U.S. Army Corps of Engineers said it rejected an application to allow the Dakota Access Pipeline to tunnel under Lake Oahe, a reservoir formed by a dam on the Missouri River... U.S. Army Corps of Engineers said it will analyze possible alternate routes, although any other route is also likely to cross the Missouri River. "
We Demand That The Washington Post Retract Its Propaganda Story Defaming Naked Capitalism and Other Sites and Issue an Apology
"President-elect Donald J. Trump early Monday announced his plans to nominate Dr. Ben Carson to lead the Department of Housing and Urban Development (HUD)."
"Some of the areas taken by government forces had been held by opposition fighters since 2012, as forces loyal to Bashar al-Assad undermined the stalemate that kept Aleppo divided for four years."
"We'll need to continue to counter foreign fighters trying to escape and ISIL's attempts to relocate or reinvent itself. To do so, not only the United States but our coalition must endure and remain engaged militarily"
"In 2011 President Obama announced a 'pivot to Asia', which meant that almost two-thirds of US naval forces would be transferred to Asia and the Pacific by 2020. Today, more than 400 American military bases encircle China with missiles, bombers, warships and, above all, nuclear weapons."
"Many observers see stepping down as a way for Park to avoid the embarrassment of impeachment as opposition parties look to press ahead next week with a vote to unseat her."
Section 1259C. of this legislation (HR 4909) refers to a "Global Engagement Center" run by the State Department which would work towards "Developing and disseminating fact-based narratives and analysis to counter propaganda and disinformation directed at United States allies and partners."
Not to be confused with a similar provision passed by the House in
H.R. 6393
: Intelligence Authorization Act for Fiscal Year 2017 (see Title V, Section 501) which calls for POTUS to establish "an interagency committee to counter active measures by the Russian Federation to exert covert influence."
"From 2008 to 2013, McGahn was one of the six members of the Federal Election Commission, the government agency in charge of civil enforcement of campaign finance laws. While there, he led a GOP campaign that essentially ground enforcement of election laws to a halt."
"Gen. Joseph L. Votel, the chief of the United States Central Command, said the Afghan government now controls only about 60 percent of the country, the Taliban hold sway over about 10 percent, and the remainder is contested."
See Section 253 "Technical capability notices":
"obligations relating to the removal by a relevant operator of electronic protection applied by or on behalf of that operator to any communications or data"
"The national security establishment's intense, purposeful secrecy around the law post-9/11 is unprecedented in American history—representing a 'significant departure from the commitment to openness and transparency that marked this country's first two centuries'"
See Title V, Section 501:
"There is established within the executive branch an interagency committee to counter active measures by the Russian Federation to exert covert influence."
"It was planned that the cyber attack would be accompanied by a mass send-out of SMS messages and publications in social media of a provocative nature regarding a crisis in the Russian banking system, bankruptcies and license withdrawals"
"Hackers stole more than 2 billion rubles ($31 million) from correspondent accounts at the Russian central bank, the bank said on Friday... "
"The automation of factories has already decimated jobs in traditional manufacturing, and the rise of artificial intelligence is likely to extend this job destruction deep into the middle classes, with only the most caring, creative or supervisory roles remaining."
"The 79-year-old was a senior policy adviser to Trump during his campaign. He amassed his estimated $2.9 billion wealth working first at investment bank Rothschild Inc. before starting his own investment firm, WL Ross & Co. "
Dave Lindorff comments:
"Donald Trump's cabinet choices are suggesting a governing philosophy along the lines of a corrupt municipal police force relying on gangsters to help it keep street crime held in check."
"The fact they considered changing a central element of their plan, confirmed by two military sources and a government adviser, at the meeting on Nov. 24 points to growing anxiety about getting bogged down in a war of attrition in Mosul."
"USA Today (11/25/16), Gizmodo (11/25/16), PBS (11/25/16), The Daily Beast (11/25/16), Slate (11/25/16), AP (11/25/16) The Verge (11/25/16) and NPR (11/25/16) all uncritically wrote up the Post's most incendiary claims with little or minimal pushback."
See also:
"PropOrNot has said that the group includes Ukrainian-Americans, though the spokesman laughed at the suggestion that they were Ukrainian agents"
"Fomenko complained that nobody from the U.S. government had contacted him. He was upset that the FBI had 'found it necessary to make a loud statement through the media' when he would have happily assisted them."
"Bill Binney, the former technical director of the NSA, shares Carr's skepticism about the Russian attribution. 'Saying it does not make it true,' he told me. 'They have to provide proof. . . So let's see the evidence.'"
"Clinton lost to Trump by about 22,000 votes in Wisconsin, or less than a percentage point."
"Thousands of computers were destroyed at the headquarters of Saudi's General Authority of Civil Aviation, erasing critical data and bringing operations there to a halt for several days"
As usual attribution is dicey.
"The Avalanche network was used as a delivery platform to launch and manage mass global malware attacks and money mule recruiting campaigns. It has caused an estimated EUR 6 million in damages in concentrated cyberattacks on online banking systems in Germany alone... 5 individuals were arrested, 37 premises were searched, and 39 servers were seized. Victims of malware infections were identified in over 180 countries."
"More than 100,000 people in the UK have had their internet access cut... TalkTalk, one of Britain's biggest service providers, the Post Office and the Hull-based KCom were all affected by the malware known as the Mirai worm, which is spread via compromised computers."
"The Mirai worm takes control of devices running the Linux operating system and uses them to knock services offline. This attack has targeted certain types of broadband routers, damaging their internet connection."
"Putin's role as intermediary between Riyadh and Tehran was pivotal, testament to the rising influence of Russia in the Middle East since its military intervention in the Syrian civil war just over a year ago."
"We're going to see refugee problems on an unimaginable scale, potentially above 30 million people"
"90 gigabytes of information relating to the German parliamentary inquiry into the surveillance activities of Germany's foreign intelligence agency Bundesnachrichtendienst (BND) and its cooperation with the United States' National Security Agency (NSA)."
"The retired four-star general, known as 'Mad Dog,' was lauded for his leadership of Marines in the 2004 Battle of Falluja in Iraq -- one of the bloodiest of the war."
"President-elect Donald Trump on Thursday warned that U.S. companies will face 'consequences' for outsourcing jobs overseas, as he touted his early success in persuading an air conditioner maker to keep around 1,000 jobs in the United States rather than move them to Mexico."
"The malware wriggled inside the routers via a newly discovered vulnerability in a feature that allows ISPs to remotely upgrade the firmware on the devices. But the new Mirai malware turns that feature off once it infests a device, complicating DT's cleanup and restoration efforts."
"Gooligan, as researchers from security firm Check Point Software Technologies have dubbed the malware, has been found in at least 86 apps available in third-party marketplaces. Once installed, it uses a process known as rooting to gain highly privileged system access to devices... Together, the vulnerable versions account for about 74 percent of users."
Just imagine what the NSA can do with vendor cooperation...
"The exploit code is reportedly a near match to the code used by the FBI in 2013 to deanonymize Tor users; Mozilla is aware of the zero-day and is working on a fix."
Rest assured there are plenty more. 0-days are like roaches...
November 2016_______________________________________
"By 1953 Operation Mockingbird had a major influence over 25 newspapers and wire agencies, including the New York Times, Time, CBS, Time. Wisner's operations were funded by siphoning of funds intended for the Marshall Plan. Some of this money was used to bribe journalists and publishers."
"Mnuchin is very clearly getting this job for one reason and one reason only — because he agreed to serve as the Trump campaign's chief fundraiser in May and helped him raise a boatload of cash. There's no reason apart from this to nominate him rather than literally any other banker or economic policy professional in the country."
See also:
"Wall Street's most powerful firm, Goldman Sachs, is dominating the early days of the incoming Trump administration. The newly picked Treasury Secretary, Steven Mnuchin, spent 17 years at Goldman. Trump's top incoming White House adviser, Steve Bannon, spent his early career at the bank. So did Anthony Scaramucci, one of Trump's top transition advisers."
"While Trump hasn't settled on all the members of his team, the picture that is emerging is that Trump prizes personal loyalty highly, and when his thin bench requires him to go outside his circle, he not surprisingly hires in his image. While he has turned to some Republican insiders, he has a large representation of very wealthy men like his Treasury Secretary pick, former Goldman partner Steve Mnuchin and his Commerce Secretary nominee, distressed investor Wilbur Ross, who like Trump have never held a government post before."
See also:
"If we give a damn about the Constitution [Article I, section 9], Donald Trump has to sell off his empire and place his assets in a blind trust"
$1 million: "Eight tickets to a 'candlelight' dinner, with appearances by Mr. Trump; his wife, Melania; and Mr. Pence"
"Up to 16,000 civilians have been displaced by the Syrian government's advance into besieged rebel-held areas of the city of Aleppo, the UN says."
"Saudi Arabia is trying to reassert its authority by hinting it's prepared to walk away from the negotiations. Genuine warning or bluff, Tehran and Baghdad may be willing to take the risk. Both have seen Saudi Arabia gain market share and neither is as dependent on oil prices as Riyadh."
Still dwarfed by the disasterous "war on terror": well over $4 trillion. A huge gift to the defense sector.
"The governor did not specify how he intended to enforce his order other than by directing state and local agencies to refuse emergency assistance and other services to anyone who remained at the site. He said the order was effective immediately and would stay in force 'until rescinded.'"
"Nobody should be allowed to burn the American flag - if they do, there must be consequences - perhaps loss of citizenship or year in jail!"
"This is why the billionaire/corporate media is so desperate to discredit the non-corporate media: if an alternative to the corporate media's elite-propaganda catches on, the corporate media will lose its audience, its advert revenues and a substantial measure of its influence."
See also: "Trump was tweeting out about how ugly or horrible or disgusting or terrible his opponents were, in really ugly terms. Perfect for the media. That is a great 12-second sound bite. But to talk about why the middle class is in decline or why we have massive levels of income and wealth inequality can't be done in 12 seconds. And second of all, it's not something that they are, frankly, terribly interested in."
"They may think they're being patriotic (as many did during the Iraq/WMD episode), but in the end what will happen is that they will adopt the point of view of their political sponsors. They will soon enough denounce other reporters and begin to see themselves as part of the power structure, as opposed to a check on it... The power of the press comes from its independence from politicians. Jump into bed with them and you not only won't ever be able to get out, but you'll win nothing but a loss of real influence and the undying loathing of audiences"
"It will elevate JSOC from being a highly-valued strike tool used by regional military commands to leading a new multiagency intelligence and action force. Known as the 'Counter-External Operations Task Force,' the group will be designed to take JSOC's targeting model — honed over the last 15 years of conflict — and export it globally to go after terrorist networks plotting attacks against the West."
"The major beneficiaries of total repeal are the largest financial entities. I understand why those who believe absolutely in an unregulated market advocate a return to the process that risks repeating 2008. I do not understand how this stance complies with Trump's promise to vindicate the interests of average working people against those who stand at the top of the economic structure."
"If any year could be said to be the "year zero" of our modern era, 1979 is it."
"The last constraints will be removed by a crisis. The crisis will be used to create a climate of fear. The pretense of democracy will end... The U.S. Constitution will be in effect suspended. Personal freedom, including freedom of expression, freedom of the press, freedom to organize and freedom of assembly, will be abolished. Privacy will be formally eradicated. Search warrants will be unnecessary. America's emergency decrees will cement into place what largely exists now. When they come, the loss of freedoms will be openly acknowledged and made permanent."
"Based on the pattern of errors, it can not be ruled out that the router has been targeted externally, with the result that it can no longer log on to the network"
"But rather than shut down the network, the attack simply led to machines being turned off and passengers allowed to grab free rides. Muni's systems also appear to have been cleaned of infection as of today."
"Since 2009, Obama has made 42 separate weapons deals with the kingdom totaling US$115 billion, according to a report from the Center for International Policy in September. The U.S. has also confirmed that it had previously sold white phosphorus, a napalm-like chemical, to the Saudis."
"Recently, Yemeni civilians have been increasingly targetted by Saudi air raids. The U.N. says more than 10,000 people have been killed, most of them civilians, and more than 3 million have been displaced."
"The Syrian army's offensive to retake eastern Aleppo - home to some 275,000 people - is now into its 13th day. The assault has killed 219 civilians, including 27 children, the UK-based Syrian Observatory for Human Rights says."
"A candidate can't actually file for a vote recount under Pennsylvania law. Instead, they would have to challenge a county board regarding its vote computations, and a state appeals judge would have to rule that a statewide recount is necessary. That means the Clinton campaign would either have to request a recount by petition in every voting district or present a prima facie case showing voter fraud. (Prima facie is a lower threshold than beyond a reasonable doubt. A judge would just have to rule that fraud probably occurred in order to call for a recount.)"
"The core empirical claim in the NY Mag article that has the Internet all atwitter cannot be true."
"Post-election audits are simply a good tool to make sure that the election system has functioned as intended."
"Organisers said 1.3 million had gathered in capital Seoul on Saturday night, despite cold weather and snow... police put the turnout at about 260,000. About 25,000 officers were being deployed in the capital, local media said."
"Ms Choi is accused of trying to extort huge sums of money from South Korean companies, and suspected of using her friendship with Ms Park to solicit business donations for a non-profit fund she controlled."
"The latest details, made public by a senior prosecutor, draw alleged links to the Islamic State and a core network of suspects — four French citizens who were longtime friends. The suspected fifth plotter, a homeless Moroccan man, was arrested in the southern port of Marseille."
"They include InterpreterMag, an anti-Russian media monitoring blog funded through Radio Free Europe/Radio Liberty, an arm of the U.S. government, which is edited by the hardline neoconservative Michael Weiss. Polygraph Fact Check, another project of Radio Free Europe/Radio Liberty aimed at Russian misinformation, is listed as an 'ally.' So is Bellingcat, the crowdsourced military analysis blog run by Elliot Higgins through the Atlantic Council, which receives funding from the U.S. State Department, various Gulf monarchies and the weapons industry. (Bellingcat is directly funded by Google, according to Higgins.)"
According to the dubious source cited by the Washington Post, anything that deviates from NPR, the BBC, the New York Times, the Wall Street Journal, the Washington Post, Buzzfeed, VICE, etc, is labeled as Russian messaging. So it comes as no suprise that the Washington Post plays along. The same kind of neo-McCarthyism we heard from Hillary Clinton during the 2016 election. Never mind her extensive financial links to multinational corporations, it's all just a Russian plot.
"The fabled fund, known for its intense secrecy, has produced about $55 billion in profit over the last 28 years, according to data compiled by Bloomberg, making it about $10 billion more profitable than funds run by billionaires Ray Dalio and George Soros"
"Turkish President Tayyip Erdogan threatened on Friday to unleash a new wave of migrants on Europe after lawmakers there voted for a temporary halt to Turkey's EU membership negotiations, but behind the fighting talk, neither side wants a collapse in ties."
"The service member was killed near Ain Issa, a town roughly 35 miles northwest of the Islamic State's self-proclaimed capital of Raqqa."
Still pushing to establish a no-fly zone right next door to Turkey?
"Cold weather and freezing temperatures that engulfed a remote northern province in Afghanistan this week killed at least 20 people, all of them internally displaced and including several children, Afghan officials said Friday."
See also:
"A local official says two bomb blasts in Afghanistan's eastern Nangarhar province has killed five and left 27 others wounded."
"The Yemen Files are a collection of over 500 documents from the United States embassy in Sana'a, Yemen. Comprising of over 200 emails and 300 PDFs, the collection details official documents and correspondence pertaining to the Office for Military Cooperation (OMC) located at the US embassy. The collection spans the period from 2009 until just before the war in Yemen broke out in earnest during March 2015. This time covers both Hillary Clinton's term as Secretary of State (2009-2013) and the first two years of Secretary John Kerry."
See also:
"Documents of interest, highlighted by WikiLeaks, appear to show Yemeni procurement of US aircraft, vehicles and biometric systems."
"The main man behind it all is Wes Clark, Jr., son of Gen. Wesley Clark, a former Supreme Allied Commander who ran for the Democratic presidential nomination in 2004. Clark Sr. called for action on climate change, and this motivation is also driving his son to fight against DAPL."
"It said a laptop used by a Hewlett Packard Enterprise Services employee working on a U.S. Navy contract was hacked. Hewlett Packard informed the Navy of the breach on Oct. 27 and the affected sailors will be notified in the coming weeks, the Navy said."
"The tax cuts look like a serious betrayal of Trump's supporters. They also look like a misguided , short-term strategy that will derail Bannon's plan for broad coalition based on a strong economic growth and rising wages. This latest iteration of 'trickle down' economics will not help him achieve that goal."
"On the one hand, he blames the Fed for inflating another gigantic asset bubble and, on the other, he tries to remove the regulatory obstacles to bubble-making. What sense does that make?"
"Since the plan depends on private investors, it can only fund projects that spin off user fees and are profitable. Rural roads, water systems, and public schools don't fall into that category. Neither does public transit, which fails on the profitable criterion"
"Whereas nearly 70 percent of civil resistance campaigns succeeded during the 1990s, only 30 percent have succeeded since 2010. Why might this be?"
"In the second presidential debate, Clinton effectively accused him of working for a hostile foreign power, of being a stooge of the Russian regime. Had that been true, then the national security state ought by now to be swinging into action in order to protect the republic."
Yet there's nothing fake about Clinton taking over $100 million from business interests for speeches, claiming a "private stance" that caters to Wall Street Bankers, and setting fire to the Middle East. Thank you WikiLeaks!
"MEPs are concerned about his crackdown on opponents... But Turkey is a key player in Europe's efforts to curb the influx of non-EU migrants and in containing the threat from Islamic State (IS) jihadists."
"The pilgrims were en route back to Iran from the Iraqi Shi'ite holy city of Kerbala, where they had commemorated Arbaeen, the 40th day of mourning for the killing of Imam Hussein, a grandson of the Prophet Mohammad, in the 7th century AD, the medical sources said."
"President-elect Donald Trump announced Wednesday that he would nominate Betsy DeVos, a billionaire philanthropist with deep ties to the Christian Reformed community in Michigan, as his education secretary."
"A resident of a 'luxury fortified apartment complex' in Rio de Janeiro watches tracer bullets, fired by feuding drug dealers in a favela far below. 'They are beautiful!' she says. 'We have a free firework display almost every day!'"
"Auditing elections would help to settle dangerous, persistent uncertainty in a system potentially plagued by hackers. They're not as taxing as a full recount. And, importantly, they shouldn't solely be deployed as an emergency provision in contested elections, but rather a default part of the process."
"Before midnight EST on Wednesday, the drive had already raised more than the $2m necessary to file for a recount in Wisconsin, where the deadline to challenge is on Friday. The campaign had reached $3m by 10am EST."
"In all, the FBI obtained over 8,000 IP addresses, and hacked computers in 120 different countries, according to a transcript from a recent evidentiary hearing in a related case."
"Pilots for the Air Transport Services Group Inc. unit that hauls packages for Amazon.com Inc. and DHL Worldwide Express were ordered back to work by a federal judge, halting a strike that threatened to disrupt holiday deliveries."
"Also within the two government decrees issued Tuesday, the government shut-down 500 associations, 19 health establishments and nine media outlets."
"The coalition says it does not target civilians, but the UN says air strikes have caused the majority of the more than 4,125 civilian deaths recorded since the conflict in Yemen escalated in March 2015."
"In the last 144 days, there were 143 attacks on healthcare facilities in Syria committed by the Syrian government and its ally, mostly Russia, and one-third of them happened in the city of Aleppo. So, right now, to be a medical worker in Syria is the most dangerous job on Earth."
"The legacy of Japan's colonial rule of the peninsula between 1910 and 1945 remains a sensitive issue today, with many South Koreans believing Tokyo has never properly atoned for abuses committed in that era."
"Facebook would instead offer the software to enable a third party to monitor popular stories and topics that gain visibility as users share them across the network, according to the Times. The third party partner would have full control to decide whether those posts should show up in users' feeds."
Obeying the law to keep cash coming is Facebook's key priority. User rights take a back seat.
"In terms of the share of currency in circulation, Modi's move was akin to sucking out from the system all U.S. dollar bills except about half of the $1 notes."
"The Fight for $15 campaign announced protests at 20 airports and strikes and acts of mass civil disobedience at McDonald's restaurants in 340 cities. It said it expects 'tens of thousands' of people to participate."
"Total donations from individuals, foundations and corporations rose in 2015 to over $373 billion, a 10-percent increase since 2013... Between 2003 and 2013, itemized contributions from people making $10 million or more increased by 104 percent."
"Wealthy donors fund nonprofit think tanks and tax exempt advocacy groups that further a wealth-protection agenda in the political arena."
"The Islamic State used chemical weapons on at least 52 occasions since 2014 in Iraq and Syria and at least 19 times in the areas around Mosul, according to data collected by IHS Markit"
"The TPP, which aims to cut trade barriers in some of Asia's fastest-growing economies and stretch from Canada to Vietnam, can't take effect without the United States. It requires the ratification of at least six countries accounting for 85 percent of the combined gross domestic product of the member nations."
"Koch Industries had never spent as much on a candidate in a single cycle as it did on Pompeo that time around, giving him a total [of] $80,000. Koch outdid itself again in the 2012 cycle by ponying up $110,000 for Pompeo's campaign."
"If you're a journalist, what is the point of speaking with a powerful politician if you agree in advance that it's all going to be kept secret? Do they not care what appearance this creates"
"why do media organizations need to have cooperative access agreements with politicians?"
"The homage these TV stars and executives were prepared to make inside Trump Tower, followed by their self-absorbed whimpering afterward, suggests that one should look elsewhere for the vital checks that an aggressive press must provide."
"A suicide bomber has killed at least 27 people at a Shia Muslim mosque in the Afghan capital, Kabul. "
"Viktor Ozerov, chairman of the defense committee in the Federation Council, Russia's upper house of parliament, said in remarks reported by RIA news agency that Russia was forced to react to the planned U.S. missile shield in eastern Europe."
"There are about 21 million acres of trees spread across California's 18 national forests, and the latest figures show 7.7 million of them — more than one-third — are dead."
"As temperatures in Cannon Ball, N.D., dropped into the 20s, police in riot gear sprayed activists with a hose mounted atop an armored vehicle and formed a line to prevent them from advancing up the road, according to the Bismarck Tribune. Protesters also reported being pelted with rubber bullets, tear gas and concussion grenades during the standoff, which lasted until late Sunday night."
"The Isis calculation is that, as happened after 9/11, the demonisation and collective punishment of Muslims will propel a proportion of the Islamic community into its ranks. Given that there are 1.6 billion Muslims – about 23 per cent of the world's population – Isis and al-Qaeda-type organisations need to win the loyalty of only a small proportion of the Islamic community to remain a powerful force."
"The White House Communications Agency will build a separate, air-gapped Internet to carry classified information inside the intranet of Trump Tower, and the White House Military Office (WHMO) will provide Trump's residence and office with an uninterrupted supply of power. Can the building handle the infrastructure without displacing others? Can the penthouse windows handle up-armoring?"
"Those who are cast aside as human refuse often have a psychological need for illusions and scapegoats. They desperately seek the promise of divine intervention. They unplug from a reality that is too hard to bear. They see in others, especially those who are different, the obstacles to their advancement and success. We must recognize and understand the profound despair that leads to these reactions. To understand these reactions is not to condone them."
"The only route left is revolt. If this revolt is to succeed it must be expressed in the language of economic justice. A continuation of the language of multiculturalism and identity politics as our primary means of communication is self-defeating. It stokes the culture wars. It feeds the anti-politics that define the corporate state."
"Seven children and a woman have died in government-controlled western Aleppo after a school was hit by rebel fire, state media says."
"As many as six of Afghanistan's 34 provinces are in danger of falling to the militants, according to Afghan and coalition officials. At least three provinces—Kunduz, Helmand and Farah—would probably have been lost already had it not been for the deployment of U.S. Special Forces to their capitals to support Afghan commandos with additional firepower and airstrikes, coalition officials say."
"The Syrian Observatory for Human Rights, a Britain-based war monitor, said that some hospitals were still operating in the besieged parts of Aleppo but that many residents were frightened to use them because of heavy shelling."
"This is the second year in a row that temperatures near the North Pole have risen to freakishly warm levels. During 2015's final days, the temperature near the Pole spiked to the melting point thanks to a massive storm that pumped warm air into the region."
"Mr. Sessions, one of the Senate's most conservative members, defended Mr. Bush's authority to conduct warrantless wiretapping after the Sept. 11 attacks. He has been a consistent, vocal supporter of military detention at Guantánamo Bay and sharply criticized the Obama administration for giving terrorism suspects lawyers and the right to remain silent, even when arrested on American soil. He has said the United States should keep waterboarding — a banned technique that the United States once considered torture — as an interrogation option because it works."
See also:
"For three years, Mr. Comey has helped carry out President Obama's counterterrorism vision, in which F.B.I. agents have interrogated suspected terrorists and turned them over to the Justice Department for prosecution in criminal courts. During his confirmation hearing in 2013, Mr. Comey told the Senate Judiciary Committee that he believed waterboarding was torture."
"But therein lies the more serious problem: who gets to decide what is real and what is not real? And – in an age when all sides propagate propaganda – when does conformity in support of a mainstream 'truth' become censorship of reasonable skepticism?"
"Between 10,000 and 15,000 Shia Hashd al-Shaabi are now massing to the south and west of Mosul with Tal Afar in their sights... Turkey has threatened military intervention in defence of the Sunni Turkmen if the Shia paramilitaries enter the city"
"Turkey now has handily outstripped China as the world's biggest jailer of journalists... In addition to the jailings here, some 150 news outlets have been shuttered"
"President-elect Donald Trump announced Friday that he plans to nominate Sen. Jeff Sessions (R-Ala.) as attorney general and Rep. Mike Pompeo (R-Kan.) as CIA director, a pair of hard-line conservatives who offer early signs of the shape of Trump's Cabinet. Trump also confirmed the news reported a day earlier that he has selected retired Lt. Gen. Michael T. Flynn as his national security adviser"
Regarding Mike Pompeo:
"He's a supporter of the National Security Agency's controversial bulk data collection program and sought to restore the agency's access to the data it had already collected under the Patriot Act from its inception through late last year."
"Speaking at an annual UN climate change conference on Wednesday, Mr Hollande vowed to beat by two years the UK's commitment to stop using fossil fuels to generate power by 2025."
"He said intelligence agencies don't have good insight on when or how Wikileaks obtained the hacked emails."
As did the New York Times. Integrity took a back seat to elevating Trump and plugging Clinton. The Democrats colluded against Bernie, hand-picked their GOP adversary, the corporate media played along... and oh brother did it blow up in their faces!
Cost of doing business...
"At least 21 people were killed and dozens injured as airstrikes and barrel bombs pounded eastern Aleppo for the third consecutive day... More than 40 airstrikes and barrel bombs struck rebel-held neighborhoods"
"While this is a significant achievement, it is far from enough to avoid the worst impact of climate change as it would only limit the rise in average global temperatures to 2.7°C by 2100. The path to 2°C is tough, but it can be achieved if policies to accelerate further low carbon technologies and energy efficiency are put in place across all sectors."
"On Tuesday, the USGS announced that an area known as the Wolfcamp shale contains 20 billion barrels of oil and 16 trillion cubic feet of natural gas."
"Before Duarte there was Eugenio Hernandez, and Tomas Yarrington, and Jorge Torres Lopez, and Mario Villanueva, and, until last week, Guillermo Padres. (There are still others.) All governors at one time, all who took it on the run, trailing corruption charges like clanging cans that fell on deaf ears."
Pulling an Obama: institutionalizing heretofore secret practices. Hacking, bulk hacking, spying...
"Russian digital forensics firm Elcomsoft has found that Apple's mobile devices automatically send a user's call history to the company's servers if iCloud is enabled — but the data gets uploaded in many instances without user choice or notification."
"It's not just regular call logs that get sent to Apple's servers. FaceTime, which is used to make audio and video calls on iOS devices, also syncs call history to iCloud automatically, according to Elcomsoft."
The source (you can't beat this) is a company operating out of Russia.
There's a lesson in all this: you cannot trust centrally managed infrastructure! Especially when they're managed by large multinational companies.
"Ten UCSF information technology workers lodged discrimination claims with the California Department of Fair Employment and Housing, alleging they were fired because of their ages and for being from the U.S. The workers are being replaced by young, male technicians from India, according to the UCSF employees."
"The UK-based Syrian Observatory for Human Rights said at least 21 people had been killed, five of them children."
"'The Saudis have been committing war crimes in Yemen,' said Gabor Rona, a professor teaching the laws of war at Columbia University. He pointed to 'indiscriminate targeting, that is, attacks in which the attacker makes no effort to distinguish between combatants and civilians.'"
See page 62.
"At the very least, the price of another 'reset' would be complicity in Putin and Assad's butchery of the Syrian people"
"Last week, the bureau hired Dataminr, a Twitter-linked analytics firm, to provide an 'advanced alerting tool' to over 200 users. Twitter owns a 5 percent stake in Dataminr and provides it with exclusive access to the full 'firehose' of live tweets, making it a valuable resource for anyone looking for illegal activity on the service."
"In one year — 2006 — Mr. Giuliani reported in a financial disclosure report that he had made 124 speeches, for as much as $200,000 each, and had earned a total of $11.4 million."
"We've all been quite content to demean government, drop civics and in general conspire to produce an unaware and compliant citizenry. The unawareness remains strong but compliance is obviously fading rapidly. This problem demands some serious, serious thinking - and not just poll driven, demographically-inspired messaging."
Not much different from what Windows 10 does...
"Islamic State has summarily killed 21 civilians in Mosul it accused of collaborating with U.S.-backed security forces, which said their offensive to recapture the city from the jihadists had made further advances."
"Members of US armed forces appear to have subjected at least 61 detained persons to torture, cruel treatment, outrages upon personal dignity on the territory of Afghanistan between 1 May 2003 and 31 December 2014"
"CIA operatives may have subjected at least 27 detainees in Afghanistan, Poland, Romania and Lithuania to 'torture, cruel treatment, outrages upon personal dignity and/or rape' between December 2002 and March 2008."
"Moscow said the two men discussed combining efforts in the fight against terrorism, talked about 'a settlement for the crisis in Syria' and agreed that their aides would begin working on a face-to-face meeting between them."
"The offer of cooperation could also immerse Trump in a deep controversy with the Pentagon, where military and civilian leaders have strongly opposed collaboration with Russia, particularly in Syria."
Shortly afterwards more bombs dropped on Aleppo.
"The association seeks immigration reform to support more high-skilled workers staying in the United States. Though Trump made tougher immigration policies a central theme of his campaign, he has at times shied away from arguing against more H-1B visas for skilled workers, saying in a March debate he was 'softening the position because we need to have talented people in this country.'"
They love their slave labor. Early signs of inevitable betrayal?
"After eight years of Obama's demagogy, pretending to support the people but delivering his constituency to his financial backers on Wall Street. 'Identity politics' has given way to the stronger force of economic distress. Mobilizing identity politics behind a Wall Street program will no longer work."
"It was Hillary's asking voters to ignore her economic loyalty to Wall Street simply to elect a woman, and her McCarthy-like accusations that Trump was 'Putin's candidate' (duly echoed by Paul Krugman)"
"Kurdish leaders are warning that what could have taken weeks is likely to drag on for months - posing problems for the US-led coalition and especially its incoming Commander-in-Chief"
"The confrontation in Azaz pitted a prominent Free Syrian Army (FSA) rebel group, the Levant Front, against factions that also fight under the FSA banner and the Islamist Ahrar al-Sham, sources on both sides and a group that reports on the war said."
"It has hit hospitals and schools. It has destroyed bridges, power stations, poultry farms, a key seaport and factories that produce yogurt, tea, tissues, ceramics, Coca-Cola and potato chips. It has bombed weddings and a funeral."
"Many strikes are carried out by pilots trained by the United States, who fly American-made jets that are refueled in the air by American planes. And Yemenis often find the remains of American-made munitions, as they did in the ruins after a strike that killed more than 100 mourners at a funeral last month."
"According to the United Nations weather agency, 2016 is set to be the hottest year on record with global temperatures of approximately 1.2° Celsius above pre-industrial levels, in part because of the powerful El Niño weather pattern that began late last year."
"Republican National Committee chairman Reince Priebus will serve as his White House chief of staff, suggesting an increased willingness by Trump to work within Washington's system to accomplish his agenda."
"At the same time, however, Stephen K. Bannon, the campaign CEO who helped amplify some of Trump's most incendiary rhetoric about Muslims, immigrants and other minority groups, will serve as his chief strategist"
"Urban areas, where black and Hispanic voters are concentrated along with college-educated voters, already leaned toward the Democrats, but Clinton did not get the turnout from these groups that she needed."
Because those voters saw through her.
Originally slated to celebrate a victory. Now they're focusing on how to 'take back power.' Because that what oligarchs do...
"The progressive Democrat pundits, The Nation and Mother Jones crowd, are absolutely skilled at ballyhoo and PR for the Blue Revolution, but completely unable to admit failure and analyze why the progressive Left keeps getting its heads handed to them on a plate... The money for the progressive pundits and media comes from donations, but the really critical fuel is supplied by the Blue Oligarchs"
Put another way:
"The prescription for understanding how non-racist, non-sexist, non-xenophobic men and women —women, for Christ's sake— made themselves Trump's willing executioners, is simple: Liberal, know thyself."
"This is the danger of hysterical opposition to Trump. It would be a continuation of the worst aspects of this dreadful campaign, totally centered on denouncing individuals, and neglecting serious political questions. A progressive opposition should leave Clintonism behind and develop its own positions, starting with opposition to regime change wars"
"The Observatory said the fighting left 508 dead, including civilians and fighters from both sides. It said the dead insurgents included 90 foreign fighters while on the government side, 83 troops, 28 Hezbollah gunmen and 41 other fighters from Iran and Iraq were killed as well."
"Reports say 50 people were killed, with about 100 more wounded, although local media warned the death toll was likely to rise because of the large number of injured and the challenging nature of the rescue operation."
"About 30 km (20 miles) south of Mosul, troops recaptured the 3,000-year-old Assyrian city of Nimrud which was overrun by Islamic State militants two years ago, a military source said."
"The Obama administration has approved more than $278 billion in foreign arms sales in its eight years, more than double the total of the previous administration"
"The new agreement is not expected to be put to another popular vote, but rather submitted to Congress."
"As we reflect on the momentous result, and the months of reporting and polling that preceded it, we aim to rededicate ourselves to the fundamental mission of Times journalism."
Too little, too late.
"We have no idea who these people are."
"But of late the relationship with Saudi Arabia has deteriorated, and Egypt has found itself cut off by its Saudi benefactor... The government agreed to painful policy changes that it had long avoided. It created a value-added tax. It raised the price of gasoline, to about 21 cents from 16 cents per liter — still extremely cheap, but expensive for low-paid Egyptians. It has progressively peeled back electricity subsidies."
Austerity to make potential investors happy...
"A suicide bomber has killed four Americans inside Bagram airbase, the largest US military facility in Afghanistan."
"American presidents were motivated by the shared values of democracy and freedom that bind NATO nations together."
"U.S. soldiers in Europe basically guarantees that American business investments in Europe can operate in a stable environment."
"However, according to newly unsealed documents recently obtained by the American Civil Liberties Union, the FBI not only temporarily took over one Tor-hidden child pornography website in order to investigate it, the organization was in fact authorized to run a total of 23 other such websites."
"Not one high-ranking executive at a major financial firm was held to account for the crisis of 2008.... Recall that more than 800 bankers went to jail after the savings and loan crisis of the 1980s."
"These reactions make one pause and wonder how long these same people would last under the Arab and African dictatorships and occupiers the US has propped up and maintained positive ties with over the years."
"Thiel, who donated $1.25 million to Trump's campaign late in the election cycle, mostly stood alone among colleagues in his support for Trump, who was publicly disdained in the Valley."
"Islamic State (IS) shot dead 40 civilians on Tuesday in the northern Iraqi city of Mosul after accusing them of treason, the United Nations says."
"Against a well-drilled, mobile and brutally effective enemy, exploiting the cover of built-up neighborhoods and the city's civilian population, his tanks were useless, he said, and his men untrained for the urban warfare they face."
"Russian Defense Ministry spokesman Maj. Gen. Igor Konashenkov said that ministry experts have found unexploded ordnance and fragments of munitions containing chlorine and white phosphorus on Aleppo's southwestern outskirts. Konashenkov said the discovery proves the militants have used chemical weapons against civilians and Syrian army soldiers"
"There are still an estimated 270,000 people living in Syria's eastern Aleppo, an area that is blockaded by government forces, and they are dangerously close to running out of food, the U.N. warned Thursday."
"Here in New York, as many as 10,000 people surged through streets and surrounded the barricaded-off Trump Tower, where Donald Trump lives. At least 65 people were arrested. Here are some of the voices from the protest in New York."
Jeff St. Clair rightful scolds: "Where were they when Hillary and Obama destroyed Libya? Or launched wars on 7 other countries?"
"Edward Snowden has been sending around this gripping photo of weepy Obama staffers overcome at the prospect of Trump's visit to the White House. Oddly, they never shed tears when of their drones bombed a Yemeni wedding party or their jets blew up a Doctors Without Borders hospital."
"African-American, Latino and younger voters failed to show up at the polls in sufficient numbers Tuesday to propel Clinton into the White House."
"Beyond the Obama coalition, Clinton was also not as popular with white voters as Obama was. She won only 37% of the white vote, compared to Obama's 39%. Surprisingly, Trump also garnered a slightly smaller share than Romney, capturing 58% of the vote to Romney's 59%."
"The Competitive Enterprise Institute's (CEI) Myron Ebell is also viewed by many as a top candidate to become the next head of the EPA. Ebell's research focuses on questioning what he calls 'global warming alarmism' and opposing energy rationing policies, according to his biography on CEI's website."
"Militants have attacked the German consulate in the northern Afghan city of Mazar-i-Sharif, ramming a car packed with explosives into its high outer wall in an assault that media reports said killed at least two people and wounded scores."
"General Motors Co plans to lay off 2,000 employees at two U.S. auto plants in early 2017, the automaker said on Wednesday."
Note how the Economist apologizes for predatorial bankers. Feel free to send her an email and let her know how to you feel: lynn@elrothschild.com
"The leaders of the New York Times should undergo some serious soul-searching, not only because they so obviously put their thumb on the scale but also because their breathless efforts to stop Trump failed so completely. By jettisoning even a semblance of neutrality in the coverage the paper probably helped Trump. So the institution lost two ways – in its journalistic integrity and its ability to have an impact."
"How could this happen? I was so careful. I picked the wrong play, the wrong director, the wrong cast. Where did I go right?!!"
In other words: "Congratulations [Hillary], you played yourself!"
"Disrespecting the first amendment to the Constitution is one thing. Charging peaceful protestors with serious crimes for exercising their right to free speech is another. These aren't misdemeanor counts of trespassing or disorderly conduct that we're talking about. These are felony counts of resisting arrest and conspiracy."
"A US-led coalition air strike killed at least 20 civilians in a village north of so-called Islamic State's Syrian stronghold of Raqqa, activists say."
"Publicly the U.S. opposes Turkish military intervention in Raqqa and Mosul, while privately it is effectively riding Erdogan's outsized ambitions to let Turkish NATO troops create Hillary Clinton's desired 'safe zone' for rebel forces fighting to overthrow the Syrian government. This 'safe zone' is on territory taken mostly from Islamic State that could eventually stretch from northeast Syria into western Iraq."
"Miami alleges that Wells Fargo and Bank of America engaged in discriminatory mortgage-lending practices, and that those practices led to widespread defaults by minority homebuyers. The foreclosures have caused the city 'significant, direct, and continuing financial harm.'"
"Kremlin is backing a plan to rid government offices and state-controlled companies of all foreign software... The intelligence official said Putin is going after Microsoft because it is the biggest American name in information technology and because it's easy to convince Russians that the company works with the U.S. intelligence community."
"As Isis loses control of areas, summary executions and forced marches of civilians have become a grim feature of the military campaign to oust the militants from their last major stronghold in Iraq, now stretching into its fourth week."
"While in previous cases, when missile attacks were launched from the Caspian Sea, there were dozens of targets destroyed, this time, in literally two to three days, hundreds of terrorist targets will be destroyed from long range."
While the U.S. media focuses on the 2016 circus.
"The security reviews stipulated in the new law revive concerns among U.S. companies that they will be forced to disclose their source code and other corporate secrets to the Chinese government to prove their equipment is secure"
Silicon Valley always "obeys the law" when it comes to hunting down political dissidents.
"Former Georgian president Mikheil Saakashvili tendered his resignation as governor of Ukraine's southern Odessa region on Monday, accusing President Petro Poroshenko of cynically obstructing his attempts at reform and supporting corrupt clans."
"Irrespective of the outcome of the 2016 US Presidential election, the real victor is the US public which is better informed as a result of our work."
"The Clinton campaign, when they were not spreading obvious untruths, pointed to unnamed sources or to speculative and vague statements from the intelligence community to suggest a nefarious allegiance with Russia. The campaign was unable to invoke evidence about our publications—because none exists."
"Tesco Bank admitted that 20,000 customers had money stolen from their accounts... Tesco stopped all online transactions for 140,000 current account customers on Monday after it discovered 40,000 customers had been targeted by the online attack... Too early to know the exact cause but said it looked to be related to debit cards."
"During Operation Hyperion, FBI agents made contact with more than 150 individuals around the country suspected of purchasing illicit items from various DarkNet marketplaces"
"The software is also marketed as a way schools can tackle the problems of cyber-bullying, sexting, self-harm, or as a way of identifying pupils who may be having suicidal thoughts. The words pupils type whilst using a device can be monitored and run against a 'keyword abuse library' to flag issues of concern."
"If Turkey moves against Kurdish areas in northern Syria then the Kurds would stop their campaign directed at Raqqa, adding: 'we cannot extinguish the fire in our neighbours' house if our home is burning.'"
Preparations for a no-fly zone?
"More than 7,070 people have been killed and over 36,818 injured, according to health facility-based data"
"The National People's Congress in Beijing ruled that lawmakers must swear allegiance to Hong Kong as part of China and that candidates would be disqualified if they changed the wording of their oath of office or if they failed to take it in a sincere and solemn manner."
"FBI Director James Comey wrote that investigators had worked 'around the clock' to review all the emails found on a device used by former congressman Anthony Weiner that had been sent to or from Clinton and that 'we have not changed our conclusions expressed in July.'"
"Hillary Clinton embodies the detested neoliberal establishment. She can barely fend off one of the most imbecilic and narcissistic candidates in American history. Matched against a demagogue with brains and political skill, she would lose. If we do not defy the neoliberal order, championed by Clinton and the Democratic Party elites, we ensure the conditions for a terrifying right-wing backlash, one that will use harsh and violent mechanisms to crush the little political space we have left."
"Better to have us at each other's throats and making fools of ourselves than thinking about things that matter, like how wealth is divided up, who really has political influence or other such questions."
"Major General Maan al-Sadi, a CTS commander, told state television Islamic State fighters had launched more than 100 car bombs against his forces in the east, which is just one of several fronts in the Mosul offensive."
Compare this report with the New York Times victory lap. Car bombs? What car bombs?
"The deadliest of Sunday's blasts happened in Tikrit, some 200km (123 miles) south of Mosul... The blast was so huge it blew some victims into a nearby river."
"The Clinton camp has been able to project that kind of neo-McCarthy hysteria: that Russia is responsible for everything. Hilary Clinton stated multiple times, falsely, that seventeen U.S. intelligence agencies had assessed that Russia was the source of our publications. That is false; we can say that the Russian government is not the source."
"The notorious terrorist group called ISIl or ISIS is created largely with money from the very people who are giving money to the Clinton Foundation."
Note carefully how both the Wall Street Journal and the New York Times, the official right and left of the corporate media, join forces to dutifully promote Clinton's narrative: focus on an alleged messenger instead of the factual message. The media is going crazypants right before November 8th election and it's pretty clear why.
"Employees were recently informed that 70% of the positions in the IT group, in infrastructure, will be outsourced, according to two IT workers who requested anonymity. Estimates on the number of employees who would be affected varies, but the move could involve 540 people in IT. The layoffs are planned from February to April."
"Internal legal review concluded that the Clinton Foundation was run 'like a political operation'"
"As the military offensive continued, a United Nations-sponsored campaign opened a new camp for displaced people east of Mosul to help some 25,000 civilians who have fled the city and its outskirts. The new camp, in Hasan Sham, received about 3,000 people almost immediately"
"Russia has used Kalibr missiles, equivalent to US Tomahawk missiles, against Syrian targets a handful of times over the past year. The concentration of forces in the eastern Mediterranean in support of the Syrian regime's ambitions to retake Aleppo from rebel forces, suggest they may be used again in the coming few days or hours."
"The incident was believed to be related to the detention of the two co-leaders of a Kurdish-backed opposition party, People's Democracy (HDP), as well as at least nine MPs"
Later on in the day officials shut down access to VPNs and Tor.
"The Clinton Foundation has confirmed it accepted a $1 million gift from Qatar while Hillary Clinton was U.S. secretary of state without informing the State Department, even though she had promised to let the agency review new or significantly increased support from foreign governments"
"Clinton signed an ethics agreement governing her family's globe-straddling foundation in order to become secretary of state in 2009. The agreement was designed to increase transparency to avoid appearances that U.S. foreign policy could be swayed by wealthy donors."
"The targeting of secretaries of state with campaign donations, corporate-funded weekend outings and secret meetings with industry lobbyists reflects an intense focus on often overlooked ballot questions, which the secretaries frequently help write."
"U.S. military hackers have penetrated Russia's electric grid, telecommunications networks and the Kremlin's command systems, making them vulnerable to attack by secret American cyber weapons should the U.S. deem it necessary, according to a senior intelligence official and top-secret documents reviewed by NBC News."
"I told PBS to hold till 345pm and that we would send the statement to our travelers after they put the news out (we should give them 15 minutes of breathing space)."
Jennifer Palmieri: Director of Communications for the 2016 Hillary Clinton presidential campaign. Your tax dollars hard at work fronting for a war monger. Nice job PBS...
"Two US service members were killed in Afghanistan's Kunduz province, the US military said Thursday. Their deaths came during an operation that Kunduz officials say also left 30 Afghan civilians dead."
"Since the war in Yemen began early last year, civilians have paid a heavy price, with more than 4,000 killed, the vast majority by Saudi-led air strikes alone, according to the UN."
"A Federal Court judge says Canada's spy agency illegally kept potentially revealing electronic data about people over a 10-year period. In a hard-hitting ruling made public Thursday, Justice Simon Noel said the Canadian Security Intelligence Service breached its duty to inform the court of its data-collection program, since the information was gathered using judicial warrants."
Similar ruling in the UK.
"This notorious jihadist group, called Isil or Isis, is created largely with money from people who are giving money to the Clinton Foundation"
See Also: "The only way anything will truly change in the political order is if every Establishment insider politico loses every election, from the presidency to dogcatcher."
"Google could now, if it wished to, build a complete portrait of a user by name, based on everything they write in email, every website they visit and the searches they conduct."
And pass that portait on to you-know-who... (contrast this to Andy Greenberg's shameless puff piece over at Wired, offering the perception that crypto will save everyone!).
"The paper has ignored election rigging in the governing party of the United States serious enough to cause its top five officials to resign... The paper has chosen to downplay the political bribes of the Clinton Foundation... The New York Times so clearly campaigns against Trump and for Clinton, rather than reports on the policy issues of the candidate"
Though all the rebel groups agree that they'll not be accepting Russia's offer to leave the city.
"Turkey has said that the Raqqa operation should be carried out by local forces and the Kurdish YPG militia should not be included."
As Abu Bakr al-Baghdadi proffers indications that he's still alive.
"A government spokesman said ministers would appeal to the supreme court against the decision. The hearing will take place on 7-8 December."
"Justice Department officials became increasingly frustrated that the agents seemed to be disregarding or disobeying their instructions. Following the February meeting, officials at Justice Department headquarters sent a message to all the offices involved to 'stand down,' a person familiar with the matter said. "
"Nine of the ten largest donors gave to Hillary Clinton. Wall Street hedge fund veteran Donald Sussman gave $21 million to the Clinton campaign, over $12 million more than George Soros, the second-largest donor"
"Kelcy Warren, the CEO of Energy Transfer Partners. ...Warren is personally worth $4 billion. He has become a major donor to the Republican Party. During this election cycle, he gave over $500,000 to a super PAC backing former Texas Governor Rick Perry. He also maxed out his donations to House Speaker Paul Ryan, House Energy Chair Fred Upton, House Majority Leader Kevin McCarthy and Senate Energy and Natural Resources Chair Lisa Murkowski"
"Researchers report in a paper to be made public on Thursday that they have uncovered a flaw in a wireless technology that is often included in smart home devices like lights, switches, locks, thermostats and many of the components of the much-ballyhooed 'smart home' of the future."
"Keeping the Syrian and Russian military forces bogged down there is key to allowing the US-led coalition to complete the operation, currently underway, to take the Iraqi city of Mosul from ISIS, before continuing an east-west advance across the Syrian border to take Raqqa. This will allow Raqqa to be established as the de facto capital of so-called moderate Syrian forces, who will be able to re-group there, presumably under cover of a US-imposed no-fly zone, to become a counterweight to the authority of the Assad government in Damascus."
"Ukraine required all officials, from mayors to members of Parliament, to publicly declare their property holdings by Monday. More than 50,000 officials complied... the financial statements indicate an apparent lack of trust in the country's financial institutions on the part of the leaders who run them."
"Commuters jumped on bikes, grabbed cabs and crammed into carpools as Philadelphia transit workers went on strike Tuesday after the city's main transit agency and a union representing about 4,700 workers failed to reach a contract agreement... The walkout, which began at 12:01 a.m., shut down buses, trolleys and subways that provide about 900,000 rides a day."
Perhaps now it's clear why CEOs are pumped about driverless cars... Structural unemployment will decimate the unions.
"In one now-famous email chain, for example, the reader can watch current US trade representative Michael Froman, writing from a Citibank email address in 2008, appear to name President Obama's cabinet even before the great hope-and-change election was decided"
"Read these emails and you understand, with a start, that the people at the top tier of American life all know each other. They are all engaged in promoting one another's careers, constantly."
"The nation-state is being jettisoned as the foundation upon which the global order rests. Instead, Washington is erasing borders, liquidating states, and removing strong, secular leaders that can mount resistance to its machinations in order to impose an entirely new model on the region, a new world order"
Failed state neo-colonialism.
The defense contractors pop open bottles of champagne...
That makes sense, because according to Democratic Party apparatchik like Howard Dean and Tim Ryan James Comey is a Russian stooge. A Comeyntern!
See Also: While US law bans foreign government interference in our elections, where is the outrage for Israel's heavy hand manipulation of American electoral and policy decisions over the last twenty years?
"If Hillary Clinton hangs on to win the presidency, liberal Democrats have vowed to block her appointment of Wall Street-friendly officials to key Cabinet and sub-Cabinet jobs. But there has been little organized resistance to her choosing hawkish foreign policy advisers."
"These executives weren't 'testing the rules' in an effort to innovate their way to the next superconductor or smartphone. This was just plain old criminal fraud, ripping people off, with minorities and the elderly suffering disproportionate losses."
October 2016_______________________________________
"Syria's army said on Monday the Nusra Front and what the army called other terrorist groups had killed 84 people, mostly women and children,"
"It was the third Afghan Army post in the province to surrender to the Taliban in the past week. Significant surrenders have been reported in Kunduz and Helmand Provinces as well."
"In the past, there have been numerous defections by Afghan police officers in Oruzgan, with 20 outposts abandoned in September and many of the officers suspected of changing sides, the governor said."
"It must still clear some 40 national and regional parliaments in Europe in the coming years to enter fully into force."
"The deal will eliminate tariffs on almost 99 percent of goods. The beneficiaries would include, for example, carmakers or the EU textile sector, for which Canadian duties of up to 18 percent can be imposed at present."
"I went up to the occupied site while the militia was there to counterprotest them. And it was an extraordinary scene—you know, 50, 60 armed men running around with assault rifles, like blatant racism wherever you would go, you know, threats to kill the feds, threats to kill myself and other protesters who were there. It was a very, very belligerent, violent group."
"Foreign govt donors: all the money is in."
"Maybe threating is not being for external propaganda? Maybe is being for internal propaganda? Oldest control trick in book, yes? Waving flag, blaming problems on external sources, not taking responsibility for failures."
As Borat notes, despite our differences there are shared memes across the Atlantic.
"By using Tor, you are self-selecting yourself for further scrutiny. And if you are in a truly oppressive regime like China, where anything could happen to you if there was just a slight suspicion that you were a dissident or might be in contact with someone from America, then Tor is the last thing you want to use."
"Tor does not prevent Google from scanning your emails or recording your search history. Tor does not prevent Google from tracking your location via your Android phone, creating and saving a detailed day by day map of where you go and what you do."
"Beyond the militants, 116 people were killed in the fighting, including 43 police officers, 33 pesh merga and other security force personnel, and 21 civilians"
"If there is no solution to the political problems, they will just go back and become Al Qaeda, or Ansar al-Sunna or Naqshbandi, I don't think it is going to end. There has to be political reconciliation, and it has not happened."
"Speaking on the condition of anonymity because he was not authorized to brief the news media, the official said that 48 people had been killed, most of them prisoners."
"The other unfortunate truth is that the U.S.-supplied rebels have served, either directly or indirectly, as conduits to funnel U.S. military equipment and ordnance to Al Qaeda."
"One might think that the editors of The New York Times – if they were operating with old-fashioned news judgment rather than with propagandistic blinders on – would have recast the article to highlight the tacit U.S. alliance with Al Qaeda and put that at the top of the front page."
"Turkey said it had dismissed a further 10,000 civil servants and closed 15 more media outlets over suspected links with terrorist organizations and U.S.-based cleric Fethullah Gulen... bringing the total number of media organizations closed since the emergency rule in July to nearly 160."
"Despite a record that included drinking problems, a drunken-driving arrest, two divorces, unpaid tax bills, a charge of computer harassment and a bizarre episode in which he posed as a police officer in a traffic dispute"
"Only the most intrusive search would detect papers or a small drive hidden under clothing, and officials fear that universal searches would be impractical and send a message of mistrust."
"After killing a group of 25 former servicemen on Tuesday, the militants shot to death at least 190 former members of the Iraqi security forces at a military base in Mosul on Wednesday... The militants also killed 42 civilians on Friday at a military base outside the city by shooting them in the head, she said, after they refused to join the Islamic State"
And to add insult to injury, cholera outbreaks have occured.
"Whenever Assad's back is against the wall, Russia and Iran pitch in with more help. When the rebels retreat, Saudi Arabia, Qatar, and Turkey send more fighters and weapons. If Hillary Clinton becomes commander in chief on January 20, 2017, her promise of an American-patrolled no-fly zone will lead to direct confrontation between Russian and American warplanes and draw the U.S. deeper into a war"
Check out this State Dept paper from tail end of Bill Clinton's administration:
"The best way to help Israel deal with Iran's growing nuclear capability is to help the people of Syria overthrow the regime of Bashar Assad."
Comey was probably faced with an internal revolt if he failed to act (e.g. agent leaks). In his eyes it's probably better to jump in front of the protest and call it a parade.
Carl Bernstein comments: "We don't know what this means yet except that it's a real bombshell."
"The breach, flagged to Congress and three other government agencies including the Department of Homeland Security, occurred in November 2015 when a former employee downloaded a large number of files onto two thumb drives before retiring from the agency. The OCC said data on the thumb drives were encrypted and there is no evidence that data taken by the employee were 'disclosed' or 'misused.'"
"The new offensive was a strong sign that rebel groups vetted by the United States were continuing their tactical alliances with groups linked to Al Qaeda, rather than distancing themselves as Russia has demanded and the Americans have urged."
"Islamic State fighters have taken 'tens of thousands' of people hostage and are herding them towards the city of Mosul for use as human shields as the battle for the militant group's last major Iraqi stronghold intensifies, the United Nations has said."
"The Emergency Management Assistance Compact (EMAC) authorized states to enter into agreements with other states in order to share emergency management–related personnel during crisis situations. One of the only other times this compact was deployed outside of a natural disaster was for the Black Lives Matter protests in Baltimore after the death of Freddie Gray."
I suppose you can guess what this led to.
"Even if emissions are held to the level of pledges put forward ahead of the Paris deal, southern Europe would experience a 'substantial' expansion of deserts. The level of change would be beyond anything the region's ecosystems had experienced during the holocene, the geological epoch that started more than 10,000 years ago."
"The scam, which had operated since 2013, targeted at least 15,000 people who lost more than $300 million. Twenty people were arrested in the United States on Thursday, while 32 individuals and five call centers in India have been charged, the department said in a statement."
"On Friday the Red Cross Blood Service chief executive, Shelly Park, admitted at a media conference in Melbourne that the data of more than half a million blood donors across Australia had been compromised in a massive security breach, and accessed by an 'unauthorised person'."
"Twenty-two children and six teachers were killed in the strikes, Unicef said. Other estimates, including those from witnesses quoted by Agence France-Presse, said at least 35 civilians had died."
"Estimates of civilian deaths since the conflict began in March 2011 range from 300,000 to 470,000. Roughly half the country's population has been displaced."
It was likely either Syrian or Russian jets.
"Some rebel groups already aligned with Syria Conquest Front responded by renewing their alliance. But others, such as Nour al-Din al-Zinki, a former Central Intelligence Agency-backed group and one of the largest factions in Aleppo, said in recent days that they were joining a broader alliance that is dominated by the Front. A second, smaller rebel group also joined that alliance, which is known as Jaish al-Fateh and includes another major Islamist rebel force, Ahrar al-Sham."
The United States has a long history of arming and funding extremists. This is why the alleged War on Terror has been such a disaster, the underlying foreign policy is at odds with stated goals.
"The killings on Tuesday in Ghor province were the most recent indication that the extremist organization, also known as ISIS or ISIL, has been gaining adherents in new parts of the country, even as the authorities have successfully moved against its strongholds in the eastern province of Nangarhar, which borders Pakistan."
"Obama's 2009 Afghan 'surge', supported by Clinton, then the US secretary of state, sent an additional 51,000 troops to the country. But the reinforcements failed to end the Taliban insurgency. In 2014 Obama said the war was ending. But he has had to eat his words. As he leaves office, 8,400 US soldiers and a large air force contingent remain behind."
"Afghanistan is now America's longest war. Its 15th anniversary fell on 7 October. More than 2,300 US troops have died there. The conflict has cost US taxpayers an estimated $686bn."
"The full weight of the penalty will not be felt until April, when those who have avoided buying insurance will face penalties of around $700 a person or more. But even then that might not be enough: For the young and healthy who are badly needed to make the exchanges work, it is sometimes cheaper to pay the Internal Revenue Service than an insurance company charging large premiums, with huge deductibles."
Nice job, penalize people for failing to buy something they can't afford.
"Recently, WikiLeaks has released emails from Democrats. Many have repeatedly claimed that some of these emails are fake or have been modified, that there's no way to validate each and every one of them as being true. Actually, there is, using a mechanism called DKIM."
"11 US-led Coalition attacks in which evidence suggests as many as 300 civilians were killed. To date CENTCOM has only acknowledged one single such death in these attacks."
"Kenyan police say 12 people have been killed in an attack targeting non-Muslims in Mandera county near the Somalia border."
"NATO's plan is to set up four battle groups with a total of some 4,000 troops from early next year, backed by a 40,000-strong rapid-reaction force, and if need be, follow-on forces."
"Hemisphere is a secretive program run by AT&T that searches trillions of call records and analyzes cellular data to determine where a target is located, with whom he speaks, and potentially why."
"Hemisphere isn't a 'partnership' but rather a product AT&T developed, marketed, and sold at a cost of millions of dollars per year to taxpayers. No warrant is required to make use of the company's massive trove of data, according to AT&T documents, only a promise from law enforcement to not disclose Hemisphere if an investigation using it becomes public."
"Once AT&T provides a lead through Hemisphere, then investigators use routine police work, like getting a court order for a wiretap or following a suspect around, to provide the same evidence for the purpose of prosecution. This is known as 'parallel construction.'"
"AT&T is the biggest donor to federal lawmakers and their causes among cable and cellular telecommunications companies, with its employees and political action committee sending money to 374 of the House's 435 members and 85 of the Senate's 100 members this election cycle. That adds up to more than $11.3 million in donations since 2015, four times as much as Verizon Communications, according to a tally by the Center for Responsive Politics, a nonprofit research group."
"The deal is the largest auto scandal settlement in U.S. history and paves the way for the company to make amends to 475,000 U.S. owners of Volkswagens and Audis with 2-liter diesel engines. Motorists can now have their cars bought back or modified by Volkswagen and receive additional cash compensation up to $10,000 each."
No execs going to prison...
"Thousands of times every month, we give governments information about Apple customers and devices, in response to warrants and other forms of legal process. We have a team that responds to those requests 24 hours a day. Strong encryption does not eliminate Apple's ability to give law enforcement meta-data or any of a number of other very useful categories of data."
"An overnight assault on a police training college in the southwest that officials said had killed at least 61 people, most of them cadets... After the Islamic State claimed responsibility, a senior security official, speaking on the condition of anonymity because he was not authorized to talk to the news media, said the Islamic State had 'outsourced' the attack to Lashkar-e-Jhangvi."
"Globally averaged concentration of carbon dioxide in the atmosphere reached the symbolic and significant milestone of 400 parts per million for the first time in 2015 and surged again to new records in 2016 on the back of the very powerful El Niño event, according to the World Meteorological Organization's annual Greenhouse Gas Bulletin."
"About 300 protesters trespassed Saturday on private property three miles west of State Highway 1806, along the pipeline right of way, the Morton County Sheriff's Department said. At least 127 were arrested on various charges"
"Beginning in January, a limited rotational force of approximately 330 Marines will be located in Vaernes, Norway... which shares a 122-mile border with Russia"
"We need to stop using human rights abuses by targeted governments as excuses to bomb people. We should protect human rights through leadership by example and consistent application of the rule of law. Doing so would then open the United States up to the possibility of opposing human rights abuses by some of the nasty governments that it props up and sells or gives weapons to, beginning perhaps with Saudi Arabia, a monarchy that makes Vladimir Putin look like Mohandas Gandhi."
Public relations fluff to distract people from mass surveillance and Big Brother.
"In Northern Virginia, electronic-surveillance requests increased 500 percent in the past five years, from 305 in 2011 to a pace set to pass 1,800 this year. Only one of the total 4,113 applications in those five years had been unsealed as of late July"
"I imagine Jack Ma sees benefits not only in staying in the government's good graces by actively monitoring citizens though data mining, but also undoubtedly a business opportunity"
"Dustin Moskovitz, a tech billionaire and Facebook co-founder, pledged $20 million to political groups that support Democratic nominee Hillary Clinton... Nevertheless, the donation catapults Moskovitz and Tuna into the upper echelons of political contributors this election cycle, a list that includes fellow billionaires and longtime influencers Sheldon Adelson, Michael Bloomberg, George Soros and Silicon Valley hedge fund manager Thomas Steyer."
See Also:
"Officials running Mr. Obama's presidential foundation have made about 10 trips to tech strongholds in California in the past year as they help him plot his next steps."
Leave it to McClatchy to do what the New York Times will not.
"It is a stark example of the complete breakdown in sovereignty of not just Iraq but Syria as well. The Islamic State has erased the borders between the two countries, while Turkey has stationed troops in both countries without the permission of either government."
"The Turkish military deployment, even just to train local forces, has been bitterly opposed by the Iraqi government, and Mr. Abadi has demanded that the troops leave."
See Also:
"Ongoing tensions between Turkey and Iraq have intensified after Turkey said its troops fired artillery rounds at ISIL targets near the northern Iraqi city of Mosul, following a request by Kurdish Peshmerga forces."
"Sheikh Abdullah Alyawer, a tribal leader in the town of Rabia, on Iraq's border with Syria, told CNN Monday that dozens of ISIS militants and their families were fleeing the city each day, and crossing into Syria at Ba'aaj, an ISIS-controlled crossing point south of Sinjar."
"The narrative is always the same for the U.S. If you want to stay in power remember to create a climate friendly to western Capital, and buy U.S. weapons, privatize your resources in some fashion that allows western companies to make a huge profit, and then, hell, do what you want."
"The symbolic and literal sodomizing and murder of Qadaffi was more important. Lest other uppity Arab leaders get any ideas. Send a message"
"ISIS continues to receive financial assistance from supporters in permissive Gulf State countries."
"Destruction in Aleppo by Russian air strikes is compared to the destruction of Grozny in Chechnya sixteen years ago, but, curiously, no analogy is made with Ramadi, a city of 350,000 on the Euphrates in Iraq, that was 80 per cent destroyed by US-led air strikes in 2015."
"Mr. Graves's whistle-blower experience is instructive. It spotlights a costly regulatory failure that allowed ITT to stay in business far longer than it otherwise might have, Mr. Graves said. And that meant taxpayers were liable for billions of dollars in defaulted loans made over the period while thousands of students were left with a mountain of undischargeable debt and few job prospects."
"Members of the intelligence community simply do not want [Clinton] to be president of the United States"
Who would have copies of all of Clinton's emails? Collect it all?
"Leaked documents and emails from Endace, obtained by The Intercept, lay out a series of deals the company made with GCHQ to help it broaden its mass surveillance capabilities. "
"Endace's sales lists include finance industry giants such as Morgan Stanley, Reuters, and Bank of America... In addition, Endace sells its equipment to some of the world's largest telecommunications companies, among them AT&T, AOL, Verizon, Sprint, Cogent Communications, Telstra, Belgacom, Swisscom, Deutsche Telekom, Telena Italy, Vastech South Africa, and France Telecom."
"Investigators in Lancaster, Calif., were granted a search warrant last May with a scope that allowed them to force anyone inside the premises at the time of search to open up their phones via fingerprint recognition"
"ISIS rounded up and killed 284 men and boys as Iraqi-led coalition forces closed in on Mosul"
"The spread of failed states around the periphery of the industrial world is thus an existential threat not only to the United States but to the entire project of modern civilization. What makes this a critical issue is that US foreign policy and military actions have repeatedly created failed states in which warband culture can flourish: Afghanistan, Iraq, Syria, Libya, and Ukraine are only the most visible examples. Elements of US policy toward Mexico—for example, the 'Fast and Furious' gunrunning scheme—show worrisome movement in the same direction. Unless these policies are reversed, the world of 2035 may face conditions like those that have ended civilization more than once in the past."
"The U.N. Human Rights Council said on Friday it would identify the perpetrators of war crimes in the besieged Syrian city of Aleppo and launched a special inquiry into the use of starvation and air strikes there, as well as increased "terrorist" attacks. "
"It didn't even send the Navy into Filipino territorial waters claimed by China in the South China Sea after an international tribunal ruled that those waters were Filipino"
"Princeton Study: U.S. No Longer An Actual Democracy. I guess it takes a study to point out the obvious."
As you might expect, The New York Times editorial board responds: "Yawn, nothing to see here, folks, move along... (but, hey, check out all of the corruption in China!)"
"AT&T Inc (T.N) has reached an agreement in principle to buy Time Warner Inc (TWX.N) for about $85 billion, sources said on Friday, paving the way for what would be the biggest deal in the world this year, giving the telecom company control of cable TV channels HBO and CNN, film studio Warner Bros and other coveted media assets."
"Magistrate Judge A. David Copperthite sided with the government and decided that Mr. Martin would remain in jail. He noted that Mr. Martin had a history of binge drinking, and concluded that he posed a flight risk because he saw in him a divided personality."
"After seven weeks of frantic investigation, F.B.I. and N.S.A. officials have not been able to show that Mr. Martin gave any of his collection to anyone else."
"Turkey said its attacks killed 160 to 200 Kurdish fighters. However, a predominantly Kurdish political party in Turkey, the HDP, said 14 people, including four civilians, were killed."
"Islamic State (IS) militants have mounted a ferocious counter-attack in north Iraq, killing at least 19 people in and around the city of Kirkuk."
See also:
"The United Nations has corroborated reports that Islamic State fighters had shot dead at least 40 civilians in one village close to Mosul"
"The Republicans and Democrats who make up the foreign policy elite are laying the groundwork for a more assertive American foreign policy, via a flurry of reports... Most of the studies propose limited American airstrikes with cruise missiles to punish Assad if he continues to attack civilians with barrel bombs, as is happening in besieged Aleppo."
Public View: "Under President Obama, the economy has experienced a record 70 straight months of private-sector job growth. Over 14 million jobs!"
Private View: "I think people are more in despair about how things are—yes new jobs but they are low wage jobs. HOUSING is a huge issue. Most people pay half of what they make to rent..."
"American forces were already involved in Yemen's civil war. Since 2002, our drone attacks have reportedly killed more than 500 Yemenis, including at least 65 civilians. We are also supplying weapons and intelligence to Saudi Arabia, which has killed thousands of Yemenis in bombing raids over the last year and a half — including last week's attack on a funeral in which more than 100 mourners were killed."
"Ukrainian Army's mortality rate of more than two soldiers per day for the duration of the conflict is higher than the United States Army's during the Iraq War."
Poroshenko's government will need more loans, take on more debt, until they are completely owned by western banking interests. Paying for the sins of Victoria Nuland.
"Clinton repackaged her idea as something quite different, a diplomatic initiative to persuade the Syrian and Russian governments... Whether the Syrian leadership and the Russian government would accept such a plan is doubtful, since it would amount to inviting the U.S. or NATO military to establish a beachhead inside Syria from which rebels, terrorists and other insurgents could operate beyond the reach of military retaliation."
"To the anti-Assad camp, I ask: ...will you be supporting US imperialism in the name of the 'revolution'?"
"To the pro-Assad Syria fetishists, I ask: Will you continue to pretend that the only crimes and atrocities being committed are those veiled behind Old Glory?"
A clear demonstration of Fossil Fuel's political influence. Raw power on display. Deep State tell.
"In this venue, your honours, in this venue, I announce my separation from the United States"
"So far, the investigators have been frustrated in their attempt to prove that Mr. Martin deliberately leaked or sold the hacking tools to the Shadow Brokers or, alternatively, that someone hacked into his computer or otherwise took them without his knowledge."
"It's long past time someone brought attention to this company. This is corporate malfeasance and a direct threat to national security."
"Martin's actions may be particularly damaging because of his access to Special Access Programs where such tools are made. 'I think he has exposed multiple SAPs and probably covert action programs like Stuxnet,' the former defense official said. 'Martin had access far surpassing Snowden's.'"
"The US has accused Russia of coordinating the theft and disclosure of emails from the Democratic National Committee and other institutions and individuals in the US to influence the outcome of the election. Russia has vigorously denied that. There was no indication this case had anything to do with that accusation."
"Unionized faculty members at 14 state universities in Pennsylvania went on strike and manned picket lines Wednesday as many classes at the schools serving more than 100,000 students ground to a halt."
"Ever since it lost some 2,000 fighters, mostly to US air strikes, in its abortive four-and-a-half month siege of the Syrian Kurdish city of Kobani in 2014-15, its commanders have been reluctant to let their forces, which are overwhelmingly light infantry, fight from fixed positions that can be precisely targeted and obliterated by shelling and bombing. They might do better in Mosul, but the end result would likely be the same."
"The nuclear-powered Admiral Kuznetzov is one of seven vessels photographed off the Norwegian coastline on Monday... The Admiral Kuznetsov is escorted by the Pyotr Veliky (Peter the Great) battlecruiser, the Vice Admiral Kulakov destroyer, Severomorsk destroyers and several supply ships - all part of the Northern Fleet - the Russian defence ministry said."
"While the attention of our news media is consumed with video comments and e-mail releases, other factors may be influencing your future. Over the last week there have been a significant number of movements by Russia on the world stage."
"Mr. McCauley said he had quickly reversed himself, however, after calling another F.B.I. official and learning that the email in question involved the Benghazi attack — a political cudgel for Republicans against Mrs. Clinton."
"When you turn on Washington Week (Gwen Ifil) on public TV and see an assembled panel of six pundits–three conservatives and three liberals–and all six turn out to love Hillary and hate Trump; you can be reasonably certain that the election is rigged, because that's what rigging is. Rather than providing background information about the candidate's position on the issues so voters can make an informed decision, the media uses opinionmakers to heap praise on one candidate while savagely denigrating the other."
"Do they know that Clinton was the driving force behind the intervention in Libya and Syria, where hundreds of thousands of civilians have died and seven million have been internally displaced? Do they know she was involved in the toppling of a democratically-elected government in Honduras or that a number of prominent neocons, who dragged the US into war in Iraq based on WMD lies, now support her?"
"Claims of illegal surveillance were either ignored or dismissed as conspiracy theories, then, when the NSA leaks documented widespread domestic spying and unconstitutional overreach, the response from the same pundits was, 'Yawn, we already knew that.'"
"Part of the trick is conflating the descriptive (how things are) with the normative (how things ought to be)."
"Half of American adults are in a face-recognition database, according to a Georgetown University study released Tuesday. That means there's about 117 million adults in a law enforcement facial-recognition database, the study by Georgetown's Center on Privacy & Technology says."
"The heaviest toll was caused by a suicide bomber who detonated an explosive vest in the middle of a Shi'ite gathering in Baghdad, killing at least 41 people and wounding 33."
"Analysts say, Mr. Putin appeared to be positioning himself to make maximum demands of the next American president and to pursue his perennial goal of getting other world leaders to treat him as an equal."
"Russians are facing rising utility rates, and a new fee for building maintenance is especially irksome. Government spending on health care might be slashed 33 percent. Despite all the swagger the military budget will be cut by 6 percent annually for the next three years, after 15 years of increases."
The CIA? Isn't this the NSA's turf? Unless of course this is a PSYOP...
"I contacted a couple (of stores), but I mostly got back 'thanks, but we are safe, no worries', or 'we are safe because we use https;', or 'we are safe because we have the Symantec security seal'"
"The press has reiterated this obsequiousness over the course of the last seven days with what can only be described as an orgy of coverage of the Trump sex tapes and assorted scandals. By all accounts, the Trump campaign is dead and has been for weeks. The 24/7 obsession now amounts to a kind of political corpse abuse. Forsaken in this feeding frenzy has been any serious attention at all to the Wikileaks email dump, except to echo Clinton camp assertions that they were the victims of a Russian plot to tilt the election to Trump. If so, the Russians have proved even more incompetent than we thought them to be."
"Despite the widening of U.S. air support, the White House believes that the war in Afghanistan is tipping in the Taliban's favor. Speaking on the condition of anonymity to speak frankly about Afghanistan's deteriorating security situation, a senior administration official called the situation in the country an 'eroding stalemate.'"
A sign of things to come. All those preppers are starting to look less ridiculous...
"U.S. officials said they consider it unlikely that Obama will order U.S. air strikes on Syrian government targets, and they stressed that he may not make any decisions at the planned meeting of his National Security Council."
"This was October 6. The election was November 4. And yet Froman, an executive at Citigroup, which would ultimately become the recipient of the largest bailout from the federal government during the financial crisis, had mapped out virtually the entire Obama cabinet, a month before votes were counted. "
"The thing that the Establishment really finds most reprehensible about Trump is his unpardonable penchant for telling true tales out of ruling class school – tales that many of us on the left have been telling from less privileged vantage points and without the white-nationalist and sexist venom that leaps off Trump's noxious persona and out of his mouth."
"The anger he observed was 'pointed up, not down' at those who forgot them when global trade deals were negotiated, not at minority groups."
"As welcome as it may be to reformists, the Justice Department's data-gathering initiative will likely face similar limitations given that there is no legal mandate that could compel police departments to volunteer the information."
"These digital billboards—which Yahoo envisions being placed along freeways and in bars, airports, planes, ferries, buses, trains, and other public spaces—might rely on video cameras, satellites, drones, microphones, motion detectors, and 'biometric sensors' such as fingerprint, retinal, and facial recognition devices. Combined, these 'sensor systems,' as Yahoo calls them, analyze their surroundings to determine a common theme to serve up ads, in what Yahoo describes as 'grouplization.'"
"GlobalSign inadvertently triggered the revocation of its intermediary certificates while updating a special cross-certificate. This smashed the chain of trust and ultimately nullified SSL/TLS certificates issued by GlobalSign to its customers. It could take days to fix, leaving folks unable to easily read their favorite webpages."
"We are concerned about WhatsApp's security despite the best efforts of the Signal Protocol. Every application includes various components: the user interface, the code that interacts with the operating system, the business model behind the whole operation—and secure messaging apps are no exception. The changes in this surrounding functionality are where we have identified various places where a user can dangerously overestimate WhatsApp's security."
"Taliban militants ambushed and killed around 100 Afghan police and soldiers earlier this week as they tried to retreat, the heaviest losses suffered by government forces during months of fierce clashes near the capital of southern Helmand province."
Listen to Jill Stein:
"What have we achieved with this endless war? Failed states, mass refugee migrations and worse terrorist threats. They are not getting better, whether you look at the Taliban, who are stronger, have more territory now than they did when we began fighting them some 16 years ago, whether you look at al-Qaeda, which has become a global movement, or ISIS. This doesn't work, yet it's costing us half of our discretionary budget and almost half of your income taxes"
"The U.S. military launched cruise missile strikes on Thursday to knock out three coastal radar sites in areas of Yemen controlled by Iran-aligned Houthi forces, retaliating after failed missile attacks this week on a U.S. Navy destroyer, U.S. officials said."
"Everyone is talking about 'who did it' (the hacking) but is it that important? The most important thing is what is inside this information."
Some day people will study the response of the Democratic Party as a case study in evading the message by focusing on the [alleged] messenger.
A sign of things to come: mass migration from the Middle East as temperatures climb up to 160 degrees.
"The only states to hold all elections entirely by mail are Oregon, Washington, and Colorado, according to the National Conference of State Legislatures. "
One of the fathers of C and UNIX. A notable and lasting legacy.
"Thirteen civilians and one police officer died and 36 people were wounded, said Ministry of Interior spokesman Sediq Sediqqi."
"The White House's recent decision to allow the sale of F-15 fighter jets to Qatar helped to seal the $18.6 billion purchase of 100 Boeing jetliners announced Friday by Qatar Airways, according to people with knowledge of the deal."
"The Pentagon — which is still struggling to come up with ways to bring down drones — was slow to anticipate that militants would turn drones into weapons."
The United States has opened Pandora's box...
"It could impose economic sanctions against Moscow, a tool the White House recently authorized as a response to large-scale cyberattacks. But sanctions could end up impacting European countries that have indirect business with Russia and had no involvement in the cyberattacks. The U.S. also could try to punish Russia diplomatically, further straining discussions on issues like Syria policy. But U.S. officials have acknowledged a need to work with Russia on Syria, even if those talks continually have hit a wall. The U.S. also may opt to allow the Justice Department to simply prosecute the hacks as a criminal case, though it would be difficult to bring people to trial. A more extreme response would be to launch a U.S. cyberattack targeting Russia's election process. Russia's elections, however, aren't run anything like the system in the U.S., and the impact would be hard to measure."
How about securing networks so they don't get hacked to begin with?
WikiLeaks: Journalism is at an end if press let the Clinton campaign endlessly get away with dodging questions using "we were hacked" on every issue.
To distract the American public from his email's content: a corrupt political system owned by big money.
"The ACLU of California has obtained records showing that Twitter, Facebook, and Instagram provided user data access to Geofeedia, a developer of a social media monitoring product that we have seen marketed to law enforcement as a tool to monitor activists and protesters."
"Defense giant Northrop Grumman has signed a nearly $92-million contract with the Centers for Medicare and Medicaid Services"
"You've complained to your doctor that you're having trouble losing weight. You're taking a cholesterol medication. You've posted on Facebook that you're feeling stressed because you've separated from your spouse or on LinkedIn that you''re looking for a new job."
"Feinstein also has another close connection to UCSF. Her husband, Richard Blum, is on the Board of Regents overseeing the University of California system."
While the Saudis bomb funerals, just like their Deep State protectors in the United States bomb weddings.
"All of this mayhem was instigated by the War Party's armchair warriors and the 'indispensable' nation hegemonists in Washington. Literally billions in aid, weapons, munitions, training and logistics have flowed into Syria from all directions on the outside. And all of it was either financed by American taxpayers or by regional powers which have been armed and greenlighted by Washington."
See also:
"Raddatz also could have noted that a key reason why the recent limited cease-fire failed was that the U.S.-backed 'moderate' rebels in east Aleppo had rebuffed Secretary of State John Kerry's demand that they separate themselves from Al Qaeda's Nusra Front, which now calls itself the Syria Conquest Front."
"The new pipeline, known as the Turkish Stream, would run under the Black Sea to Turkey and then the Greek border, allowing Russian gas to reach Western markets without using Russia's existing export pipelines through Eastern Europe."
"At least 24 people were believed on Monday to have died in western Myanmar after unknown assailants attacked police outposts on Sunday near the border with Bangladesh."
"The paper, published in Proceedings of the National Academy of Sciences, suggests the effects of climate change have been helping make forests in the western United States– in states including New Mexico, Colorado, Wyoming, Montana and everything else to the west — drier and easier to burn since the 1970s. And in the last three decades, the study finds climate change played a role in nearly doubling the area hit by forest fires since 1984."
"Wall Street donors have used their financial relationship with the Democratic Party to complain bitterly about Sen. Elizabeth Warren's influence over the direction of the party, a new fundraising document reveals. At one point, the Democratic lawmaker in charge of raising cash for House Democrats attempted to reassure donors by pointing to a news story claiming that Warren does not speak for the party."
"We need to be elevating the Pied Piper candidates so that they are leaders of the pack and tell the press to [take] them seriously."
"The emails appear to be mostly from 2015, covering a litany of policy and strategy discussions between Clinton staffers on how to handle issues of the day and the press, including the release of the book 'Clinton Cash' alleging nefarious activity by the Clinton Foundation. Another email has long-time Clinton aide Doug Band referring to Chelsea Clinton as a 'spoiled brat.'"
A Clinton aide refers to the Democratic base as the Red Army.
See also: third batch.
What? They didn't take the opportunity to blame it on North Korea?
"One source said: 'The Russians are trying to hack everything'""
The NSA being the world's most prolific offender...
"The paradox of automation, then, has three strands to it. First, automatic systems accommodate incompetence by being easy to operate and by automatically correcting mistakes... Second, even if operators are expert, automatic systems erode their skills by removing the need for practice. Third, automatic systems tend to fail either in unusual situations or in ways that produce unusual situations, requiring a particularly skilful response. A more capable and reliable automatic system makes the situation worse."
"Automation will routinely tidy up ordinary messes, but occasionally create an extraordinary mess"
"Over the ensuing months, more people in Allende were killed, 42 in all by the end of the slaughter. But nothing was done about it: There was no inquiry, no outcry, no elected official vowing that he would not rest until the guilty were brought to justice, according to an account released on Sunday by a noted human rights activist, Sergio Aguayo."
"Kurdish militants have detonated a car bomb outside a military checkpoint in south-east Turkey, killing 10 soldiers and eight civilians, the Turkish prime minister said."
"Turkish officials say that, within five months, Turkey will build a gigantic wall to seal off the entire 900-kilometer border it shares with Syria, aiming to stop illegal crossings and combat smuggling."
"More than 12,000 companies were pushed into the bank's controversial 'turnaround' division - the so-called Global Restructuring Group (GRG) - in the wake of the crash."
"The documents confirm that bank staff were rewarded with higher bonuses based on fees collected for "restructuring" business customers' debts - cutting the size of their loans and getting cash or other assets from the customer."
"From there the bank sought to squeeze cash from the businesses through higher interest and fees, pressuring customers to sell assets to pay down loans, taking an equity stake in their businesses, or by pushing the business into administration."
"First and foremost, the leak reveals the vulnerability of the Turkish government's operations security (opsec). Minister Albayrak shared business deals with partners and discussed government policy documents over U.S.-hosted email servers, including those of Google, Apple (iCloud) and Yahoo, which is a highly questionable practice."
"Regardless of who wins the election, the U.S. will be ungovernable in a period of self-reinforcing crises. All the flim-flam financial gambits that created the illusion of prosperity are falling apart, and the Imperial Project is losing its grip on the narratives and on the ground."
Planting the seeds of their own demise.
"One major election technology company, Dominion Voting Systems (DVS), develops its systems in the U.S. and Canada but also has an office in Belgrade, Serbia. It was recently advertising openings for four senior software developers in Belgrade."
Yet the New York Times parades the whole "making the world safe for democracy" pretense, as if U.S. leaders have any credibility given the number of brutal regimes that the United States openly supports.
"This article is based on a broad sampling of cases and an examination of hundreds of documents, including court records, military commission transcripts and medical assessments. The Times interviewed more than 100 people, including former detainees in a dozen countries."
"So let's recap. In the Wells Fargo case, bad behavior generated $2.6 million in improper fees that the bank had to return to customers. In the Apollo matter, bad behavior generated $40.3 million in improper fees that the firm had to return to clients. Wells Fargo was subject to a major spanking by two state officials. Apollo was subject to none."
"The targets over the past two years have included a Who's Who of Hillary Clinton associates from her State Department tenure, the Clinton Foundation and her presidential campaign, as well as top Republicans and staffers for Republican candidates for president"
"Russia is considering plans to restore military bases in Vietnam and Cuba that had served as pivots of Soviet global military power during the Cold War, Russian news agencies quoted Russian Deputy Defence Minister Nikolai Pankov as saying on Friday."
"Any future war with Russia or China would be 'extremely lethal and fast' and produce violence on the scale not seen for 60 years, according to US generals... 'And we will not own the stopwatch.'"
"Anonymous sources told The Times that the tool was nothing more than a modified version of Yahoo's existing scanning system, which searches all email for malware, spam and images of child pornography. But two sources familiar with the matter told Motherboard that this description is wrong, and that the tool was actually more like a 'rootkit'"
"After the Yahoo security team discovered the spy tool and opened a high severity security issues within an internal tracking system, according to the source, the warning moved up the ranks. But when the head of security at the time, Alex Stamos, found out it was installed on purpose"
"The logs show that the plane made flights ranging between one and five hours long in January and February, June, July and August. The flights stopped on Aug. 7, shortly before the program's existence was revealed in an article by Bloomberg Businessweek."
"Victory in Mosul without a detailed arrangement for how the city and the rest of Iraq will be governed 'does nothing to prevent extremists from resurfacing again.'"
"While Washington and Moscow say preservation of Syrian state institutions is a priority, a look at the fight for Aleppo, Syria's largest city, shows that those structures are already atrophying."
"The U.S. continues to intervene in Syria in a way which prevents the Syrian state from achieving a decisive victory against the various militant groups it is fighting – some of which the U.S. itself admits are terrorists – while at the same time targeting some of these same militant groups themselves, thereby preventing either side of the conflict from coming out on top. Indeed, as we have learned, the CIA and the Pentagon have even been backing opposing militant groups that are fighting each other! The result is a drawn-out war which threatens to leave Syria in chaos and ruins for the foreseeable future."
"In its last fiscal year, which ended in March, Booz Allen earned $3.9 billion — about three quarters of its total revenue — from its defense and intelligence business. Once its work for other parts of the government is factored in, Booz Allen's government contracting accounted for 97 percent of its revenue."
They even sell a service to detect insider threats. A lot of good that did...
"All told, the dual class-actions represent some 500 plaintiffs. Federal officials are expecting up to 1,000 women who worked in the RCMP between 1974 and when the settlement receives court approval to seek claims under the agreement."
"Ten days after the story broke, White House communications director Jennifer Palmieri emailed State Department spokeswoman Jennifer Psaki to ask, 'between us on the shows... think we can get this done so he is not asked about email.'"
"The Russian Defence Ministry said on Tuesday it had deployed an S-300 missile system to its Tartus naval base in Syria."
See also:
"Syrian government forces reportedly advanced against rebels inside Aleppo, making their biggest gains in the city in years. The Syrian Observatory for Human Rights said loyalist fighters now controlled about half of the Bustan al-Basha district near the centre of the divided metropolis."
"The attack on Libya, like the attack on Iraq, has to do with power and control of resources, not only oil, but gold... Muammar al-Qaddafi was openly advocating the creation of a new currency that would rival the dollar and the euro. In fact, he called upon African and Muslim nations to join an alliance that would make this new currency, the gold dinar, their primary form of money and foreign exchange. They would sell oil and other resources to the US and the rest of the world only for gold dinars, Perkins explained."
"Last year was the warmest our oceans have ever been on record. And that's critical context. It's that warmth that provides the energy that intensifies these storms. And it isn't a coincidence that we've seen the strongest hurricane in both hemispheres within the last year."
"Governor Rick Scott of Florida has received quite a bit of funding from the Koch brothers over the years. He is a climate change denier. So here you have a state which is on the front lines of dealing with the impacts of climate change"
"A gang tactical team led by a sergeant named Ronald Watts operated a protection racket in public housing developments on Chicago's South Side. In exchange for 'a tax,' Watts and his team shielded drug dealers from interference by law enforcement and targeted their competition. Their operation went far beyond shaking down the occasional drug dealer. They were major players in the drug trade on the South Side."
"An investigation led to raids, with officers blocking exits on each floor of a building that housed seven of the centers, the police said on Wednesday, adding that 70 people were arrested and 600 people were under investigation."
"It is wider than that, with many different proxies involved, and loyalties shifting to and fro"
"Lasting three days, the exercise bing run by the Ministry for Civil Defence, Emergencies and Elimination of Consequences of Natural Disasters (EMERCOM) will involve 200,000 emergency personnel and the co-operation of 40 million civilians."
"A federal judge in Nevada said professional racecar driver Scott Tucker and several of his companies owe $1.27 billion to the Federal Trade Commission after systematically deceiving payday lending customers about the cost of their loans."
"Tucker, who races in the United States and Europe, faces separate criminal charges in Manhattan, where prosecutors accused him of running a $2 billion payday lending scheme that exploited 4.5 million consumers."
"Hillary Clinton and her staff don't even bother about the information security. It was just a matter of time to gain access to the Clinton Foundation server."
"A non-public offering from Haifa-based Wintego called CatchApp. It promises an 'unprecedented capability' to break through WhatsApp encryption and grab everything from a target's account. It does so through a 'man-in-the-middle' (MITM) attack"
Never mind all that government funding from the Open Technology Fund. Which is funded by the Broadcast Board of Governors, the official propaganda arm of the State Department with long-standing links to the CIA.
So, oh yeah, I trust this stuff totally... You betcha, bullet proof! Sure...
"Russian and Syrian aircraft have carried out attacks, mainly in Aleppo, using bunker-busting bombs, incendiary munitions, cluster bombs, barrel bombs and thermobaric bombs, which scatter a cloud of explosive particles before detonating in devastating blasts, according to American intelligence officials."
See also:
"The mainstream media continue to gloss over the rather salient fact that civilians who are trying to flee the Russian-Syrian bombardment are often blocked from doing so by US- and Gulf State–funded 'rebels.'"
"Last Wednesday, at a Deputies Committee meeting at the White House, officials from the State Department, the CIA and the Joint Chiefs of Staff discussed limited military strikes against the regime as a means of forcing Syrian dictator Bashar al-Assad to pay a cost for his violations of the cease-fire, disrupt his ability to continue committing war crimes against civilians in Aleppo, and raise the pressure on the regime to come back to the negotiating table in a serious way."
"Putin issued a decree suspending an agreement, concluded in 2000, which bound the two sides to dispose of surplus plutonium originally intended for use in nuclear weapons."
"Residents and local police officers reached by telephone said that clashes were continuing, with the insurgents focusing on the police headquarters and the governor's compound... While insurgent fighters infiltrated large parts of the city, the government managed to hold on to its main administrative and security buildings. Stern warnings were issued to members of the Afghan forces not to abandon their posts, as many have done in past assaults."
"Yahoo Inc last year secretly built a custom software program to search all of its customers' incoming emails for specific information provided by U.S. intelligence officials, according to people familiar with the matter."
"Yahoo is a law abiding company, and complies with the laws of the United States"
"Alphabet Inc's Google and Microsoft Corp, two major U.S. email service providers, did not respond to requests for comment."
Not unexpected. Putin making his move before the 2016 election?
"Bell Pottinger's output included short TV segments made in the style of Arabic news networks and fake insurgent videos which could be used to track the people who watched them, according to a former employee... A document unearthed by the Bureau shows the company was employing almost 300 British and Iraqi staff at one point."
"President Correa, who earned enmity from Washington for granting political asylum to Julian Assange four years ago and for closing the United States' Manta military air base in 2009, warned recently that a new version of Operation Condor is underway in Latin America. Operation Condor, which operated in the 1970s and '80s, saw thousands of labor union organizers, community leaders, students, activists, politicians, diplomats, religious leaders, journalists and artists tortured, assassinated and disappeared."
"Politically connected insiders had an information advantage during the crisis and traded to exploit this advantage"
"Our results suggest that insiders understood the heavy risk-taking in their banks"
"With counting completed from 98.98% of polling stations, the no vote led by 50.2% to 49.8%, a difference of fewer than 54,000 votes out of almost 13 million cast. Turnout was low, with less than 38% of the electorate casting a vote."
"The CDC estimated that the actual number of deaths from sepsis were as much as 140% higher than those recorded on death certificates, or as many as 381,000 deaths a year."
"Sunday's action by India, which emits 4.1 percent of global emissions, brings the agreement to the brink of activation. Sixty-two countries have now joined, representing 51.89 percent of global emissions"
"Notice that the possibility of other countries suing the US for war crimes its government commits is automatically assumed to be undesirable... The irony is that none of these publications were overly concerned with exposing the US to foreign lawsuits when they offered support for the Trans-Pacific Partnership, a corporate trade deal that includes a provision for Investor-State Dispute Settlement"
"The country is being torn apart by a variety of warring factions on the ground and pummeled from the air by Saudi Arabia, an American ally. There is no camera-ready villain for Americans to root against."
Wow, the New York Times demonstrates blatant bias. It's pretty clear who profits from all this needless bloodshed...
"We requested records from 63 police departments, sheriffs, and district attorneys across California. And what we learned from the documents was alarming. Of the responses we've received, 40% of the agencies (20 in total) have acquired social networking surveillance tools"
"Mr. Trump is a highly-skilled businessman who has a fiduciary responsibility to his business, his family and his employees to pay no more tax than legally required"
"Mr. Trump knows the tax code far better than anyone who has ever run for President and he is the only one that knows how to fix it."
A tactic admission that tax law doesn't work, yet no hyperbolic promises to fix said law.
"Across the state, most Pennsylvania counties use particularly high-risk electronic voting machines that leave behind zero paper trails... Many of these machines — called 'direct-recording electronic' machines — are running on severely outdated operating systems like Windows XP, which has not been patched by Microsoft since 2014"
See Also: Extremely poor risk management...
"Five states are completely paperless: Delaware, Georgia, Louisiana, New Jersey and South Carolina. Nine other states have some counties that use paperless systems: Arkansas, Indiana, Kansas, Kentucky, Mississippi, Pennsylvania, Tennessee, Texas and Virginia."
"In New Zealand, Domino's Pizza is testing drones to ferry fast food across the country. Google is offering burrito orders delivered by drone in Virginia. JD.com"
"Amazon settled on Britain after the United States initially denied it approval for such tests."
"Ms. Napier refuses to use Amazon's services, preferring to visit her local bookshop or smaller online British rivals."
"'Hitler massacred three million Jews,' Mr. Duterte said after returning to the Philippines from a trip to Vietnam, understating the toll cited by historians, which is six million. 'Now there is three million, there's three million drug addicts. There are. I'd be happy to slaughter them."
"I want to destroy his presidential aircraft on the ground. I want to destroy his presidential helicopters. I want to make him think we're coming after him, right. I'm not advocating assassinating him, I'm not advocating that. I'm advocating going after that what he thinks is his power base, right, and what he needs to survive. I want him to think about this is not going to end well for me, right. I want to put pressure on him, I want to put pressure on the Iranians, I want to put pressure on the Russians to come to that diplomatic settlement."
"The problem is that, you know, you get, quote, enforcers in there and then everybody ups the ante, right? Russia puts in more, Iran puts in more; Hezbollah is there more and Nusra is more; and Saudi Arabia and Turkey put all their surrogate money in, and you all are destroyed."
Syrians trampled as giants battle.
"Officials in the semi-autonomous region of Galmudug accused neighbouring Puntland of misleading the US into believing they had targeted extremists."
"Swiss storage operations such as these don't have the same obligation that Swiss banks do to report suspicious transactions to federal regulators. Americans aren't required under the U.S. Foreign Account Tax Compliance Act to declare gold stored outside financial institutions."
"In the first half of this year, 1,357 metric tons of gold—worth about $40 billion—were imported into Switzerland"
"The Democratic National Committee — in debt and underfinanced a year ago — has poured nearly $30 million into these key states through the beginning of September. The funding was powered by a surge of six-figure contributions raised by Mrs. Clinton from the likes of James Cameron, the Hollywood director, and George Soros, the retired hedge fund manager, as well as several members of the billionaire Pritzker family."
"Our publication of the DNC leaks has showed that the Democratic National Committee had effectively rigged the primaries in the United States on behalf of Hillary Clinton against Bernie Sanders... most media aligns with the presumptive winner even though their claimed societal virtue is to investigate those in power."
"We're 10 now. Just wait until we're teenagers."
"Then, in June, 2013, the former intelligence agent Edward Snowden arrived in Moscow, and it seemed possible that he would continue on to Cuba. Rhodes recalled telling the Cubans, 'I'm worried that would derail the things we're talking about here.'"
"Once again the story is turning into a thumbs-up/thumbs-down debate over a private individual, overshadowing the web of deceit that pulled governments and private businesses into a fearsome surveillance state. Just as Snowden cautioned, he's become a distraction—and that's a hell of a thing to be in your own biopic."
"A bill signed into law on Thursday by California Governor Jerry Brown allows a self-driving vehicle with no operator inside to test on a public road, a key step enabling a private business park outside San Francisco to test driverless shuttles."
September 2016_______________________________________
"Though India's military has almost certainly carried out cross-border raids, the government has never publicly announced them, even during the brief conflict in Kargil in 1999... Thursday's announcement suggests that Prime Minister Narendra Modi of India is more confident than his predecessors"
"The Times, for its part, is engaging in some kind of linguistic contortion of its own to make none of this qualify as 'direct military intervention in Syria.'"
"The Russian military said Wednesday it's ready to resume contacts with its U.S. counterparts over the situation in Syria, even as U.S. Secretary of State John Kerry threatened to cut all cooperation with Moscow on Syria unless an onslaught on Aleppo ends."
"Deutsche Bank AG (DBKGn.DE) is nearing an agreement with U.S. officials to pay $5.4 billion to settle charges related to its sale of toxic mortgage bonds before the financial crisis, French news agency AFP reported on Friday, citing sources."
"Now if stocks rise due to fundamentals, then that's just great because it means the underlying strength of the economy is driving prices higher. But if stock prices rise because the people who are supposed to be the referees (The Fed) are gaming the system by printing up trillions of dollars and sticking it in the financial markets so their crooked friends can send their kids to Ivy League schools and drive around in Lamborghinis, then it's not so great."
"Yellen is a public relations invention, a small but critical part of a larger charade that is intended to conceal the manner by which the vast bulk of the nation's wealth is transferred from one class to another."
"They find that polarization has reduced consumer spending by more than 3 percent or about $400 billion annually. If these findings stand up to scrutiny, they deserve to have a policy impact."
"The Center, which merged two federal datasets to create an unprecedented picture of air emissions, found that a third of the toxic air releases in 2014 from power plants, factories and other facilities came from just 100 complexes out of more than 20,000 reporting to the U.S. Environmental Protection Agency. "
"'State-sponsored actor' is often code for 'please don't blame us for our shoddy security because it was a really sophisticated attacker and we can't be expected to defend ourselves against that.'"
"At least 13 civilians have been killed in a US air strike targeting ISIL that hit a residential house in eastern Nangarhar province, an Afghan official says."
"Amnesty International documented alleged chemical weapons attacks in and around at least 32 villages in Jebel Marra between January and September 2016. Several of the villages were attacked multiple times. The earliest attacks occurred during the start of the government's offensive in mid-January. The attacks are ongoing. The most recent attack recorded by Amnesty occurred on 9 September 2016."
"The Pentagon has about 6,000 troops, mostly operating as advisors and trainers, in Iraq. U.S.-led coalition warplanes based outside Iraq have carried out thousands of airstrikes since mid-2014."
"The strategy, more about politics than advancing the battle lines, appears to be designed to pressure rebels to ally themselves with extremists, eroding the rebels' legitimacy; give Russia veto power over any high-level diplomacy; and exhaust Syrian civilians who might otherwise support the opposition."
"The northern Syrian city is one of the few remaining strongholds for non-jihadist rebel groups."
"Investigators stopped short of directly accusing Russia of complicity in the attack on the Boeing 777 and declined to name any suspects publicly. But the briefing was seen in Russia and in the West as a virtual indictment of Moscow, prompting Russian protests as investigators said they would continue trying to determine who ordered the strike."
"The missile launch vehicle 'was brought in from the territory of the Russian Federation and after launch was subsequently returned to Russian Federation territory. This conclusion is based largely on forensic investigation'"
Response by Robert Parry.
"Over in the House, both the chairman and the top Democrat on the Armed Services Committee have circulated letters opposing JASTA."
"'If we reject TPP, we take a giant step backwards,' Kerry said in a speech at the Wilson Center. 'It will be a unilateral ceding of American political influence and power with grave consequences for the long term.' Across town at the Center on Foreign Relations, Immelt hit on almost the same theme."
See Also:
"Trade comes with no assurances that the spoils will be shared equitably... automation has grown in sophistication and reach. From 2000 to 2010, the United States lost some 5.6 million manufacturing job"
"The 'Paranoids,' the internal name for Yahoo's security team, often clashed with other parts of the business over security costs. And their requests were often overridden because of concerns that the inconvenience of added protection would make people stop using the company's products."
"She denied Yahoo's security team financial resources and put off proactive security defenses, including intrusion-detection mechanisms for Yahoo's production systems. Over the last few years, employees say, the Paranoids have been routinely hired away by competitors like Apple, Facebook and Google."
"We found that the HOO still suffers from a lack of independence and authority to fulfill its mandate, lacks enforcement power, and, in some instances, has failed to register and verify asset declarations."
What, pray tell, do U.S. leaders think will happen when their foreign policy consists of handing over pallets of cash? There will be more of this if Hillary is elected. Your tax dollars hard at work!
"Taliban leaders considered Trump a 'non-serious' candidate who said 'anything that comes to his tongue,' the spokesman said."
And why do they hate us?
"It's because of their aggressive policies. They invade other people's countries and kill innocent human beings for their vested interests."
Rumors swirl. For example, Turkey may consider making a play.
"The 97-1 vote marks the first time the Senate has mustered enough support to overrule Obama's veto pen"
"FBI agents had approached a small number of Democratic Party officials to discuss concerns their mobile phones may have been compromised by hackers, people involved said. It was not clear how many people were targeted by the hack or whether they included members of Congress, a possibility that could raise additional security concerns for U.S. officials."
"If the F.B.I. asks, we are ready to supply the I.P. addresses, the logs... But nobody is asking. That is a big question."
"In Russia, we don't have this type of election... It looks like little children fighting."
What can we say, the media advertisers like it that way.
Oh boo hoo hoo. Nothing will change until Banking CEOs are pulling jail time.
"The city will initially replace Microsoft's Exchange Server and Outlook on 6,000 computers with an e-mail system installed by state-run carrier Rostelecom PJSC"
"Putin is urging state entities and local companies to go domestic amid concerns over security and reliability after U.S. firms shut down paid services in Crimea following Russia's 2014 annexation."
"Maria, an employee at Los Panchos in El Cajon, said police came into the restaurant and took all cell phones from employees after the shooting; they told employees not to talk to anyone, according to Maria. NBC 7 has not confirmed how many phones were confiscated."
"The OVH founder said that the attack had used IoT devices to mount the attack including hacked CCTV cameras and personal video recorders."
"Aleppo has endured the worst aerial onslaught since the start of the war in 2011 with more than 400 people killed, hundreds of others wounded, and buildings flattened since a short-lived ceasefire broke down last week."
"Partitioning the country in a way that establishes a separate Sunni state where US troops will be based and where vital pipelines will be built to transfer natural gas from Qatar to the EU."
"Temperatures averaged out over the most recent 5,000 years — which includes the last 125 years or so of industrial emissions of heat-trapping gases — are generally warmer than they have been since about 120,000 years ago or so, Snyder found."
"Reduced ministers' salaries by 20 percent, slashed perquisites for members of the consultative assembly and limited overtime pay and vacation for civil servants."
"In 2012, the United States District Court for the Northern District of California sided with Wells Fargo and ruled that even if its sales targets were unreasonable, the bank had the right to use them as an employment yardstick. Ms. Guitron appealed the decision and lost again — leaving her with a bill for more than $18,000 in court costs."
"Three days later, he was fired for 'not meeting expectations,' he said. Broke, Mr. Johnson was evicted from his house and spent the next seven months living out of his truck. He put all of his possessions in a storage unit, then lost them to auction when he was unable to pay the storage bill."
They call it Class War for a reason...
"Some of the largest donors include Comcast at $5.6 million in cash and in-kind donations, AT&T at $1.5 million, and Independence Blue Cross with $1,525,000. Other major donors include Google Inc., which gave $500,000; Microsoft at $650,000; and DuPont, the chemical company, which gave $100,000."
"The bombings were so ferocious that the United States and Britain accused Russia of 'barbarism' and 'war crimes' for backing the Syrian air campaign. More than 90 people died on Friday, and more than 100 on Saturday."
When U.S. leaders do it, they refer to it as "shock and awe." Hello, Fallujah? War crimes? perhaps U.S. leaders have forgotten their myriad of drone strikes, or all those cluster bombs and white phosphorus they sold to the Saudis, or those Japanese cities that were spared for the expressed purpose of leveling them with atomic weapons.
"On page 278, Plimer writes that 'temperature and CO2 are not connected' but, on page 411, writes that 'CO2 keeps our planet warm'."
"Accepting the scientific consensus would likely see increased levels of regulation, which challenges their identity as free-market advocates. So instead, the authors argue, the only options open are to either deny the consensus or try and discredit it."
"Analysts were reported to have worried that an attack would 'embarrass' the government and took defensive measures to shore up Whitehall's cyber security as well as warning TV networks about the plot."
"Russia plans to start fielding its first stealth fighter, the T-50, in 2018."
"China's J-20, which resembles the U.S. F-22, started flying in 2011, though it hasn't yet entered military service. A year later, Beijing began flight trials of the FC-31, a look-alike of the U.S. F-35."
We'll see if they have more luck than the F-35, which has been a disaster.
"Only three other states — Texas, Colorado and Connecticut — now require departments to track similar use-of-force data but their systems aren't digital, and in Colorado's case, only capture shootings, according to the National Conference of State Legislatures."
"Global capitalism, however, is not concerned with the cohesion of the nation-state. The relentless quest for profit trumps internal stability. Everything and everyone is pillaged and harvested for profit... The Clintons and Barack Obama built their careers mastering this duplicity. They speak in words that reflect the concerns of the citizenry, while pushing through programs and legislation that mock those concerns."
White phosphorus: "[Air Force Col. John] Dorrian was unable to say whether the rounds had been dropped away from the town, on Islamic State positions, and if they had been used in the town, whether civilians were present."
"Since the announcement two days ago by the Syrian army of an offensive to capture eastern Aleppo, there have been repeated reports of air strikes involving the use of incendiary weapons and advanced munitions such as bunker-buster bombs"
Kerry calls it "beyond the pale."
"The spokesman for the Salahuddin province police force, Col. Mohammed Jabouri, said three militants rammed their explosives-laden vehicles into the main checkpoint near the town of Salam at the province's northern entrance. Jabouri added that 34 other security officers were wounded."
"Qatar, Saudi Arabia, and their confederates are in it to win it, and the fighting in Syria has focused on the pipeline routes. Aleppo province, which would host the Qatari pipeline, is where Turkey wants to establish a buffer zone to support 'moderate' rebel forces."
And so do the Bankers:
"Mrs. Clinton, after leaving the State Department, earned $675,000 to deliver three speeches at Goldman events, where she reassured executives that they had an important role to play in the nation's recovery."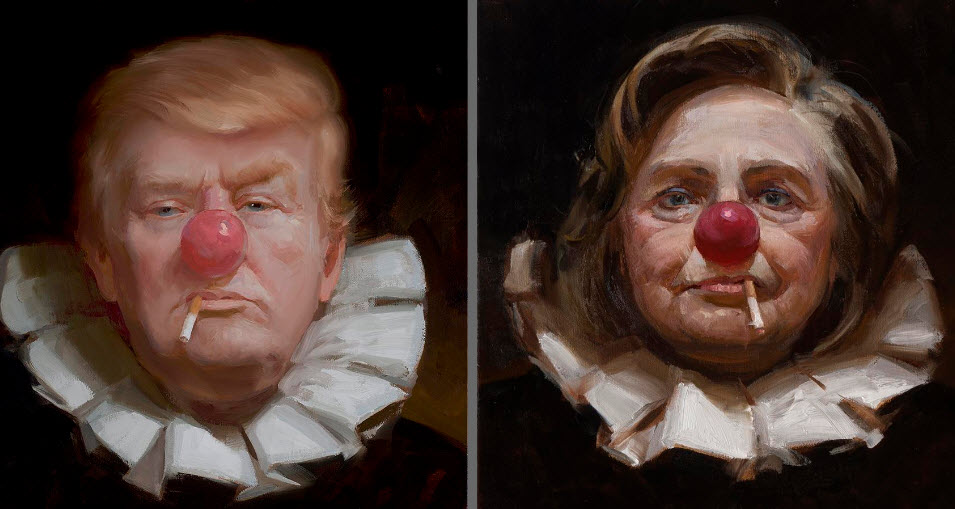 "Hillary Rodham Diane Clinton is one of the high priests, a goddess of this ocult, (sic) satanic, shadow group. One must see their evil and profoundly corrupt motive to understand what I am talking about."
"At least 329 civilians have been killed, and at least 426 have been injured since the beginning of August... The report also found, however, that the majority of civilian casualties had been caused by the Saudi-led coalition."
U.S. leaders criticize Russia for supporting Assad. Yet here they are backing Saudi Arabia.
"The legislation would allow U.S. courts to waive claims to foreign sovereign immunity in cases involving terrorism on U.S. soil. The administration contends that this would break a longstanding practice that sovereign nations are protected from these types of legal threats. The result, according to the White House, is that American officials could now be sued in foreign courts over U.S. military or diplomatic actions abroad, which administration officials said poses a threat to national security."
"'Alarm bells have been ringing over the explosion of corporate debt levels in emerging economies, which now exceed $25 trillion. Damaging deflationary spirals cannot be ruled out,' said the annual report of the UN Conference on Trade and Development (UNCTAD)."
"If the global economy were to slow down more sharply, a significant share of developing-country debt incurred since 2008 could become unpayable and exert considerable pressure on the financial system... There remains a risk of deflationary spirals in which capital flight, currency devaluations and collapsing asset prices would stymie growth and shrink government revenues. As capital begins to flow out, there is now a real danger of entering a third phase of the financial crisis which began in the US housing market in late 2007 before spreading to the European bond market"
"The UN's advice to the emerging nations is to retake control of their destiny and turn the tables on the financial elites. They should impose capital controls, preferential tax treatment for retained earnings, and force fund managers to hold assets for longer."
"In early September, dressed in military uniform, about 20 young nationalists launched an attack in Kiev against an independent TV channel, setting tyres ablaze and throwing a smoke bomb into the building, causing a fire that damaged the first and second floor. One journalist was seriously injured."
"NSA officials have told investigators that an employee or contractor made the mistake about three years ago during an operation that used the tools... Investigators have not ruled out the possibility that the former NSA person, who has since departed the agency for other reasons, left the tools exposed deliberately"
"The investigators have not determined conclusively that the Shadow Brokers group is affiliated with the Russian government"
"Authorities say the motive was unknown for the shooting about 60 miles north of Seattle."
"Here is the DCCC dossier on Rep. Ben Ray Lujan, the DCCC chairman. It seems the DCCC Research Department collected all his speeches and statements, financial data, as well as his weak and strong points on thousands of pages"
"Activists claimed that both Syrian and Russian warplanes attacked the city hours after the announcement of a major new offensive dashed any hopes of restoring a US-Russian ceasefire. At least 91 deaths were recorded in the province on Friday, but activists cautioned that even that number was probably an underestimate as many bodies remained buried in rubble."
As POTUS slowly walks backwards towards to exit.
"The crucial point is never to leave a vacuum of information when a story is at the top of the news agenda because that vacuum will be filled by your enemies... An advantage for the propagandist is that it is easy to make up a lie, but it can take much more time and effort to convincingly refute it... they seldom stress that the [Bomb] targeting is based on intelligence which may be flawed or misinterpreted."
"Recently however a secret government report was leaked to German media, which not only identifies violations of the data protection act but also reveals the codenames for several BND systems and the fact that BND uses the American XKEYSCORE system not only for analysis, but also for collection purposes."
"It demanded a much more thorough inquiry to uncover responsibility across the entire chain of command, which would most likely make Mr. Peña Nieto part of the investigation because he ordered the crackdown."
"Rather than go after the police who committed the sexual torture, the state initially prosecuted the women instead. Five were imprisoned for a year or more, on charges like blocking traffic, detentions the commission found arbitrary."
"Technically speaking, the new protection scheme employed in iOS 10 is approximately 2500 times weaker compared to what was used in iOS 9. Does this mean you can break passwords that much times faster? Read along to find out!"
Related: A teen jaibreaks the iPhone 7 in a day. Nice job Mr. Cook!
"Although IP addresses can sometimes be reliable indicators of locations or individuals when combined with other information, such as ISP records, use of the IP address alone, without more, can too often result in dangerous, frightening, and resource-wasting police raids based on warrants issued without proper investigation. This risk is especially high when: (1) determining a suspect's physical location and (2) identifying an individual suspect responsible for a crime."
"In its first purchase order to Palantir, New York City's Department of Information Technology and Telecommunications (DOITT) paid $1.2 million for 32 perpetual server core licenses, at $37,500 each... In June, the city paid $236,906 for eight more Palantir 'Cloud' licenses, with six months of support from the company's technicians."
"The attack came from a powdered mustard agent delivered in a mortar or rocket shell and fired on US forces on Tuesday at the Qayyarah West airbase near Mosul... Isis has used chemical munitions on a 'number of instances' in Iraq and Syria, according to the CIA director, John Brennan, in a February interview, including mustard and chlorine. The jihadist militants are believed to have used both chemical agents, delivered in hollow metal pipes used as mortars or in 122mm Grad rockets, on Kurdish forces in Kirkuk and Makhmour."
"Kerry responded with anger and incredulity to Russia's positing of various alternative scenarios having caused the carnage, saying he felt as if 'we're sort of in a parallel universe here.'"
"Within moments of it happening, we acknowledged it... We didn't put out a bunch of obfuscating facts"
"In the past two years the Pentagon has provided small arms, ammunition and other supplies to a group acceptable to Turkey — the Syrian Arabs, a minority in the Kurdish-dominated umbrella group... But out of deference to Turkey, the United States has not directly armed the Kurdish fighters themselves."
"One remarkable foreclosure ruling against Wells Fargo came in January 2015, in a Missouri state court. Judge R. Brent Elliott ordered Wells to pay more than $3 million in punitive damages and other costs for harming David and Crystal Holm, borrowers in Holt, Mo., who fought the bank's improper foreclosure of their home for more than six years."
"But here's the beautiful thing: Standing up and saying "I take full responsibilty" and "I'm accountable" is really easy! You don't have to actually do anything and nothing happens to you! In fact, Stumpf admitted under questioning by Senate Banking Committee member Elizabeth Warren, the Democratic senator from Massachusetts, that he earned $19.3 million last year alone, $ 4 million of that a bonus for doing such a fine job of running the operation"
"Earlier North Carolina Governor Pat McCrory said he had 'initiated efforts' to deploy the national guard and highway patrol to help deal with the protests."
"This information has been combined with data from the Panama Papers and other leaked offshore documents to add additional heft to one of the largest public databases of offshore entities in history."
Wanted for information by the FBI. Hey, it was a nice bag!
"The fact that a leaker received a pardon is an indication that the unauthorized disclosure of classified information is not so intrinsically heinous a crime as to be categorically beyond official forgiveness. Since one president pardoned a leaker, it is certainly within the realm of possibility that another president might choose to do the same."
Despite U.S. accusations to the contrary.
"We'll note a single F-35 fighter plane costs $178 million. Dropping just one plane from inventory generates 3,358 years of college money."
"Within 24 hours, the critic, Senator Leila de Lima, was stripped of her post as chairwoman of the Senate Justice Committee, which recently had heard damning testimony from a professed Duterte hit man, and the House of Representatives opened hearings on allegations that she had received payoffs from drug lords."
"He had previously tried to quiet Ms. de Lima by accusing her of adultery and said at one point that she should hang herself."
"Your definition of accountability is to push this on your low-level employees. This is gutless leadership."
Stick and stones, Liz. You've got to offer more than words. How about criminal trials broadcast on TV?
"More worryingly, the hackers could also control the car's brakes, which could be dangerous if deployed suddenly while the vehicle was traveling at high speed on a motorway."
The DoT thinks self-driving cars will be safer? These are people who don't use the Internet. Remember Michael Hastings.
"The ICRC said about 20 civilians were killed in the attack, which destroyed 18 trucks laden with food intended for tens of thousands of people cut off by the war in a rural area west of Aleppo city."
"An Afghan official says at least eight Afghan police officers have been killed in two U.S. airstrikes in southern Uruzgan province in what was apparently a friendly-fire incident."
"The objectives of the hawks, the liberal interventionists and the neocons are the same as they have been from the very beginning. They want to topple Assad, splinter Syria into multiple parts, install a US-puppet in Damascus, control critical pipelines corridors from Qatar to Turkey, and inflict a humiliating defeat on Russia."
Here's the official narrative:
"The initial signs indicate they were dressed in civilian clothing. They also may not have had the typical weapons of a Syrian military unit but rather trucks with weapons mounted on top of them. It is also not known if they were deliberately placed there to potentially deceive the coalition."
"The only people punished were junior employees who, while complicit, I guarantee were doing what management wanted them to do, and who would have been fired before this if they hadn't been willing to play along... executives get rich doing it, the company takes a hit but not the executives, and the executives have no reason not to go on to their next fraud"
"The Department of Homeland Security Office of Inspector General (OIG) today released a report that found that U.S. Citizenship and Immigration Services (USCIS) granted U.S. citizenship to at least 858 individuals from special interest countries who had been ordered deported or removed under another name."
"For what is believed to be the first time, the nation's Wireless Emergency Alerts system was deployed as an electronic wanted poster, identifying a 28-year-old man sought in connection with the bombings in Manhattan and New Jersey over the weekend."
Screaming fire in a crowded theater?
"A collaborative investigation showed a reddit user with the username stonetear requested help in relation to retaining and purging email messages after 60 days, and requested advice on how to remove a 'VERY VIP' individual's email address from archived content."
"U.S. Secretary of State John Kerry said it was too early to call the ceasefire finished, and the United Nations said that only Washington and Moscow could declare it over, as they were the ones who had originally agreed it."
"But the fact that the U.S. and several allies have been routinely violating Syrian sovereign airspace to carry out attacks was not even an issue, nor is it a scandal that the U.S. military and CIA have been arming and training Syrian rebels. In the world of Official Washington, the United States has the right to intervene anywhere, anytime, for whatever reason it chooses."
"The Indian Army said that at 5:30 a.m., the attackers, carrying AK-47 assault rifles and grenades, entered the grounds of the base in Uri, a town in the Indian-administered part of Kashmir that is among those closest to the de facto border with Pakistan."
"U.S. officials confirmed that the American government has supplied the Saudis white phosphorous in the past but declined to say how much had been transferred or when. After reviewing a social media image taken from the battlefield that showed a white phosphorous mortar shell, a U.S. official said it appeared to be American in origin but could not trace it to a particular sale because some of the markings were obscured."
"The diagnosis that led to his discharge, on crutches, was bilateral tibial stress fractures."
"Snowden sat for the high school equivalency test on May 4, 2004. He needed a score of 2250 to pass. He scored 3550."
"Snowden met regularly with the chiefs and deputy chiefs of the CIA's technical branches to talk through their cutting edge computer needs."
"Snowden 'fled to Russia.' Well, no. He tried to fly to Ecuador, and the U.S. government trapped him in the Moscow transit lounge by revoking his passport. Or... Snowden could have relied on whistleblower protections. The Washington Post examined that proposition and found it largely incorrect. Or... Snowden stole 1.5 million classified documents. In fact, the nation's most senior intelligence officers, no admirers of Snowden, have repeatedly said they can only surmise the number."
"The second-best solution might be a bargain in which Mr. Snowden accepts a measure of criminal responsibility for his excesses"
Snowden showed the establishment as unrepentant liars and hypocrites. Far worse than the Chinese or Russians. No one in a foreign country is safe or has any rights. Did the New York Times turn on Ellsberg? Good lord these editors are really showing their colors. Oh yeah, and thanks for the Pulitzer!
"The Washington Post has achieved an ignominious feat in U.S. media history: the first-ever paper to explicitly editorialize for the criminal prosecution of its own source... They might want to denounce their own paper and even possibly call for its prosecution for revealing top-secret programs they now are bizarrely claiming should never have been revealed to the public in the first place."
"During Barack Obama's administration there has been near-total continuity with the administration of George W. Bush, especially regarding mass surveillance, endless war and the failure to regulate Wall Street. This is because the mechanisms of corporate power embodied in the deep state do not change with election cycles. The election of Donald Trump, however distasteful, would not radically alter corporate control over our lives. The corporate state is impervious to political personalities."
"Contrary to what Frank asserts, the Democratic Party was never the party of the people. It functioned, at best, as a safety valve during periods of discontent. It made possible modest reforms. It was tolerated by the elites because it set the limits of dissent. It permitted a critique of the excesses of the system but never a critique of capitalism, the structures of power or the supposed virtues of those who exercise power."
"They established the New Deal programs in order to save capitalism, which Roosevelt later said was his greatest achievement."
Stick that in your pipe and smoke it, Robert Reich.
"German drug and crop chemical maker Bayer clinched a $66 billion takeover of U.S. seeds company Monsanto on Wednesday, ending months of wrangling with a third sweetened offer that marks the largest all-cash deal on record."
"All in all, it's a far cry from the $240 million the state paid to Oracle for the failed Cover Oregon project. The company's army of IT experts worked for years on the exchange, repeatedly missed deadlines and never produced a functional exchange."
"The U.S. military is not only the largest polluter in the world, but the largest single driver of climate change worldwide. In 2009, the daily oil consumption of the U.S. military was estimated at 359,000 barrels of oil a day."
"At least 980 million litres of contaminated water including radioactive substances has been leaked into one of Florida's largest sources of drinking water."
"The US-led coalition has admitted its planes carried out an attack in eastern Syria that the Russian army says killed at least 62 Syrian troops fighting IS."
"Syrian rebels have chased American forces out of the town of al-Rai, according to local sources."
"A new film has documented almost 100 cases, some of which involved alleged spy rings with multiple people... the intelligence service and other state agencies were also accused of concocting fake spy cases to arrest and discredit dissidents and divert attention from domestic crises. Over the past decade, many of the cases were retried after the government's Truth and Reconciliation Commission found them to be built on fabricated evidence and confessions extracted through torture."
"To seize the firearm, they hatched a plan that relied on distractions... From behind, the olive-colored robot approached and extended its claw into Bunge's hideout."
"More than 100,000 people... have been arrested or fired from their jobs"
"Rather than focusing on people directly accused of participating in the coup plot, the purges have swept through the entire community of people who may have once been sympathetic to the ideas of Mr. Gulen."
Yet actions speak louder than words, as the United States sends in three dozen Special Forces troops to advise Turkey's forces in Syria. This story buried at the bottom of the news feed. Never mind...
"Observers in Damascus point out that the non-Isis armed opposition in Syria is dominated by Nusra fighters, saying that 'without Nusra the non-Isis armed opposition would be very weak. Nusra has led all the successful rebel offensive against the Syrian army. It has overcome any rebel opponents who resisted it in a matter of days.' Nusra has no incentive to maintain a ceasefire directed against itself and every reason to see it fail."
"As early as August 2012, the Defence Intelligence Agency, the Pentagon's intelligence arm, had written a report which firmly stated: 'The Salafists, the Muslim Brotherhood, and AQI [al-Qaeda in Iraq] are the major forces driving the insurgency in Iraq."
"Both [U.S. and Russia] must pressure their allies and proxies in the region – the Syrian government, Iran, Hezbollah in the case of the Russians and Turkey, Saudi Arabia and Qatar in the case of the US – not to covertly undermine the accord."
"William Casey, CIA director from 1981 to 1987: 'We'll know our disinformation program is complete when everything the American public believes is false.'"
"Iranians can't use one if they finally make one. The boys in Tehran know Israel has 200, all targeted on Tehran, and we have thousands. As Akmdinijad (sp) 'What would we do with one, polish it?' I have spoken publicly about both nK and Iran. We'll blow up the only thing they care about---regime survival. Where, how would they even test one?"
"Tennessee, Virginia, Georgia, South Carolina, Alabama and North Carolina -- are facing possible gas shortages after a pipeline spill, officials said. The states have all declared states of emergency, citing concerns about 'fuel supply disruptions' and 'disruptions of gasoline' in the wake of the Colonial Pipeline spill."
"It seems that the DCCC had prepaired to support the former Secretary of State as early as December, 2015. The docs below will show you the truth. Dig it deeper."
"In Florida law, basically, if we can ask consent, and if they give it, we can obtain it"
"It's my DNA, it's my wife's DNA, and our parents. Not to sound bad, but you just get nervous. There's some collateral damage there."
"Insurgent groups in Aleppo said they had not seen the army withdrawing from the Castello Road, needed to allow aid deliveries into the city, and would not pull back from their own positions near the road until they did."
"There were growing accusations of violations by each side, with a Syrian military source saying the rebels were responsible for dozens of breaches including gun, rocket and mortar fire in Damascus, Aleppo, Hama, Homs and Latakia. The rebels said Syrian army jets had struck in Hama and Idlib, and used artillery near Damascus."
"Two civilians killed on Thursday were children in government-held areas, one in Aleppo and the other in Syria's southwest, it said. In addition, air strikes against Islamic State militants in the town of al-Mayadin near Deir al-Zor had killed at least 23 civilians, it said."
"If a green light was given, a spokesman for the U.N. Office for the Coordination of Humanitarian Affairs said the first 20 trucks would move to Aleppo and if they reached the city safely, the second convoy would then leave. The two convoys were carrying enough food for 80,000 people for a month, he said."
"Edgar Matobato, 57, told a nationally televised senate committee hearing that he had heard Duterte order some of the assaults that left around 1,000 people dead from 1988 to 2013 in Davao city, where Duterte was mayor for more than two decades."
"His government bungled an investigation into the September 2014 disappearance of 43 students at a rural teachers' college in Guerrero State, an inquiry that was sharply criticized in April by a panel of independent experts who reviewed the case."
"An FBI undercover agent posed as an editor for the Associated Press (AP) and attempted to contact the individual through e-mail. During subsequent online communications, the undercover agent sent the individual links to a fake news article and photographs that had the computer program concealed within them"
"We believe that the judgments agents made about aspects of the planned undercover activity in 2007 to pose as an e ditor for the AP did not violate the undercover policies in place at the time."
"Public disclosure of the specifications of the CSS [cell site simulator] technologies in NYPD's possession from the Withheld Records would make the software vulnerable to hacking and would jeopardize NYPD's ability to keep the technologies secure"
"It was filed in federal court in Washington by USA TODAY's parent company, Gannett, the Associated Press and Vice Media. The FBI refused to provide that information to the organizations under the Freedom of Information Act."
"Snowden caused tremendous damage to national security, and the vast majority ofthe documents he stole have nothing to do with programs impacting individual privacy interests-they instead pertain to military, defense? and intelligence programs of great interest to America,s adversaries."
The establishment responds to the Pardon Snowden campaign. Wow, good luck Ed.
"Successful opposition mounted to TPP and TTIP by a broad spectrum of actors - from movements, to farmers, to elites - means the neo-liberal lobby now places its hopes in TiSA as the vehicle for rewriting global rules and for securing a charter of corporate rights behind closed doors."
"U.S. intelligence agencies are expanding spying operations against Russia on a greater scale than at any time since the end of the Cold War, U.S. officials said."
And defense contractors jump for joy...
An attempt to move focus from the fact that big money has already undermined our electoral process and that the NSA is hacking networks all over the planet.
The solution to protecting our voting system is trivial:
"Paper ballot systems with optical scan counting."
"Describing the Democratic presidential nominee as having 'a long track record, unbridled ambition, greedy, not transformational' ... Mr. Trump, whom he also called an 'international pariah.'"
Intentional? So that Powell could says things with plausible deniability?
Comey could be covering his tracks when he claimed that this wasn't possible. Recall that Apple was actually willing to help if only the FBI had kept things sealed.
"Apple had asked the F.B.I. to issue its application for the tool under seal. But the government made it public"
"They have also attracted people who linger for hours, sometimes drinking and doing drugs and, at times, boldly watching pornography on the sidewalks."
"The package will provide an average of $3.8 billion a year over the next decade to Israel, already the largest recipient of American aid, including financing for missile defense systems that defend against rockets fired by groups like Hezbollah and Hamas. Under a previous 10-year agreement that expires in 2018, the United States provides about $3 billion a year, but lately Congress has added up to $500 million a year for missile defense."
"North Korea's capacity to produce plutonium remains limited to 6 kilograms, or approximately one bomb's worth, per year. We estimate that it may have a stockpile of 32 to 54 kilograms (roughly 6 to 8 bombs' worth) of plutonium now."
"In order to avoid any confrontations with China he would halt joint Filipino navy patrols with the US. The Asian country may now also look toward China and Russia in order to acquire new weapons so that it can improve its capabilities tackling insurgencies and terrorism in the country."
"In total, the latest dump contains more than 600 megabytes of documents. It is the first Guccifer 2.0 release to not come from the hacker's WordPress account. Instead, it was given out via a link to the small group of security experts attending the London conference."
"It also reveals a web of contractual entanglements that could not be just canceled. If Trump moves into the White House and his family continues to receive any benefit from the company, during or even after his presidency, almost every foreign policy decision he makes will raise serious conflicts of interest and ethical quagmires."
"Whoever hires them should be investigated for malfeasance, because their shoddy record in security is a mile long"
"The leaders of South Sudan's warring parties manipulate and exploit ethnic divisions in order to drum up support for a conflict that serves the interests only of the top leaders of these two kleptocratic networks and, ultimately, the international facilitators whose services the networks utilize and on which they rely."
"Saudi Arabia is still grappling with the global drop in oil prices, though that factor was dismissed by many of the aggrieved Yemeni soldiers, who interpret the payment delays as exploitation."
"The resulting article published in 1967 concluded there was 'no doubt' that reducing cholesterol and saturated fat was the only dietary intervention needed to prevent heart disease. The researchers overstated the consistency of the literature on fat and cholesterol while downplaying studies on sugar, according to the analysis."
"Carrie Tolstedt, the Wells Fargo executive who was in charge of the unit where employees opened more than 2 million largely unauthorized customer accounts... is leaving the giant bank with an enormous pay day—$124.6 million... The bank also said it had fired 5,300 employees over five years related to the bad behavior."
"Can anyone imagine Facebook deleting the posts of prominent Israelis calling for increased violence or oppression against Palestinians?... Facebook is a private company, with a legal obligation to maximize profit, and so it will interpret very slippery concepts such as 'hate speech' and 'inciting violence' to please those who wield the greatest power."
"More than 100 people were reported killed in a series of bombing raids on rebel-held parts of Aleppo province in the north of the country, and in Idlib in the north-west."
Assad vows to take back all of Syria.
"The plan is for moderate anti-Assad armed groups to decouple themselves from al-Nusra, which will then be targeted by air strikes. But, it is generally agreed that such moderate groups are thin on the ground in Syria and those that turn against their former allies in al-Nusra too abruptly may not live long enough to enjoy the protection of a US-Russian air umbrella."
"In the new phase of the air war in Syria it is not clear who is going to provide the ground troops to cooperate with the massive air power overhead and occupy territory from which Isis has been driven."
"Previously controlled by guards allied to the GNA, the ports of Al-Sidra and Ras Lanuf were seized by forces loyal to General Khalifa Haftar. One of the most powerful military figures in Libya, Haftar is allied with a rival authority to the GNA based in the east."
"Philippine President Rodrigo Duterte on Monday called for the withdrawal of U.S. military from a restive southern island, fearing an American troop presence could complicate offensives against Islamist militants notorious for beheading Westerners."
"I am not aware of any case in which a police agency has used a cell-site simulator to find a terrorist."
"Within hours of Mr Kerry speaking in Geneva, Russian or Syrian jets hit a crowded market place in the rebel-held city of Idlib, killing 25 people and turning buildings into heaps of shattered masonry."
"One of the problems in implementing the ceasefire is that it is meant to usher in a seven-day truce at the end of which Russia and the US will conduct a joint air war against Isis and Nusra, which are together far the most powerful organisations in the armed opposition."
"Before their demobilization in the mid-2000s, the militiamen came to rival the guerrillas as drug traffickers and outdo them as human rights abusers."
"Using interviews, recently unsealed legal briefs, transcripts of hearings, internal government documents, and information obtained from Colombia and the United States, The Times examined the cases of 40 extradited paramilitary members and associates."
"Most were handsomely rewarded for pleading guilty and cooperating with the American authorities"
"Both the guerrillas and the paramilitary groups funded their activities with drug money, collecting 'war taxes' and providing security for traffickers in their areas. But the drug enforcement authorities focused primarily on the narco-guerillas at first; the paramilitaries, while opponents in the war on drugs, were technically on the same side as the Colombian and American governments in the civil war."
"Fifteen years later, the very same AUMF continues to be used by the Obama administration for all sorts of wars that plainly have nothing to do with the 9/11 attacks – including its newfound bombing partnership with Russia in Syria. Under this resolution, Obama has bombed 7 predominantly Muslim countries in 7 years"
The response of the United States has been far more destructive than the Twin Towers attack.
"The nation that denies its people information about what it is doing in their name is a nation slogging down a dark alley of public suspicion toward decline and mediocrity."
"The company got fined and some money changed hands, but that's not the answer... Management not being held accountable, that still bothers me. I went into this to get that fixed, and that didn't get fixed."
Failing to consider that the goal of the program may be to prevent North Korea from becoming another Iraq, Libya, Syria, Afghanistan... U.S. foreign policy is the world's strongest sales pitch for a nuclear program.
"Russia must then restrain the forces of President Bashar al-Assad of Syria from conducting any air operations over areas held by Nusra and other opposition forces"
"The United States is to persuade the opposition groups it has been supporting to separate themselves from the Nusra forces"
Mission Impossible?
"The government is accusing the mayors of supporting and funding militants from the Kurdistan Workers' Party, or P.K.K., an outlawed group that has been engaged in a violent autonomy struggle for more than 40 years."
"Proclamation 7463 is unique among those national emergencies. Along with a use-of-military-force authorization by Congress signed by President Bush four days later, it gives the president the power to call up the national guard and to alter the size and shape of the military's top officers. It also gives him the power to hire and fire commissioned officers — even ordering them out of retirement if necessary."
Don't expect Turkey's leader to give up emergency powers either...
"The Army will not authorize constructing the Dakota Access pipeline on Corps land bordering or under Lake Oahe until it can determine whether it will need to reconsider any of its previous decisions regarding the Lake Oahe site under the National Environmental Policy Act (NEPA) or other federal laws. Therefore, construction of the pipeline on Army Corps land bordering or under Lake Oahe will not go forward at this time."
"The company says the fault is rare but can prevent airbags from deploying during a crash. Seat belts may also fail, it adds."
Put a Pinto under your tree!
"Lofgren KNOWS that the central problem is prevailing wage, NOT replace-by vs. hire-instead-of. In other words, Lofgren does NOT want to solve the problem. She's known about it for years, and done nothing to solve it. (More on this below.) Her indignant statements today about UC amount to rank hypocrisy and political deception of the highest order."
"In Iraq and Syria, between Saturday and Monday, the United States conducted about 45 strikes against Islamic State targets. On the other side of the Mediterranean, in the Libyan city of Sirte, U.S. forces also hit fighters with the militant group. On Sunday in Yemen, a U.S. drone strike killed six suspected members of ­al-Qaeda in the Arabian Peninsula. The following day, just across the Gulf of Aden in Somalia, the Pentagon targeted al-Shabab, another group aligned with al-Qaeda. The military also conducted several counterterrorism strikes over the weekend in Afghanistan, where the Taliban and the Islamic State are on the offensive."
Dropping bombs in what got us into this mess. The self-perpetuating GWOT...
"Taliban forces fought their way deep into the capital of Afghanistan's central province of Uruzgan on Thursday, threatening government offices and capturing a prison before being pushed back, officials said."
"Uruzgan's opium output jumped 22 percent last year, the United Nations said."
"The blast set off an artificial earthquake around 9:30am Seoul time, with the defense ministry saying the explosion was 10 kilotons. The United States Geological Survey put the quake magnitude at 5.3."
See also:
"We need to look beyond the simplistic, race-based cartoon-like scaremongering to see that far more reality-based and frightening is the nuclear threat posed by the U.S. President Obama—the Nobel Prize winner who pledged to lead a nuclear-free world— has committed over $1Trillion dollars to modernize America's nuclear arsenal. Almost unreported by the press, we have been spending a bundle to make nukes 'usable,' by miniaturizing them. And to top it off, Obama has approved a 'first use' option for the U.S."
"Clinton had promised that a no-fly zone [in Libya] would not be used as cover for regime change... Clinton has given Moscow déjà vu by once again demanding a humanitarian no-fly zone in the Middle East — this time in Syria"
"Clinton also has financial ties to George Soros, whose Open Society Foundations are considered the foremost threat to Russia's internal stability"
"The beauty of the American voting system is that it is dispersed among the 50 states, and it is clunky as heck. A lot of people have found that challenging over the years, but the beauty of that is it's not exactly a swift part of the internet of things, and so it is hard for an actor to reach our voting process."
"If Obama does choose to veto the Justice Against Sponsors of Terrorism Act, supporters believe that they have the two-thirds majority needed to override him — a first during his presidency."
"Federal banking regulators said the practices, which date back to 2011, reflected serious flaws in the internal culture and oversight at Wells Fargo, one of the nation's largest banks. The bank has fired at least 5,300 employees who were involved."
"In all, Wells Fargo employees opened roughly 1.5 million bank accounts and applied for 565,000 credit cards that may not have been authorized by customers, the regulators said in a news conference"
How many execs were fired? Financial parasites.
"US corporations are presently giving back more than they are taking in, which is the moral equivalent of devouring one's offspring... This destructive behavior can be traced back to the perennial low rates and easy money that the Fed has created to enhance capital accumulation during a period when the economy is still mired in stagnation."
"How many jobs were actually created by the Fed's $3 trillion in QE?"
"Citibank is the bank that's been running the books on the project, and that's the bank that beat the bushes and got other banks to join in. So, we have Wells Fargo, BNP Paribas, SunTrust, Royal Bank of Scotland, Bank of Tokyo-Mitsubishi, Mizuho Bank, TD Securities, ABN AMRO Capital, DNB First Bank—and that's actually a bank based in Philly; it's not the DNB Bank based in Norway, which is actually provided several hundred million to the Energy Transfer family separately—and ICBC London, SMBC Nikko Securities and Société Générale."
"Together, Leidos and its four competitors [Booz, CSRA, SAIC, CACI] earned nearly $16 billion from government IT contracts in 2015, according to an annual listing by the trade publication Washington Technology. But the key to their dominance lies not with their revenue but with their employees—specifically, their approximately 45,000 contractors with security clearances who work alongside government employees at the NSA, the CIA, and other agencies"
"When a few companies dominate a single market, as in banking or the railroads... the downside can be pretty ugly: high-level corruption, taxpayer bailouts, and business failures that create destructive ripple effects throughout society. All of that and more has happened in intelligence contracting."
"In the end, intelligence is a public resource that deserves to be controlled by the people and for the people, and not benefit a small group of corporations and the oligarchs they've spawned."
"I see a spook and a human rights racketeer reproducing imperialism in a Hong Kong slum, making the most desperate people on the planet means to their ends."
"Trump is surely funding WikiLeaks for Clinton email releases. Leaking is a lucrative news business [e.g. Panama Paper sale], with sexual predation qua Ailes."
"WikiLeaks had $5M fund-raising goal from start-up. Later, Snowden's financial-legal partners. Leaks art of the deal."
"Gregory Touhill's job will be to protect government networks and critical infrastructure from cyber threats as federal chief information security officer, according to a statement."
"Obama announced the new position in February alongside a budget proposal to Congress asking for $19 billion for cyber security across the U.S. government. The job is a political appointment, meaning Obama's successor can choose to replace Touhill after being sworn in next January."
"A Danish government official, speaking on the condition of anonymity in keeping with department policy, said the cost of the data was less than 10 million kroner, or $1.5 million, and the government hoped that the unpaid taxes recovered would more than offset the cost of the information."
"The country's Customs and Tax Administration had received an anonymous offer over the summer from a party willing to sell the data, and that the data involved 320 cases concerning up to 600 Danish taxpayers."
"Powell describes his fight with security officials at the State Department, NSA and CIA over his use of a handheld devices known as PDAs or 'personal digital assistants' in secure areas. 'They gave me all kinds of nonsense about how they'—the devices—'gave out signals and could be read by spies, etc,' he writes. 'They never satisfied me and NSA/CIA wouldn't back off. So, we just went about our business and stopped asking. I had an ancient version of a PDA and used it.'"
"So what we've been doing is recording the times and dates of each drone and each helicopter as they come through. And we already know their patterns."
"That pipeline is 500 feet from our reservation line. When that pipeline breaks—and it will break— it will hit Early Head Start children in two seconds. It will take out our elementary in five seconds. In 45 minutes, it will take out our major water intake that feeds water to all the people here."
"This layoff affects 17% of UCSF's total IT staff, broken down this way: 49 IT permanent employees will lose their jobs, along with 12 contract employees and 18 vendor contractors. This number also includes 18 vacant IT positions that won't be filled, according to the university."
"Manufacturing employees were 30% of the non-farm work force in 1955. Now they're just 8.5%. To get the factory work force back to the relative weight it had in 1955, we'd have to add 31,000,000 factory jobs. That's not going to happen. Thanks to automation we don't need as many factory workers as we used to."
"Suicide bombers set off twin blasts in a shopping area near the Defense Ministry on Monday and gunmen stormed the offices of an international charity early Tuesday, battling security forces for 11 hours before the assailants were killed."
"This is the kind of thing that causes Muslims to hate us. It's why we are a constant target of terrorism. But nothing is going to change there unless something changes at the top here."
This is how American leaders "make the world safe for democracy."
"Mr. Obama, the first sitting American president to visit Laos, recalled that the United States had dropped more than two million tons of bombs on this country during the height of the Vietnam War, more than it dropped on Germany and Japan during World War II. That made Laos, per capita, the most heavily bombed country in human history."
This frank admission (sans apology) brought to you on behalf of the TPP...
"Around the world, nearly 50 million children have migrated across borders or been forcibly displaced – and this is a conservative estimate. More than half of these girls and boys fled violence and insecurity – 28 million in total."
"The premise of lesser evilism — an electoral strategy frequently employed by progressives to the left of the Democratic Party — is quite simple: given the limited choices on offer in a two-party system, the Left should work to elect the least-damaging of the two options. The strategy is historically counterpoised to calls to break with the Democrats and use elections to build an independent third party."
"Clinton's close ties with big capital, the defense industry, and the neoconservative establishment in DC are so disconcerting as to make any talk of her posing a lesser danger misguided."
"Nancy Pelosi, the House minority leader, sent a letter on Tuesday to Speaker Paul D. Ryan urging him to bar Republicans from using hacked documents in the campaign"
As a career politician she knows just how dangerous the truth can be: "Don't offer support for concrete policy decisions"
"Mr. Trump has shown that Republican voters will support a candidate who denounces trade agreements and rejects the free-market doctrine the Kochs have spent hundreds of millions of dollars to push."
"It's nationwide. Not a coincidence. Someone issued an order."
"These guys are clearly mercenaries, what's not clear is if they can deliver on their promises. This is not a company pretending that it's solely focusing on the lawful intercept market, this is outsourcing cyber operations."
"The Syrian Civil Defence, a rescue workers' organization that operates in rebel-held areas, said government helicopters had dropped barrel bombs containing chlorine on the Sukari neighborhood in eastern Aleppo."
"The British-based Syrian Observatory for Human Rights, which tracks Syrian violence using sources on the ground, said medical sources had reported 70 cases of suffocation."
"Public transport was disrupted and state-run banks, power stations and factories were closed as 10 trade unions called nationwide walkouts."
"The German Intelligence Service BND illegally collected and stored mass surveillance data and has to delete those data immediately, including XKeyscore. This is one of the results of a classified report of the German Federal Data Protection Commissioner that we are hereby publishing. In her report, she criticizes serious legal violations and a massive restriction of her supervision authority."
"This report is indeed embarrassing for BND and Chancellery: On 60 pages, the highest German Data Protection Commissioner lists 18 severe legal violations and files 12 formal complaints. Such a complaint under the German Data Protection Act is the Commissioner's most severe legal instrument – forcing the authorities to issue a statement in response. This is the first time that a German authority has received this many complaints at once. Usually, the Commissioner files a similar amount of complaints in an entire year – to all federal authorities combined."
"The disclosures about Menwith Hill raise new questions about the extent of British complicity in U.S. drone strikes and other so-called targeted killing missions, which may in some cases have violated international laws or constituted war crimes."
"Menwith Hill is focused on a different kind of surveillance: eavesdropping on communications as they are being transmitted through the air."
"What it looked like was a bunch of alligators at the end of leashes being put on the Native Americans there that are protesting. It absolutely was an egregious use of canines."
"The official cautioned that the intelligence community is not saying it has 'definitive proof' of such tampering, or any Russian plans to do so."
One look at the establishment candidates should tell you that our system does a fine job of sowing public distrust all on its own.
"Over the past 10 months, the Pentagon has added four drones flown by contractors to the roughly 60 that are typically flown every day by uniformed Air Force personnel."
"Over the next two years, the Pentagon plans to add six more operated by contractors, the officials said. The number and identities of contractors working on the drone flights are considered classified information... Pentagon officials said there are at least several hundred contractors, many of them former drone or fighter pilots who are making double or triple their military salaries."
"Laureate signed Bill Clinton to a lucrative deal as a consultant and 'honorary chancellor,' paying him $17.6 million over five years until the contract ended in 2015 as Hillary Clinton launched her campaign for president."
Related: ITT Shuts down.
"Isis has claimed five suicide bombings across Syria that have killed at least 43 people. Four explosions hit the government controlled cities of Tartous, Homs and in the countryside outside the capital Damascus, while a fifth explosion hit the Kurdish-held city of Hasaka."
"The number of Isis militants killed in US strikes has increased from 6,000 in January 2015 to 45,000 in July 2016, Time reports."
"But bombs or ground troops, by themselves, can't cure ISIS or whatever radical group springs up to replace it. 'Proposals to escalate or accelerate the campaign in Iraq and Syria in order to hasten the Islamic State group's defeat would accomplish a lot less than commonly supposed'"
"Former Special Forces colonel from Tajikistan, who defected last year, has reportedly been appointed a new top ISIS battlefield commander in Iraq. His promotion, reported by Iraqi media, coincides with the US placing a $3 million bounty on his head."
"The 41-year-old admitted that from 2003 to 2014, he participated in five counterterrorism training courses in the United States and in Tajikistan, through the US State Department's Diplomatic Security/Anti-Terrorism Assistance program. Part of the training, according to the Tajik commander, was conducted by the private American military consultancy previously known as Blackwater. During his police career in Tajikistan, Khalimov also took several training trips to Russia."
"This system is already in place, operating behind closed doors in office buildings and conference rooms in cities around the world. Known as investor-state dispute settlement, or ISDS, it is written into a vast network of treaties that govern international trade and investment, including NAFTA and the Trans-Pacific Partnership, which Congress must soon decide whether to ratify."
"When the US Congress votes on whether to give final approval to the sprawling Trans-Pacific Partnership, which President Barack Obama staunchly supports, it will be deciding on a massive expansion of ISDS."
"$20 million to $45 million — more than enough to pay the estimated $22,000 monthly rent for the nine-bedroom home they will occupy in the Kalorama neighborhood of Washington and foot the bill for flights on private jets."
That's a lot of Hillary speeches. Bet you it's ghost written.
"As it turns out, there is such a system: hand-marked paper ballots, counted by hand in public. These systems are far more likely to produce legitimate results than any electronic system, and they have been proven all over the world."
"The incursion was launched by Turkey from Kilis province - an area frequently targeted by Islamic State rockets - and coincided with a separate push by the Turkish-backed Syrian rebels, who seized several villages further to the east."
"While Euphrates Shield initially targeted Islamic State in Jarablus, most of the focus since has been on checking the advance of U.S.-backed Syrian Kurdish fighters, to the alarm of NATO ally Washington."
"With a population slightly larger than that of Miami, Libya has no clear central government and scant possibility of exploiting its enormous oil reserves, the ninth largest in the world."
"It's all about power and oil and money. That's all you have to know."
"I stand between you and the apocalypse"
Tell that to the people of Libya.
"She has fielded hundreds of questions from the ultrarich in places like the Hamptons, Martha's Vineyard, Beverly Hills and Silicon Valley... At a single event on Tuesday in Sagaponack, N.Y., 10 people paid at least $250,000 to meet her, raising $2.5 million."
"Lady Lynn Forester de Rothschild, a backer of Democrats and a friend of the Clintons', made sure attendees did not grill Mrs. Clinton at the $100,000-per-couple lamb dinner"
"Among the donors: Comcast (which owns NBC, and its cable sister channels, such as MSNBC), James Murdoch of News Corporation (owner of Fox News and its sister stations, among many other media holdings), Time Warner (CNN, HBO, scores of other channels), Bloomberg, Reuters, Viacom, Howard Stringer (of CBS News), AOL (owner of Huffington Post), Google, Twitter, the Washington Post Company, George Stephanopoulos (host of ABC News' flagship Sunday show), PBS, PRI, the Hearst Corporation and others."
9 Hamada St, Herzelia, IL 32°10'03.33" N 34°48'45.56" E
"In an exclusive interview with The Independent, a senior Syrian Kurdish official says that the Kurds will fight to the death to stop Turkey 'invading the region' and speaks of possible reconciliation between Damascus and Ankara on the Kurdish question."
"Investigators said Abu Sayyaf, a southern Philippine group notorious for acts of piracy, kidnappings and beheadings, had claimed responsibility for Friday's night bombing at a Davao street market, although police said they were still trying to authenticate the claim."
"Duterte canceled what would have been his first overseas visit on Saturday, to Brunei, and declared a nationwide 'state of lawlessness' to deal with what he called an extraordinary security situation."
"The bomber attacked the compound of the district court in the city of Mardan, throwing a hand grenade, opening fire at the main gate and then entering before detonating his explosive vest"
"Reuters reported that Jamaat-e-Ahrar, an offshoot of the Pakistani Taliban, had claimed responsibility for the assault in Mardan"
"You've got to abide by international law."
That never stopped the United States...
"In exchange for leasing rights on an airbase in Uzbekistan to aid the U.S. war effort in Afghanistan, Karimov gained the backing of a superpower in his longstanding fight against Islamists at home."
"Islamic militants posed a major threat to the corrupt and often-divided regime, but it was also a useful tool to consolidate power. Anyone who resisted or had grievances against the regime was branded a terrorist"
"Clinton had 13 mobile devices during her four years at the State Department and five iPads. Clinton never sought approval to conduct state business on her own private email server despite 'an obligation to do so.' Former secretary of state Colin L. Powell advised Clinton to keep it secret that she was using a BlackBerry to conduct official business. A note sent to all State Department employees on Clinton's behalf warned them against the risks of using personal email addresses for official business. The State Department, regularly during Clinton's tenure, sent out notes warning of the dangers of using mobile devices not up to agency security standards. The FBI found 17,448 work-related and personal emails that Clinton did not turn over to the State Department. Clinton told the FBI that she was unaware that the "C" marking on emailed documents meant they were confidential. Clinton was concerned that her email had been hacked."
WikiLeaks asks: "Why do significant Hillary Clinton FOIA releases always happen on Friday afternoon, or before a national holiday?"
The Secretary of State doesn't understand classified markings on email? That's a pretty brazen lie.
Note the clear double standard:
"Brezler sent a classified document in response over an unclassified Yahoo email server, and he self-reported the mistake soon after. But the Marine Corps recommended that he be discharged for mishandling classified material."
"The $4 billion, 1134-mile project would carry 540,000 barrels of largely fracked crude oil from North Dakota's "Bakken oil patch" daily on a diagonal course through South Dakota, a Sioux Indian burial ground,18 Iowa counties, and a Native American reservation to Patoka, Illinois. It will link with another pipeline that will transport the black gold to terminals and refineries along the Gulf of Mexico."
"The lobbying effort has been led by the Altria Group, the nation's largest tobacco company, which has a growing e-cigarette unit."
"More than 70 lawmakers had signed on as co-sponsors of legislation that lobbyists from Altria and other industry groups originally wrote."
"Companies were free to introduce any product they wanted, make any claim they wanted, and that is how we wound up with a 900 percent increase in high schoolers using e-cigarettes"
"On Friday, the FDA issued a rule banning the use of triclosan, triclocarban and 17 other chemicals in hand and body washes. which are marketed as being more effective than simple soap."
"They perceive correctly that their aims cannot be achieved by non-violent means, but fail to see that that is because they cannot be achieved by any means, given the existing circumstances of power and public opinion. Hatred and the desire for revenge probably provide essential motivational support, but justification by expected political results is completely delusional."
"The prevention of terrorist atrocities is an essential part of public security, but it is a mistake to exaggerate the threat terrorists pose, beyond the atrocities themselves. It only leads to action that makes the situation worse... A 'calm, measured, patient reaction' that focuses on prevention rather than on supposed threats to civilisation or wars to end evil"
"The number of deaths here this year, 471, is about 50 percent higher than the same period a year earlier."
The fix is in: "If Israel is staying away from the American campaign, the campaign is staying away from Israel."
"Cocaine with a street value of up to 50 million euros (£42m) has been discovered at a Coca-Cola plant in France."
"Originating from British defense firm Cobham and circulated to U.S. law enforcement, touts gear that can intercept wireless calls and text messages, locate people via their mobile phones, and jam cellular communications in a particular area."
"[Marcel Lehel] Lazar pleaded guilty before U.S. District Judge James C. Cacheris of the Eastern District of Virginia on May 25, 2016."
"There are millions of people with important and new and different things to say who do not have $5,000 to spend on saying it."
"This is why the more stimulating op-eds are often to be found on independent websites."
"Military police officers have systematically processed and photographed the emaciated corpses of thousands of detainees who were tortured to death by security and intelligence agents"
"Following a crushing 61 to 20 defeat in the upper house, she will be replaced for the remaining two years and four months of her term by Michel Temer, a centre-right patrician"
A classic ad hominem attack. Focus on the messenger and not the message. Did the New York Times mention that it endorsed Clinton? A front page op-ed piece.
"The top 20 U.S. banks paid out more than $2 billion in fully deductible performance bonuses to their top five executives over the past four years. At a 35 percent corporate tax rate, this translates into a taxpayer subsidy worth more than $725 million, or $1.7 million per executive per year."
"Leoni AG, one of the world's largest manufacturers of wires and electrical cables, informed investors that the German company lost almost 40 million euros (or about $44.6 million) to online scammers. Today, we finally know how: According to investigators, the thieves simply spoofed emails to look like official payment requests, a tactic known as 'CEO fraud.'"
"Homeland Security Secretary Jeh Johnson said this month that he's considering whether elections should be classified as 'critical infrastructure'"
"Far from decrying government intervention, the former official said, companies listed as critical cyber entities have said they don't get enough federal help."
August 2016_______________________________________________
"On Tuesday morning, witnesses said, a truck loaded with heavy explosives blew up in front of the popular SYL Hotel, which is near Villa Somalia, the presidential palace. Government security officials were meeting inside the hotel at the time of the attack."
"The Kurds grew their territory by 50 percent as they drove off IS militants with help from US air support and advisors. They also lost hundreds of fighters in the process. So it must have come as a shock to the Kurds when, just a few weeks after they fought a bloody battle to evict IS from the town of Manbij at America's request, Biden showed up in Turkey and said the Kurds would need to withdraw from the town in order to accommodate the Turks"
"Targeting terrorist leaders might not make much difference, but it is cheap, it is low risk for the United States (though not always for civilians in the vicinity of strikes), and it allows American leaders to credibly say they are doing something."
Notice how Max Fisher fails to recognize the possibility that drone strikes could actually makes things worse. Leading to the rise of more aggressive leaders and alienating entire regions who are forced to live under drone terror.
"She highlighted the United States' role as a global superpower and celebrated 'American exceptionalism,' a term frequently used by conservatives in a foreign-policy context."
She's all about the empire.
"A two-year EU investigation determined that Ireland and Apple struck an illegal deal that allowed the technology giant to pay virtually no taxes from 2003 to 2014 on profits for sales throughout the 28-nation region."
See Also:
"The amount is a drop in the bucket for Apple, which has a total cash pile of more than $230 billion"
"Don't offer support for concrete policy positions"
There you have it, the corporate democrats!
"A suicide bomber killed at least 54 people when he drove a car bomb into a militia compound in Aden on Monday, the health ministry said, in one of the deadliest attacks claimed by Islamic State in the southern Yemeni port city."
Related: Rockets hit Saudi border town as Yemen war flares anew.
"The United Nations human rights office said on Thursday that the coalition was responsible for 60 percent of the 3,799 civilians killed in Yemen's war."
"By Sunday, the main thrust of the operation was to push south to take territory not from ISIS but from Kurdish-led groups that had already driven ISIS from those areas."
"Iran has deployed the Russian-supplied S-300 surface-to-air missile defence system around its Fordow underground uranium enrichment facility"
"In their report, the NHRC said that Mexico Federal police killed at least 22 suspected drug cartel members in a remote ranch in Michoacan in May 2015. Police then allegedly moved the bodies and planted guns on the victims to corroborate their reports."
"The new epoch should begin about 1950, the experts said, and was likely to be defined by the radioactive elements dispersed across the planet by nuclear bomb tests"
"FBI warning does not identify two states targeted by cyber intrusions but reports say Arizona and Illinois voter registration systems were infiltrate"
"Rebel groups aided by the C.I.A. and allied intelligence agencies, and Kurdish-led militias that work with the Pentagon under an umbrella group called the Syrian Democratic Forces, or S.D.F. The United States has considered the Kurdish-led militias its most reliable partner on the ground in the fight against the Islamic State, also known as ISIS or ISIL."
"The United States warned the Kurds last week that they should return to the eastern side of the Euphrates River, essentially asking them to cede control of areas they had seized recently from Islamic State fighters."
"The Syrian Observatory for Human Rights, a monitoring group, and Kurdish local news outlets declared that 35 civilians had been killed in the two villages hit by Turkish airstrikes. The Turkish government said it had killed 25 Kurdish 'terrorists.'"
Because those stories about nuclear weapons in Iraq were so credible!
"The central idea, he said, is that 'liberal democracy is corrupt, inefficient, chaotic and, ultimately, not democratic.'"
They don't need to work very hard: The 2008 Financial Collapse? Hillary's speaking fees? The TPP power grab? Citizens United? The Pentagon's missing trillions? The global war on terror that took a sledgehammer to the Middle East? U.S. support for authoritarian regimes?
"Seventy years ago no-one talked about stories 'going viral', but the publication of John Hersey's article Hiroshima in The New Yorker achieved just that. It was talked of, commented on, read and listened to by many millions all over the world as they began to understand what really happened not just to the city but to the people of Hiroshima on 6 August 1945 and in the following days. "
"The federal Department of Education imposed strict new rules on Thursday on one of the nation's largest for-profit education companies, ITT Educational Services, barring it from enrolling new students who use federal financial aid and ordering it to pay $153 million to the department within 30 days to cover student refunds if its schools close down."
"Turkish jets and artillery have targeted Kurdish forces south of the strategic town of Jarablus, according to a monitor and local sources, as Turkey continues a major military offensive inside northern Syria."
"The capture of the town of Manbij from Isis on 12 August by the Syrian Democratic Forces (SDF), a grouping dominated by the YPG, led to a further move towards Jarabulus to the north and Isis-held al-Bab to the east."
"With a sanctuary in northern Syria, the PKK could sustain a guerrilla war in Turkey for as long as it wanted (much as the Taliban is undefeatable in Afghanistan because of its sanctuaries in Pakistan)"
"We were 90 people, and we had to fight against 1,200 Taliban... Twenty-seven of my men have been killed... We killed 130 of the enemy."
"A government militia of more than 100 men, part of the district's defense, laid down its arms, complaining that it was getting no support from Kabul."
"In extensive interviews, in 2013 and then in recent days, neither General Paikan nor the Nezami family had a clear explanation for the origin of the violent enmity between them."
"President Ghani and Abdullah Abdullah, the Afghan chief executive, are involved in a nasty spat, with Mr. Abdullah denouncing his governing partner as unfit to hold office."
"The infighting has been a propaganda bonanza for the Taliban."
"The core faction in question is comprised of the CEOs of a relatively small group of cross-affiliated corporations, including, crucially, media corporations. We'll refer to this Executive branch insider clique as the Business Roundtable/Council on Foreign Relations Nexus. (Because that's a bit of a mouthful, from this point forward we'll also just call it 'the Nexus' or the 'BRT/CFR Nexus'.)"
"Microsoft says it might have 'several dozen' employees in a place like this... As small as the staffs at these mammoth facilities are, companies say, perhaps a third of the company jobs will eventually be filled by robots."
"Daraya, like Homs, has been a symbol of revolt since the earliest peaceful protests against President Bashar al-Assad in 2011: Leaders of the civilian opposition hailed from Daraya, and many of them were imprisoned, with some tortured to death while in custody."
"Government and rebel forces are supplied from abroad, which means their arms never run out."
"The fact that the underlying battle is multiparty rather than two-sided also works against resolution"
"Because Syria's combatants rely on foreign sponsors, rather than the local population, they have little incentive to protect civilians."
"Because each side is backed by multiple foreign powers, every sponsor on one side would have to drop its support at the same time."
"This 'war after the war' would result in a Syria dominated not by a central authority or even regional governments, but instead by militia rule, not unlike Libya or Afghanistan."
"The Pentagon provided more than 1.45 million firearms to various security forces in Afghanistan and Iraq, including more than 978,000 assault rifles, 266,000 pistols and almost 112,000 machine guns. "
"Only accounts for 48 percent of the total small arms supplied by the U.S. government that can be found in open-source government reports"
"The recipients were often manifestly corrupt and sometimes had close ties to the same militias and insurgents who were trying to drive out the United States and make sure its entire nation-building project did not stand"
"What to do? If past is precedent, given enough time one of the United States' solutions will be, once again, to ship in more guns."
"Some of the UK companies were given permission to export their products to authoritarian states such as Saudi Arabia, the United Arab Emirates, Turkey, and Egypt; countries with poor human rights records"
"The companies include a subsidiary of defense giant BAE Systems, as well as Pro-Solve International, ComsTrac, CellXion, Cobham, and Domo Tactical Communications (DTC)"
"In another example, licenses refer to Marlin, a product made by TRL Technology Limited that can intercept calls made on the IsatPhone, Inmarsat and Thuraya satellite phone networks."
"More than one-third of Italy's richest people inherited their fortunes, compared with just 29 percent in the U.S. and 2 percent in China... Germany has the highest share of inheritor-billionaires among developed economies, 65 percent. Overall, heirs and heiresses make up about half of Western Europe's billionaires"
"California has several other neighbourhoods that guard their privacy by refusing to appear on Street View, including Bradbury and Bell Canyon. All are among the most affluent neighbourhoods in the US."
"These 30-hour employees will be salaried and receive the same benefits as traditional 40-hour workers, but they will receive only 75 percent of the pay full-time workers earn."
"On the surface, they say it's about ISIS, but really this is about the protracted war that the Turkish government has begun again against the Kurds."
"Turks had also, of course, kept their border open and had allowed supplies and people to cross the border into various proxy groups, whether it's Turkish-backed proxy groups, Saudi groups, Qatari groups—and, in fact, the Islamic State. You know, they have used for years the Turkish border."
"Exhibit A may be Saudi Arabia itself, which produced not only Osama bin Laden, but also 15 of the 19 hijackers of Sept. 11, 2001; sent more suicide bombers than any other country to Iraq after the 2003 invasion; and has supplied more foreign fighters to the Islamic State, 2,500, than any country other than Tunisia."
"Throughout the 1980s, Saudi Arabia and the United States worked together to finance the mujahedeen in this great Afghan war... whose social and theological views were hardly distinguishable from those later embraced by the Taliban."
"The United States spent $50 million from 1986 to 1992 on what was called a 'jihad literacy' project — printing books for Afghan children and adults to encourage violence against non-Muslim"
"We recognized the links as belonging to an exploit infrastructure connected to NSO Group, an Israel-based 'cyber war' company that sells Pegasus, a government-exclusive 'lawful intercept' spyware product. NSO Group is reportedly owned by an American venture capital firm, Francisco Partners Management."
"The contract describes an internet surveillance product capable of deep packet inspection — 'IP monitoring and data analysis' for 'serious crime' and 'national security' investigations. That could include capabilities like mapping a target's social networks and extracting personal information and communications from devices including voice recordings, video, messages, and attachments."
"As published by the U.S. Patent and Trademark Office, Apple's invention covering 'Biometric capture for unauthorized user identification'"
In the future, activists will be "unauthorized."
"This particular presentation had not been reviewed or approved by the unit's leadership, and does not reflect the position of the Army. The training presentation has since been removed."
"Ramparts' revelations began with the National Student Association (NSA), a mostly reform-minded student group whose 'witty' leaders carried out orders and cashed checks of origins unknown to members. As the scandal spread, CIA officials went public, confessing to deep ties not only to student groups but also to the AFL-CIO, whose leaders had heretofore denied any CIA funding for activities among leading unionists in the UK and across Europe"
"Brzezinski presents a rational but self-serving plan to climb-down, minimize future conflicts, avoid a nuclear conflagration and preserve the global order. (aka–The 'dollar system') But will bloodthirsty Hillary follow his advice? Not a chance."
"More than 220,000 people were killed in the conflict, tens of thousands disappeared and millions fled their homes because of the violence."
"It will now go to a plebiscite vote on Oct. 2."
"It was not made public, but a copy was viewed by The New York Times."
"Syrian military helicopters dropped bombs containing chlorine on civilians in at least two attacks over the past two years"
"Militants of the Islamic State in Syria had been responsible for an attack last year using poisonous sulfur mustard"
"This word game is important because Section 702 is set to expire in December 2017."
"Post Snowden, USB drives inside NSA environments (particularly the Remote Operations Center [ROC]) are a great way to lose your job, your clearance and possibly your liberty."
"Jeff has gone on the record admitting that he wanted to form the organization as a 501(c)(4) for the express purpose of accepting billionaire money, which of course flies in the face of what all of our supporters were so excited about, that we were taking a country back from the billionaire class without the use of billionaire money, $27 at a time."
"Proxy filings show that from 2007 to 2015, Mylan CEO Heather Bresch's total compensation went from $2,453,456 to $18,931,068, a 671 percent increase. During the same period, the company raised EpiPen prices, with the average wholesale price going from $56.64 to $317.82, a 461 percent increase, according to data provided by Connecture."
"The Kurdish YPG militia, which already holds swathes of northeastern Syria, has won control of nearly all Hasaka city in fighting with government forces that erupted last week"
"Turkish officials were adamant that they would continue operations in Syria until they had neutralized what they see as threats against national security, which includes Kurdish control of the region west of the Euphrates."
Turkey has been trying to mend fences with Russia. This is likely less about Assad and more about the Kurds.
"Several American professors are inside, along with possibly hundreds of students. Many appear to have escaped through emergency doors."
"At least 85 of 154 people from private interests who met or had phone conversations scheduled with Clinton while she led the State Department donated to her family charity or pledged commitments to its international programs, according to a review of State Department calendars released so far to The Associated Press. Combined, the 85 donors contributed as much as $156 million. At least 40 donated more than $100,000 each, and 20 gave more than $1 million"
"The plane's wide-angle cameras captured an area of roughly 30 square miles and continuously transmitted real-time images to analysts on the ground. The footage from the plane was instantly archived and stored on massive hard drives, allowing analysts to review it weeks later if necessary."
"The Pentagon asked him if he could develop something to figure out who was planting the roadside bombs that were killing and maiming American soldiers in Iraq. In 2006 he gave the military Angel Fire, a wide-area, live-feed surveillance system that could cast an unblinking eye on an entire city."
"John is a former Enron trader whose hedge fund, Centaurus Advisors, made billions before he retired in 2012. Since then, the Arnolds have funded a variety of hot-button causes, including advocating for public pension rollbacks and charter schools. The Arnolds told McNutt that if he could find a city that would allow the company to fly for several months, they would donate the money to keep the plane in the air."
"The Times said email services for employees are outsourced to Google"
"The leaders believed the reports of pipe bombs were a misinterpretation of their calls for demonstrators to get out their wooden chanupa pipes — which have deep spiritual importance — and pass them through the crowd."
"The analysis shows the wealthiest 10 percent of Americans now hold three-quarters of the nation's wealth, up from two-thirds in 1989, and a three percentage-point increase from the start of the recession. Most Americans found themselves with less wealth in 2013 than Americans of a similar age had in 1989; the only age group doing better than its counterparts from a quarter-century ago was senior citizens."
"The Reagan administration decided that it was better to let the attacks continue if they might turn the tide of the war. And even if they were discovered, the CIA wagered that international outrage and condemnation would be muted. "
"Iran's Defence Minister Hossein Deghan had earlier criticised Russia for publicising the raids last week, saying it had exhibited a 'show-off' attitude."
"Killings by the police and vigilantes in the Philippines' war on drugs have soared to nearly 1,800 in the seven weeks since President Rodrigo Duterte was sworn into office, the nation's top police official told a Senate hearing on Monday."
"Germany has been mulling new security strategies in light of recent terror attacks, as well as tensions over Russia's annexation of Crimea in 2014. The new proposals are meant in part to prepare the country for the possibility of NATO actions to defend its borders."
"According to a Times analysis. The long-term cost of the mishap could top $2 billion, an amount roughly in the range of the cleanup after the 1979 partial meltdown at the Three Mile Island nuclear power plant in Pennsylvania."
"The strange and embarrassing thing about being the target of a conspiracy, an actual conspiracy, is that it undermines one's own understanding of the world... If you want to write stories that might anger a billionaire, you need to work for another billionaire yourself, or for a billion-dollar corporation. The law will not protect you. There is no freedom in this world but power and money."
"It takes an impressive level of conviction to locally attack a computer four times, and remotely attack it seven times [between January 1, 2011 and February 11, 2011], as well as a certain level of technical skill to set up the infrastructure for those attacks, which included document forgery and date and time manipulation"
"During his career as an investigative journalist, Pehlivan has often been a critic of both the government and the Gülen Movement, which allegedly organized the recent coup attempt in Turkey."
"The 14,900 Clinton documents are nearly 50 percent more than the roughly 30,000 emails that Clinton's lawyers deemed work-related and returned to the department in December 2014."
This is ostensibly about media outlets. Yet note carefully how the words "Clinton" and "Trump" appear in this story. The great American 2016 puppet show is the energy behind this coverage. What's the difference between the third world and the United States? Our leaders put on one hell of a show!
"At least 20 people have been killed and several others wounded in twin suicide blasts in the central Somali town of Galkayo, according to a Somali health official."
"Thousands of other Iraqis shared his happiness on Sunday over the executions of 36 men convicted and sentenced to death for taking part in the Islamic State's massacre of roughly 1,700 Shiite military personnel in 2014."
"I would be happier if I attended the execution of one of the military commanders who caused this massacre"
"Foreign firms bidding to help rebuild Iraq were often ordered to take on Iraqi officials as partners—sometimes multiple subcontractors—in order to secure a deal. U.S. tax dollars sent to arm Iraqi soldiers in the fight against Al Qaeda would frequently vanish into Swiss bank accounts. The weapons would never materialize—or worse, they would end up in the hands of America's enemies."
"Was it a failure of military strategy, or of political will? Did we end the war too soon, or wait too long to get out? Did we spend too little on rebuilding the country's infrastructure, or target our aid in the wrong places?... The men we placed in charge of Iraq robbed us blind. If American resources had been used as mandated, rather than pocketed by our allies, ISIS as we know it would not exist."
"As long as you have corruption and misery on this scale, you'll have an environment where terrorism can thrive"
"They've destroyed most of the health system. They destroyed schools. Human Rights Watch did an excellent report pointing out that they've attacked—consistently attacked economic targets having nothing to do with any kind of war effort, but like potato chip factories, water bottling factories, power plants. It's an effort to destroy Yemen. And that's what, as Kristine said, we are part of that. This is our war, and it's shameful."
"Romania's Defense Minister Motoc denied the claim, saying that the U.S. has no such plan. Romanian MFA also dismissed the claims, saying that the ministry has no such information"
"For one thing, there are no Weapons Storage and Security System (WS3) vaults at Deveselu nor is there any place in Romania for storing the B61s"
"The posters were one element of 'Stop the Jew Hatred on Campus,' a task force-funded campaign launched in February by the David Horowitz Freedom Center in Los Angeles. Horowitz declined to disclose the size of the grant he received"
"It would be like a safecracker stealing the combination to a bank vault and putting it on Facebook. Once revealed, companies and governments would patch their firewalls, just as the bank would change its combination."
"Tor can no longer be trusted after #jakegate / #torgate and hire of CIA. Its sinking credibility is putting people at risk."
"Mahmut Togrul, a local MP, said the wedding guests were largely supporters of his pro-Kurdish Peoples' Democratic party (HDP)."
"Eyewitnesses in Kunduz city said some officials were fleeing to the airport there as fighting had now reached the gates of the city itself."
"The two sides have mostly avoided confrontation during the five-year conflict, with the government focusing its efforts against Sunni Arab rebels in the west, and the Kurds mainly fighting Islamic State in northern Syria."
"Many inhabitants of Kurdish areas fled on Friday and at least 41 people have been killed, the Syrian Observatory for Human Rights, a U.K.-based war monitoring group, said."
"The YPG, or People's Protection Units, have close ties with the Kurdistan Workers Party (PKK) in Turkey, against which Ankara has waged a three-decade counter insurgency."
"It keeps people busy and distracts them from government blunders; it fuels tensions, giving the government a certain legitimacy by default; and it generates a vital fallback economy. The security forces and the militias absorb unemployment. Shia warlords launder their spoils by opening fashionable restaurants. Sunni tribal leaders profit from the fighting (which justifies financing auxiliary forces), the destruction (which leads to contracts for reconstruction) and the humanitarian crisis (which attracts aid they can misappropriate). And it gives the political class the international support it needs to continue its sack of the country, without answering to anyone, under the pretence of a struggle to ensure Iraq's continued existence."
"The Defense Department's Inspector General, in a June report, said the Army made $2.8 trillion in wrongful adjustments to accounting entries in one quarter alone in 2015, and $6.5 trillion for the year. Yet the Army lacked receipts and invoices to support those numbers or simply made them up... there has been no way to know how the Defense Department – far and away the biggest chunk of Congress' annual budget – spends the public's money."
"Other countries, notably Israel and the United States, pursue targeted killings, but in a strict counterterrorism context. No other major power employs murder as systematically and ruthlessly as Russia does against those seen as betraying its interests abroad. Killings outside Russia were even given legal sanction by the nation's Parliament in 2006."
"It was not just Litvinenko, but many others we don't know about, classified as accidents or maybe semi-accidents."
"The documents revealed that White House and U.S. State Department officials were intimately aware of the Argentine military's bloody nature, and that some were horrified by what they knew. Others, most notably Henry Kissinger, were not."
"People will be required to stockpile enough drinking water to last for five days, according to the plan, the paper said."
And here's some recent docs from Florida also.
"Far more important militarily is the decision to fly the long-range bombers from Iran rather than from Moscow as it had before; if it continues, this could result in a more devastating air war over a long period of time."
"Pentagon said it had scrambled aircraft over northeastern Syria in a warning to the government after Syrian warplanes hit areas controlled by Kurdish fighters"
"Over all, the United States has said there are about 300 members of the Special Forces operating in Syria to train, advise and assist their partners fighting on the ground."
"Having acted in accordance with Brzezinski's counsel, President Carter can accurately be described as a founding 'creator' of al Qaida, along with fellow 'most valuable player' Ronald Reagan, whose CIA partnered with Saudi Arabia to spend billions drawing Muslims from around the globe into the war in Afghanistan."
"In 2011, Obama launched the Mother of All Proxy Wars, first against Muammar Gaddafi's government in Libya, then swiftly mobilizing the totality of the international jihadist network that had been created out of whole cloth under Carter and Reagan nearly 30 years before."
"His (and her) regime change in Libya and massive, terroristic pivot to Syria 'created' ISIS. And, let's get the history right, on this score: the U.S. did not reject the jihadist death cult that became ISIS"
"When a company decides to outsource IT jobs overseas, there is no protection for U.S. workers. Professional accomplishments are irrelevant. Degrees -- whether in computer science, mathematics, or in some field that has allowed them to figure technology out -- do not matter. The internal awards of merit, the five-star performance reviews are meaningless. The unpaid hours, at nights and on weekends, make no difference. The workplace turns cold, hostile, indifferent. Often, substantial numbers of IT workers leave. Sometimes entire departments are gone."
First they came for the steel workers, and I did not speak out because I was not a steelworker...
"Powell told her to use her own email, as he had done, except for classified communications, which he had sent and received via a State Department computer."
Throw Powell under the bus a second time. Here's a response from the Washington Post:
"1. Clinton exclusively used a private email account to conduct State Department business. Powell did not. 2. Clinton had a private email server, located at her house. Powell did not."
"Police used a Black Hawk helicopter during the operation, reportedly firing some 4,000 rounds into the ranch, known as the Rancho del Sol, during the initial assault."
"A string of bombings, blamed on Kurdish rebels and targeting Turkey's security forces, killed at least 14 people and wounded more than 220 others, officials said Thursday."
"The Russian leader has used threatening rhetoric, promising unspecified 'counter-measures', and has built up troops ahead of a big military exercise next month."
"The central document was a Top Secret/Eyes Only summary memo of a July 1961 National Security Council meeting written by Howard Burris, the military aide to then-Vice President Lyndon Johnson, which was afterward deposited in the Johnson Archives and eventually declassified."
"The Kennedy Administration had prepared plans for a nuclear first strike against the Soviets."
"The evidence that ties the ShadowBrokers dump to the NSA comes in an agency manual for implanting malware, classified top secret, provided by Snowden, and not previously available to the public. The draft manual instructs NSA operators to track their use of one malware program using a specific 16-character string, 'ace02468bdf13579.' That exact same string appears throughout the ShadowBrokers leak in code associated with the same program, SECONDDATE."
"For months the Obama administration had maintained that the payment was part of a settlement over an old dispute and did not amount to a "ransom" for the release of the Americans. Instead, administration officials said, it was the first installment of the $1.7 billion that the United States intends to pay Iran to reimburse it for military equipment it bought before the Iranian revolution that the United States never delivered."
"Clothing store chain Eddie Bauer said today it has detected and removed malicious software from point-of-sale systems at all of its 350+ stores in North America, and that credit and debit cards used at those stores during the first six months of 2016 may have been compromised in the breach."
Next time use cash!
"The resignation came as Manafort faced increased scrutiny over his earlier work in Ukraine in behalf of pro-Russian forces, including the former president, Viktor Yanukovych."
"US-Turkey relations had deteriorated so much following the coup that Washington no longer trusted Ankara to host the weapons. The American weapons are being moved to the Deveselu air base in Romania, the source said."
Keep in mind that the United States publicly admitted to using white phosphorus as a weapon in Fallujah.
"Turkey said in a decree issued on Wednesday that it would begin releasing up to 38,000 prisoners, or roughly one in five people behind bars. Most will be freed by the end of the week."
"The redress demanded by families of the 10,000 people killed and 800,000 affected would reach $40 billion"
"ExtraBacon was a zero-day exploit, Cisco confirmed. That means it was unknown to Cisco or its customers"
Remember that bugs offer the benefit of plausible deniability.
"NPR's own ethics handbook urges journalists to respect and protect sources"
"Residents of a village in Nehem District, northeast of the capital, said that warplanes from the Saudi Arabia-led military coalition fighting on behalf of the Yemeni government had bombed a family home. Health officials in Sana confirmed that 17 bodies had been taken to local hospitals after the airstrike."
"The cost from damage to infrastructure and economic losses in Yemen's civil war is more than $14 billion so far, according to a confidential report seen by Reuters that highlights the effort needed to rebuild the country, where more than half the population is suffering from malnutrition."
"Top Pentagon officials say that because of Russian and Chinese advances, the U.S. military's 'overmatch' has diminished. Planners can no longer guarantee a president that the United States could prevail in the early days of a conventional conflict; they fear that the United States might lose 'escalation dominance' — meaning, basically, the ability to call the shots — in a future confrontation. "
"The presentation called on the industry to prepare for more stringent regulation, and to build a better future for the industry and its workers by pushing for more research into technology that can capture carbon dioxide from smokestacks, which could extend the use of coal."
"Incredibly, the two agents were stealing in parallel—friendly co-workers, both tasked to the same case, each apparently unaware of the other's scheme. One person who helped with the government's case believes there is even more corruption inside the Baltimore task force the two agents worked on."
"Sometimes there's a good reason for using Tor, but it's a big red flag for us"
"From what I saw, there was no doubt in my mind that it was legitimate."
"Hutter and her partner were among more than 82,000 people forced to evacuate as a brush fire exploded Tuesday morning in the Cajon Pass, destroying homes and other structures and shutting down the 15 Freeway, a main route between Southern California and Las Vegas."
"At least 15 people were killed on Monday in northern Yemen when warplanes bombed a hospital supported by Doctors Without Borders, according to hospital and local health ministry officials."
"Every fight in Syria takes place in political, sectarian, ethnic and social landscapes so distinct that they falsify generalisations about the course of the conflict"
"While China has shown no interest in getting involved militarily in Syria, China's special envoy for the crisis there in April praised Russia's military role in the war."
"From a security point of view, it's a roll of the dice to continue to have approximately 50 of America's nuclear weapons stationed at Incirlik Air Base in Turkey, just 70 miles from the Syrian border... These weapons have zero utility on the European battlefield and today are more of a liability than asset to our NATO allies"
"Last month was the hottest month in recorded history, beating the record set just 12 months before and continuing the long string of monthly records, according to the latest Nasa data."
"At the time of the spying, New Zealand's surveillance agency was not permitted to monitor New Zealand citizens. Despite this, it worked with the NSA to eavesdrop on Fullman's communications, which suggests he is one of 88 unnamed New Zealanders who were spied on between 2003 and 2012 in operations that may have been illegal, as revealed in an explosive 2013 New Zealand government report."
"While ranting against 'wealthy elites,' the Shadow Brokers are now auctioning off what they claim to be a small but incredibly potent set of Equation Group's cyberweapons to the highest bidder."
"No one has yet definitively and on-the-record placed blame for those attacks, but many reports say American intelligence are pointing the finger right at Moscow. Serious and definitive attribution for cyberattacks at the highest level is extremely difficult and often impossible, making any blame a highly politicized act."
WikiLeaks: "We had already obtained the archive of NSA cyber weapons released earlier today and will release our own pristine copy in due course."
"Media power comes from trust and respect, and both are eroded quickly if you only ever give people what they want to hear. "
"More than 2,500 documents, including strategies, plans and funding requests, from Soros-funded organisations, including think tank The Open Society Foundation, were posted on DCLeaks.com."
"The Britain-based Syrian Observatory for Human Rights said at least 22 people were killed in 26 airstrikes across Idlib on Sunday... The Observatory said 45 civilians were killed in raids on Aleppo"
"Russia and the United States are close to starting joint military action against militants in Syria's Aleppo, Russian news agencies on Monday cited Defence Minister Sergei Shoigu as saying."
"At the news conference with Mayor Tom Barrett, Flynn said the officer who fired the fatal shot was black, and media reports also identified Smith as black."
"On Saturday night, shots were fired, six businesses were burned and police cars damaged before calm was restored in the area, which has a reputation for poverty and crime. Seventeen people were arrested, and four officers were injured."
"Violence erupted in Milwaukee on Sunday after peaceful vigils by small groups of demonstrators, and police said late that night that they had rescued one shooting victim, who was taken to a hospital."
"focus instead on Clinton's four-year tenure at the State Department, during which time the US: backed a right-wing coup in Honduras (2009), spearheaded the NATO bombing and overthrow of the Libyan government (2011), Armed and funded forces attempting to overthrow the government of Syria (2012), Funded groups working to overthrow the government of Ukraine (2009-12)"
"Handwritten ledgers show $12.7 million in undisclosed cash payments designated for Mr. Manafort from Mr. Yanukovych's pro-Russian political party from 2007 to 2012, according to Ukraine's newly formed National Anti-Corruption Bureau. Investigators assert that the disbursements were part of an illegal off-the-books system whose recipients also included election officials."
"After hacking their targets, the Australians turned over information on US citizens to the FBI. A filing in another The Love Zone case suggests the FBI received IP addresses for more than 30 US-based users of the site."
"Airstrikes carried out by warplanes from a military coalition led by Saudi Arabia killed at least 19 people, mostly children, on Saturday in a residential area and a school in northern Yemen"
"One of the best arguments against stock repurchases is that they offer only a one-time gain while investing intelligently in a company's operations can generate years of returns."
Drumroll please: "Paper ballot systems with optical scan counting."
"The acknowledgement came after The Washington Post on Tuesday reported that U.S. special operations were 'providing direct, on-the-ground support for the first time to fighters battling' ISIS in Libya. "
"He took on judges and police generals, military officials, more than 50 mayors and local officials, and three men said to be current or former members of Congress."
"On Monday, Chief Justice Maria Lourdes Sereno of the Supreme Court challenged the president over the seven judges on his list, telling them not to submit to arrest without a warrant."
"As you see the U.S. presidential elections are becoming a farce, a big political performance where the voters are far from playing the leading role. Everything is being settled behind the scenes as it was with Bernie Sanders."
As the DNC Emails at WikiLeaks prove. A tremendous public service by Julian Assange, demonstrating how the DNC rigged the primary. Watch establishment hacks cheer for his execution. And watch Twitter suspend Guccifer 2's account. No good deed...
"The disclosure of the Top Secret information would have revealed that U.S. intelligence agencies were continuing to monitor the hacking, as well as the sensitive intelligence sources and the methods they were using to do it."
"The hackers initially used 'spearphishing' - attacks on the private email accounts of dozens of people working for the organizations, several sources said."
"Mrs. Clinton and her husband, former President Bill Clinton, showed an adjusted gross income of $10.6 million for 2015... More than half their income came from speeches; Mrs. Clinton also earned $3 million from 'Hard Choices,' her memoir of her years as secretary of state."
There's good money to be made in selling out...
"Dozens of officials from all parts of the Obama administration have followed in his footsteps, including prominent figures like campaign manager David Plouffe (Uber), Environmental Protection Agency head Lisa Jackson (Apple (AAPL, Tech30)) and most recently Attorney General Eric Holder (Airbnb). "
A NATO ally starts thinking for itself.
"As troubling as some aspects of Erdogan's response have been, it is doubtful whether the US would have responded much differently if a secretive Islamic organization, whose leaders are based abroad, penetrated its state institutions and then allegedly launched a coup that included bombing Congress from the air (as the coup plotters did to the Turkish parliament)."
"Intelligence products approved by senior Centcom leaders typically provided a more positive depiction of U.S. antiterrorism efforts than was warranted by facts on the ground and were consistently more positive than analysis produced by other elements of the intelligence community"
"Four bombs exploded in the resort town of Hua Hin, while several blasts hit the island of Phuket, a top tourist destination, all within a 24-hour period on Thursday and Friday. No group has said it carried out the attacks, but suspicion is likely to fall on separatist insurgents."
"The word 'Guidance' would suggest this is a weaker kind of order than a 'Directive.'"
"If your goal is truly to prioritize capturing a suspected terrorist, rather than killing him, a procedure should start by asking whether someone can be captured. If so, it should move on to the process of deciding what to do with him once the U.S. gets him."
"Three [FBI] field offices were in agreement an investigation should be launched after the FBI received notification from a bank of suspicious activity from a foreigner who had donated to the Clinton Foundation, according to the official."
"Both candidates tend to focus on manufacturing, a sector that employs less than 10 percent of the work force... There were 64,000 steelworkers last year — and 820,000 home health aides."
"We will never implement front doors or back doors into our projects."
Bugs are useful to spies because they offer plausible deniability... oops!
"For years — and $6.5 trillion represents at about 15 years' worth of US military spending — the Department of Defense (sic) has not been tracking or recording or auditing all of the taxpayer money allocated by Congress"
"Over the last 10 days, the militias fighting the Islamic State in Libya have been supported by heavy American airstrikes, using drones based in Jordan. The United States Africa Command has reported 28 airstrikes from the beginning of that campaign, Aug. 1, to Monday."
"Breached the private email accounts of more than 100 party officials and groups"
"So far, it does not appear that the Russian hackers sought or gained access to any computer systems used by Mr. Trump, who is known to avoid email, officials said."
"While Apple's highest bounty is $200,000, Exodus is advertising a maximum of $500,000 for vulnerabilities affecting iOS 9.3 or above"
"Last year, Zerodium, another vulnerability company, paid $1 million to a group of hackers who compromised a device using a number of issues in Chrome and iOS. That figure was a one-time offer, and Zerodium's bounty for an iOS exploit has since halved to $500,000 too."
"You can see the irony. Also the irony in that MS themselves provided us several nice 'golden keys' (as the FBI would say ;) for us to use for that purpose :)"
"About the FBI: are you reading this? If you are, then this is a perfect real world example about why your idea of backdooring cryptosystems with a 'secure golden key' is very bad! Smarter people than me have been telling this to you for so long, it seems you have your fingers in your ears. You seriously don't understand still? Microsoft implemented a 'secure golden key' system. And the golden keys got released from MS own stupidity. Now, what happens if you tell everyone to make a 'secure golden key' system? Hopefully you can add 2+2..."
It's the Rootkit Golden Rule: Those who load first make the rules! Load early, load often...
And VW has made implemented a similar screw-up:
"The researchers found that with some 'tedious reverse engineering' of one component inside a Volkswagen's internal network, they were able to extract a single cryptographic key value shared among millions of Volkswagen vehicles."
"Luo, who filmed the incident with a dashboard camera, said his car hit a vehicle parked half off the road. The accident sheered off the parked vehicle's side mirror and scraped both cars, but caused no injuries."
"Over the past year, he has collected more than $200,000 in fees for digital speaking appearances."
"High winds on Sunday boosted renewable energy output to provide 106% of Scotland's electricity needs for a day"
"Diplomats and military officers told Reuters that intelligence shows Hanoi has shipped the launchers from the Vietnamese mainland into position on five bases in the Spratly islands in recent months, a move likely to raise tensions with Beijing."
"Carter officials were infuriated by Kissinger's attendance at the 1978 World Cup in Argentina as the personal guest of dictator Jorge Videla, the general who oversaw the forced disappearance of up to 30,000 opponents of the military regime."
"During his years as secretary of state, Kissinger had encouraged Argentina's military junta to stamp out 'terrorism'. In contrast, Carter and Zbigniew Brzezinski, his national security adviser, made human rights a cornerstone of US foreign policy and were exerting pressure on Argentina's military regime by withholding loans and sales of military equipment."
"Six3 Intelligence Solutions... won a $10 million no-bid Army contract to provide 'intelligence analysis services.' According to the Pentagon, the work will be completed over the next year in Germany, Italy and, most notably, Syria."
"Medical intelligence can include information about disease outbreaks; the ability of a foreign regime to respond to chemical, biological, and nuclear attacks; the capabilities of overseas drugs companies; advances in medical technology; medical research, and the medical response capabilities of various governments"
"Deficient policies, training and accountability systems, resulted in conduct that routinely violates the Constitution and federal anti-discrimination law."
"The jury found the company guilty of five counts of safety violations and the one count of obstruction... In addition to killing eight, the explosion injured 58 people, destroyed 38 homes and damaged 70 others."
"Trump is incompetent and doesn't have the staff around him, or the political support that Hilary has."
"America needs an ineffective president. That's much better than an effective president that's going to go to war with Russia, that's going to push for the Trans-Pacific Partnership, that's going to protect Wall Street, and that's going to oppose neoliberal austerity."
"Levelled 6.7 km2 of the city and killed 74,000 people by the end of 1945. Ground temperatures reached 4,000°C and radioactive rain poured down."
"They are carrying an arsenal of equipment including sniper rifles, heavy machine guns and anti-tank missiles. If IS attacked again they would have been able to put up a considerable fight."
Lambert: "The horse may already have left the barn; after all, Obama's set up a system where U.S. citizens can be whacked on the say-so of the executive branch alone, which seems to violate the Anti-Kafka principle. 'Sovereign is he who decides on the exception,' cackles Nazi legal theorist Carl Schmidt. "
"They wanted to go to war with Iraq. Anything that supported al Qaeda connections with Baghdad, therefore, was good. Saudi Arabia just confused things so keep that out of it"
"The billionaire population grew by 6.4 percent last year and now totals 2,473 people worldwide. The combined wealth of those individuals also increased by 5.4 percent, amounting to $7.7 trillion"
"The clear leaders are Nevada, Delaware, South Dakota and Alaska, but other states have also joined the frenzy. New Hampshire, Wyoming, Tennessee and Ohio all hope to dip a spoon in the trillion-dollar-plus pot of cream that had traditionally been preserved in offshore tax havens like the Cayman Islands."
Guess this concession still wasn't enough.
"This Democratic campaign theme not only stigmatizes any efforts to reduce tensions with Russia as wrong-headed – just observe how Stein's pro-peace message was converted into subversive Kremlin propaganda – but explicitly equates such efforts with evidence of disloyalty and love for Putin. Given Obama's own record, that tactic is as self-destructive as it is stupid, manipulative and dangerous."
"After he left the CIA in 2011, McMullin went to work for Goldman Sachs in the San Francisco Bay Area and in 2013 became a senior adviser on national security issues for the House Committee on Foreign Affairs."
"Abdul Rehman Miankhel, a senior official at the government-run Civil Hospital, where the explosion occurred, told reporters that at least 70 people had been killed, with more than 112 wounded, as the casualty toll spiked from initial estimates."
"Thousands of pages of internal memos and confidential correspondence between Brookings and other donors — like JPMorgan Chase, the nation's largest bank; K.K.R., the global investment firm; Microsoft, the software giant; and Hitachi, the Japanese conglomerate — show that financial support often came with assurances from Brookings that it would provide 'donation benefits,' including setting up events featuring corporate executives with government officials"
"The problem was a power outage at its Atlanta hub. The local electric utility, Georgia Power, said the problem was 'a failure overnight in a piece of equipment known as switchgear' that affected only Delta."
"Republican propaganda for decades pushed magical-thinking concepts like 'trickle-down economics' that asked lower-income voters to accept present sacrifices for theoretical bigger payoffs down the road."
"The Democratic Party leaders have been fervent believers in the globalization religion since the late Eighties, when the braintrust at the Democratic Leadership Council made a calculated decision to transform the party from one that depended largely on unions for financial and logistical support to one that embraced corporate objectives, in particular free trade."
"Jenkins said, adding that his Homeland Security cyber-division 'does not recommend the adoption of online voting for elections at any level of government at this time.'"
"Robert Oppenheimer... was asked in a closed-door Senate hearing 'whether three or four men couldn't smuggle units of an [atomic] bomb into New York and blow up the whole city.' Oppenheimer nonchalantly replied, 'Of course it could be done.' Asked if there was any means to detect such a suitcase bomb, Oppenheimer remarked dryly, 'A screwdriver' (to open each and every crate or suitcase)."
"Nine nations possess some 16,000 nuclear warheads; the United States and Russia each have more than 7,000 warheads. Four countries — North Korea, Pakistan, India and Israel — have developed nuclear arsenals and refuse to sign the Treaty on Non-Proliferation of Nuclear Weapons."
We're screwed.
"The Obama administration is now talking with President Vladimir V. Putin's government about a plan to share intelligence and coordinate airstrikes against the Islamic State and other militant groups in Syria"
"For several years, the C.I.A. has joined with the spy services of several Arab nations to arm and train the rebels at bases in Jordan and Qatar, with the Saudis bankrolling much of the operation."
"They [Nusra front] have shown that they can and will destroy or sideline C.I.A.-backed rebels who do not agree to battlefield alliances."
"For the rebels, it has been a remarkable triumph against the odds. After months of retreat under pressure from government forces and Russian airstrikes, they have not only broken the siege, but overrun a key base the regime had used to enforce it and apparently taken possession of a large cache of weapons and artillery."
"Both sides are throwing everything they can at the four-year battle for the city – a fight that has come to define the Syrian civil war, because each believes the